Fitness & Exercise Blogs UK Top 10
The Top 10 Fitness & Exercise blog ranking was last updated 06/01/2021.
Vuelio uses a proprietary algorithm to create these rankings, based on topic-related content in blogs on its system – you can read more about the process here. Our research team actively seeks out new blogs and bloggers for inclusion, but if you think we've missed someone, please get in touch to let us know. 
If you're full of beans (or maybe just Christmas selection box chocolate) and ready to get going on New Year's Resolutions to run for sport, pleasure or fitness, The Runner Beans is a good place to start. While marathons won't be a feature of Lockdown 3, safe and solo running can be – registered dietitian/marathon runner/travel enthusiast Charlie has advice on Running, Nutrition and Travel (for when journeys can go further than the local racetrack or park).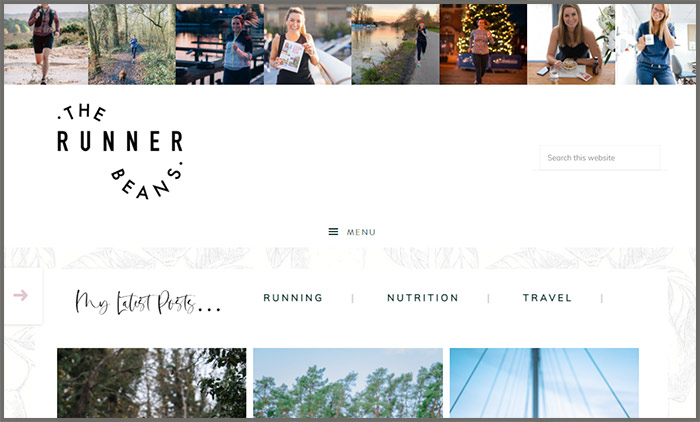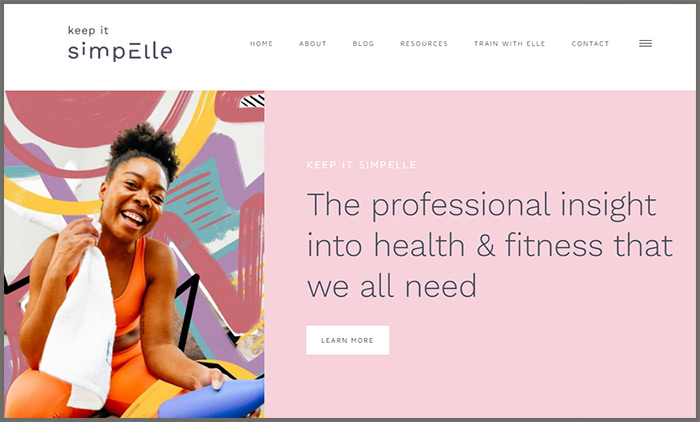 Winner of the Best Health and Fitness category at the Online Influence Awards 2020, Elle Linton is set to continue winning in 2021 when it comes to sharing tips on cycling, running, nutrition and much more. Loving to 'sweat, cycle and run', the blogger aims to provide an 'online fitness studio, fav smoothie bar and weekly health magazine all rolled into one', which is going to be particularly useful over the next few months – thank you in advance, Elle!
3. The5krunner
'Triathlon, Duathlon, Training & Tech' is what's on offer at The5krunner blog, written by a mysterious – but presumably very fit – fan of running. Having done 'quite well' with multi-sports, this blogger started to share their experiences to help other fitness fans with training regimes, diet and related technology, and it's working out really well – 'It takes a fair amount of time. A labour of love. Sleep is for wimps'. After making sure you get a good night of sleep yourself, check this blog out.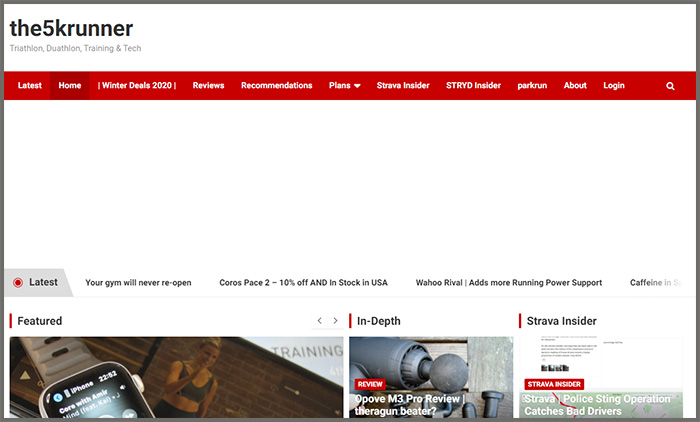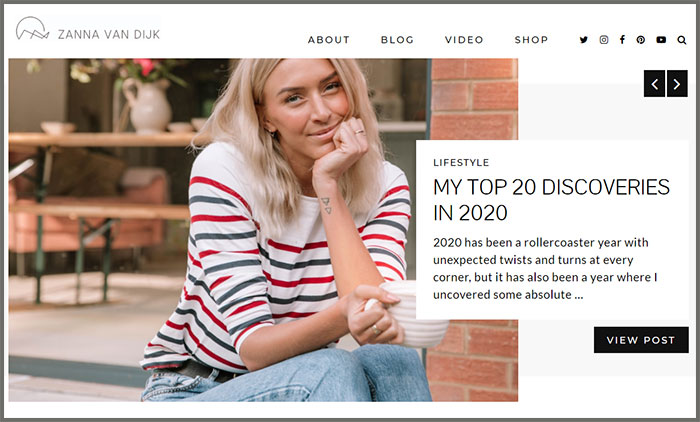 This 'blogger with a purpose' also happens to be an entrepreneur, business owner, personal trainer and ocean lover, making her eponymous blog on health, sustainability, travel and lifestyle one worth reading. Sharing her wisdom on looking after the planet as well as yourself, Zanna's recent posts have offered advice on hiking, the best workout leggings for tall women (shorter versions are available), sustainable celebrating and what to discover this year.
The tale of this blog begins in 2013, when blogger Annie started by sharing her personal journey, before being joined by husband Nick. Now sharing all-things active, the qualified spin instructors cover lifestyle topics, wellness, travel, some occasional beauty and fashion, but mainly fitness. What essentials do you need for Winter adventures? How can you stay motivated during the colder months ahead? Can functional chores be fun? Read the tale of Annie and Nick to find out.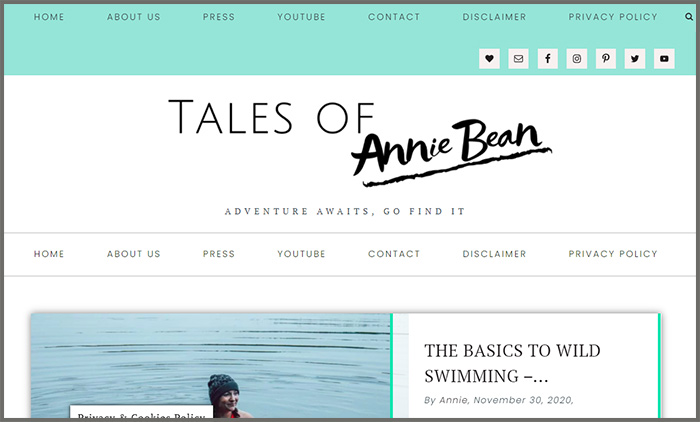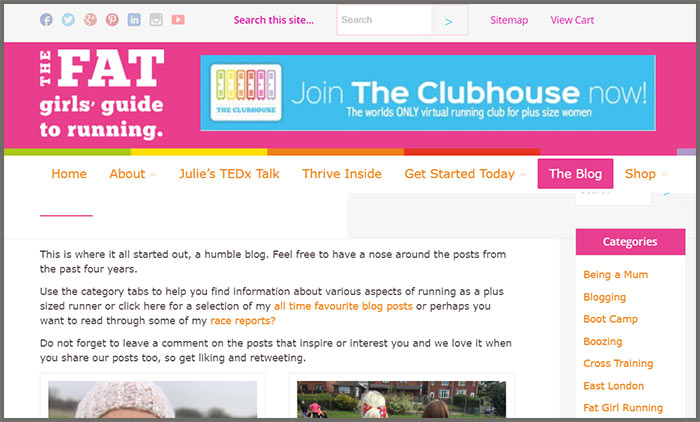 6. The Fat Girls' Guide To Running
Whether or not spandex is part of your go-to get-ups, running can be fun for those across a variety of fitness levels and sizes. The Fat Girls' Guide To Running is here to encourage anyone with an interest to get started, keep going or rediscover their love of setting out in their trainers. Started in 2003 by blogger Julie Creffield after her own discovery of the fun and fitness running can bring, this blog even includes posts on sea swimming, charity races, cycling in the bedroom and facing sports-related fears. Don't be scared – run to check it out.
Now we've said so long to Father Christmas for another year, Father Fitness (aka Paul Stainthorpe) is here to hand out the gift of keeping fit – parcelled into posts covering Exercise & Kids, Family, Fitness, Health, Muscle, Nutrition, Weight Loss and Reviews. A 'normal guy who just wants to try and keep fit' himself, Paul's continuing journey from 'unfit dad to fitter dad' is easy to relate to, particularly when staying on the sofa can be so tempting. Make the most of his fatherly advice and get started on your own fitness journey.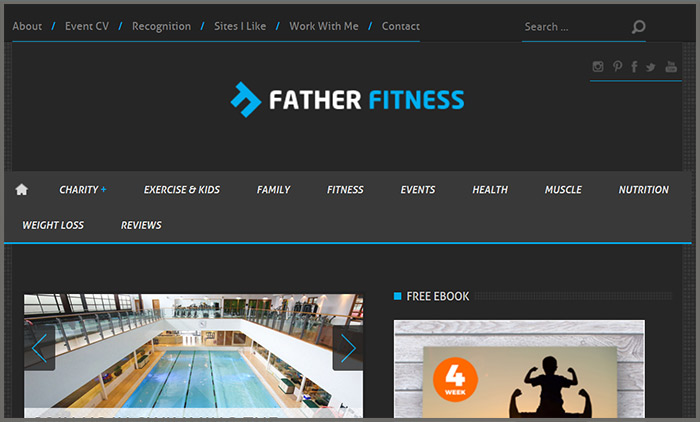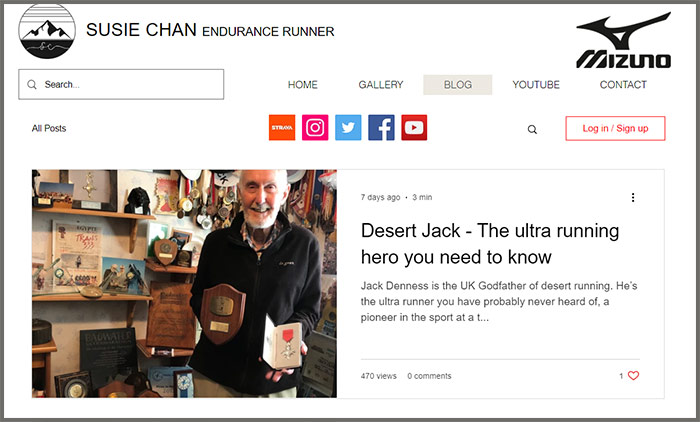 8. Susie Chan Endurance Runner
Runners World and the Evening Standard's 'number 1 runner to follow on Instagram', Susie of Susie Chan Endurance Runner has been racing for around a decade now and certainly knows her stuff. Ready to run come rain, snow or shine, recent posts from Susie have detailed the best Winter Warmers for keeping cosy on runs through cold weather, converting her garage into an indoor gym for safe sweating and how to stay motivated during lockdown.
Being healthy is of particular importance now in 2021 – luckily blogger Petra is offering healthy lifestyle and natural living help over at Be Healthy Now. Holistic wellbeing is the focus here, with posts on cutting out toxins where possible, organic nutrition and stress reduction alongside advice on eating and exercising healthily. For being healthy now, Petra has some handy recommendations for fold-flat treadmills, elliptical machines and even thoughts on the efficacy of pot-based instant noodles (yum… or yuck – your mileage may vary).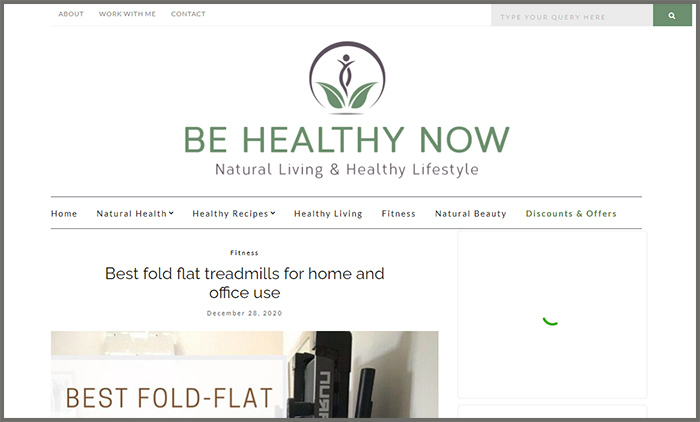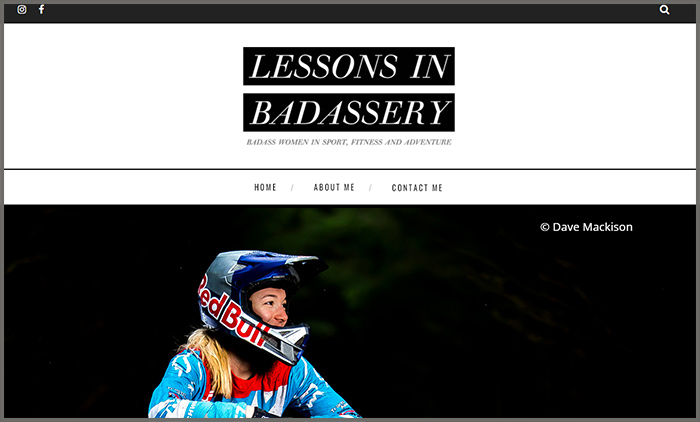 And with the start of the new year comes the need for a levelling-up in badassery – for Lessons in Badassery blogger Katie, this means a combination of sport and adventure with quality reads about 'amazing, inspirational women'. If this is also an inspiring combo for you, check out journalist and copywriter Katie's smorgasbord of 'badass women in sport, fitness and adventure' and marvel at her own fitness-related prowess – 'I can do 300 chest-to-floor burpees in 19 minutes. Not right now, but it happened…'
Collaborating with bloggers requires mutual respect and understanding: respect their schedules; take time to read their content to learn their interests; and only contact them if/when they want to be contacted. You can see more advice in our blogger spotlights. 
Profiles of these  blogs and their authors can be found in the Vuelio  Media Database.
https://www.vuelio.com/uk/wp-content/uploads/2021/01/Fitness-and-Exercise-UK-Blog-Top-10.jpg
430
760
Paul Burvill
https://www.vuelio.com/uk/wp-content/uploads/2019/09/vuelio-logo.png
Paul Burvill
2021-01-06 10:10:16
2021-01-06 11:07:27
Fitness & Exercise Blogs UK Top 10