Blogger Spotlight: Dave Hornby, The DADventurer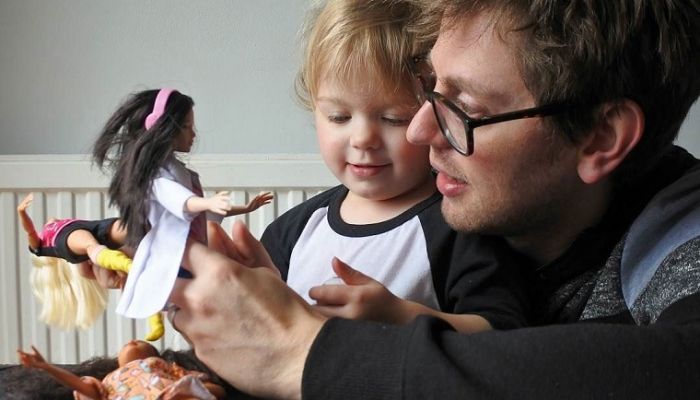 The DADventurer was created in 2014 by stay-at-home dad Dave as a place to share his experiences of fatherhood. Since its conception, the blog has chronicled Dave and his wife's journey through pregnancy, birth, and raising their daughter who is now a toddler. In this spotlight Dave, who features on our top ten dad blog ranking chats to us about being a stay-at-home dad, challenging stereotypes, and what prompted him to document his life as a father in The DADventurer.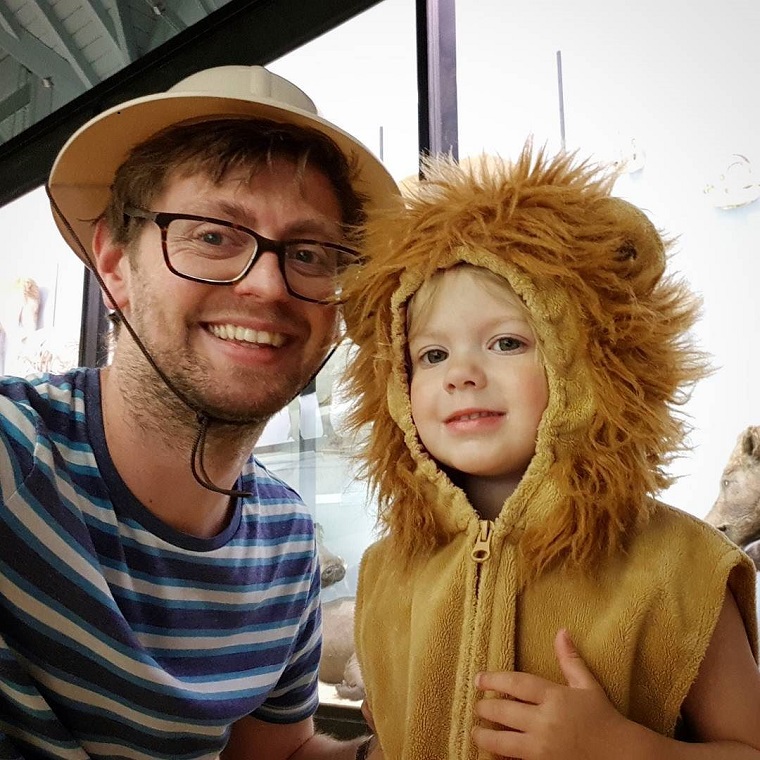 Tell us about your blog? The DADventurer is a blog about my adventures as a stay-at-home dad to my nearly 3-year-old daughter. I started it in July 2014 when the missus was pregnant and it's since grown to be one of the top dad and parenting blogs in the UK – that's not me being big-headed, Vuelio told me such last year! Under the alias The DADventurer, I share my random musings about parenthood in an honest, light-hearted and often excessively sweary way. As well as covering dad-related content, my blog has expanded to include content covering topics as diverse as motoring, holidays, technology and recipes.
What prompted you to document your life as a father in a blog? It was two-fold really. Firstly, I thought it'd be nice to have so that we can look back on it in the future. My blog isn't necessarily about recording our memories, but it certainly serves this purpose as I've written about most of Toddler L's milestones, things we've done as a family and some of the quirky things that would easily be forgotten about. Secondly, I was a freelance football and betting writer at the time of starting my blog, so I saw parenting as being a different area of content I could diversify into. Luckily, it has taken off more than I ever expected and football/betting content is a thing of the past.
How do you help your readers in their journey as a parent? Something I've always attempted not to do is provide advice on parenting. Adults are different, kids are different and there's already so much external pressure about what is 'right' and 'wrong' when it comes raising your children. As such, I've always tried to tap into content which gets a knowing nod or a wry smile from those that read it – be it talking about bigger issues like parenting guilt or stereotyping kids, or more light-hearted stuff like entertaining a kid when you're on the toilet or random questions I have from watching Peppa Pig. If I can get someone thinking about something in a different way or get someone to laugh when they're feeling down, then I've done my job.
What is a typical day in the life of you as a dad? My typical day really depends on whether Toddler L is at nursery or not. If she is, then I drop her off at 8am, spend the day attached to my laptop writing posts, being on social media and answering emails, prior to picking her up at 6pm. If it's one of my stay-at-home dad days, then we'll spend part of it in the house and the other doing something. So, this could involve playing with DUPLO or watching a film, before heading to a toddler class like Water Babies, going to soft play or walking the dog.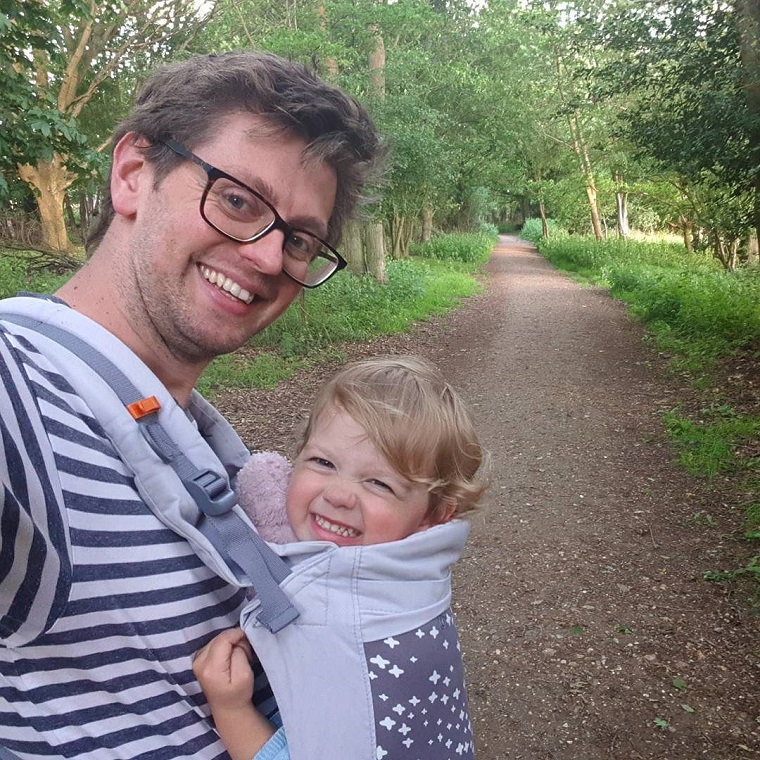 How do you manage your blogging career and being a father? I'm not going to lie – it's difficult and I've still not found the balance. As a full-time stay-at-home dad and a full-time blogger, there aren't enough hours in the day to do everything I want. When I'm in SAHD mode, then obviously my daughter comes first and I have to put the blog on the backburner. My daughter starting nursery part-time last year has helped a lot as it gives me two full days to focus purely on blog things, with naptimes and evenings also being used. Although challenging, I have the best of both worlds – I get to be with my daughter and have a flexible job.
How has fatherhood changed you? What did you learn about yourself after becoming a parent? Although becoming a dad has changed me, I don't think there's been any huge, life-changing, learning points. I've had to become more patient, learn a different way of communicating and figure out how to juggle ten things at once. I'd probably say that I view the world in a slightly different way too – having a daughter and being a stay-at-home dad makes you aware of certain barriers and unhelpful stereotypes within society. Oh, and I'm no longer bothered about disgusting things like eating pre-chewed toddler food, picking a bogie out of someone else's nose or getting the contents of a nappy under my fingernail.
How do you like to work with PRs? And how can they improve their blogger outreach? Obviously, my blog is a business, so working with brands and PRs is a key part of that. I enjoy the relationships I've built up over the years and like the challenge of collaborating with brands whilst retaining the style, tone and essence of my blog. These days, a lot of the brand work I do is on creative cross-platform campaigns (blog posts, videos and social media) for national and multi-national companies. As such, I'm often working with large PR companies and find that their blogger outreach is good. However, I do find a few repeated problems – namely tight/unrealistic deadlines, scope creep and late payment, which often means I spend a lot of time chasing invoices. Thankfully though, issues I used to encounter like brands wanting non-disclosure and/or follow links, plus limited budget, are things I don't experience much these days.
What are the main challenges that fathers face? I think there's a general perception that dads are still the second-rate parent. I truly believe that this is changing, but I still see daily examples of dads being treated different because they aren't mums – as a few examples, we're talking 'Mother and Baby groups', a lack of changing facilities in male toilets and products which are 'approved by mums'. Is it really so difficult to be inclusive and say 'parents'? As a stay-at-home dad, I genuinely see no difference between what I do and what a stay-at-home mum does, so am always disappointed to see outdated and stereotypical views about dads.
What advice would you give to a new dad or dad-to-be? I think my one bit of advice would be to ignore advice! There's so much out there – books, TV, blogs, family, friends etc – but the reality is that every child is different. Yes, it's important to prepare, but you're not going to know every answer or know how to deal with every situation before it happens. For me, parenting is about dealing with situations as and when they happen based on your experience, understanding and pure guess work. Most parents don't know what they're doing, but somehow manage to get through the other side (relatively) unscathed.
What's your secret tool; what is it that helps you to cope when the going gets tough? I'm not really sure I have a secret. I just try to put my head down and get through it, whether that's a particularly challenging day with the toddler or multiple deadlines I have to hit that week. Like D:Ream said, things can only get better, right? Sometimes it's nice to have a bit of alone time though, so I often find a late night session of FIFA on the Xbox helps me switch off.
https://www.vuelio.com/uk/wp-content/uploads/2017/06/Dave-Hornby_The-DADventurer.jpg
760
760
Jake O'Neill
https://www.vuelio.com/uk/wp-content/uploads/2019/09/vuelio-logo.png
Jake O'Neill
2017-06-16 09:19:10
2017-06-16 09:19:46
Blogger Spotlight: Dave Hornby, The DADventurer