Blogger Spotlight: Leah Larwood, Roots and Toots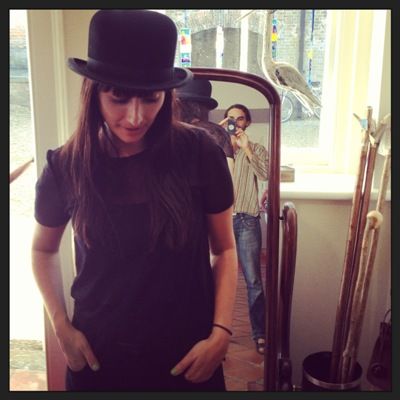 Communications freelancer, poet and short story writer by day, Leah Larwood's fiction was shortlisted for the prestigious Bridport Prize 2014. A self-confessed "Secret Lemonade Drinker", she tells us more about her nighttime pursuits, her food and travel blog (with soul), Roots and Toots.
Why should people read your blog? What makes it different?
It's dead fancy. Actually it's quite the opposite. I try to blog about wholesome and rustic food and travel. That doesn't mean I'm a health-food blogger necessarily. I try to adopt a mindful approach to what I write about: I champion local produce / provenance, craftsmanship, independents or environmentally-friendly food and travel; eateries and getaways which are a little quirky, have heritage, history, a creative streak or a recycled twist; food or travel, which has an element of wellbeing such as yoga or meditation retreats. Or food which is healthy or vegetarian (although, if you've read my blog you'll know that I'm a terrible veggie when I eat out).
How do you measure the success of your website? 
The fact that Roots and Toots has fans in Peru? I love that my blog reaches some rather unexpected destinations. On the whole it reaches people in the UK, but this week alone it's received views from places such as Macedonia, the Former Yugoslav Republic, Mexico, Brazil, Romania, Singapore and Peru to name but a few. I love to picture all these people in their far-flung homes and I can't help but wonder how they found little old Roots and Toots. I suppose statistics is the obvious response for many. And I won't lie, it feels pretty cool when some of your posts can attract hundreds of views in one day but it's usually when I receive emails and tweets from people who have enjoyed my writing or photography, that's when I feel like Roots and Toots is reaching people.
 What's your favourite blog and why? 
Toughie. Too many to list really. So I'll give you one in each of my subjects of interest: food, travel and writing.
Eddie Shephard blog – www.veggiechef.co.uk
 Written by the award-winning veggie chef, Eddie Shephard – who's been described as the 'the Heston Blumenthal of the vegetarian world'.
A Lady in London – www.aladyinlondon.com
This lady knows her stuff. She also offers a travel planning service to help others plan their trip or travelling adventure.
Older Mum in a Muddle – www.older-mum.blogspot.co.uk
I went to BritMum's Brilliance in Blogging awards and discovered this absolutely inspiring blogger, who was also the winner of the 'Writing' category.
 What advice would you give to someone who wants to start a blog?
Nervous about taking the plunge? Experiment for a bit. Set your blog to private and write for yourself for a while. I take this advice when writing fiction or poetry. If you start to write with an audience in mind, there's sometimes a risk that you'll lose your sense of self by trying too hard to please. You can always invite selected friends and family to access your private blog and once you've found your feet, unclick that privacy button. Make sure you have a clear idea about what you want to blog about. Be specific, have an angle or hook that stands out, your own personal twist is important. People want to see you on the page.
 How do you work with marketers and PRs?
I always feel so chuffed to receive invitations to attend events, restaurant openings and product samples to review. I'm happy to consider any invitation, product sample or blogger trip, but it goes without saying that it needs to have a clear fit with my profile.
Who do you work with in brand marketing? PRs? SEOs? Anyone else?
Based on my own experience, it seems that invitations for blogger outreach and events seem to come mainly from internal Social Media Managers or PR agencies.
 What has been your blogging highlight?
Apart from all the tasty things I've had the pleasure to eat, I was chuffed to bits when Roots and Toots won a competition last year hosted by the Spanish cherry growers, Picota. My blog post received almost 400 votes and as a result I won a trip to Spain to blog about Picota cherries and the region in which they are grown. It was a wonderful opportunity and we were treated to a 3-night stay in a restored convent, located in a stunning rural town in the Jerte Valley.
What will be big in your blogosphere in the coming months?
Food: Following the monumental series of The Great British Bake-Off, it's clear that baking will continue to rule the roost, as will any initiative that unites a group of bloggers and baking. I'd say that stripy straws, jam jars, paleo-everything and pumpkin-spiced may have all had their day. Although, I think unconventional or nostalgic themes will still be popular when it comes to food. Juicing and raw will continue to thrive and individualising food e.g cupcakes and sharing platters will still continue to be popular content for bloggers.
Travel: Space tourism? I jest only slightly. It still seems to be a hot topic across some of the blogs I've been reading recently. And at the other end of the spectrum, sustainability. This isn't exactly a new trend but something which is increasingly gaining more attention. Curated or customised trips all seem to be big too.
Editorial information on Leah Larwood, Roots and Toots and thousands of other media/blogger contacts and outlets, can be found in the Cision Media Database.
https://www.vuelio.com/uk/wp-content/uploads/2015/05/Leah-Larwood.jpg
400
400
Priyanka Dayal and Julie Hermans
https://www.vuelio.com/uk/wp-content/uploads/2019/09/vuelio-logo.png
Priyanka Dayal and Julie Hermans
2015-05-14 10:31:04
2015-05-14 10:31:04
Blogger Spotlight: Leah Larwood, Roots and Toots