Journalist Spotlight: Rosalind Jana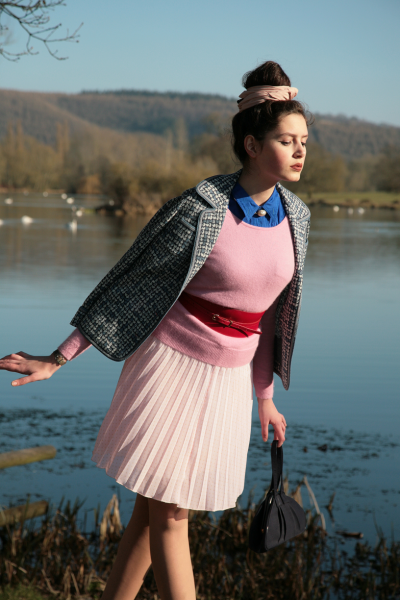 Rosalind Jana is the 17-year-old author of Clothes, Cameras and Coffee and former winner of the Vogue Talent Contest 2011 (writing). Currently enjoying the Easter holidays, Rosalind spoke to Vuelio about her future, British Brands and working with PRs.
Clothes, Cameras and Coffee is a diverse blog that doesn't easily fit into any one category. Though it is often labelled as 'fashion', Rosalind describes its genre as 'culture', covering fashion, style, photography, art, literature and feminism. She uses the blog as a platform for three different things: her second-hand and vintage outfits, photography and, most importantly, her writing.
With a conditional place at Oxford to study English, and a desired career path as a freelance journalist and author, Rosalind ambitions are high but her history suggests they're achievable. She already has three pieces published in British Vogue and writes regularly for All Walks Beyond the Catwalk and the Oxfam fashion blog; a promising start to a freelancing career most could only dream of. When asked if the other students were jealous, Rosalind replied: 'No. When you go to a sixth form with 2,000 other people you can remain kind of anonymous. The people that know now tend to say, "Oh! That's just Rosalind…".'
Contest
The Vogue Talent Contest she won required three entry pieces: a memoir, an opinion column piece and an arts review. Following her diagnosis of scoliosis, Rosalind had spinal surgery, which prevented her visiting art galleries or exhibitions that might have provided fruits for an article. Instead she reviewed a local agricultural show, writing in the style of a fashion article. Part of prize was a month interning at Vogue in the features department, which gave Rosalind a real sense of the work that goes into every page, something she didn't fully appreciate as a reader.
When she starts university, her time for blogging may be reduced but Rosalind wants Clothes, Cameras and Coffee to be an online CV she can send to publications when pitching and it is therefore very much part of her future.
With 2577 members via Google Friend Connect, Rosalind has a vast audience who visit the blog on a regular basis. She believes that it is other bloggers who have Google accounts and are commenting on her blog and she therefore only receives feedback from one section of her audience. That said, her large blogger audience doesn't necessarily equate to her place in the blogosphere; Rosalind observed that as she isn't based in London she is on the fringes of the fashion world, which is something that she likes to 'dip in and out of'.
Social Media
Social media is very important to Rosalind, with spikes in traffic clearly visible thanks to networking sites. She finds Twitter better for connecting with people and has even managed to get professional work through the platform, as opposed to Facebook which is more useful for sharing content.
Clothes, Cameras and Coffee has only recently started to include advertising, with on/off banner ads and content collaborations. The argument for advertising is a compelling one – raising money to help towards the increasing cost of study by charging for something Rosalind spends as much time working on as she would a part-time job. Maintaining a sense of integrity, she only collaborates with brands who can match the character of her blog's aesthetic.
Working with PRs
'The Best PRs have a genuine sense of the blogger they're talking to'.
Rosalind believes the best relationships grow from a mutual appreciation – the PRs appreciating her blog and her understanding of the brand and what it is doing. Bloggers don't want to do something for nothing, unless they really believe in the brand and its goals, which is something that some PRs don't seem to consider. Her favourite brands are British: Mulberry would be top of the list because she loves both the clothes and the ad campaigns, with other favourites including Mary Katrantzou and Orla Kiely.
The worst interactions with PRs arise from emails starting 'dear blogger' or 'dear sir/madam'. Rosalind appreciates that it takes a lot of time but personalised emails make a big difference. Also an awareness of the blog is good. Messages suggesting that she might like to share stock images on Clothes, Cameras and Coffee demonstrates the PR's lack of awareness of what she does and what her blog is all about. Her large readership expects a certain style and tone – PR material should fit that.
What one item of clothing could you not live without?
My navy M&S jumper, because it's very comfy.
What's your favourite book?
Tess of the d'Urbervilles by Thomas Hardy.
What super power would you have?  
To fly; it's clichéd but it would be wonderful. 
What is your life motto?
To not base self-worth on achievements – though that doesn't mean you don't have to work bloody hard.
Who would play you in a film?
Not because she looks like me but Marion Cotillard because she's a wonderful actress.
Editorial information on Rosalind Jana, Clothes, Cameras & Coffee and thousands of other media contacts and outlets, can be found in the Vuelio Media Database.
https://www.vuelio.com/uk/wp-content/uploads/2019/09/vuelio-logo.png
0
0
Priyanka Dayal
https://www.vuelio.com/uk/wp-content/uploads/2019/09/vuelio-logo.png
Priyanka Dayal
2013-04-11 09:11:34
2017-11-09 17:41:45
Journalist Spotlight: Rosalind Jana