The UK's biggest blogger survey is back!
The study which was conducted by Vuelio in conjunction with Canterbury Christ Church University found that blogging is now a well-established media for consumers who turn to their favourite writers for news, advice, inspiration or information on a particular topic or theme.  
The report provides a snapshot of the blogger sector and maps some of the changes in their work, behaviour, attitudes and opinions since last year.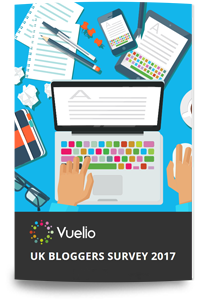 Key insights about the industry:
---
• Lifestyle is the most popular theme for blogs but parenting and family shows the biggest increase since last year
• Growth in professional blogging (influencers) and although most blog for personal reasons there is more interest in developing it commercially
• Most influencers own and manage their own blog and three-quarters reported they focus on just one blog
• Most blogs attract 1 – 10,000 unique visitors and only a small increase in large blogs over 10,000 visitors
• Twitter and Facebook are the preferred methods to promote content with females active on Instagram and Pinterest
• Little change in promoting a blog since last year with over two thirds of bloggers spending up to 15 hours per week on their blog
• Over a third of influencers are pitched to seven times or more a week by PR professionals and frequency is increasing since last year
• Despite PRs pitching frequently it does not result in published content
• Bloggers still believe that transparency about brand sponsorship is essential
With a customer base of over 1,500 clients, Vuelio is Europe's leading provider of software for communications, public affairs and stakeholder engagement.
We offer an unrivalled portfolio of products and services to serve the modern public relations and public affairs professional throughout the UK and Europe.
Whether you're seeking to influence the media, traditional or new, MPs or local government, or your organisation's members and supporters, the Vuelio Communications Software suite – Vuelio PR, Vuelio Political, and Vuelio Stakeholder Management – provides everything you need to identify, understand and engage with the right audiences, in the right way
About Canterbury Christ Church University:
---
Canterbury Christ Church University is a modern, multi-campus University offering higher and professional education across key Kent and Medway locations: Canterbury, Broadstairs, Medway and Tunbridge Wells.
It has a strong community of 17,000 students and 2,000 staff, studying and teaching across four faculties: Arts and Humanities, Education, Health and Wellbeing, and Social and Applied Sciences.Christ Church was established in 1962 and is a Church of England Foundation University, welcoming all faiths and none.
Today, the University continues to shape courses and research around critical social issues, the latest industry developments and public service need.
Nearly 90% of its research submitted to the 2014 Research Excellence Framework (REF) was assessed as world-leading, internationally excellent or internationally recognised, and 95% of our UK undergraduates and 98% of our postgraduates were in employment or further study within six months of completing their studies, with 9 out of 10 of our employed graduates in graduate level jobs three-and-a-half years after finishing their studies – higher than the national average.