Bristol City Council
How Vuelio helped Bristol City Council achieve quick wins and save time
Working at the heart of the UK's 7th largest Core City, Bristol City Council aims to play a leading role in driving a city of hope and aspiration where everyone can share in its success.
This involves coordination with hundreds of stakeholders alongside the commissioning and delivery of hundreds of services which form the fabric of everyday life in the city.
The council works to develop people and place to improve outcomes, empower communities and reduce the need for council services as people live happier, independent lives.
A vital part of achieving its aims is successful communication with citizens, businesses, partners and the media. The council's Public Relations team focuses primarily on the media relations and direct digital communications elements of the council's communications strategy, sitting as part of a central Policy and Strategy hub which places a strong emphasis on contributing to good business planning and management.
The team is a former 'Public Sector Team of the Year' (Chartered Institute of Public Relations South of England and Channel Islands PRide Awards 2015) and was recently recognised as 'Outstanding In-house Public Relations Team' (Chartered Institute of Public Relations South of England and Channel Islands PRide Awards 2017). With this success comes high expectations and Vuelio plays a vital role in coordinating the team's output; ensuring the efficient targeting, management and delivery of news content directly to stakeholders and on the council's digital platforms.
Vuelio is also used to track key subjects across the council's £1bn+ annual investment in the city, identify new influencers and provide a key strand of corporate resilience in case of emergencies that affect its ICT infrastructure.
"Vuelio is as fundamental for our team as a smartphone or laptop." – Tim Borrett, Head of Policy and Strategy (interim), Bristol City Council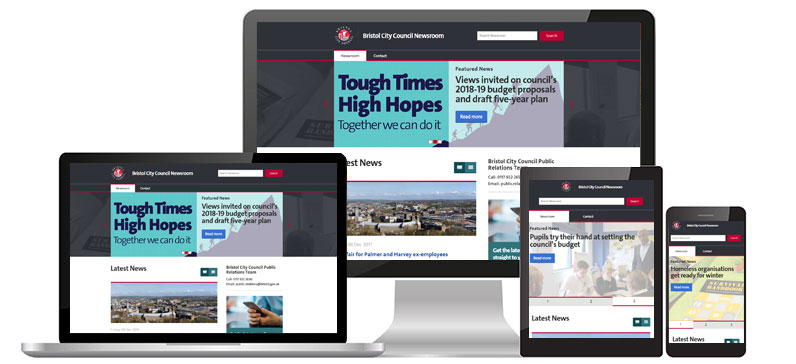 The Challenge
Life before Vuelio presented several challenges, particularly in terms of providing a resilient and consistent system of content distribution and issues tracking. The council was undergoing much transformative change, resulting in risks around changes in ICT systems and practice alongside the potential loss of corporate memory as colleagues moved on from the organisation.
Practice was good but lacked coordination, with time lost inputting news content across several platforms and manually filing content across a multitude of user-created filing structures. Vuelio provided opportunity to coordinate this and provide a solid, stable base for all content and live logging of issues and progress.
With nine team members working across diverse areas from roadworks to culture to social care, the team risked losing sight of each other's work and duplicating effort, with managers having to take extra time to keep on top of what everyone was working on and where there might be synergies or risks.
The Solution
From the outset Vuelio offered a good opportunity to achieve quick wins in terms of logging activity and providing an easier form of management oversight. Its intuitive system and at-a-glance dashboard were immediately attractive, and these were supported with a range of powerful features and potential in other parts of the platform.
"No one else was able to provide such a diverse range of functionality in a single platform"
It became clear that no one else was able to provide such a diverse range of functionality in a single platform, from database management and identifying new contacts to distributing and publishing content, Vuelio presented a simple all-in-one product which could dramatically reduce time spent for users shifting between systems and duplicating tasks. From a management perspective, the ability to procure once and manage a single contract rather than the potential for several made good sense, particularly given the value-for-money achieved by having a single supplier.
In practice, we have pushed Vuelio's boundaries in several ways, particularly with the need to work with rich content, introduce an online work-flow to directly populate the system and provide an integrated online media centre.
"We've found the team responsive and a pleasure to work with, always willing to go the extra mile to meet our requirements as clients and develop features and fixes alongside us on the few occasions when 'out of the box' needed a little tweak to work best for us".
The system has provided a really solid base for our media relations and activity tracking, along with delivering efficiencies by giving us the power to publish online at the click of a button, saving us rebuilding news stories in a separate CMS. Its reporting function has proven really helpful and although this wasn't a major original selling point, in practice it has been invaluable in reporting our activity and providing context to justify maintaining the capacity within the team when used alongside regular reporting of campaign and service outcomes.
Benefits and Results
Along with the time saved by using an all-in-one distribution and publishing system (valued at approx. £2k staff time p/a), Vuelio has really benefitted us by ensuring people are sighted on each other's work – significantly reducing duplication in dealing with media enquiries and making sure the whole team are up-to-speed on key topics. Alongside this, Vuelio has provided stronger, more convenient management oversight of activity and a robust audit trail for activity.
Another major benefit has been the improved resilience so that, more than once, the team has been able to continue its work during internal system outages. This has been vital in reducing risk, making us more confident in our ability to operate in case of in-house system outage and ensuring elements of the team's practice, including a 24/7 emergency on-call service, can be handled efficiently with staff having access to comprehensive, up-to-date information.
We are regularly able to identify new contacts to whom we can pitch relevant stories, helping us improve our reach beyond the city; something which is valuable as the city and its council continue to establish stronger national and global relationships.