Blogger Spotlight: Anthony McGrath, Clothes Make The Man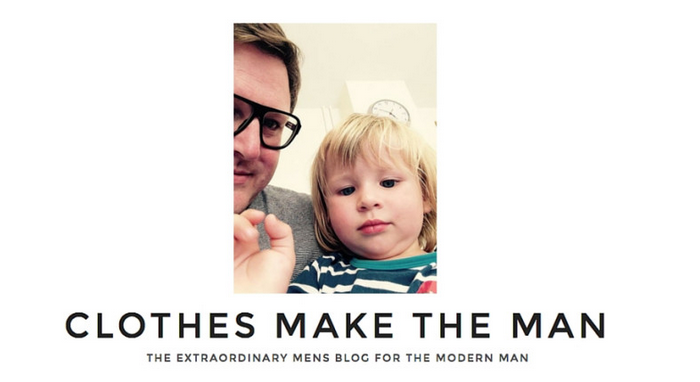 Authored by Anthony McGrath, Clothes Make the Man acts as a medium between blog sites that are either high-end or high-street focused. Catering to the 'ordinary man' this blog offers down to earth advice to help its readers make well-informed sartorial choices. In this spotlight, Anthony who appears on our men's fashion ranking chats to us about what inspired him to start blogging, what fashion means to him and who his favourite brands are. 
What inspired you to blog? Well, initially it was because I saw a gap in the market. Now it's a story that grabs my attention and has an interesting back story or USP to it.
Was it easy coming up with the name for your blog? No, it was "This Charming Man" for quite a while, then surprisingly "The Stylish Dad" which we recently launched as part of the main blog and is proving very popular. But Clothes Make the Man just seemed to work.
Which blogs do you read on a daily basis? I regularly read The Chic Geek, The Style King, Style & Error, The Science of Appearance and a couple of others that I admire the writing of.
Which photographers do you work with? None regularly but I love working with friends like Tim Bret Day, Nick Maroudias, Cameron McNee, Jon Mortimer.
What does fashion mean to you? A lifestyle, a way to live your life, but I don't think it is throw away or smoke & mirrors. I believe it's an art form in the same way as Sculpture or paintings. But something we all can experience and are better for it.
Which are your favourite brands? It changes regularly but I love Oliver Spencer, A-Cold Wall, Barbour, Private White.
Have you been able to build a relationship with them and how did you go about this? Well, I've been in the industry for nearly twenty years and I come from a traditional journalism background so I've got to know a number of designers I admire over the years.
What's the biggest campaign you've ever been part of? I've styled campaigns for everyone from Marks & Spencer and Burton right the way through to Peroni and Jaguar.
How important is social media for your blog? Essential,  as a way to widen your appeal and promote the brand to a larger audience.
Where do you see yourself five years from now in relation to your blog? Any personal goals? Apart from spending more time with my family & friends in interesting tropical climbs, with a cold drink in my hand. We are celebrating our 5th birthday this year and I'd have never predicted the blog would have evolved in the way it has, which some amazingly talented contributing editors. So in honesty, the industry will evolve and change in very different ways in the next 5 years, so I look forward to the ride.
What advice do you have for aspiring men's fashion bloggers? Think about it long and hard before jumping into it. It is hard work and a full- time job. Try and have a USP and don't follow others. Do a blog on something you are passionate about.
https://www.vuelio.com/uk/wp-content/uploads/2017/06/Anthony-McGrath_VuelioSpotlight.png
382
715
Holly Hodges
https://www.vuelio.com/uk/wp-content/uploads/2019/09/vuelio-logo.png
Holly Hodges
2017-06-22 13:30:19
2017-06-22 13:33:59
Blogger Spotlight: Anthony McGrath, Clothes Make The Man