Vuelio Canvas – Showcase your comms in seconds
Forget complicated Excel spreadsheets, clipbooks and PDFs to report or highlight your communications activities. Showcase news stories, social media activity, video and audio from across the web and offline in a visual presentation you can make in seconds.
Overview
Showcase your coverage in seconds
Vuelio Canvas allows you to showcase and curate your coverage in a beautiful interface, drastically reducing the time and effort of collating, sharing and presenting your coverage. Simply put in the link to the coverage you want to highlight and let us work our magic! Canvas automatically picks up all the key information and displays your stories in a user-friendly beautifully designed webpage.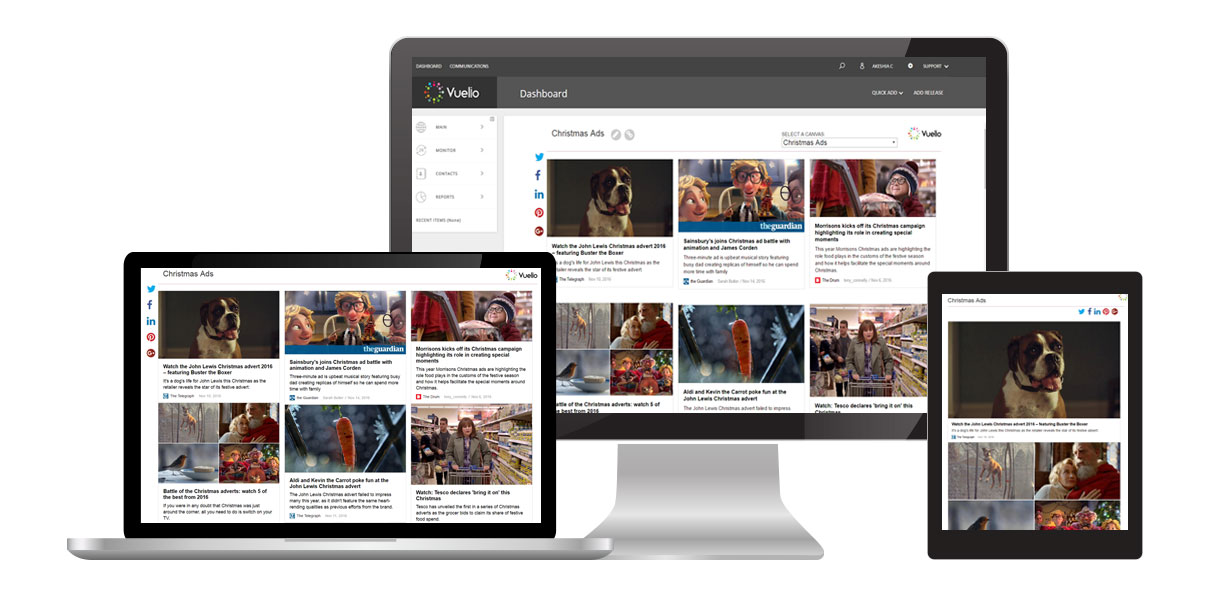 Quickly distribute coverage reports, accessible from any device
You've worked hard to earn your coverage – now it's time to showcase your success. Canvas allows you to easily share your online and offline coverage both internally and externally. Create your Canvas then share it by simply sending the uniquely generated URL. The Canvas can be viewed from any device or browser, so you can be sure that your content can be easily accessed by anyone you want.
Demonstrate the value of PR
Showcase the results of your campaigns and demonstrate the value of your efforts by highlighting key coverage and social media statistics in a simple, easy-to-use chart and graph building interface. Whether it's publication reach, article page views or number of followers, Canvas allows you to share the information that will matter to your team and internal or external decision makers.