The Comprehensive Spending Review 2020 – Vuelio Webinar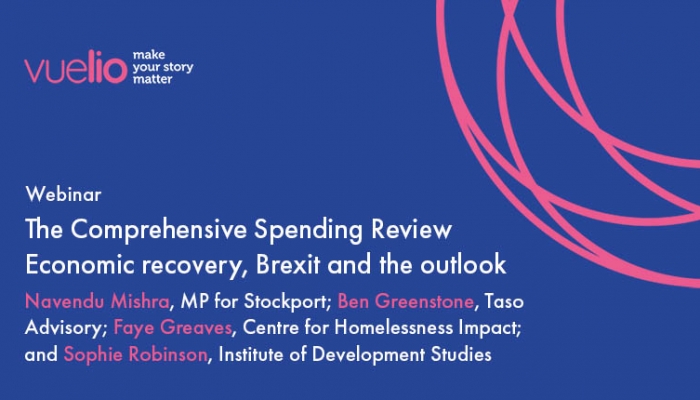 With public debt levels soaring and billions to be paid as a result of nationwide lockdowns and job support schemes – how will the Comprehensive Spending Review affect you?
Watch our webinar to hear Navendu Mishra, MP for Stockport; Ben Greenstone, founder and director at Taso Advisory; Faye Greaves, Head of Policy, Practice and Development at the Centre for Homelessness Impact and Sophie Robinson, External Affairs Officer at the Institute of Development Studies discuss what the Spending Review tells us about the Government's intentions in 2021 and how it will affect policy engagement activities in the coming months.
You will learn:
• How previous spending commitments such as investment in infrastructure and International Aid are affected
• How the Comprehensive Spending Review will affect policy development
• Who the most important stakeholders for engagement are
Watch the webinar by filling out the form below.