The ESG opportunity for PR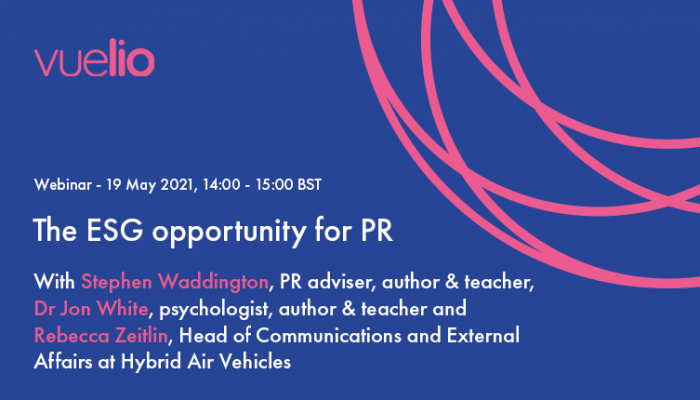 Can you confidently define ESG? Is your team managing ESG risk for your business? Do you know why ESG sits in PR?
To help answer these questions, Vuelio launched the report The Environment, Social and Corporate Governance opportunity for public relations authored by Stephen Waddington and Dr Jon White, with exclusive survey results from Vuelio.
Among the results, our research found that while a third of organisations already have a policy in place to manage ESG, 27% are not managing ESG risk at all.
Both authors of the report, Stephen Waddington and Dr Jon White joined us live for a webinar, 'The ESG Opportunity for PR'. They were joined by Rebecca Zeitlin, head of communications and external affairs at Hybrid Air Vehicles, who gave her first-hand experience of managing ESG in an industry that is threatened by regulation if action doesn't come from within.
Watch the webinar to learn:
What ESG means for your organisation
Why your comms team is best placed to lead on ESG risk
The actions you can take to manage this now