What's in it for me? Nadine Hill of JuggleMum asks brand marketers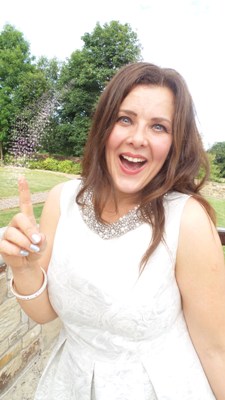 Blogger spotlight with Nadine Hill, author of parenting and lifestyle blog, JuggleMum. In this interview Nadine tells us about the redesign that sets her 'blogazine' apart, why Google pays her, being named the 'Best Video Blogger' at the annual BritMums Awards, working with PR and more.
Why should people read your blog? What makes it different?  My readers are what it's all about and when I write, the focus is always for me… and for them.  Like many other lifestyle bloggers, I started writing for myself – it was a creative outlet and I wrote exactly what was going on in my life or about things I needed to make sense of.  Blogging really is terrific therapy! As I started to find my voice on the blog and gain confidence, I would write about things I got up to with my kids and the blog became like an online diary.  This started to bring in interest from companies who would offer me review products and days out as a family, as they wanted the online promotion.  After several years of sharing my story online and enjoying being asked to review things and do sponsored posts, I started seeing the opportunity to make some real money from the blog so I approached things in a more businesslike way.  In June 2015 I re-launched JuggleMum with a new focus and image-led magazine style layout, and since the switch my page views and reader comments have flourished.
What makes JuggleMum different is that it is like an online blogazine for busy mums.  I write in a blog style so you get the personal element and connection, but I take care to ensure that the posts are useful.  There is no fluff or filler on this blog!
How do you measure the success of your website? I measure the success of my website in a number of ways – most importantly that it is well received.  I know this from the reader comments.  I am also delighted each time that I log in to see that the page views have increased and my blog is reaching far more people both in the UK and worldwide who engage with the content.  But another personal marker of success for me is the money I'm earning from it.  This is what enables me to work from home and be present for my children, doing every school run and attending every play or sports day.  I was surprised the first time Google paid me – I had an extra £68 in my bank account and I wasn't sure where it was from!  I realised it was Adsense earnings from my YouTube video views.  I'd started the YouTube channel in 2009 to have a place where I could store my videos online and be able to embed them onto my blog, I never gave any thought to earning from it.  However the more videos I do, the more money I earn, and whereas once my blog content informed my YouTube channel, these days increasingly what I do on YouTube informs content that I create for the blog, so I operate both entities side by side.  JuggleMum is now a multi platform digital publisher with a focus on content for busy modern mums and families in general.
Working with bloggers is a very different ball game to working with traditional media – we are all self employed for a start!
What's your favourite blog and why? I read a wide variety of blogs in all niches, from food to travel and parenting to fashion as these are my interests.  As I am the Video Round-up Editor for BritMums, I get to learn about a lot of blogs and see new ones coming out regularly, and I try to engage with the blogging community and leave comments as much as I can to both spread the love and also to get JuggleMum onto people's radar!  Reading a diverse range of blogs exposes me to new trends early and sparks ideas in me on what content I might create next, but whatever I do I always like to put a JuggleMum spin on it, to keep it consistent with my brand and relevant to my core readership.
What advice would you give to someone who wants to start a blog? If you have something to say and want an outlet then don't worry too much about getting everything right, just go ahead and do it!  You will learn about what you are doing and what is important as you go along.  The beauty of blogs is that they evolve, what you start out with might not be what you end up with and even now after 6 years my blog is constantly shifting and changing and 'becoming' what it is.  However if there is one thing I wish I knew earlier in my blogging journey than I did, it is what 'tags' are and what they do!  Over the past few years I've really started to understand more about SEO and organic growth and how a post matures its authority over time.  Had I known earlier what a tag is and why it's important, I could have made better choices before hitting publish in the early days!
How do you work with marketers and PRs? I love to work closely with marketers and PRs to develop a mutually beneficial relationship and have had several very successful brand collaborations in the past.  I appreciate approaches from PR/ marketing professionals where they understand the blogger/brand dynamic and address the question 'what's in it for me?'  Working with bloggers is a very different ball game to working with traditional media – we are all self employed for a start!  So if they would like to collaborate with me and my blog, then propose an exciting idea, give me access to something before anyone else gets it or a behind the scenes insight into your product.  Be upfront about budget and we can find ways to work together to promote your campaign that benefits everyone – even a small budget can be accommodated.  A blogger is capable of being a very powerful advocate for your clients' product or service.  We can write as a consumer's friend in a way that traditional media can't achieve, as we have the personal connections with our readers and the platform for them to comment on our posts and get a direct reply.  Bloggers and journalists are two different entities, and need to be considered as separate but linked parts of a marketing plan, rather than lumped in together.
How do you use social media to promote/share content? What are the challenges? I have now developed a cross platform strategy which ensures that I am keeping all my social media channels updated regularly and promoting each JuggleMum post.  It has taken time to get to this stage where all my social balls are being juggled without dropping one.  When the blog re-launched, I created a new Twitter account, just for JuggleMum and also a new Instagram.  They can both be found on @JuggleMumBlog.  I wanted to separate the blog from my personal feed as a business strategy, to give JuggleMum its own identity.  My personal Twitter and Instagram is @Businessmum.  I am always uploading YouTube videos and have recently started to utilise Periscope too.  It can be a challenge to ensure that I engage all relevant social platforms with each post but I am extremely organised with it and keep records!
What can PRs do in working better with you? I'm always keen to work with PRs on projects that are relevant to my blog and audience, as well as things that delight me personally!  The ways a PR can work better with me are to adopt an equal degree of openness in their approach.  I know they are busy professionals with many people to contact and a blanket press release is an easy way for them to say they've informed everyone.  But a' pushing of news' to a blogger is most likely to end up in a deleted email at the bloggers end – we are not journalists and don't want press releases.  What a blogger needs is to have a carrot dangled that they can then pull in if it is of interest.  I like to be enticed – spark my interest.  I don't have to feature anything I don't want to – there is no editor standing over my shoulder making me write about anything, so I do it if I choose.  Make me want to choose your event – address 'what's in it for me?'   Let me know what budget you have for the project and that you are covering travel expenses to your event in your email.  Not every blogger is London based, so a day trip to London would cost me about £100 in trains plus a day's time out of my office.  If a company wants to guarantee my attendance then pay the train fare!
I don't have to feature anything I don't want to – there is no editor standing over my shoulder making me write about anything, so I do it if I choose.
It may sound like a lot of work to adopt an individual approach with bloggers but it doesn't have to be.  Some of my best relationships have started with an email that said "Hi there, we are putting together an exciting blogger event where we are doing xyz and we will be happy to cover travel costs, do you want to be kept informed?" or "Hi, my client (name) would like to send you a little gift, what is your address?"  The initial email may be a blanket one but it shows a willingness to collaborate in its content and in the second case, is a 'no strings' email, and it gets the conversation started.  After that once the blogger is on board you can develop a personal relationship with a partner who you know is willing to be contacted.  Anyone not interested will simply delete your email so at least you know who you are playing with!  Bloggers need to be courted in a different way than journalists and PRs who have this awareness are the ones I end up working with.
What has been your blogging highlight? I've had a couple of blogging highlights but a biggie has to be winning the Brilliance in Blogging Award in 2014 for 'Best Video Blogger' at the annual BritMums Awards.  It made me so proud that my efforts in creating a variety of video content had been recognised by my peers and industry judges.  Another highlight would be the first time that I earned money through my affiliate links as it helped me to see the potential for running a blog as a full time occupation.
What will be big in your blogosphere in the coming months? My big plans for the coming months involve some exciting collaborations that I am working on, where I'm looking forward to getting to know a couple of brands better to create some fun and interesting content for them.  I'm also starting a Periscope series in September where my readers can get some 'behind the screen' insight into my day as a blogger and I also aim to continue to grow my readership as JuggleMum is starting to take on a life of its own.  I'm immensely proud of this blog and it's exhilarating to see where it takes me, the destination is unknown, even though I'm in the driving seat!
Keep up with Nadine on Twitter at @Businessmum and @JuggleMumBlog, on Instagram at @Businessmum and @JuggleMumBlog.  Also check her out on Facebook page  and YouTube
https://www.vuelio.com/uk/wp-content/uploads/2015/08/JuggleMum.jpg
400
225
Priyanka Dayal
https://www.vuelio.com/uk/wp-content/uploads/2019/09/vuelio-logo.png
Priyanka Dayal
2015-08-19 13:51:33
2015-08-19 13:55:29
What's in it for me? Nadine Hill of JuggleMum asks brand marketers