Blogger Spotlight with Tania Bunic, The London Thing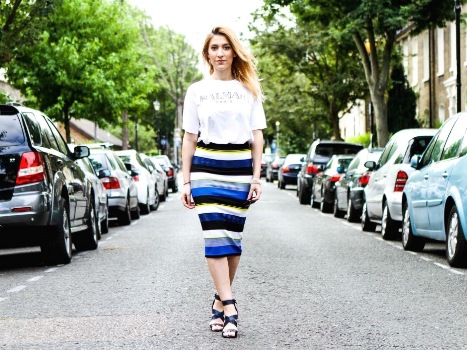 The London Thing recently ranked as one of the UK's top London Lifestyle Blogs by Vuelio. Author Tania Bunic talks to us about how she measures the success of her blog, working with PRs and moving into video. 
Why should people read your blog? What makes it different? 
The concept behind The London Thing is inspired by traveling various cities and not having a clue where to go or what to do, especially when time is limited. Researching through professional city guides can be rather time consuming so I thought I'd try sharing my personal and honest opinions and offer some insider's knowledge for anyone who wants to read it, be it a weekend visitor to our gorgeous city or a resident who is on the lookout for a fresh and cool new place to visit. In addition to this, my love for fashion and beauty is also expressed on the blog mainly because I have large interest in both and felt that my blog was a great place to share my creativity with the hope of inspiring people that have similar tastes.
I suppose what makes The London Thing different is that I offer a fresh perspective delivered within 3 categories that can be considered as 3 separate entities or blogs, if you will. If you are a male who is looking for a perfect date spot in the city then you can just navigate to the Going Out section of the blog rather than scroll through a bunch of outfits and beauty products. Despite the fact that my blog is aimed for all the lovely females, I would like to offer information that any person out there can find useful. I constantly try to deliver high quality content and with my blog growing so fast on daily basis, I feel even more inspired to continue with it.
How do you measure the success of your website? 
Social media is definitely something that I invest a lot of time and effort into. I gain new followers every day and this is a very tangible way to monitor the growth of the blog. I try not to pay too much attention to the stats at the moment as it's all about offering good quality content to my readers, however every week I will pour over my google analytics to find out what my readers like most and where they come from. In addition, the lovely comments I receive daily as well as emails are great ways of measuring my success. I feel as if there is a lot more to improve on and I am working really hard to grow the blog even more. However, I'm overwhelmed with the success I have achieved within a year as the blog started as a side project alongside my MSc course in Marketing so I can say that I'm only really starting now and I have big plans ahead.
What's your favourite blog and why? 
There isn't just one blog that I read however, if I had to choose one that would definitely be "The Blonde Salad" by Chiara Ferragni. I love it not only because of the original, edgy and quirky style Chiara sports but also for the massive success she has achieved. She knows exactly how to promote the brands she believes in and I have a tremendous amount of respect for her because of that as it's not really about free clothes and shoes and it's more about brand consultancy. She offers great City guides as well and her photography is always spot on and so different to many other bloggers out there.
What advice would you give to someone who wants to start a blog? 
I would say start a blog if this is one of your passions. A lot of people underestimate how much hard work comes with running a blog especially, if you publish 3 or more posts a week. If you are in it for freebies, I say stop right now. For me, it's all about inspiring and helping people. I'm doing it for myself as it's a dream of mine to build and create something of my own that people enjoy reading.
How do you work with marketers and PRs?
I receive a quite a few PR offers on daily basis but I am quite picky about who I feature on the blog, For me it's all about my readers and what they would like to see, so promoting a product that isn't in line with the blog I will most certainly say no to. I do like to treat every enquiry as professionally as possible and request to all PR and marketing enquires in a timely manner.
How do you use social media to promote/share content? What are the challenges?
At the moment I have the most presence and following on Instagram and Twitter where I post about 2-3 times a day. I also post on Facebook but Facebook has its ways of limiting the visibility of your content unless it's promoted so my focus is not on it at the moment. Another 2 platforms that I will be expanding on after I hand in my dissertation are my YouTube channel and Google+ pages as I really think that capturing the places that I visit on video can showcase the atmosphere so much better and offer a lot more insight for my readers. Editing videos requires a lot of time which I don't have as much at the moment but in a month or two this will change and I will be offering content this way too.
What can PRs do in working better with you?
I love when PRs express exactly what are they looking to achieve and what they expect from me so that we can create content that is appealing to primarily my readership but the brands that I'm working with as well. I believe communication is key and keeping both sides happy is definitely my priority.
What has been your blogging highlight? 
Being selected in the top 10 London Lifestyle blogs in the UK by you guys!
What will be big in your blogosphere in the coming months?
The focus will be on travel, I have some exciting trips booked and places to feature on my blog so stay tuned. Fashion is also a big one to follow as I'm really trying to get the game up.
https://www.vuelio.com/uk/wp-content/uploads/2015/08/Tania-Bunic.jpg
350
467
Priyanka Dayal and Julie Hermans
https://www.vuelio.com/uk/wp-content/uploads/2019/09/vuelio-logo.png
Priyanka Dayal and Julie Hermans
2015-08-14 14:23:17
2015-08-14 14:34:45
Blogger Spotlight with Tania Bunic, The London Thing