London Lifestyle Blogs UK Top 10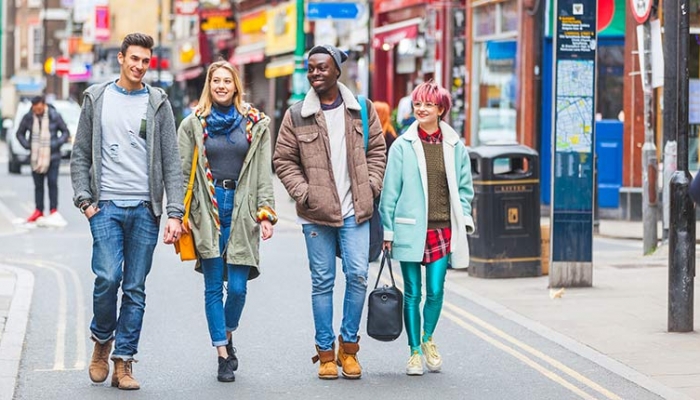 This ranking was last updated 24/11/2021.
Vuelio uses a proprietary algorithm to create these rankings, based on topic-related content in blogs on its system – you can read more about the process here. Our research team actively seeks out new blogs and bloggers for inclusion, but if you think we've missed someone, please get in touch to let us know. 
At number one for another year in our London Lifestyle ranking is London Unattached, which is great for people both attached and otherwise who want to enjoy the best that the UK capital has to offer. While life in London has certainly changed since the start of the pandemic, this team are still busy dishing on the best in Cocktails, Culture, Restaurants and much more across London. Already getting in the Christmas mood? Check out the team's review of The Snowman, Lightopia 2021 at Crystal Palace and Christmas at Kew Gardens.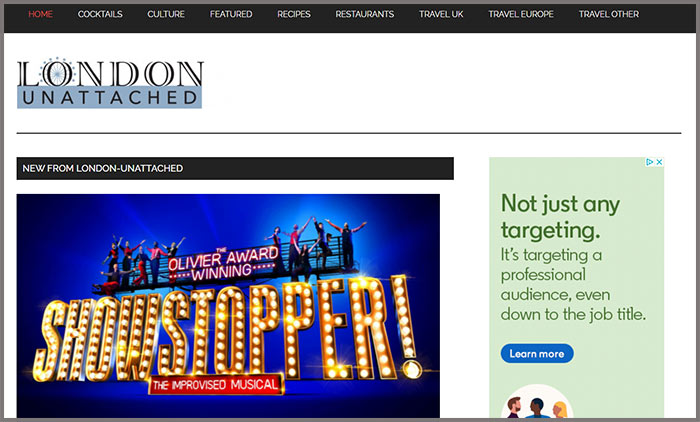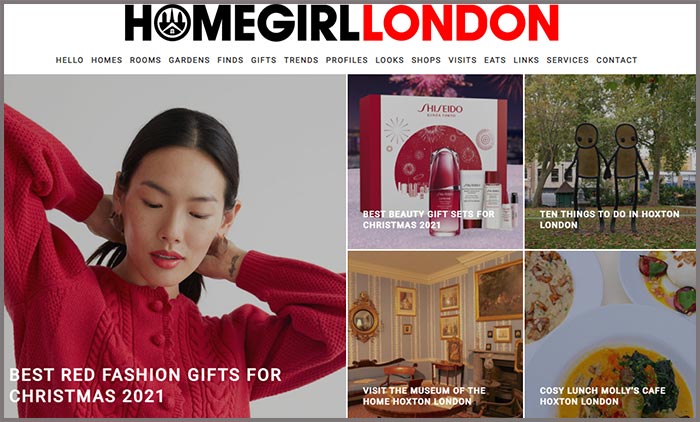 Rising up a few spots on this list to two this year is this 'lovely London lifestyle blog' Homegirl London, where the capital city has been bigged-up since April 2012. The blogger behind all the love is a particular fan of interiors as well as the big city, so you can find lots of home décor ideas and interior design trends worthy of any London address alongside posts sharing top things to keep you busy when leaving the house. Most recent places covered – Hoxton, Covent Garden, East Dulwich and The Museum of the Home.
Babes About Town's Uju Asika is a Top 10 UK Blog all-star, also featuring in our Parenting and Mummy Blog rankings. In this ranking, Babes About Town moves up two places since our last update and continues to share things to do with parents of young kids in London and beyond. Prepared to wrap up warm and head out to explore? 'Curator of cool finds, activities and experiences for city kids and parents' Uju has a rundown of the best things to do in London with kids this season, as well as recs for the best parenting books to read (if you're more interested in keeping cosy on the sofa).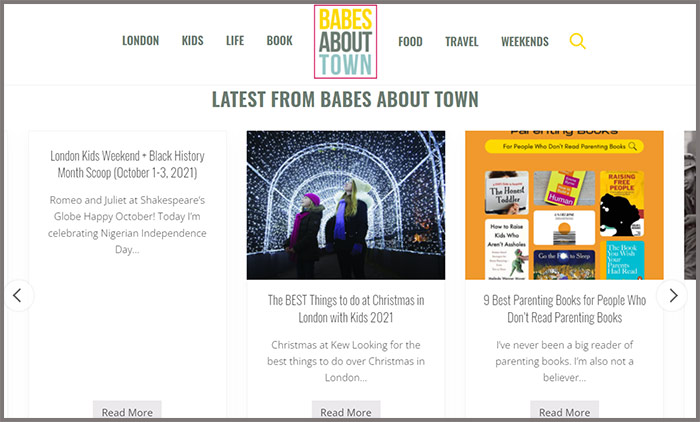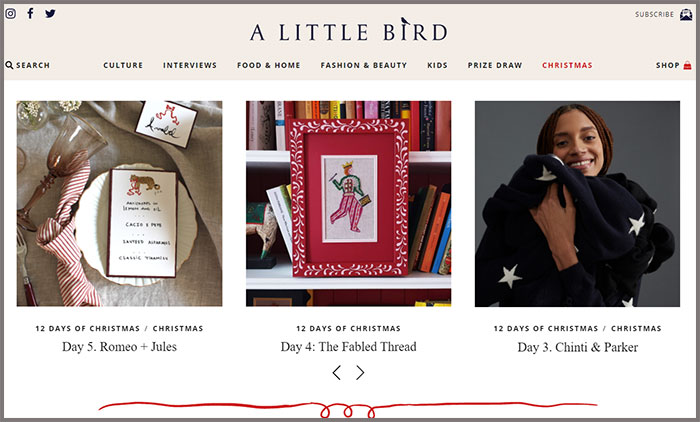 For navigating London in the search of a good time, whatever you're into, a little bird tells us that A Little Bird is a good place to start making notes. Co-founded by art and fashion journalists Francesca Martin and Daisy Allsup back in 2010, this super-stylish blog (another ranking riser this year) covers Culture, Food & Home, Fashion & Beauty, Kids and even has a dedicated channel for Christmas content. Right now: check out recommendations for Christmas Classes and Workshops happening during December for wreaths, cards and sweet treat-making.
Here we would like to formally welcome A Lady in London to the London Lifestyle ranking for 2021, who you may recognise from our Top 10 UK Travel Blogs.  This London-based expat Californian started blogging in 2007 and turned it into a full-time job in 2010. So far, it's taken her all around the city, as well as to 112 countries 'and counting!' While content covered includes those trips further abroad (a recent itinerary compiled by our London-living Lady focuses on Napa and Sonoma, CA), we're here for London – check out her free self-guided Bloomsbury Walk and Map, and her picks for Christmas Day Trips.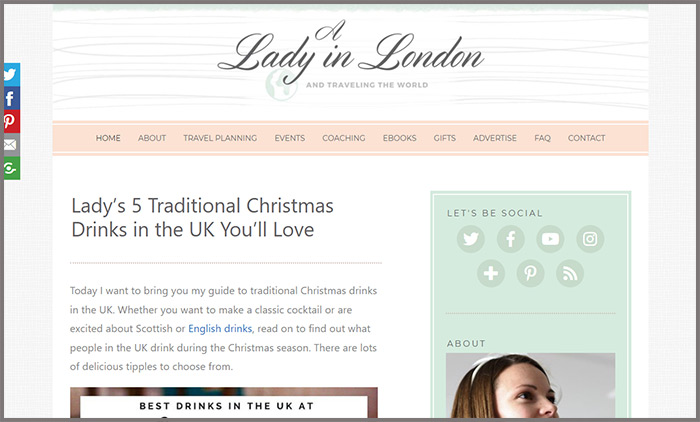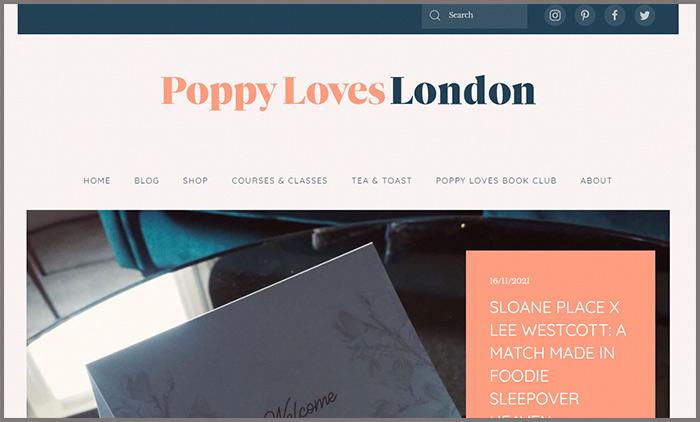 Also up a spot in this year's update of top UK London Lifestyle blogs is Poppy Loves, where blogger Eva has been declaring her love for London since 2010. As well as sharing the best of her home city, Eva writes about: 'My favourite fashion finds, travel destinations, recipes, homeware and coffee haunts. I've written endlessly about cosy cafes to hide away in and fancy restaurants for celebrations, my latest beauty finds, bakeries (the cake!) gorgeous interiors, books I've adored and all things knitwear. Oh, and jumpsuits. (Oh, and dresses…)'. Just like London, she's been busy – go have a read; you'll love it.
And we have another new blog to welcome to this ranking – 'the insider's guide to discovering the best of London', London x London. Sharing 'expert advice, entertainingly given', this blog offers readers the best of what to do/eat/drink in the capital as well as 'cool, interesting and quirky spots' to check out. And just because you may not have heard about the places being recommended, doesn't mean they'll be hard to find – London x London provides practical guides for tracking down London's 'secret bars, tastiest and weirdest finds'.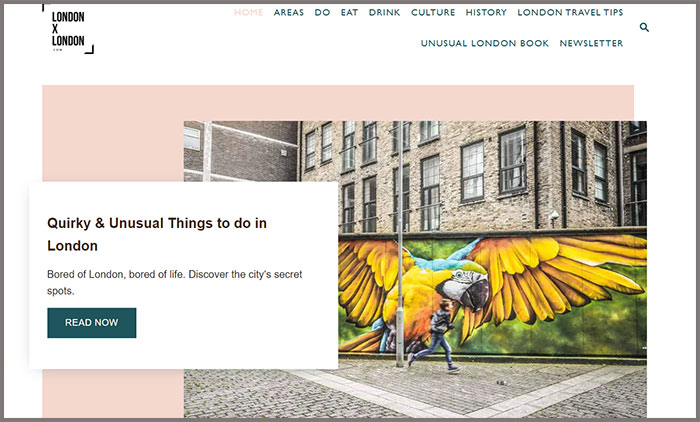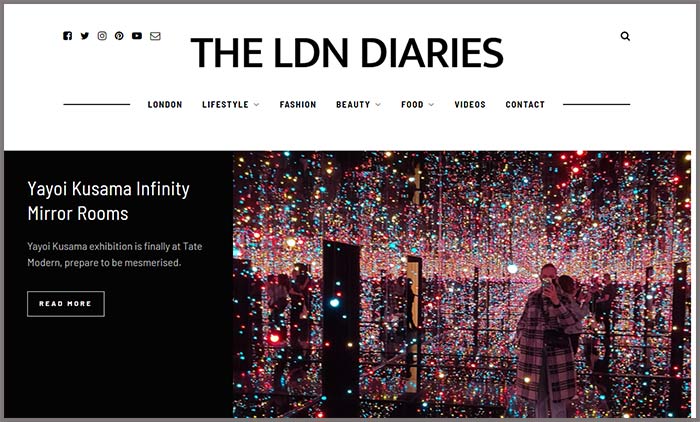 8. LDN Diaries
And our third new blog in this top ten comes from Paula Holmes, whose online diary covers London (naturally), Lifestyle, Fashion, Beauty and Food, including Afternoon Tea, Brunch and Sunday Roasts – which can all be reliably found across London. In fact, if you're after a new place to dine in the city, see what this blogger thinks of the capital's restaurants before digging into her round-up of the best beauty advent calendars available for 2021 (because treating yourself is important, wherever you're based in the UK).
Another Vuelio blog ranking all-star on this list is Carl Thompson, who you may remember from the Top 10 UK Men's Lifestyle Blogs. This is another very stylish blog indeed, coming from the founder of fashion brand Hawkins & Shepherd. Carl covers 'Men's Fashion, Grooming & Lifestyle' and bigs-up the best of living in London, also. Catch up on the locales this blogger has visited to make your own plans over the next few months as well as what to avoid when watching TV at home – he has a detailed lowdown on the best and worst Christmas ads this year.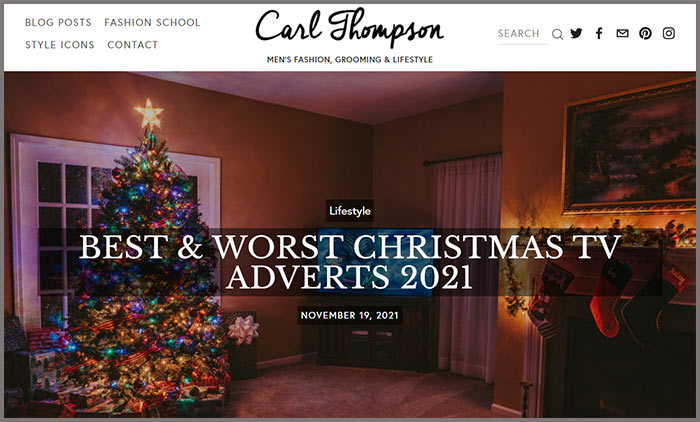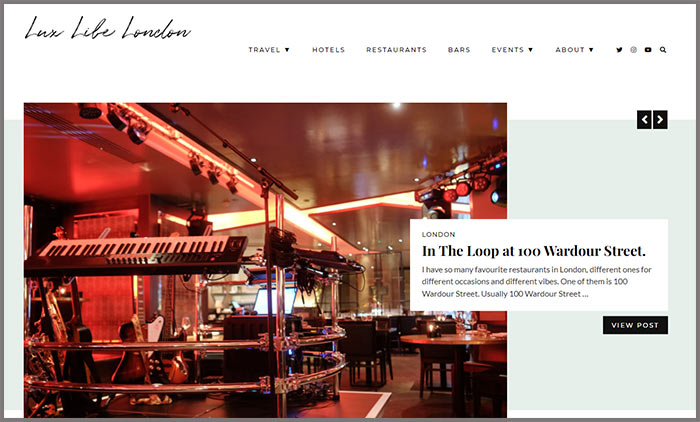 10. Lux Life London
We round-up the top blogs covering London Lifestyle with Catherine Lux's Lux Life London, where the 'London-based luxury travel and lifestyle blogger' explores the world through 'food and good times'. Sounds good to us – read up on Hotels, Restaurants, Bars and Events worth a trip, as well as the Travel section for Green List places to visit outside of the UK. If you're planning to stay UK-side over the festive period, however, you can always travel vicariously via Catherine's visits in her 'Luxury in 24 hours' series – no need to grab your passport or a Christmas-themed face mask…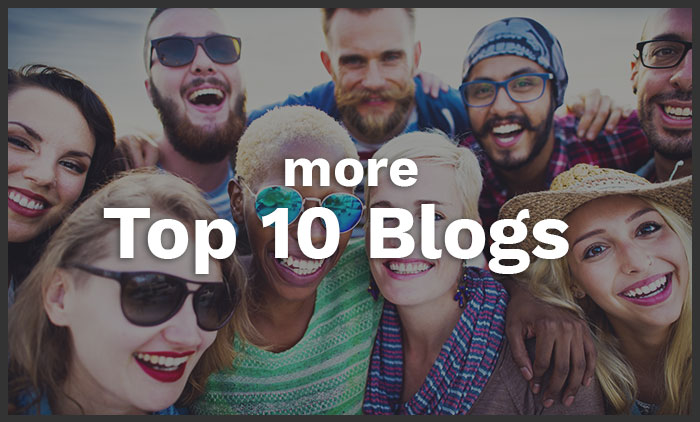 Collaborating with bloggers requires mutual respect and understanding: respect their schedules; take time to read their content to learn their interests; and only contact them if/when they want to be contacted. You can see more advice in our blogger spotlights. 
Profiles of these  blogs and their authors can be found in the Vuelio  Media Database.
https://www.vuelio.com/uk/wp-content/uploads/2021/11/London-Lifestyle-Featured.jpg
430
760
Christina Pirilla
https://www.vuelio.com/uk/wp-content/uploads/2019/09/vuelio-logo.png
Christina Pirilla
2021-11-24 10:00:18
2021-11-24 11:05:04
London Lifestyle Blogs UK Top 10