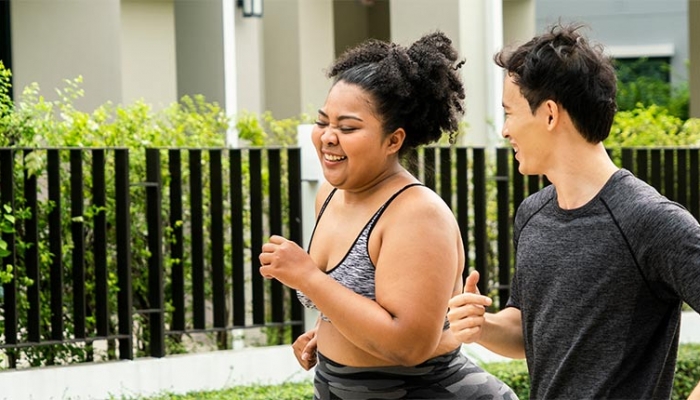 The Top 10 Running Blog ranking was last updated 21/09/2022.
Vuelio uses a proprietary algorithm to create these rankings, based on topic-related content in blogs on its system – you can read more about the process here. Our research team actively seeks out new blogs and bloggers for inclusion, but if you think we've missed someone, please get in touch to let us know.   
Still the leader of the pack when it comes to top running blogs in the UK is Charlie Watson's The Runner Beans. Since the starter pistol for this blog went off back in 2011, Charlie has been busy blogging about Running, Nutrition, Active Travel and Lifestyle – all important elements for keep pace with this hobby (or sport, depending on how you look at it). Latest posts cover which energy gels are best to keep you going while running and a recap of the Uplift Oregon 5k Race.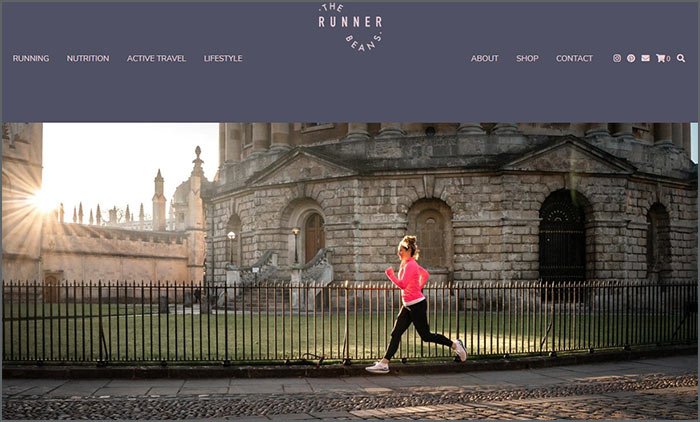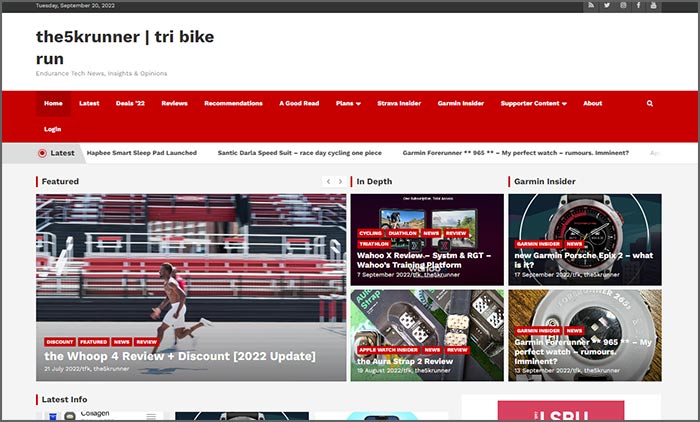 2. the5krunner
Another blogger keeping pace near the very front of our ranking race is the5krunner – a blogger without a name, who shares content covering 'Triathlon, Training & Tech'. If you are preparing for a 5k, do some research into what this runner recommends for equipment, footwear and much more. Aiming to put themselves directly 'in the shoes of you and other sporty people and what they use', this blogger is all about practical tips for getting the most out of your runs (also: they aren't actually going to wear your shoes, we think…).
Moving up a spot this year is Fiona Russell, the blogger and widely published journalist behind Fiona Outdoors. Getting outside to keep fit while the weather is still relatively pleasant – by UK standards, at least – is what Fiona recommends to her readers. With advice for everybody hoping to get outside to make the most of it, Fiona also offers specific advice for runners who are over 50 in her Fit over 50 channel. You can also check out her Kit Reviews, Inspiration and Have You Tried? content.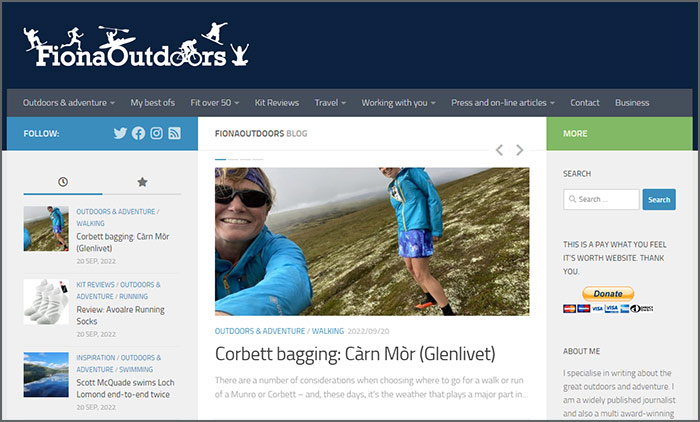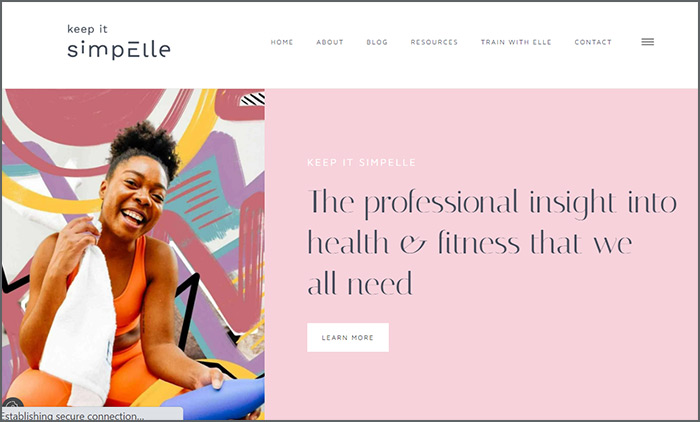 Keeping fit doesn't have to be complicated, as shown by Keep it SimpElle's Elle, who continues to offer expert advice and 'professional insight on health and fitness'. With a passion for cycling, sweating and running, Elle covers many different fitness disciplines on the blog, which aims to be an 'online fitness studio, fave smoothie bar, and weekly health magazine all rolled into one'. For everybody wanting to keep fit, get into a fitness routine, or rediscover their love of running, keep it simple and visit this blog.
.
Sticking in the same spot this year is Lazy Girl Running's Laura Fountain, who, going by the contents of this blog, is certainly the opposite of lazy. For those who would like to get out there and run, but might be too intimidated, Laura's content aims to welcome more people into the hobby she loves. Read up on Training Plans for strategising your start, Running Groups to join and her Marathon Squad overviews. You're in good hands (and feet) with Laura, who just happens to be a qualified personal trainer as well as super blogger.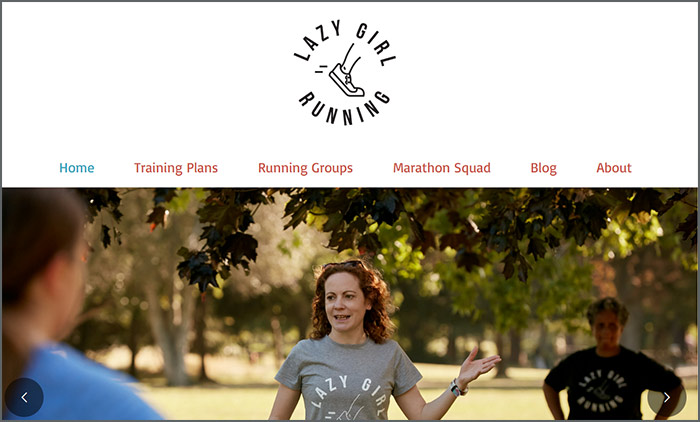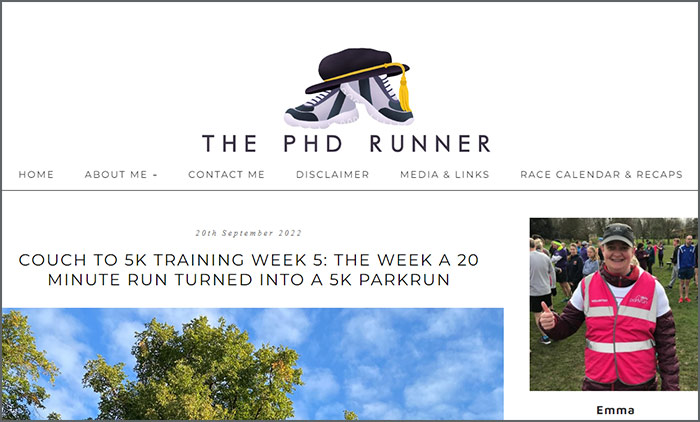 Don't worry – you don't need academic credentials to start running for a hobby, for fitness, or for healthy competition. In fact, all you need is to get reading this blog from Emma Neachell, who encourages her audience to join her as she 'tries out new things and take on new running challenges'. Right now, Emma is in the midst of a 'Couch to 5k Training' series, featuring regular updates and advice on training. If this sounds like something you would like to try, remember Emma's advice 'you don't have to save lives or win medals' – just have fun.
7. IRunOffRoad
A new entry to our ranking is Roger at IRunOffRoad – a blog which does what it says on the tin, so to speak — but much more, too. Having been running for 'over a quarter of a century', Roger knows what he is blogging about, trying to get out there and run off-road as often as possible. 'The aim of this blog is simply to try and get across how much I enjoy being out there running with my friends and to maybe encourage others to discover it, too. Running off road – try it, you'll be hooked just like me!'.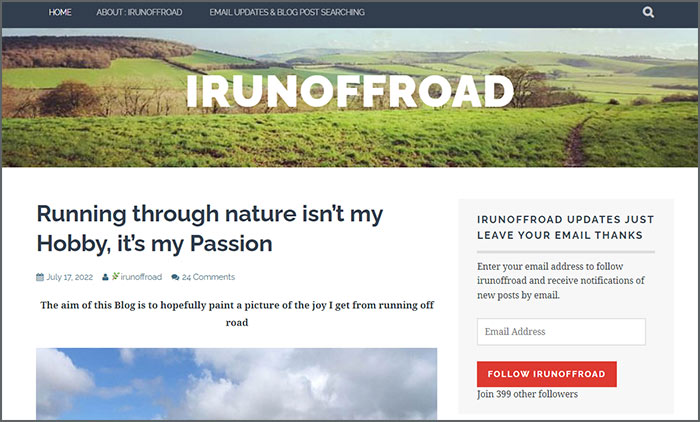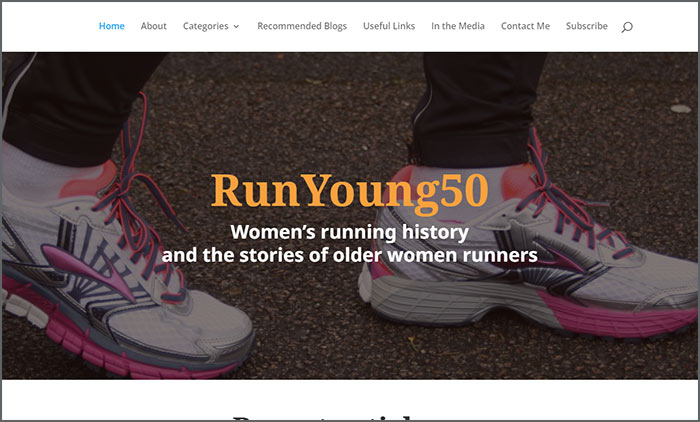 8. RunYoung50
And here we have another new entry, with Katie Holmes (no, not that one) sharing 'women's running history and the stories of older women runners' at RunYoung50. Feeling that turning 50 meant being less valued by society, appearing less in the media and not expected to be physically active, Katie wanted to share stories of 'ordinary' women getting involved in long-distance running and has written about pioneering marathon runners like Dale Greig, Joyce Smith and Diane Leather, too.
9. The Fat Girls' Guide To Running
Also placing high in our Running ranking this year is Julie Creffield, who originally launched The Fat Girls' Guide To Running back in 2003 as a 'humble blog sharing the highs and lows of being a plus-size runner'. International speaker, life coach and author Julie writes about all aspects of running as a plus-size person, highlighting the hobby as an inclusive one that can benefit many sizes, ages and fitness levels. Falling out of the routine and would like to get back in? Take part in The Getting Back Out There Challenge 2022.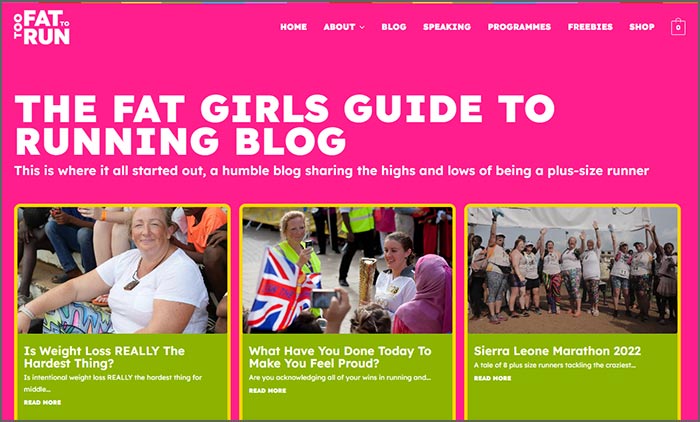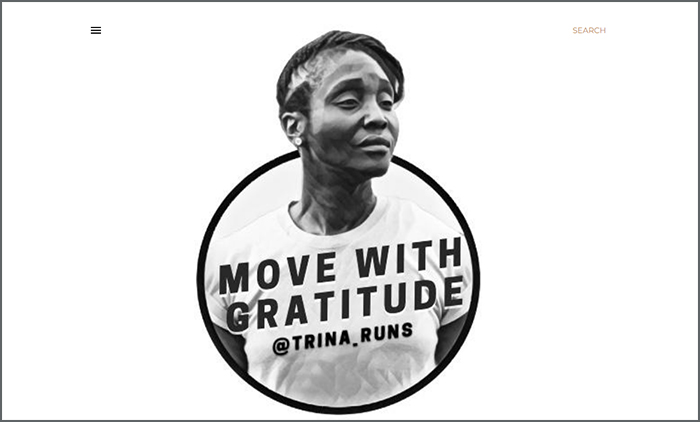 10. Trina Runs
Finishing our ten is Trina Runs, where blogger Trina hopes to help readers discover 'their hidden runner'. Aiming to make 'honest fitness and wellbeing more accessible', Trina believes that 'you don't have to go fast, you just have to move and be grateful for the small things'. Read her recent post on the amazing places running has taken her as well as the opportunities and experiences it has opened up. Want more from the blogger? Check out the Oct/Nov issue of Trail Running for a feature on Trina.
Collaborating with bloggers requires mutual respect and understanding: respect their schedules; take time to read their content to learn their interests; and only contact them if/when they want to be contacted. You can see more advice in our blogger spotlights. 
Profiles of these  blogs and their authors can be found in the Vuelio  Media Database.
https://www.vuelio.com/uk/wp-content/uploads/2022/09/Top-10-UK-Running-Blogs.jpg
430
760
Christina Pirilla
https://www.vuelio.com/uk/wp-content/uploads/2023/09/vuelio-logo-200px.png
Christina Pirilla
2022-09-21 09:20:27
2022-09-21 09:26:29
Top 10 UK Running Blogs