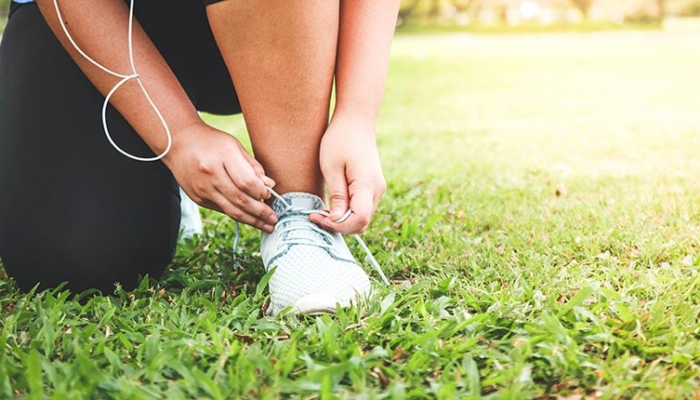 The Top 10 Running Blog ranking was last updated 30/09/2020.
Vuelio uses a proprietary algorithm to create these rankings, based on topic-related content in blogs on its system – you can read more about the process here. Our research team actively seeks out new blogs and bloggers for inclusion, but if you think we've missed someone, please get in touch to let us know.   
If you're full of beans and ready to take part in this year's reimagined London Marathon (or just quite like running as a hobby or sport), keep pace with Charlie Watson at The Runner Beans, who tops our UK running blog ranking for another year. Charlie started blogging about training for her first marathon in 2011 and, many runs later, has drawn a huge audience of fellow fans who like running for fitness and fun. As well as running, Charlie regularly covers active travel, healthy and protein-filled meals to keep you going, and even reviews of treadmills for when it's raining and you don't fancy pounding the pavement outdoors.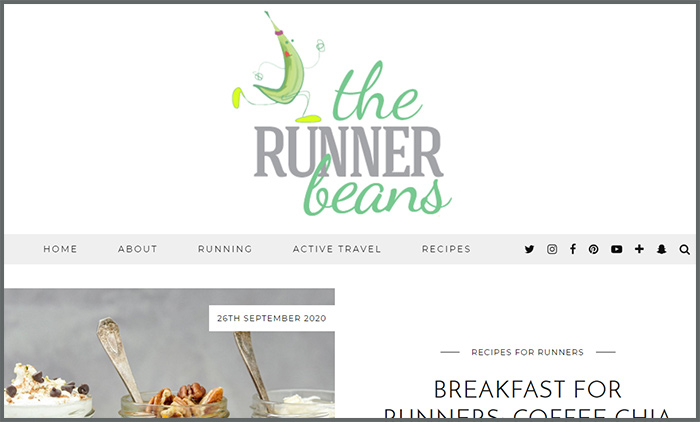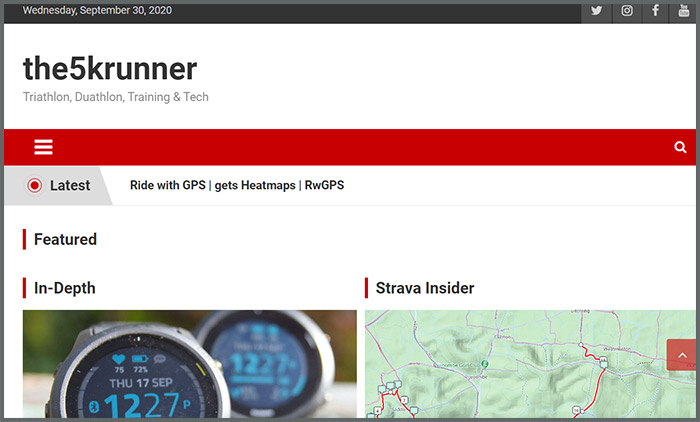 2. the5krunner
The enigmatic blogger behind the5krunner regularly produces a non-mainstream media take on all the top triathlon & running tech available to those interested in the sport, from trackers to apps, deep tissue massagers and sporty sunglasses. Along with reviews, industry news and recommendations, there are also links to training plans, coaching, deals and discounts, and advice on socially-distanced runs. A recent running update from the5krunner's own regular regime: 'Today was windy. Today was a 'rest day' (hah). Today was a day for running up some hills on paths and on dirt'. If running through wind, rain or shine is your thing, run (don't walk) to go check this one out.
Sound familiar? Elle is also a favourite in all-round fitness circles, blogging about general keep-fit fun alongside running (Elle also happens to be one of our Top 10 UK Fitness & Exercise bloggers). This blogger and fitness pro aims to provide 'the professional insight into health and fitness that we all need', which means simple and straight-forward advice and ideas for those who enjoy keeping active or want to know more about the fitness industry ('the jobs, the businesses, the technology… or just behind the scenes') itself. Some of Elle's latest posts – making movement a part of everyday life and branding yourself as a fitness professional.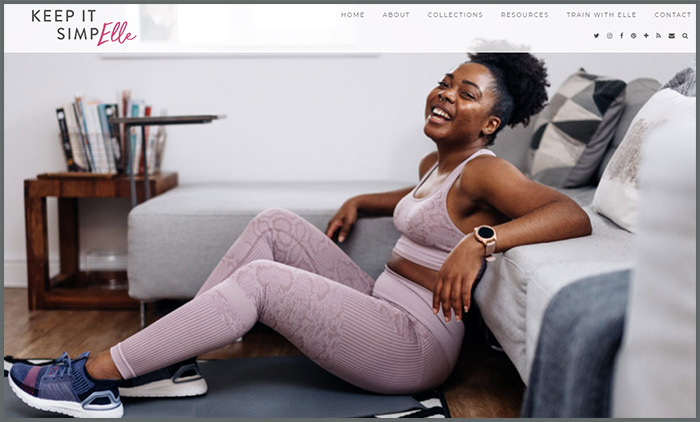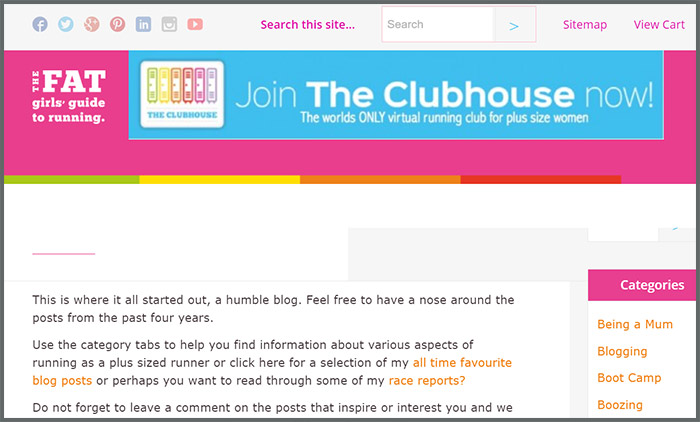 4. The Fat Girls' Guide to Running
Discovering a love of running at the same time as blogging is what has kept Julie Creffield's The Fat Girls' Guide to Running going so steady and successfully. Started as a place for posting updates on training for her first marathon for family and friends, the blog has since attracted a whole community of plus-size women who run. 'It is time for us Fat Girls to stand together and be counted in the mainstream running world, so put your trainers on,' says Julie, who has even done a Tedx talk on her story. Recently celebrating the ten-year anniversary of the blog, Julie has come a long way (even further than a 10k race will take you).
You don't need an official higher education-level qualification in health, fitness or wearing breathable lycra to start on your running journey, as shown by Emma Neachell at The PhD Runner. This self-described 'mediocre and somewhat injury-prone runner' who is 'gradually getting slower' shares her adventures and misadventures alike while pushing herself out of her comfort zone and encouraging others to do the same. Find race reports, recommendations for running-related products, tips for newbies just starting out and updates on Emma's own training and progress. Join Emma as she 'tries out new things and takes on new running challenges'.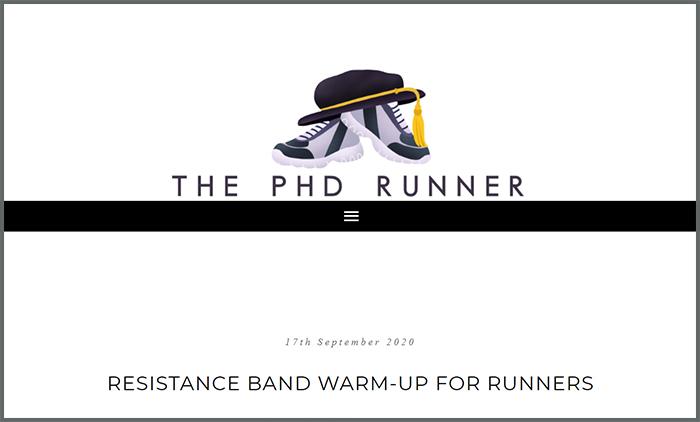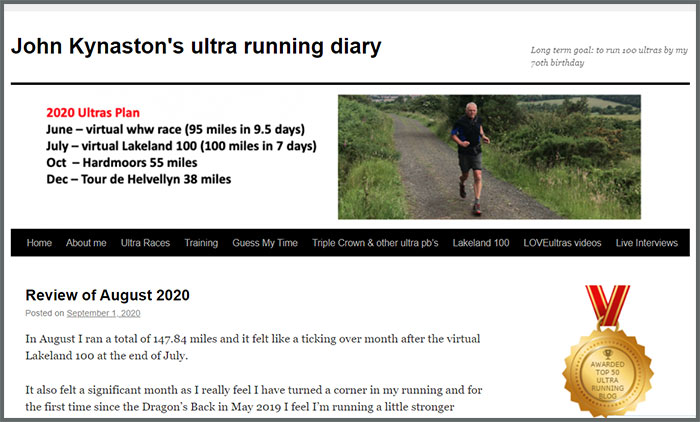 6. John Kynaston's ultra running diary
John Kynaston's goal is to run 100 ultras by his 70th birthday – if you want to keep track of how he's doing, stay on course with where John's at in his journey on the ultra running diary. His goals for 2020 are posted right at the top of the blog (so there's no stopping or stalling here) and content is split into Ultra Races, Training, Guess My Time, Triple Crown & other ultra pbs, Lakeland 100, LOVEultras videos and Live Interviews. Someone to look up to, and to try to keep up with, when it comes to running to achieve your goals, John managed to run a total of 147.84 miles during August – go get inspiration for your own runs, or live vicariously through John's, if that's more your speed.
Laura Fountain is certainly not what we'd call lazy, having created her blog to encourage more people to the hobby of running and make it a more inclusive and welcoming space for everyone. As a qualified personal trainer as well as an author and freelance journalist, Laura knows her stuff when it comes to getting the most out of running, whatever level of fitness you're starting from. In fact, if you're a complete newcomer to running, start at the very beginning with support from this blog along the way – read from the How to Run section, through to Your First 10k, straight to Run a Marathon (which is perfect timing for this Sunday).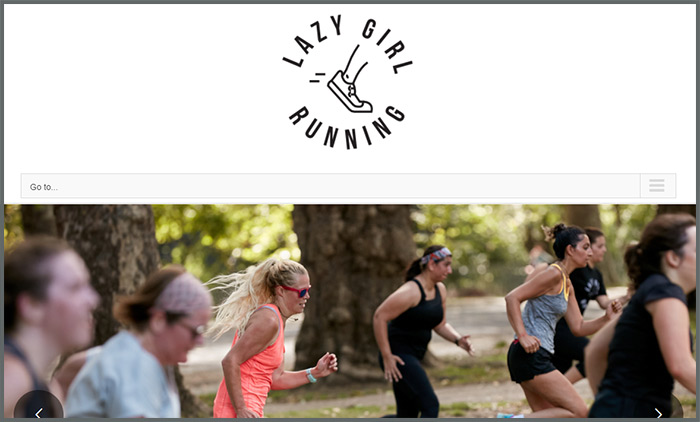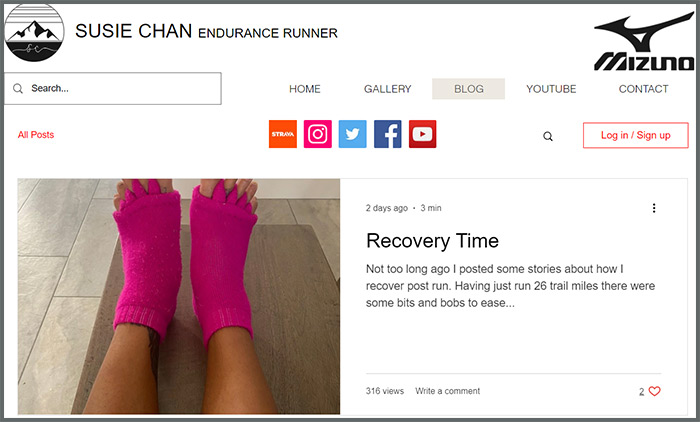 8. Susie Chan Endurance Runner
If you're into running social media and magazines, Susie may already be very familiar to you, having been named as the 'number 1 runner to follow on Instagram' by both Runners World and the Evening Standard, and having featured in publications including Women's Running and Athletics Weekly. Susie is an endurance runner, which entails taking on races from one to 100 miles – something she's been doing for around ten years now. Her blog is where she chronicles new races and the challenges of training for them – recent posts focus on the importance of recovery time and even hallucinating while running (which must be where the recovery comes in).
'Challenge your limits,' says Becca, who is passionate about running, cycling, swimming and triathlon after losing a third of her weight following teenage battles with obesity. With a PhD in Environmental Science, this blogger is also interested in the links between sustainability, running and sport, not just sustaining a good pace. With This Bunny Runs, Becca hopes to encourage others who struggle with maintaining a healthy level of fitness to embrace running, walking, Zumba or a full marathon for happier and healthier lives. And if you're wondering about the 'bunny' – Becca's rabbit Poppy recently made an appearance on Twitter for National Pet Day (and looks like she's a strong runner, too).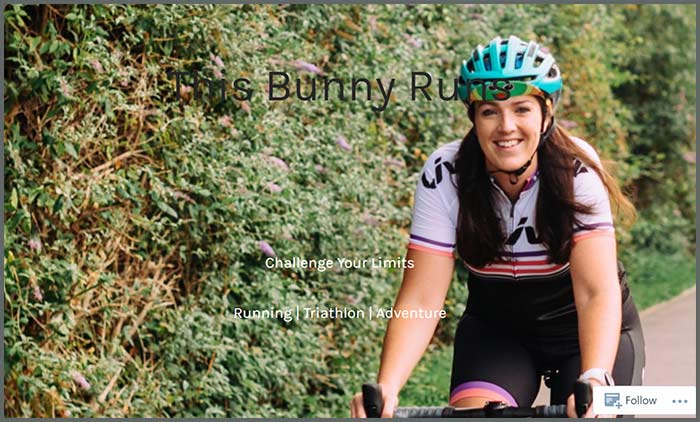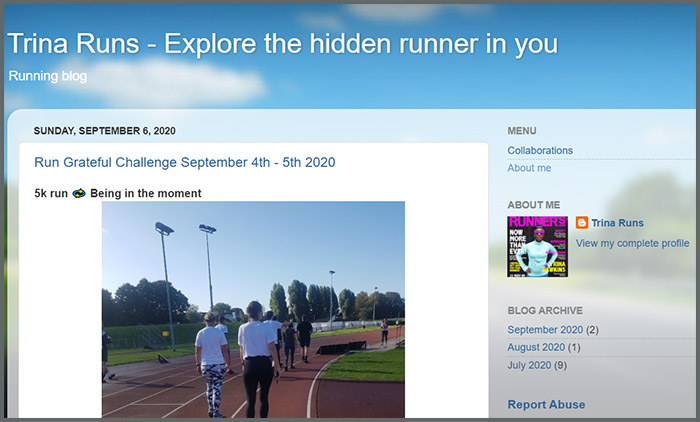 10. Trina Runs
And here is where we hit the finish line with Trina, who wants to help readers explore 'their hidden runner' with inspirational posts that campaign for a journey to 'a healthy, more active life where honest fitness and well-being is more accessible to everyone without losing sight of the real lives we lead'. Trina enjoys documenting her runs, whether they go good or bad, meaning you get an honest and straight-forward account of what it really means to be a regular runner, pushing to 5k, 10k and beyond. Running for sport, fitness, a hobby or competition is, as they say, a marathon, not a sprint, and Trina is here to help you for the long haul towards a healthy and happy life.
Collaborating with bloggers requires mutual respect and understanding: respect their schedules; take time to read their content to learn their interests; and only contact them if/when they want to be contacted. You can see more advice in our blogger spotlights. 
Profiles of these  blogs and their authors can be found in the Vuelio  Media Database.
https://www.vuelio.com/uk/wp-content/uploads/2020/09/Running-Blogs.jpg
430
760
Holly Hodges
https://www.vuelio.com/uk/wp-content/uploads/2019/09/vuelio-logo.png
Holly Hodges
2020-09-30 10:30:27
2020-10-01 11:15:13
Top 10 UK Running Blogs