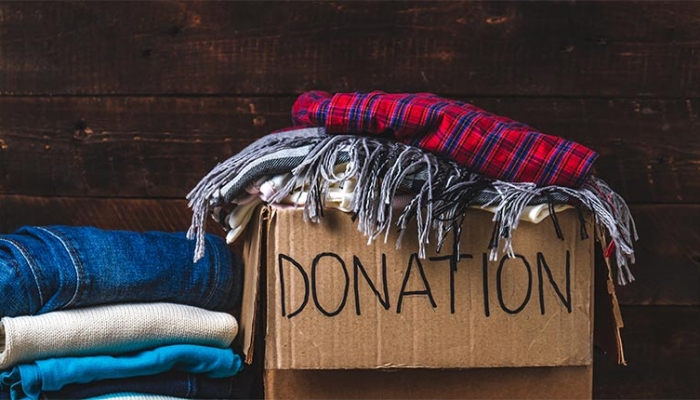 This social media ranking was last updated on 10/08/2022. 
The list of the UK's top 10 charity websites includes charities, not-for-profit organisations and media outlets covering the voluntary sector and is scored by their editorial content.
Vuelio uses a proprietary algorithm to create these rankings, based on topic-related content in blogs on its system – you can read more about the process here. Our research team actively seeks out new blogs and bloggers for inclusion, but if you think we've missed someone, please get in touch to let us know. 
Still supporting those impacted by cancer across the UK by sharing news and information from the charity is the Cancer Research UK Blog. Alongside data-based research and current campaigns, the blog shares political overviews and opinion pieces – most recently, thoughts on why the Government should not be choosing between investing in staff or equipment, and whether politics could stop access to EU science funding. Thinking of heading to the Science Museum for its Cancer Revolution exhibit? See what the experts think here.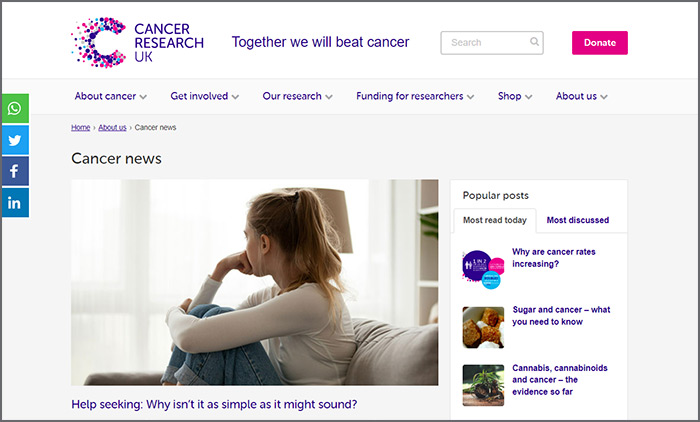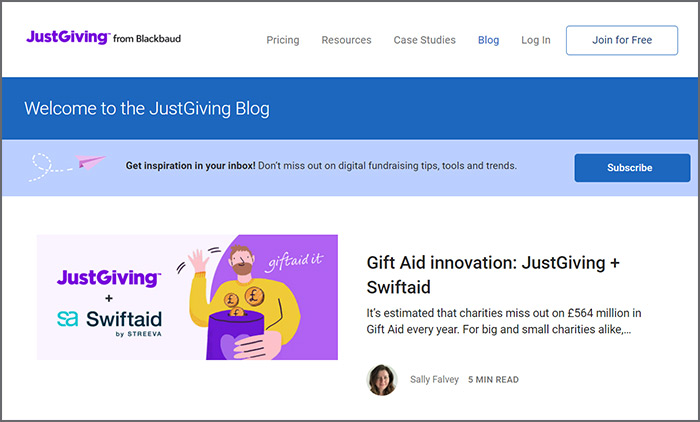 Helping charities and individuals launching charitable endeavors everywhere is the JustGiving Blog – read up on the latest news, tips and how-to guides, case studies with successful stories and insights. Even the technicalities are covered here – want to know how to choose the right music for Instagram Reels? The JustGiving Blog can help. In need of inspirational people to follow on social media? The blog's team just happens to have recently shared a list of industry leaders you should be following – go check it out.
3. Shelter Blog
As the cost-of-living crisis continues to impact people across almost every financial bracket in the UK, Shelter's work never stops. Sharing current initiatives on housing and homelessness from the charity alongside overviews of Government policy and its impacts, content comes from the team and guest writers with useful insight. Top stories on the blog now – student renters' rights, what's coming up for rental reform and updates from Shelter's Housing Action Academy training programme.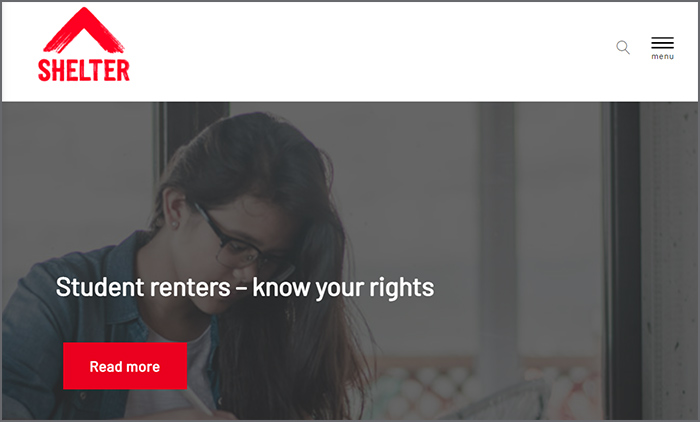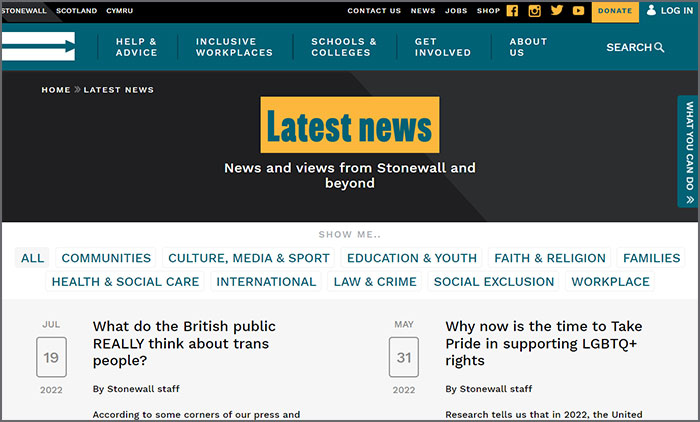 With UK Pride just behind us, the work on equality and support for LGBTQ+ people everywhere continues all year round. Find out what Stonewall is working on now over on the blog in sections including Culture, Media & Sport, Education & Youth, Health & Social Care and Social Exclusion. Under particular pressure, and subject to misleading media coverage, in 2022 is the transgender community – head to the blog for coverage on this and campaigns you can get involved with.
The impacts of the global pandemic have hit young people hard, which is where YoungMinds comes in. 'Fighting for young people's mental health', the charity's blog shares real stories from young people and tips for 'getting through it'. Find information – targeted at young people themselves, and the people that care about them – on topics including Counselling & Therapy, Eating Problems, Medication, Exam Stress, Body Image, Grief and Loss, Anxiety, Bullying and, of course, COVID-19.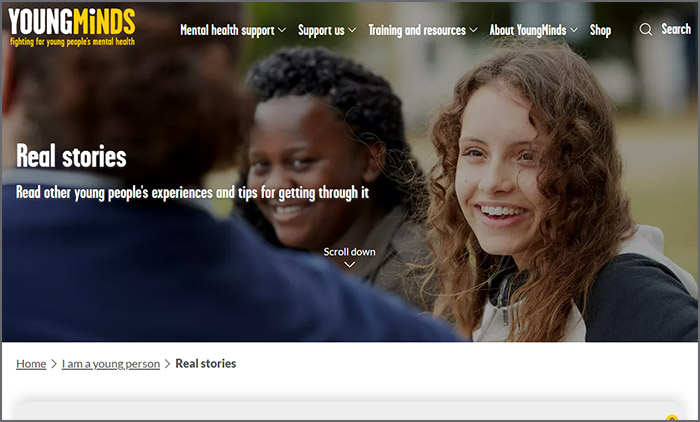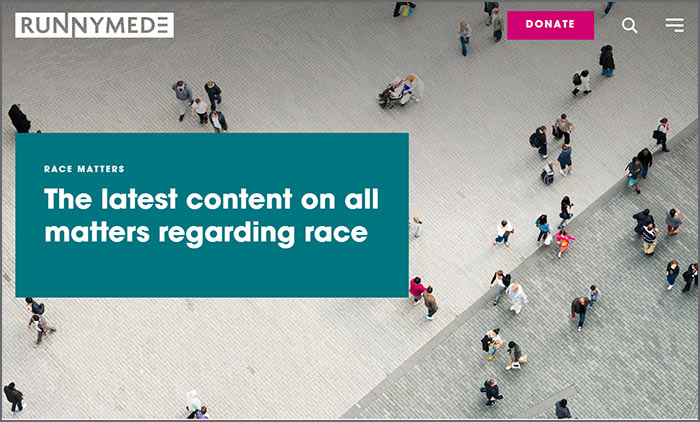 6. Race Matters
The blog for independent UK race equality thinktank Runnymede, Race Matters publishes news and think pieces on topics including Politics, Identity, Crime, Education and History. Aiming to bring 'new perspectives to matters of racial (in)justice,' the blog shares new light on issues backed up by evidence as well as personal stories that 'illustrate impact and give perspective'. Recently covered – ensuring inclusive hair policies in schools and how COVID has underlined just how rife racial segregation still is in the workplace.
7. Meow Blog
With its name handily translated into the language of Cat, it is the blog behind Cats Protection. Helping over 200,000 felines each year, the charity uses the blog to share stories of cats it has recently helped (head over to the blog to meet recently profiled Elvis, Puss and Hope), insight into cat behavior, volunteer opportunities and much more. And if you are looking for information on the practicalities of pet ownership, check out features on microchipping, neutering and rehoming cats who are looking for new human families now.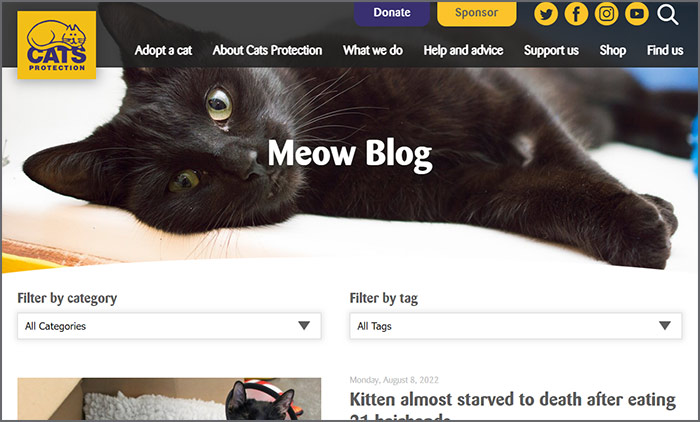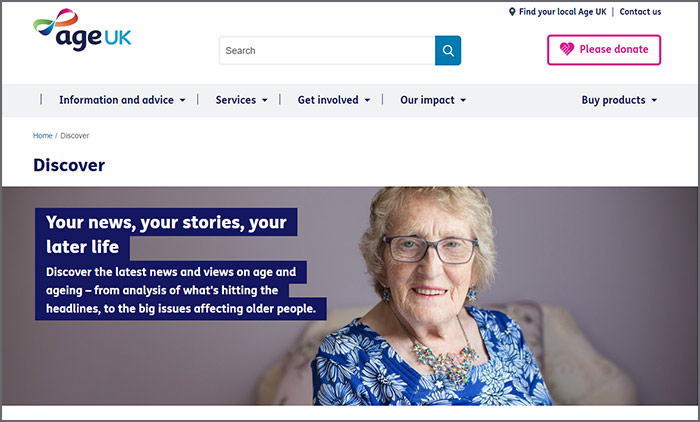 Posting 'your news, your stories, your later life' is the blog behind Age UK. Featuring 'analysis of what's hitting the headlines, to the big issues affecting older people', content covers everything related to age and aging, including health, loneliness and even climate change. It is not all heavy subjects, though – other posts cover the benefits of football, keeping creative and interviews with high-profile people. Perhaps particularly useful right now – links to resources, including a benefits calculator and befriending services.
Focusing on ways to 'change the world with women and girls' is the charity ActionAid, which posts about worldwide initiatives on its blog. Content covers work on period poverty, food crises, the global impact of the war in Ukraine, local activism efforts and more. There are plenty of ways to get involved featured on the blog – alongside donations, sponsoring a child and raising money, you can also buy charity gifts (highlighted in posts related to the season) or even download an ActionAid cross stitch kit.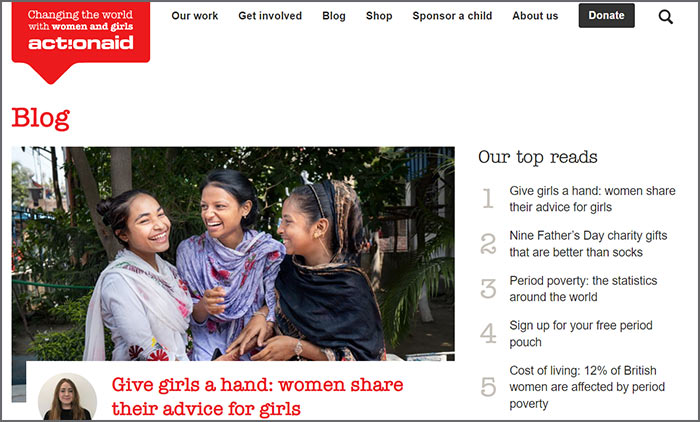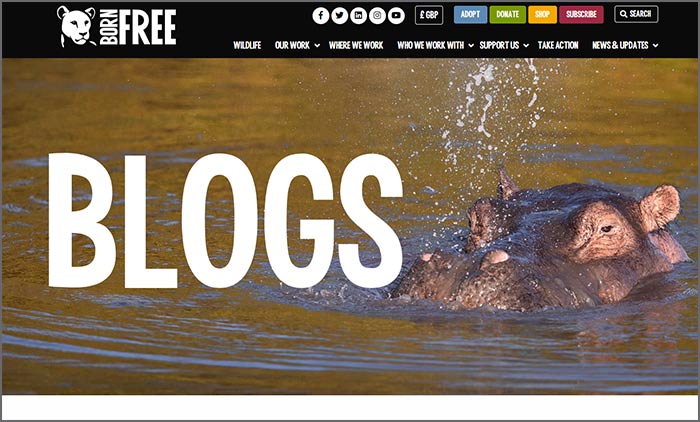 10. Born Free Blog
Born Free focuses on protecting and preserving wildlife in its natural habitat across the world. On the blog, you can find views on the 'latest news affecting wildlife conservation and captive animal welfare' from the Born Free team. Alongside updates on specific campaigns, follow what is happening to animals the charity has recently helped (including lions Simba, Elsa and Mfalme, and Happy the elephant) and read reports from conservation and education projects happening across the world.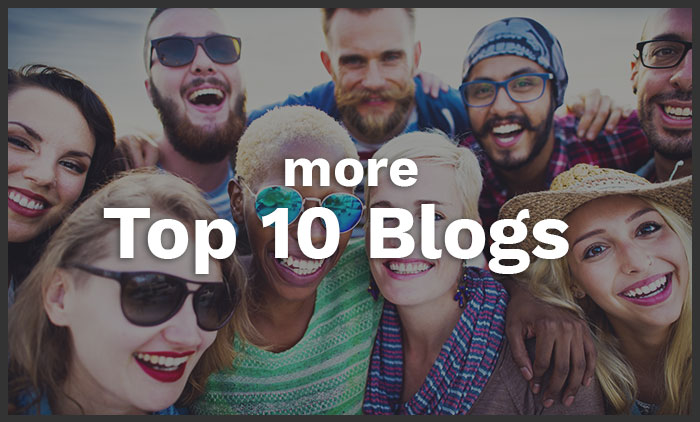 Collaborating with bloggers requires mutual respect and understanding: respect their schedules; take time to read their content to learn their interests; and only contact them if/when they want to be contacted. You can see more advice in our blogger spotlights. 
Profiles of these  blogs and their authors can be found in the Vuelio  Media Database.
https://www.vuelio.com/uk/wp-content/uploads/2022/08/Charity-Blogs-UK.jpg
430
760
Christina Pirilla
https://www.vuelio.com/uk/wp-content/uploads/2023/09/vuelio-logo-200px.png
Christina Pirilla
2022-08-10 10:00:01
2022-08-10 10:00:30
Charity Blogs UK Top 10