This social media ranking was last updated on 13/12/2017. 
The list of the UK's top 10 charity websites includes charities, not-for-profit organisations and media outlets covering the voluntary sector and is scored by their editorial content:
JustGiving is one of the most trusted digital platforms for donating money to those in need, no matter how big or small the cause. JustGiving prides itself on being a platform that people can use to build a fundraising campaign. The JustGiving Blog includes posts on a variety of different campaign topics, including a look at the best charity campaigns and what made them successful, social media uses and other technology and campaign news focused on the charity sector.
Diabetes UK is the largest charity focusing on diabetes research in the UK, which also offers help and support to people who are living with the condition. With over 150,000 members, it's no surprise that the Diabetes UK blog is written by a large collection of bloggers, who are all affected by diabetes in some way. The blog focuses on Type 1 and Type 2 diabetes, and features posts from different authors who share their own personal experiences.
3. NCVO Blog
The NCVO (National Council for Voluntary Organisations) is responsible for connecting, supporting and representing over 13,000 voluntary organisations – a third of the voluntary sector workforce in England. The blog contains articles which cover a range of different topics relating to voluntary work, such as why we should value the voluntary sector in healthcare, the impact Brexit will have on volunteers and public policy round-ups.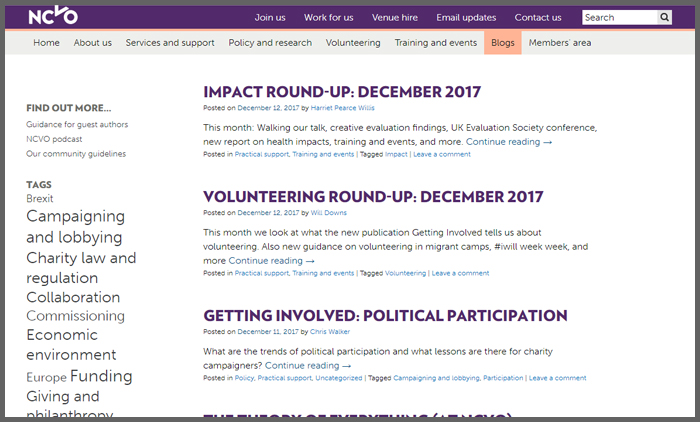 Marie Curie nurses provide care and support to the terminally ill, as well as essential help to those with cancer. The Marie Curie blog provides resources to help those who are affected by cancer in any way, and visitors who are interested in helping their cause. Updated regularly, the blog includes updates and news on research, palliative care, raising awareness of self-care and it also includes real-life experiences from carers and those affected.
Designed for fundraising professionals to help inspire new ideas and provide motivation, UK Fundraising is an essential information hub for professionals. The blog is updated by the team, overseen by Howard Lake, and includes tips on techniques for fundraising, news updates, guest posts from charity professionals, and important research that can be used to streamline strategies. As a key information hub, UK Fundraising analyses new research, presents highlights from events and covers other interesting fundraising news.
The British Red Cross is one of the most well-known and respected charities in the UK and further afield. The British Red Cross blog gives the charity a platform to share highlights of the vital work that they are doing across the globe. The blog features interviews with refugees, who share first-hand experience of their hardships, features from their volunteers and also shares advice on things such as how to perform first aid effectively. Using a mix of personal experience, news and research, the blog helps to spread awareness and offers potential solutions to common problems.
ActionAid is a leading charity that operates in over 45 countries, with an aim to help impoverished women and girls to change their lives. The ActionAid UK Blog is kept up to date by the communications team, and includes a range of different topics, including violence against women, children in conflict, natural disasters and how the charity is helping to combat the effects of these struggles with humanitarian response.
8. Oxfam Blog 
The Oxfam Blogs cover a range of different topic areas, from campaigns and education to charity news in particular regions of the UK. Written by one of the most well-known anti-poverty charities, the blogs regularly explore different issues relating to poverty both in the UK and around the world. The blogs draw on political policies, while telling person-focused stories that can be positive, 'good news' stories or more challenging situations that vulnerable people face.
9. World Cancer Research Fund Blog 
The World Cancer Research Fund Blog is called 'Healthy you' and shares lifestyle tips, news and supporter stories. As self-proclaimed 'cancer prevention experts', the World Cancer Research Fund champion scientific research that focuses on diet, weight and physical activity to help people reduce their cancer risk. The blog has a range of healthy living posts, from reducing sugar and alcohol intake, to eating more wholegrains to decrease the risk of certain types of cancer.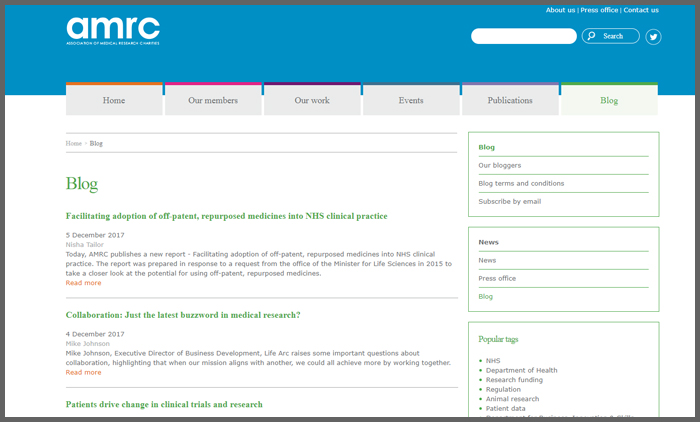 10. AMRC
The Association of Medical Research Charities – AMRC – is the national membership organisation of leading medical and health research charities. Its blog covers the latest medical research across mental health, patient welfare and new treatments and therapies. The blog also covers charity policy and new issues facing the charity sector, especially those that affect medical charities.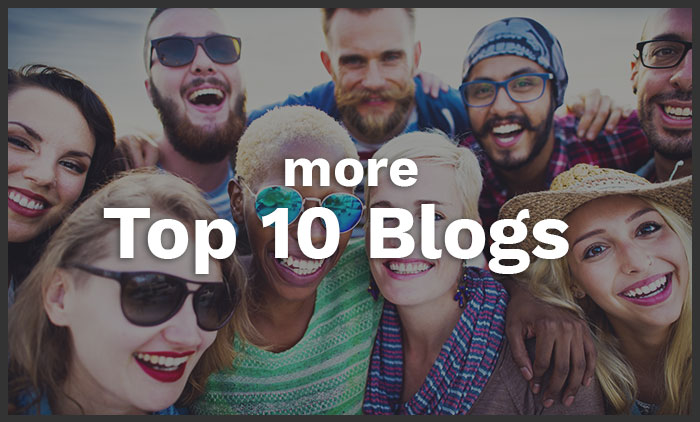 The fundamentals of working with bloggers are the same as with traditional journalists at traditional media outlets: respect their schedules; take time to read their material to learn their interests; and only contact them if/when they want to be contacted.
Vuelio's blog ranking methodology takes into consideration social sharing, topic-related content and post frequency. Profiles of these charity blogs and their authors can be found in the Vuelio Media Database.
https://www.vuelio.com/uk/wp-content/uploads/2016/12/vuelio-top-10-charity-blog-ranking-featuredimage.jpg
434
760
Merryn Williams
https://www.vuelio.com/uk/wp-content/uploads/2015/10/vuelio-logo-transparent.png
Merryn Williams
2017-12-13 10:30:01
2018-01-30 15:29:08
Charity Blogs UK Top 10