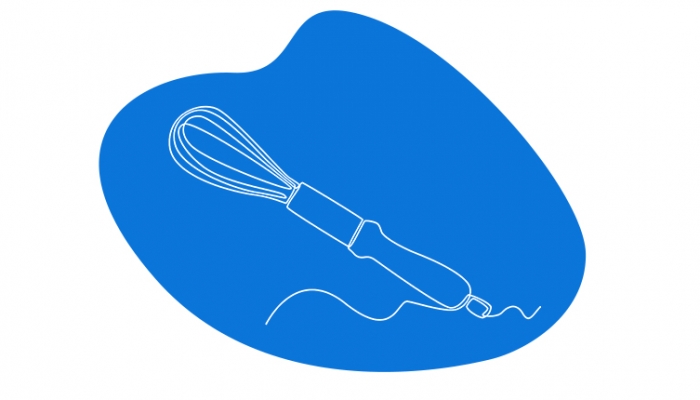 Last updated 11/10/2023
Vuelio uses a proprietary algorithm to create these rankings, based on topic-related content in blogs on its system – you can read more about the process here. Our research team actively seeks out new blogs and bloggers for inclusion, but if you think we've missed someone, please get in touch to let us know.
Just in time for another series of The Great British Bake Off is our ranking of the top 10 baking bloggers in the UK, and back at number one is Jane's Patisserie. Blogger, food writer, and photographer Jane Dunn dishes up 'fun, laughter, confidence, and knowledge to bake and cook whatever you fancy' on her blog, as well as in the three books she's authored so far. October isn't just GBBO time, it's also Halloween month, so check out Jane's selection of spooky sponges, monster macarons, and creepily-good cookies.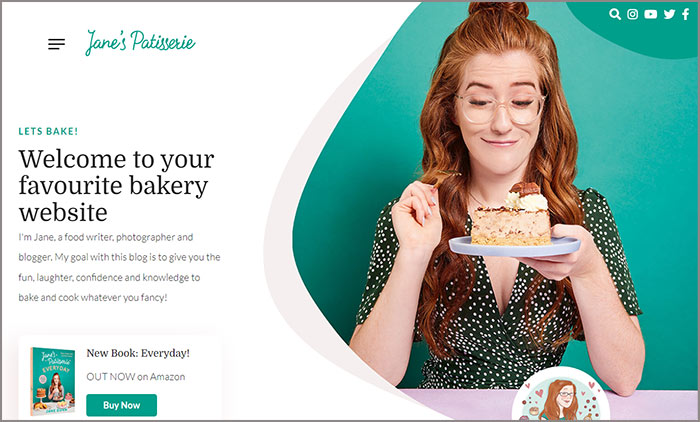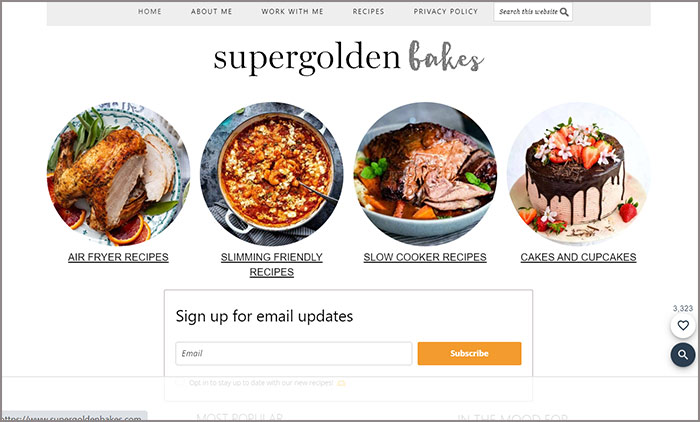 Another baking blog worthy of a gold medal is Lucy Parissi's Supergolden Bakes, which moves up a spot for this year's update. Author, recipe developer, and food photographer Lucy offers her readers 'easy sweet and savoury recipes that are packed with flavour', covering air fryer, slow cooker, and slimming friendly formats. 'Tried, tested and loved by all' recipes recently shared on the blog – hearty soups and stews to help you stay cosy throughout the Autumn and way into the Winter months.
3. Becky Excell
Still excelling at baking and baking blogging is Becky Excell, who helps to make going gluten-free much less stressful – and much more tasty – with her creations. This blogger certainly knows her subject – 'Inspired by years of missing out on all of my favourite foods, I decided to share recipes for all the things I couldn't eat on a gluten-free diet'. Latest recipes include the very of-the-moment Halloween mummy brownies and pumpkin spice cookies. Don't be scared to try them out – Becky's recipes are accessible for everyone.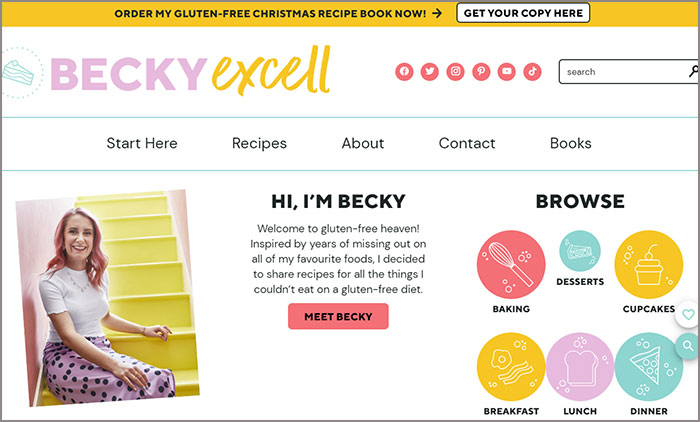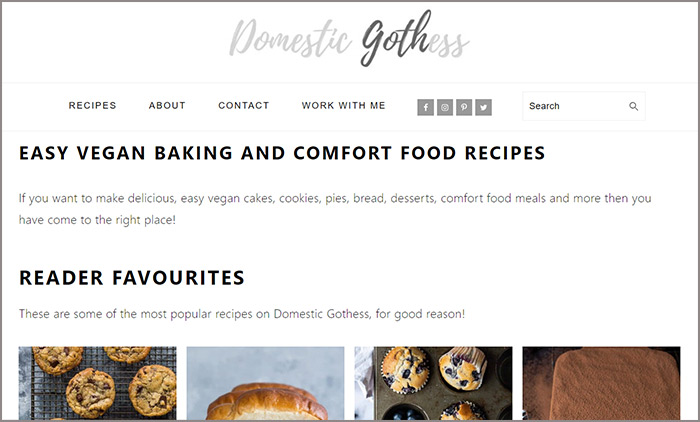 Back again at number four is 'professional blogger, aspiring food photographer, cake fanatic and goth' Hannah Hossack-Lodge, also known as the Domestic Gothess. Here you can find 'easy vegan baking and comfort food recipes' including cakes, cookies, pies, bread, desserts, full meals, and other tempting treats. On a mission to show people that vegan baking doesn't have to be difficult, Hannah designs her recipes to satisfy everybody – with a guarantee that the vegan versions taste just as good as the originals.
'Let's celebrate food together!' says Sandhya Hariharan, the blogger behind Sandhya's Kitchen. Sharing simple Indian and international recipes and videos – tried and tested and easy to follow – this blog also includes useful tips for family cooking. Dive straight into the search for what you're craving, or browse by category – Sandhya has ideas for instant pot recipes, beverages, breakfast, vegetarian curries, desserts, and appetisers alongside the general baking. Still searching for more pumpkin recipes? Check out her pumpkin flatbread.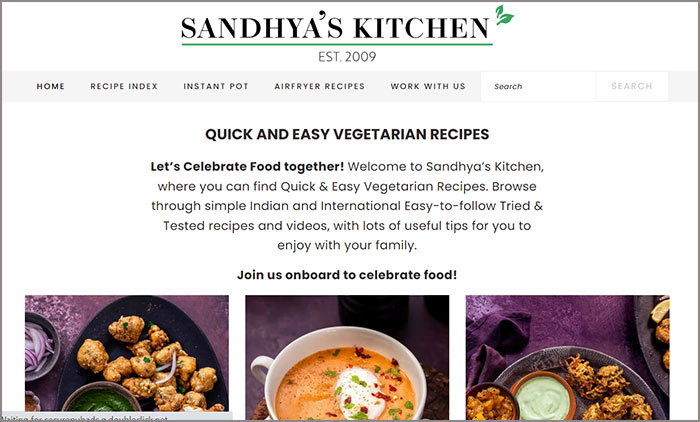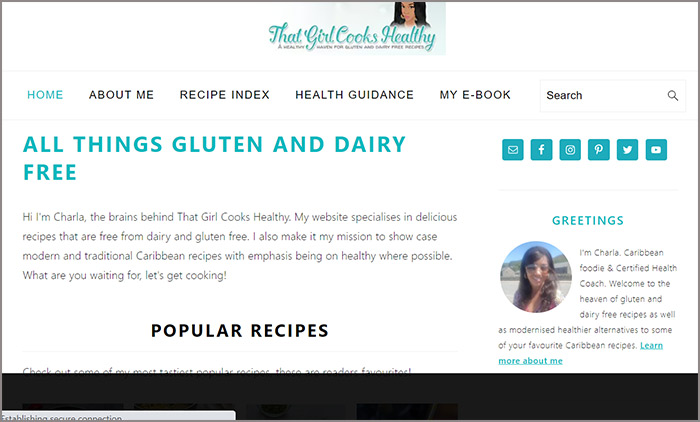 Up a whopping four places from last year's number 10 spot is 'Caribbean foodie and certified health coach' Charla with That Girl Cooks Healthy. This 'healthy haven' for both gluten and dairy-free recipes offers readers the Caribbean classics they enjoy modernised into much healthier – but still hearty – platefuls. Plan a whole meal by picking from the smoothies and drinks section, the entrees and main meals, big bakes, and her most popular recipes. In Charla's words – 'What are you waiting for, let's get cooking!'
Don't be fooled by the name – The Little Blog of Vegan is a huge resource of vegan recipes, created by blogger Holly Jade. 'All recipes are 100% vegan and delicious – they never fail to impress' is the promise, and you won't be disappointed when scrolling through the recent posts. Good for now – her chocolate bat cookies, ghost-themed triple chocolate shortbread brownies, and Jack Skellington Oreo truffles. Good for whenever – her caramel apple pastries, cheesecake cookies, and crumble bars.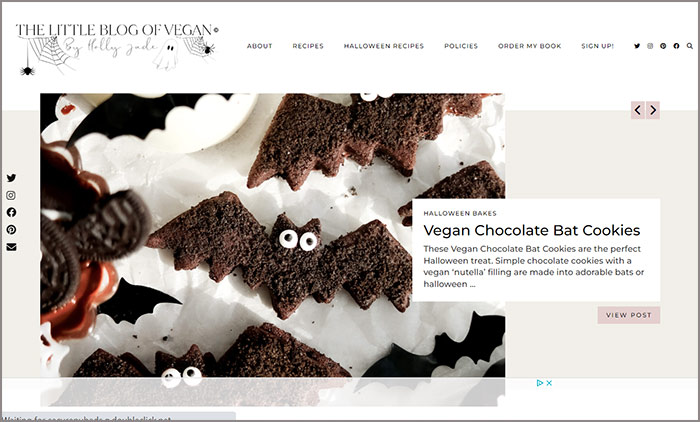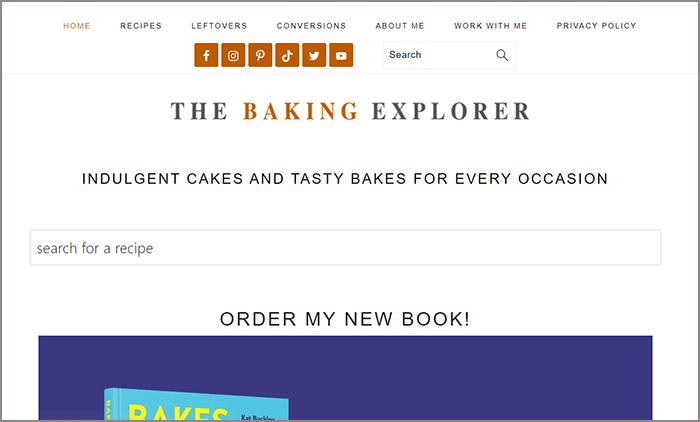 Kat, a self-taught baker and professional blogger based in Manchester, has been baking and blogging at The Baking Explorer since 2012. Kat is passionate about making baking accessible to everyone and sharing the joy that food can bring. Her delicious recipes and detailed baking guides are here to help people of all abilities produce impressive and tasty bakes. Her first book 'Bakes That Break The Internet' was published in August this year, and features 40 recipes including peanut butter cookie cups, cherry bakewell pop tarts, and Nutella flapjacks.
For those uninspired by their pantry/cupboards/collection of takeout menus, Bintu is here to save the day – especially the breakfast, lunch, and dinner time parts. Grab inspiration from the Dinner, Air Fryer, Instant Pot, Southern, Crockpot, and dessert sections. 'You will find good food made with real ingredients, ranging from colourful healthy dishes to decadent desserts and everything in between,' promises Bintu. Having grown-up helping her nan and aunt cook for their super-extended family, these bakes are bound to keep your family fed and happy, too.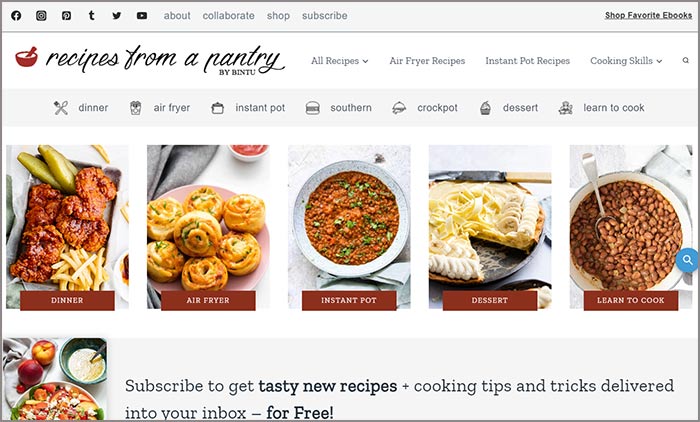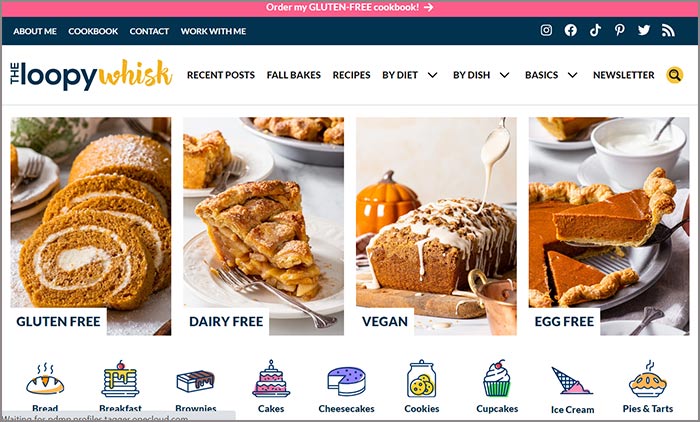 10. The Loopy Whisk
And we finish another hearty helping of UK baking bloggers with recipe developer, writer, photographer, and 'food science nerd' Katarina Cermelj's The Loopy Whisk. If you love baked goods, but have dietary requirements, Kat is ready to answer the question 'what do I eat now?'. Search by diet, dish, or explore the basics with the blog's how-to guides. Once you've mastered the cream cheese frosting, filo pastry, and pie crust, you'll be ready to graduate to the fall bakes section. 'Can we all agree that fall is one of the best seasons for baking?' says Kat – absolutely.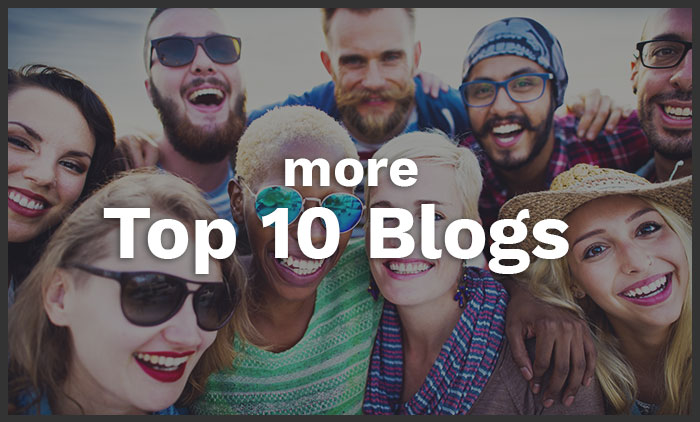 Collaborating with bloggers requires mutual respect and understanding: respect their schedules; take time to read their content to learn their interests; and only contact them if/when they want to be contacted. You can see more advice in our blogger spotlights.
Profiles of these baking blogs and their authors can be found in the Vuelio Media Database.
https://www.vuelio.com/uk/wp-content/uploads/2023/10/Top-10-Baking-Blogs.jpg
430
760
Christina Pirilla
https://www.vuelio.com/uk/wp-content/uploads/2023/09/vuelio-logo-200px.png
Christina Pirilla
2023-10-11 09:40:05
2023-10-11 11:52:28
Baking Blogs UK Top 10