Last Updated 19/02/2020.
One half of our top 10 power couple and still in the top spot is Stephen Waddington with his online space for corporate communication, public relations, marketing and social media insights. A respected and well-known figure in the public relations industry worldwide (Metia Group, where he serves as UK managing director, has offices in London, Seattle, Austin and Singapore), Stephen shares his takes on the big stories that professionals in PR need to know. Lessons from his time in PR aren't limited to the blog – Stephen also supports PR pros of the future in his work as a visiting professor of Practice in Public Relations at Newcastle University. If you don't fancy going back to school, however, the blog is a convenient place to get caught up.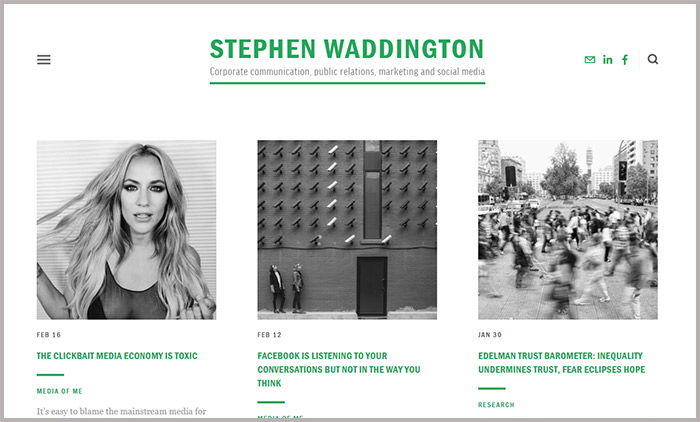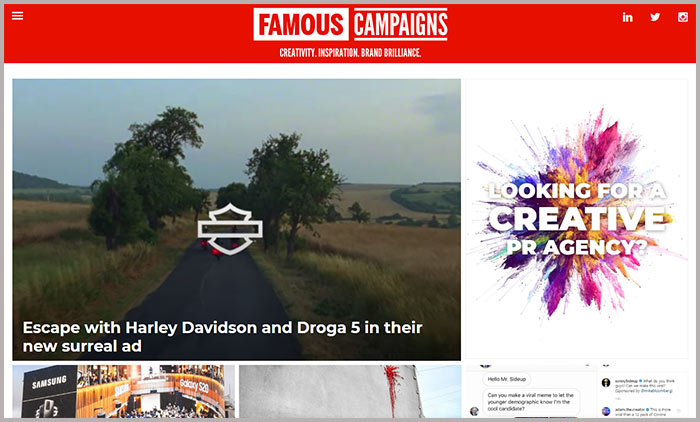 The Blog Formerly Known as PRExamples gives examples of the best in PR, social media, advertising, marketing, events and creative comms for those looking for inspiration. It's also – as stated on the About/FAQ page – a great 'place to procrastinate' while working on upcoming campaigns. 186,000 unique users for the blog, over 10,000 newsletter subscribers and more than 50,000 social media followers flock to Famous Campaigns to check out their picks for the most creative work the PR industry is producing across a variety of niches. Cause-related, celebrity, entertainment and environmental are just some of the sectors the blog keeps up-to-date on, so you'll be able to find great examples of great work, whatever your focus.
Rachel Miller of All Things IC has racked up 20 years as a professional communicator and provides training, consultancy and advice on her blog for internal communicators. Rachel is a regular keynote speaker at industry events, has been featured in PR books and is a Fellow of the Chartered Institute of Public Relations and the Institute of Internal Communications. She knows her stuff when it comes to internal comms, which is unsurprising when you check out the companies Rachel has worked with during her career (BBC, LEGO, NHS and Coca-Cola are just some of the ones you've heard of).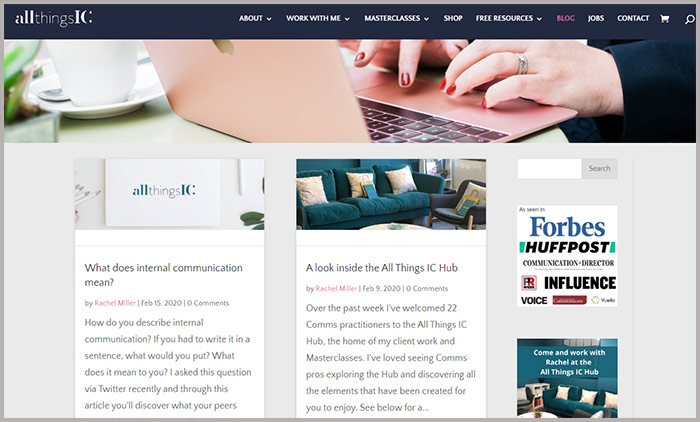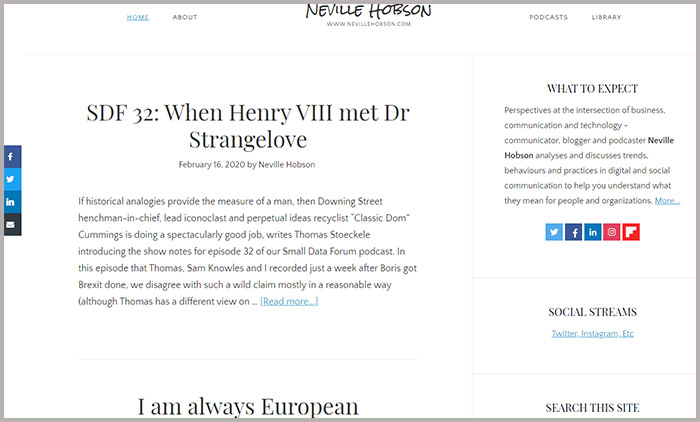 Another stalwart of the PR and comms industry, Neville Hobson – communicator, blogger, podcaster and director of the Internet Society – helps readers of his blog make the big decisions for their business and employees. On the site – and via his podcasts The Small Data Forum and The Hobson & Holtz Report – Neville provides analysis on digital communication trends, behaviours and practices. Looking for Neville's thoughts on something specific? You can search the blog's archive, which helpfully goes back as far as its original launch in February 2006.
Even if you're not a frequent visitor to Ella Minty's blog yet, you will no doubt have seen #PowerAndInfluence being used by PR pros across Twitter. The weekly PR chat has even been included in the CIPR's list of approved CPD activities. If you want more than Twitter's weekly updates on what's happening in the PR space, head straight on over to the source for Ella's posts on the big industry talking points including influence, crisis management and diversity.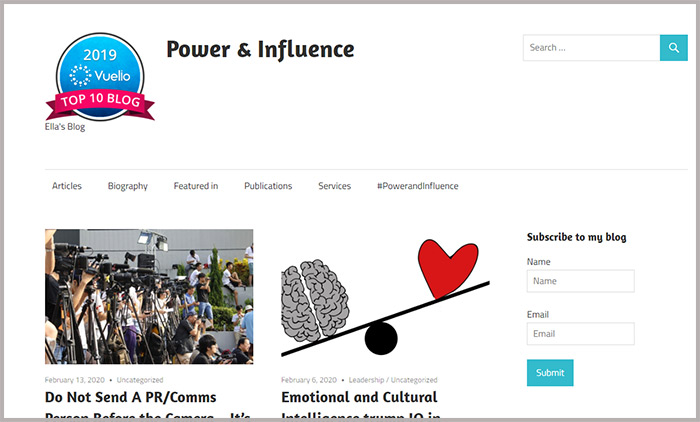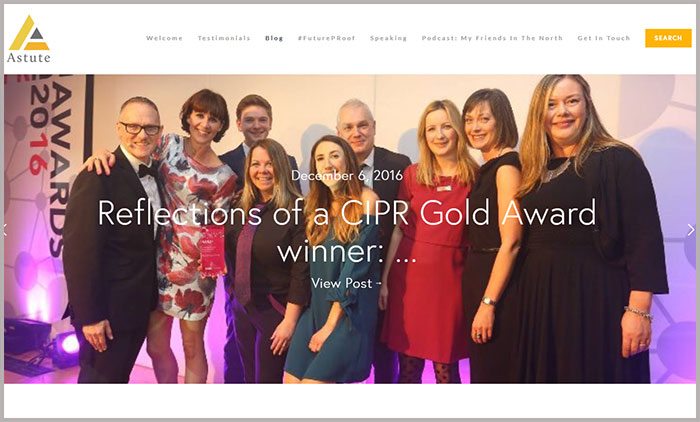 6. Astute.Work
Another revamped blog on our list is Astute.Work, which originally started life as Sarah Hall Consulting. Sarah Hall/Waddington (the other half of our PR power couple) – the award-winning mind behind #FuturePRoof and a former President of the CIPR – is no stranger to anyone working in PR. The Astute.Work blog shares her advice and insight on topics including building high-performing teams, leading effectively and the huge issue of mental wellbeing in the industry. Want more of Sarah's thoughts on the future of the industry? Alongside the blog, Sarah also has a #FuturePRoof podcast and regularly speaks at events.
Scott Alec Barton Guthrie is another figure well-known to people working in PR, particularly if influencer marketing is your area of interest. Scott is up on the latest happenings in the social media sphere, from the latest collaborators working with the high-profile Pauls to the lesser-known gun influencers (yep – really) that are starting to shoot up on Instagram. As an expert on this sector of PR and marketing that continues to grow – a recent report covered on his blog shows a 48% rise in Instagram influencer marketing activity – Scott is a regular contributor to books and magazines on the subject and a popular speaker at industry shows (his session on ethics in influence at last year's Influencer Marketing Show being the highlight of the whole event).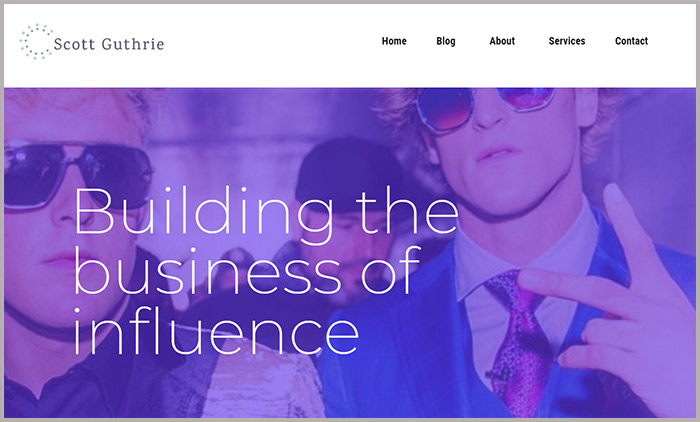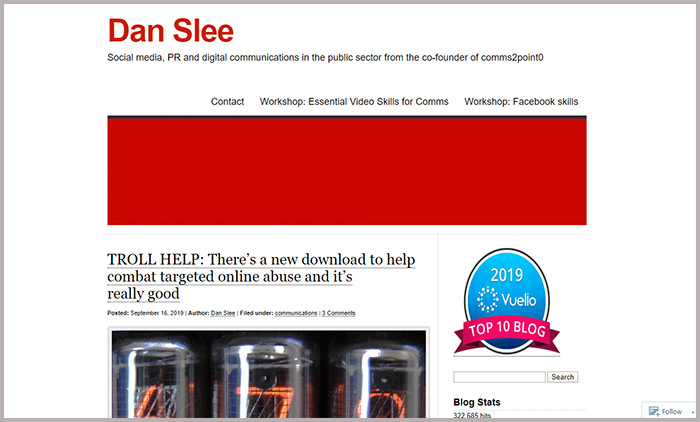 Dan Slee uses his personal blog to cover social media, PR and digital communications in the public sector. Aiming to 'help people in organisations communicate better', Dan posts about a variety of issues PR people face day-to-day and advice and pointers on how to deal with them. Very useful – Dan's translations of public sector idioms and euphemisms. A quick taster: 'It would be helpful if you would just…', 'When you've got a minute…' and 'You need to be more solutions focused'? All mean 'Just do it', apparently.
'Telling stories is my thing' says Jessica Pardoe, a PR and digital media executive at The Source in Chester, keen content writer and PR and lifestyle blogger. Still in her early twenties, Jessica has already featured in publications including PRWeek, VICE, and The Independent and writes about all things PR and marketing. Jessica's blog originally started as a class project that 'got a little out of hand' – now it's read by people across the industry looking for a fresh perspective on popular campaigns and the blogger's up-front opinions on marketing moves like Wowcher's mystery holiday packages and the launch of McDonald's Vegan Dippers (Dubbed a 'McFail' by Jessica).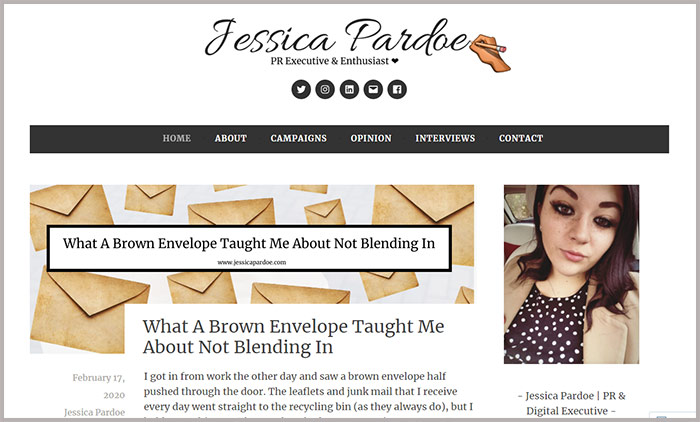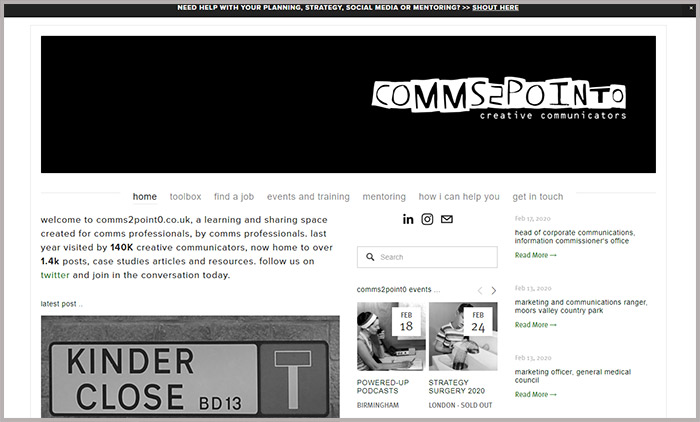 10. comms2point0
Created by Darren Caveney, comms2point0 is a 'learning and sharing space created for comms professionals, by comms professionals'. You'll find feature articles from the experts, in-depth analysis and opinion on the blog. What you'll also find – useful posts like 'Seven Star Wars quotes to explain our campaign learning' from Alex Mills and 'What I learned this year from slaughtered pigs, street drinkers and scammers' from Lewis Moran. And if that hasn't yet piqued your interest in checking out our tenth choice in the top 10 UK PR blogs, there are its super-useful sections on mentoring, events and training, job listings and a tips toolbox. The comms2point0 way is, as Yoda would say, to 'pass on what you have learned' – perfect for PRs seeking to soak up more skills.
The fundamentals of working with bloggers are the same as with traditional journalists at traditional media outlets: respect their schedules; take time to read their material to learn their interests; and only contact them if/when they want to be contacted.
Vuelio's blog ranking methodology takes into consideration social sharing, topic-related content and post frequency. Profiles of these PR blogs and their authors can be found in the Vuelio Media Database.
Other Blog Rankings
https://www.vuelio.com/uk/wp-content/uploads/2019/02/Featured-Top-10-UK-PR-Blogs-2020.jpg
430
760
Holly Hodges
https://www.vuelio.com/uk/wp-content/uploads/2019/09/vuelio-logo.png
Holly Hodges
2020-02-19 10:30:50
2020-02-19 17:41:20
PR Blogs UK Top 10