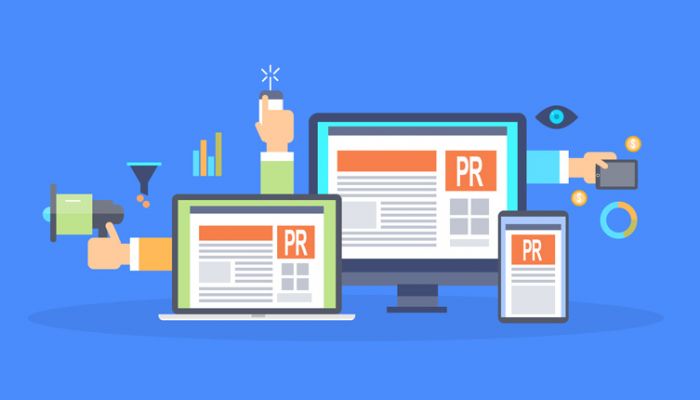 Last Updated 28/02/2018.
1. PRexamples
PRexamples was created by Rich Leigh in 2011 to record all of the creative stunts and campaigns that he came across. In that time, the blog reached epic heights and is now one of the most popular sources of content for a PR industry hungry for advice, inspiration and what-not-to-dos. The blog grew so large, and posts so frequently, that it requires guest posts and tips from readers in order to feed the constant demand. Rich sold PRexamples in January 2018, and while the site's new owner is yet to be announced, expect the blog to continue showing the best stunts, campaigns and PR examples from all areas and aspects of the industry. We don't know about you, but we're very, very excited.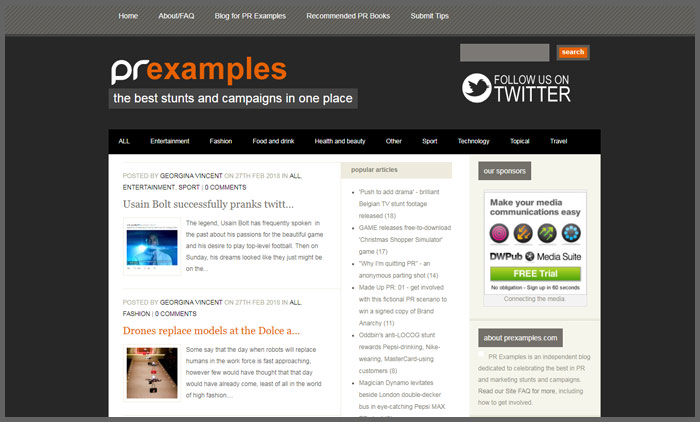 Stephen Waddington has a wealth of PR experience, including time as the President of the CIPR, authoring and editing industry books and being Newcastle University's visiting professor in practice. He has founded two successful agencies and is now a partner and chief engagement officer at Ketchum. His eponymous blog covers corporate communication, public relations, marketing and social media, with regular posts covering opinions on industry trends, tips for practitioners and feature posts on hot topics. Stephen has regularly featured on this ranking since it began, is a face and name known to many, and a true leader in the PR industry.
Rachel Miller is a communications consultant and trainer who specialises in internal comms. Having worked with some of the most well-known brands in the country, including the BBC, NHS, Harrods and Which?, Rachel's areas of expertise are obvious to her loyal audience. Rachel uses her blog to cover all things internal comms, and posts around the wider PR community including advice pieces as well as tackling issues facing the industry – such as a lack of diversity or GDPR. All Things IC also covers the freelance aspects of Rachel's job and working as a consultant, and has occasional guest posts making it a well-rounded communications experience.
Find out more about Rachel Miller, author of All Things IC, in our blogger spotlight.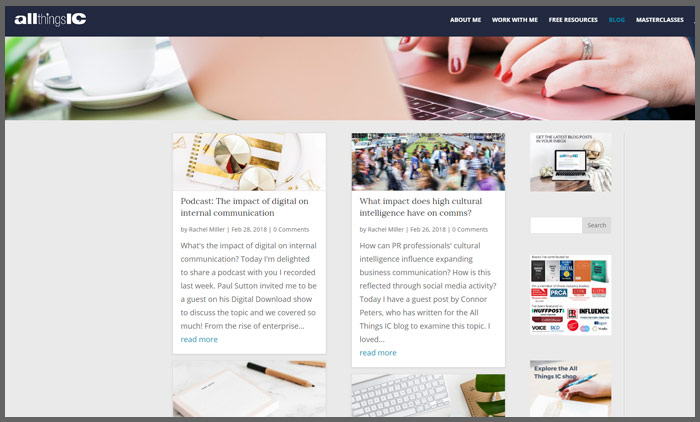 Sarah Hall is an award-winning PR practitioner, responsible for Sarah Hall Consulting and the hugely popular #FuturePRoof. Sarah is also the current President of the CIPR and a truly magnanimous individual, having worked hard to reach the top of her game and now working hard to ensure others have the same opportunities. She is a champion of diversity, women in PR and opening the industry up to young people, ensuring the next generation can access a public relations career path. Her blog focuses on her work in the industry, and recently in her role with the CIPR, including event write ups, advice pieces and discussion posts, which are always both comprehensive and intellectual.
Few individuals have the reach, respect and industry insight of Neville Hobson. With over 30 years of experience in digital technologies, communications and industry change, Neville is able to easily talk about any industry issue and make it both interesting and accessible. Currently the social media strategist with the Internet Society, Neville is passionate about making people's digital experiences safe, secure and as straightforward as possible. Besides his blog, which features posts on new tech, societal quandaries and communications best practice, Neville also co-hosts two regular podcasts – The Small Data Forum Podcast and For Immediate Release: The Hobson & Holtz Report. It is difficult to imagine a PR Blog ranking that wouldn't include Neville Hobson.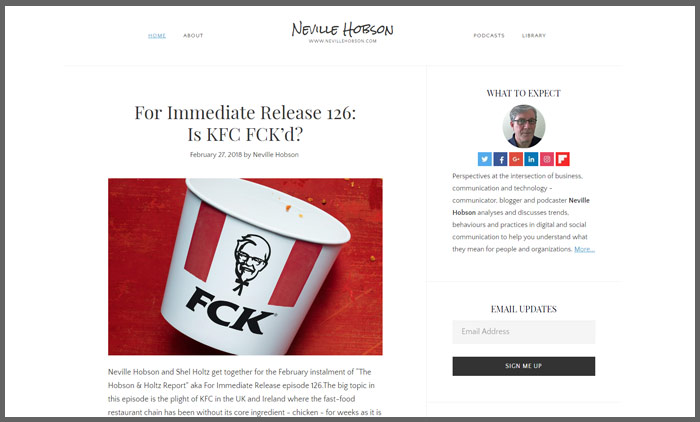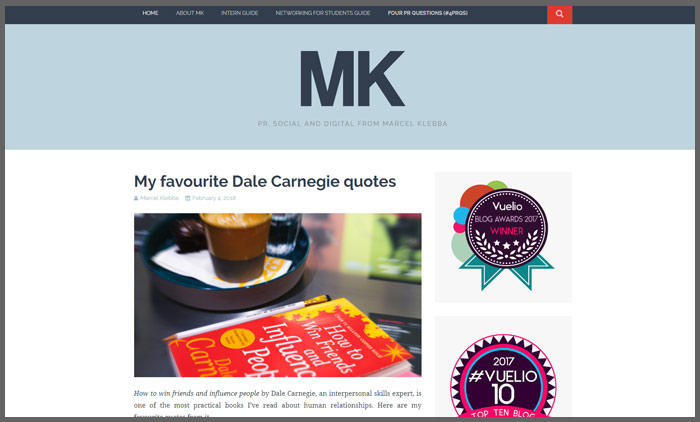 6. MK
Marcel Klebba is a PR Blogging phenomenon. Having only launched MK in September 2016, Marcel has already shot to the top, being selected by a panel of judges to win the Best PR, Media and Communications Blog at the Vuelio Blog Awards 2017. His engaging style and willingness to keep learning from the best of the industry, has made Marcel a rising star and one to watch for the future. Having finished his PR and advertising degree course (first class honours from the University of Westminster), Marcel is now a Junior Account Executive at M&C Saatchi PR (and we can't help but think his blog had something to do with it!). MK covers all things PR, digital and social – and includes interviews with some of the most experienced practitioners in the UK.
Find out more about Marcel Klebba, author of MK, in our blogger spotlight.
Amandacomms's Blog is written by Amanda Coleman, head of corporate communication at Greater Manchester Police. Covering communications and the best ways to start conversations, Amanda provides her own personal views on current events and issues of the day, as well as giving advice on the communication she believes should be taking place. Her posts also give a unique insight into the public sector and specifically the police, covering not only her own experiences, but the experiences of others in her team. For an insider's view of public sector communications, and inspiration for public relations best practice, check out Amanda's excellent blog.
Want to learn more about this blog? Read our blogger spotlight with Amanda Coleman.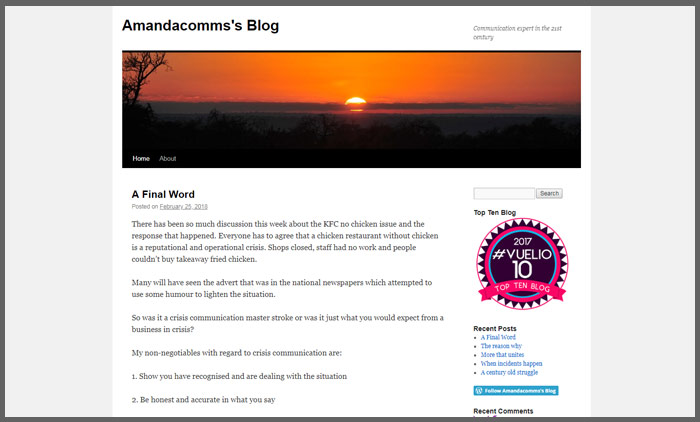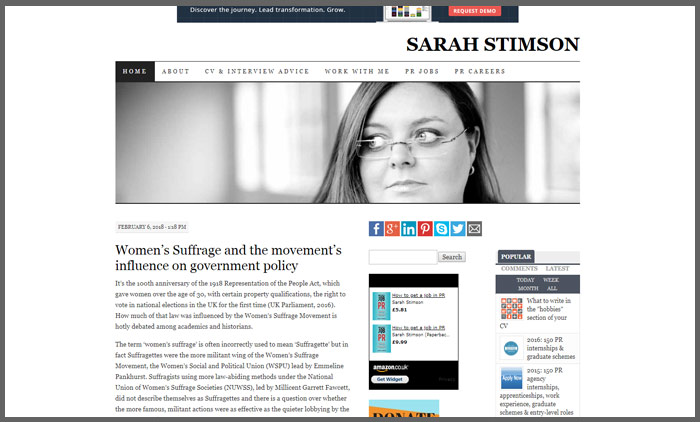 Sarah Stimson is known to many and actually runs two blogs focused on the PR and communications world. While her other blog, PRcareers, provides excellent advice and news for those looking to work in and with the communications industry, it is her eponymous blog that has managed to make the ranking on this occasion. Sarah is a vital member of the PR community and is genuinely responsible for its progress in many areas. Chief Executive of the Taylor Bennett Foundation – a charity that runs award-winning training and mentoring programmes to encourage black, Asian and ethnic minority graduates to pursue a career in communications. Not only a champion of improving accessibility and diversity, Sarah is also an expert in PR recruitment and regularly writes about getting into PR, the journey from the bottom and issues facing the industry.
Want to learn more about this blog? Read our blogger spotlight with Sarah.
Providing a variety of communication musings from one of the most influential thought leaders in the PR industry, Mark My Words was created by author and technology advocate Mark Borkowski to share his thoughts on the industry. Tackling PR issues and the meaning behind communication forms, be they visual, social, or traditional, Mark uses his expertise to provide a breakdown of various campaigns and trends across the industry. Mark's own experience has seen him promote acts such as Cirque de Soleil, Michael Jackson and the Three Tenors, and he is also responsible for what was quite possibly the first major social networking campaign (with the relaunch of Wispa). Mark My Words delivers detailed and insightful analysis on topics including the augmentation of reality, political PR highlights, and unearthing the true meaning and intent behind PR messages.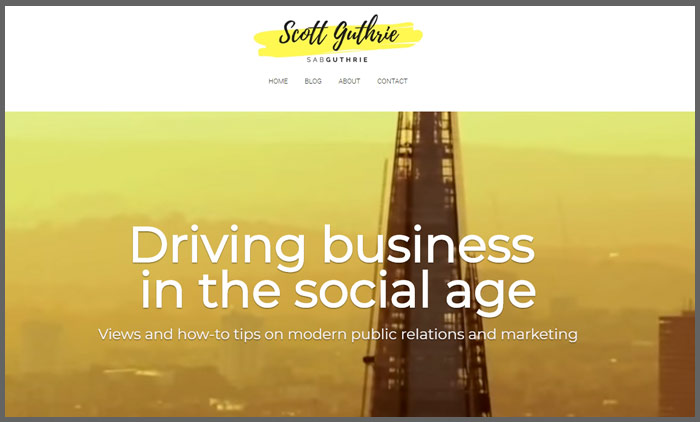 10. Scott Guthrie
Scott Guthrie is a PR and communications expert, having worked in various roles at a range of companies from start-ups to FTSE 100 companies. Specialising in assisting companies within the business intelligence and financial services industries, Scott knows how to create positive business environments and tackle reputational challenges. Scott, like the other individuals on the ranking, has experience beyond his roles and his blog, being called upon as a speaker, guest poster, and book contributor. He is also the community manager for #PRredefined, which is attempting to change the accepted role of PR on an international scale. Scott's blog broadly covers influencer marketing, social media, technology and how-to guides for communicators in all fields.
Want to learn more about this blog? Read our blogger spotlight with Scott.
The fundamentals of working with bloggers are the same as with traditional journalists at traditional media outlets: respect their schedules; take time to read their material to learn their interests; and only contact them if/when they want to be contacted.
Vuelio's blog ranking methodology takes into consideration social sharing, topic-related content and post frequency. Profiles of these PR blogs and their authors can be found in the Vuelio Media Database.
Other Blog Rankings
https://www.vuelio.com/uk/wp-content/uploads/2017/03/PR-ranking.jpg
430
760
Holly Hodges
https://www.vuelio.com/uk/wp-content/uploads/2015/10/vuelio-logo-transparent.png
Holly Hodges
2018-02-28 10:30:50
2018-05-09 10:20:21
PR Blogs UK Top 10