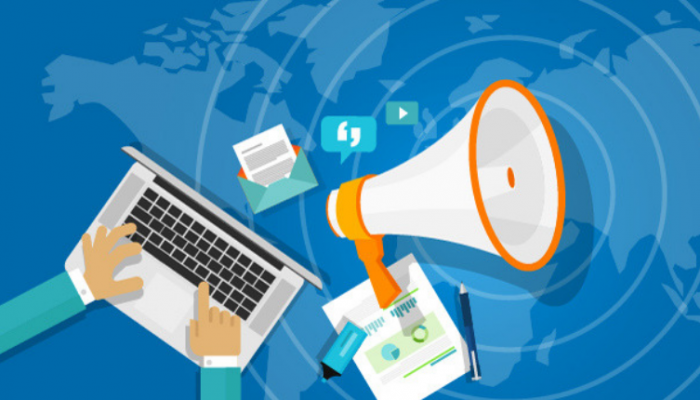 Last Updated 20/02/2019.
Moving up to first place is a regular in our PR ranking and well-known industry figure, Stephen Waddington. Stephen recently moved to the role of managing director at Metia Group, having previously worked as chief engagement officer at Ketchum. Stephen has a wealth of PR experience, including being a past President of the CIPR, authoring and editing several industry books and being Newcastle University's visiting professor in practice. The blog covers everything from corporate communications and public relations to marketing and social media. Stephen writes regular posts covering opinions on industry trends, tips for practitioners and feature posts on hot topics.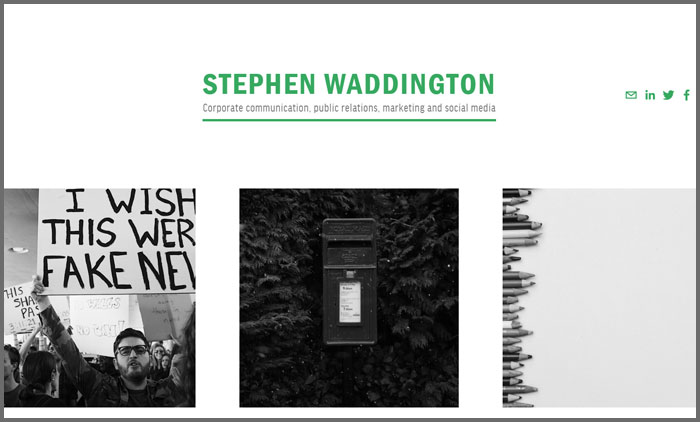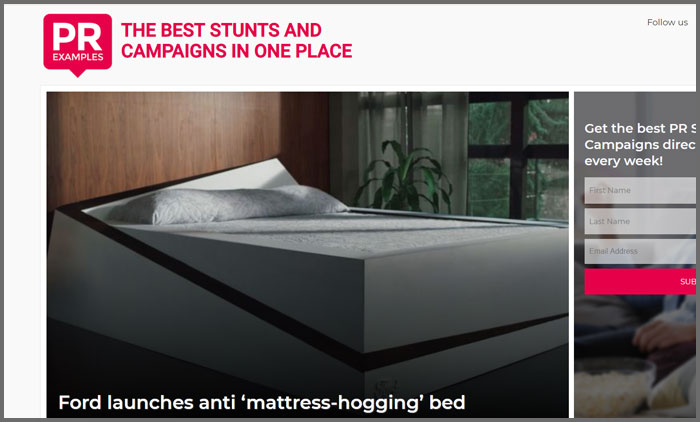 2. PRexamples
Created by Radioactive PR's Rich Leigh in 2011, and sold to Taylor Herring at the beginning of last year, PRexamples continues to be a fantastic source of PR stunts, campaigns and PR examples covering publicity and promotion around the world. The site was named Best PR and Comms Blog at the Vuelio Blog Awards 2018, and receives more than 60,000 unique visits each month from PRs looking to get advice, inspiration and and what-not-to-dos.
Rachel Miller is a communications consultant and trainer who specialises in internal comms. The All Things IC blog covers everything internal comms and the wider PR industry, providing advice and highlighting issues such as mental health and lack of diversity. Rachel is a regular keynote speaker and awards judge and has contributed to a number of best-selling books.
Find out more about Rachel Miller, author of All Things IC, in our blogger spotlight.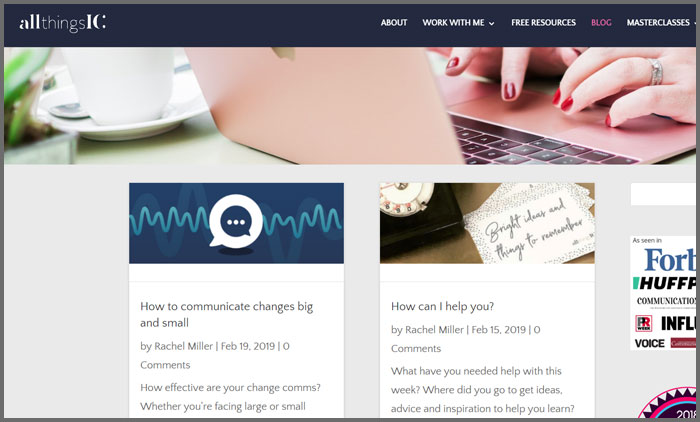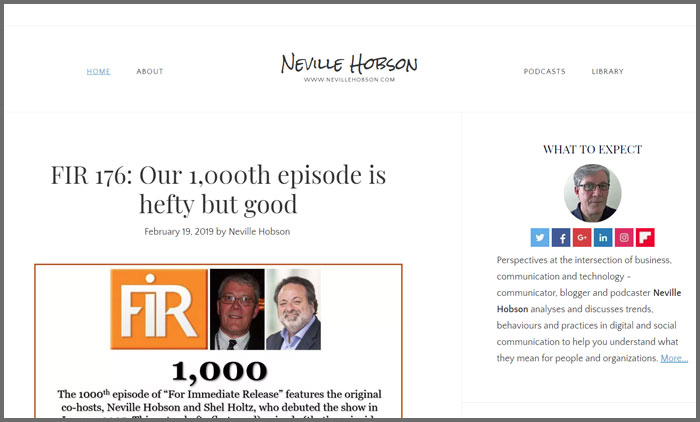 Well-known across the industry, Neville Hobson uses his blog to provide analysis and discuss trends, behaviours and practices in digital communications. Neville can cover just about any industry issue and make it both interesting and accessible. Alongside his blog, Neville co-presents the Small Data Forum Podcast and The Hobson & Holtz Report business podcast.
Last year's President of the CIPR and award-winning PR practitioner, Sarah Hall, is responsible for Sarah Hall Consulting and the hugely popular #FuturePRoof. Sarah is a champion of diversity, women in PR and opening the industry up to young people, ensuring the next generation can access a public relations career path. The Sarah Hall Consulting blog covers advice, information and insight.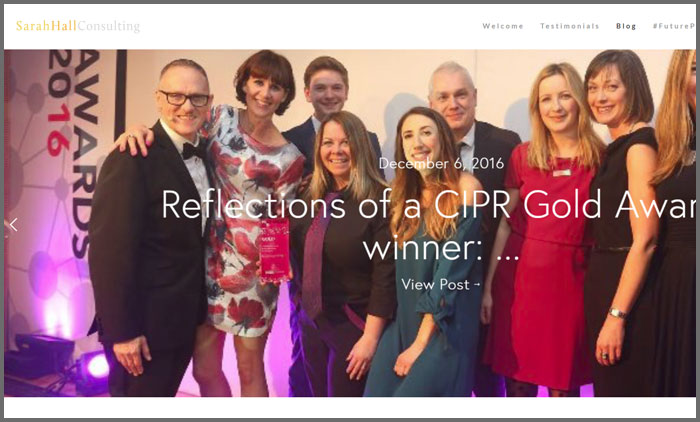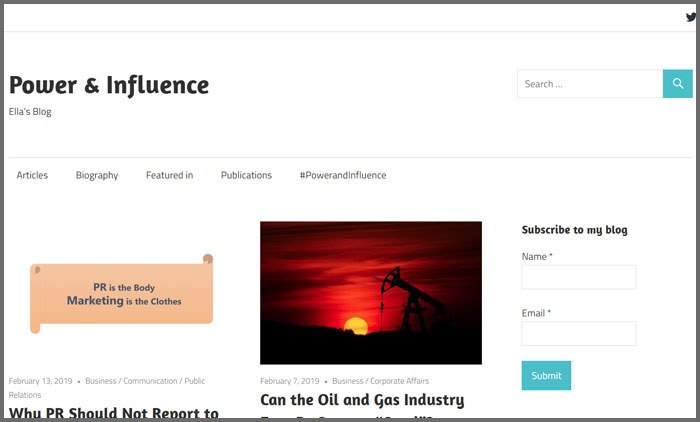 Ella Minty is the creator of the Power & Influence blog and the popular #powerandinfluence Twitter conversations. Ella specialises in corporate affairs and strategic communication with vast international experience of stakeholder engagement strategies across governments, energy operators, international investors and regulators. The Power & Influence blog covers key industry topics, full of opinions and contributions that Ella often sources through Twitter.
7. MK
Marcel Klebba launched his MK blog at the end of 2016 and has already gained a large following. Marcel's engaging style and willingness to keep learning from the best in the industry, has helped him fast-track his PR career straight from university. Marcel currently works as an Account Executive at Metia and uses his blog to cover all things PR, digital and social including interviews with some of the most experienced practitioners in the UK.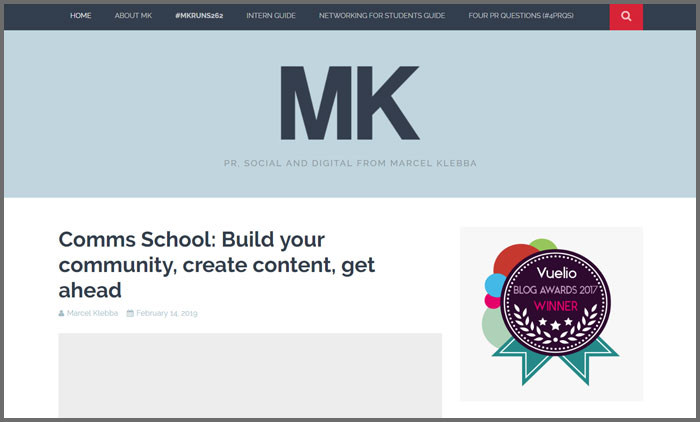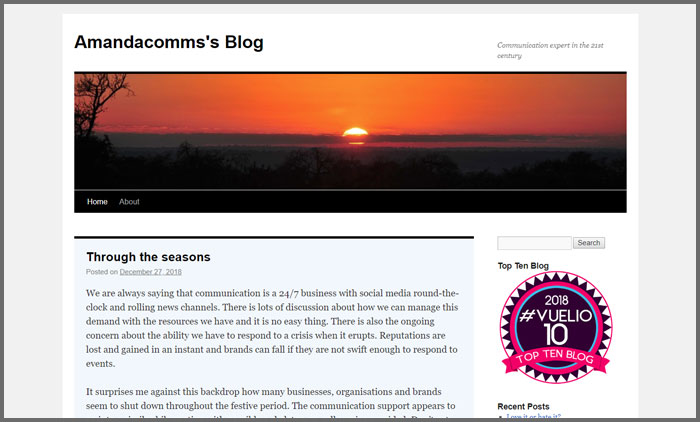 Amanda Coleman, head of corporate communication at Greater Manchester Police, created the Amandacomms Blog to share her opinions, advice and experience on current events and issues. Amanda provides an honest and personal style that gives a unique insight into the public sector and specifically the police, covering not only her own experiences but the experiences of others in her team. For an insider's view of public sector communications, and inspiration for public relations best practice, check out Amanda's excellent blog.
Want to learn more about this blog? Read our blogger spotlight with Amanda Coleman.
Scott Guthrie is a PR and communications expert, having worked in various roles at a range of companies from start-ups to FTSE 100 companies. Scott helps companies with influencer marketing, personal influence and content strategy. Scott's blog covers everything around influencer marketing, alongside content across social media, technology and how-to guides for communicators in all fields.
Want to learn more about this blog? Read our blogger spotlight with Scott.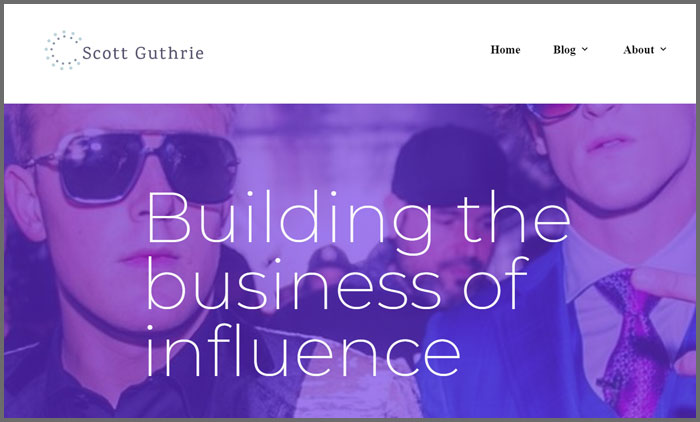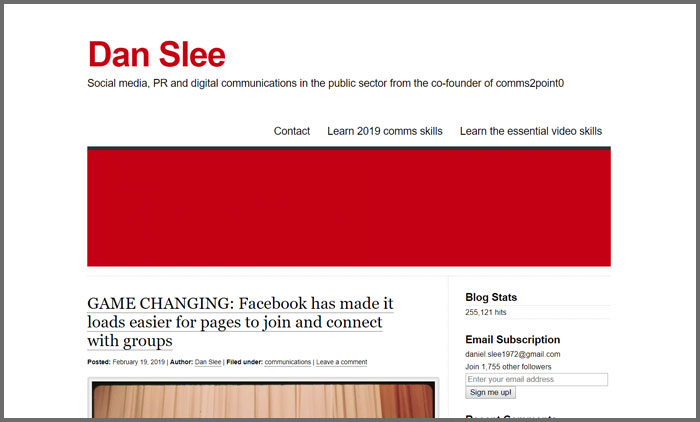 Dan Slee is co-founder of comms2point0 and uses his blog to cover topics across social media, PR and digital communications in the public sector. Dan provides advice and insight that provides communicators with actionable tips for making the most of different channels, ultimately helping them to communicate better.
The fundamentals of working with bloggers are the same as with traditional journalists at traditional media outlets: respect their schedules; take time to read their material to learn their interests; and only contact them if/when they want to be contacted.
Vuelio's blog ranking methodology takes into consideration social sharing, topic-related content and post frequency. Profiles of these PR blogs and their authors can be found in the Vuelio Media Database.
Other Blog Rankings
https://www.vuelio.com/uk/wp-content/uploads/2019/02/Top-10-PR-blogs.png
430
760
Holly Hodges
https://www.vuelio.com/uk/wp-content/uploads/2019/09/vuelio-logo.png
Holly Hodges
2019-02-20 12:00:50
2019-02-27 17:08:03
PR Blogs UK Top 10