Parenting Blogs UK Top 20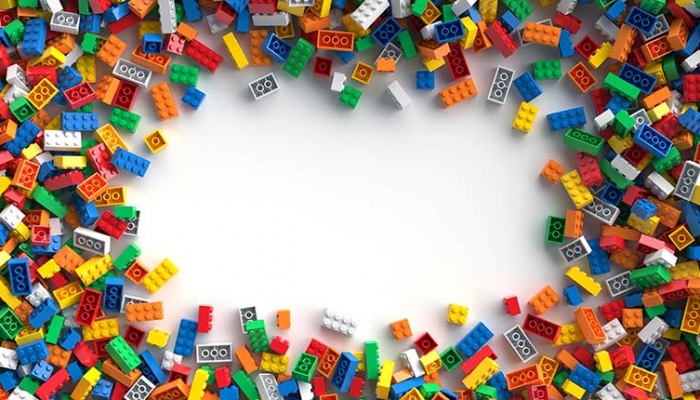 Last updated 19/08/2020.
Vuelio uses a proprietary algorithm to create these rankings, based on topic-related content in blogs on its system – you can read more about the process  here. Our research team actively seeks out new blogs and bloggers for inclusion, but if you think we've missed someone, please  get in touch  to let us know.  
∼1 to 10∼
Moving into the top spot is Slummy Single Mummy, AKA Jo, AKA perhaps 'the best mummy blog in the TA1 postal code area' (who are we to disagree?). This blog is celebrated way beyond TA1, having won multiple awards and amassed a huge readership looking for recipes, food features, interiors, money and travel. You can also find rants – subjects recently tackled in the dedicated section include buckets (which have started randomly appearing in Jo's garden from nowhere over the last few weeks), mustering enthusiasm to keep busy during lockdown and even Gwyneth Paltrow. She has also launched 'Untold Stories', giving a platform for other parents to anonymously tell the stories that may be difficult or cover taboo subjects.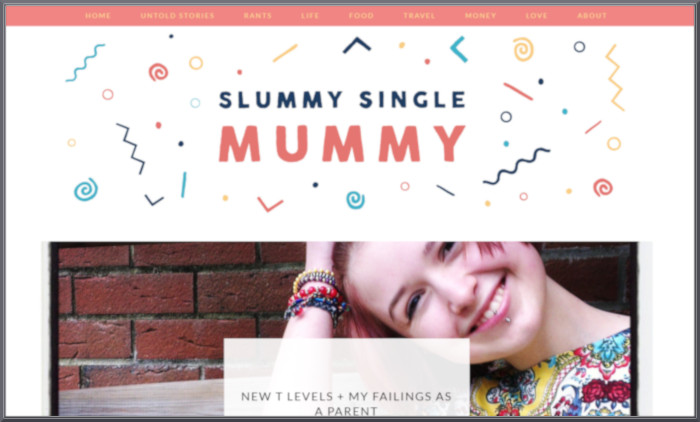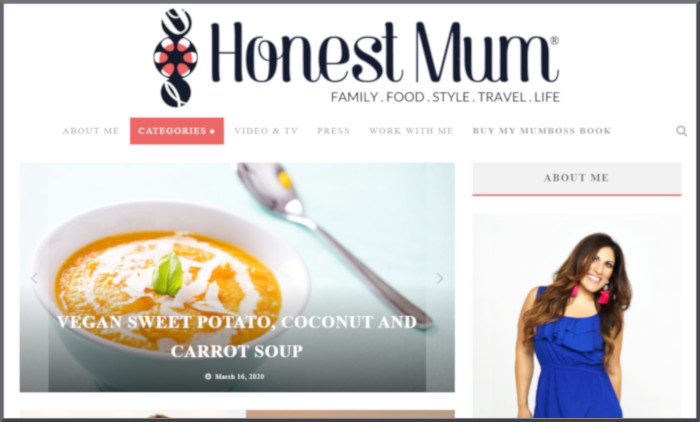 2. Honest Mum
Also moving up a spot in the Parenting Top 20 is blogger, vlogger, presenter, author, parenting expert, former TV and film director and honestly-incredibly-busy Vicki of Honest Mum. Making time for healthy meals, Vicki shares quick and easy ideas to help her readers keep their families fed with good food – recommendations over the last week have been no bake vegan dark chocolate rice crispy cakes, baklava, tabbouleh salad, etc. – and advice from experts, too. Never shying away from sharing the harder parts of family life, either, Vicki is refreshingly honest about soap-opera-style family talks at the dinner table. Honestly, this blog is worth a look.
What the Redhead says: 'The future's bright, the future's ginger'. What we say: Donna's blog has moved up a spot in this ranking since last year, and continues to engage her huge readership of parents with quality family-focused content. Celebrating simple family days out at the park and more, the blog has chronicled trips taken with husband Dave and children Athena and Troy over the summer so far, showing fresh air and fun can be found even during difficult and socially-distanced times. And if you're heading out to the park with your own family, Donna can help with packed lunches – check out her recipe for salted caramel slow cooker fudge.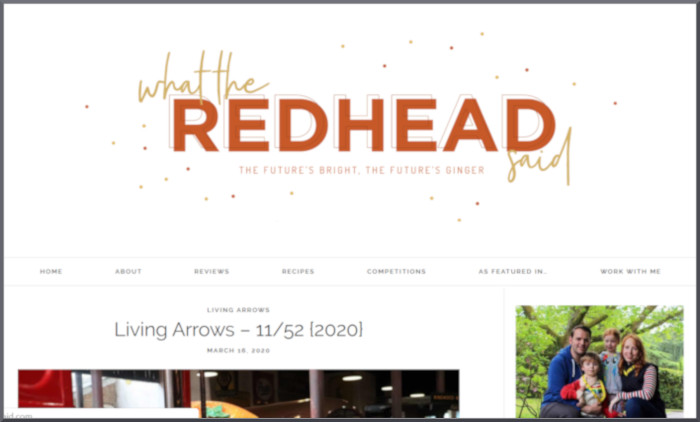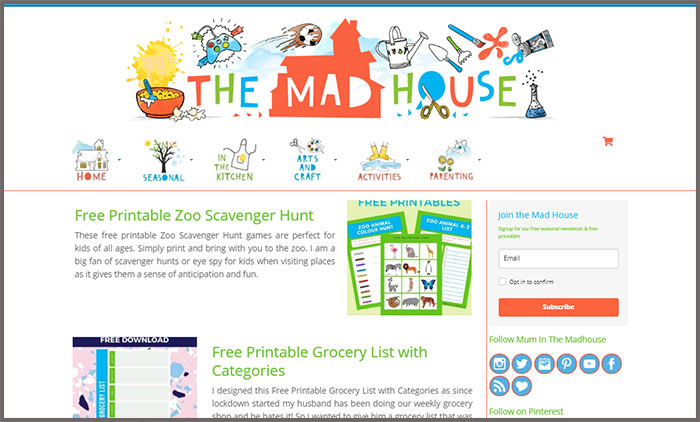 If your home has been a madhouse over the last few months, Jen Walshaw – the Mum In The Madhouse – can relate. She can also recommend ideas for keeping kids busy when things are particularly crazy – find Seasonal ideas, things to create In The Kitchen, what to make in Arts & Crafts, Activities to try and advice with Parenting. The kids aren't the only ones under the roof looking for things to do, however – Jen also shares calming ideas for parents themselves when there's some downtime (or it's past the kids' bedtime), including adult colouring sheets and books, printable grocery lists and no-sew face mask patterns.
5. Dad Blog UK
Self-styled school-run dad John Adams officially stepped into the role of main carer for his children in 2011. At Dad Blog UK, fatherhood, parenting, family and lifestyle are covered along with his own experiences as a dad. Giving a 360-view of modern fatherhood and the issues fathers are likely to face, the blog also regularly features experts in interviews on important topics. From over the last month – catch up on Natasha Devon MBE discussing mental health, DR Jasmine Kelland talking parents in the pandemic and Lee Sands sharing the realities of being a stepdad.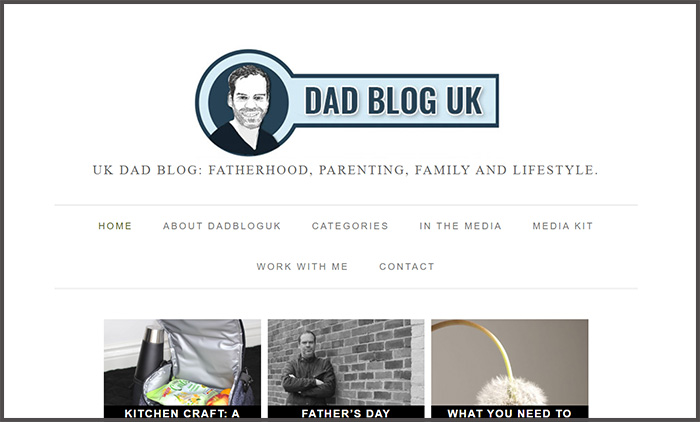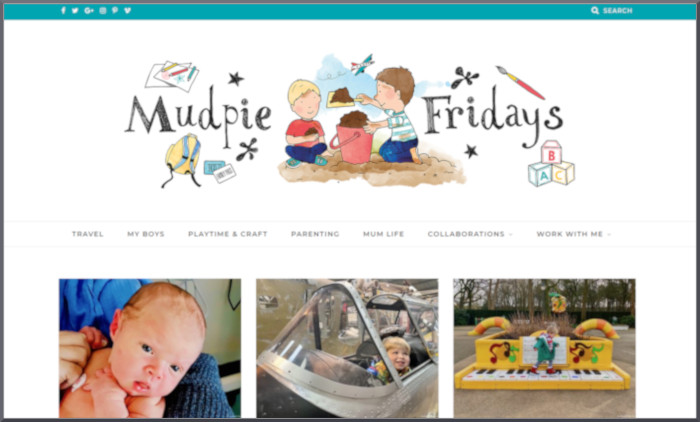 The adventures being shared by blogger Clare at Mudpie Fridays are good for any day during summer (weather permitting). Days with her children Monkey and Kipper – by proxy nom de plumes, perhaps – are chronicled in Our Adventures in Pictures, reviews of places to visit, road trips, gift guides and boredom breakers. Also great for banishing boredom on those days where you're stuck inside is the blog's Playtime & Craft section – find free play, footprinting, bakes, costumes, growing your own crystals, and trash to treasure. Basically, find experiences to treasure, for whatever day of the week.
Sometimes a family has to venture beyond the realms of The Hundred Acre Wood to find further adventure and sustenance, and Boo (that's blogger Sarah), Roo, Tigger and Piglet (that's Sarah's children) know where to find it and can show you, too. Sections on Family Life (including Life in Lockdown and their Monthly Goals), Home & Garden, Lifestyle (Cleaning, Fashion, Finance, Recipes and Wellbeing, Parenting (Baby & Toddler and Teenagers) and Travel cover the essentials for the fam, and Sarah's regular What I'm Kindle Reading feature cover the quieter times for the adults.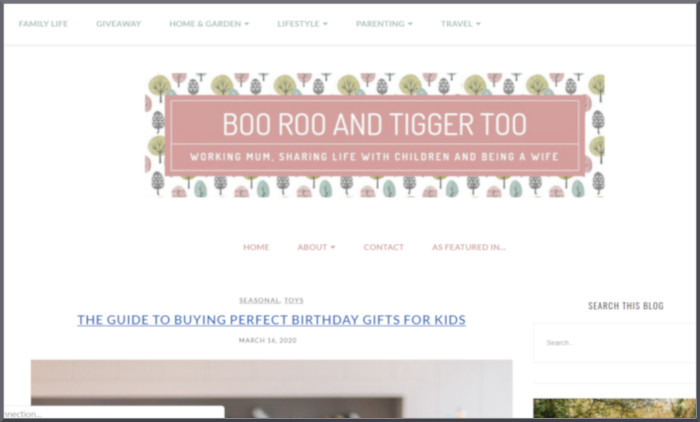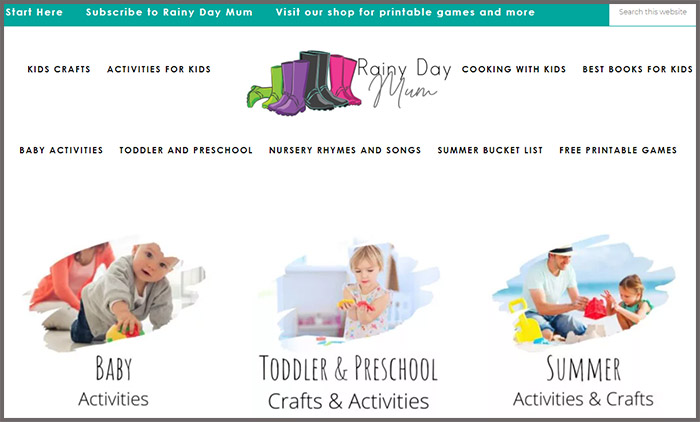 While we're in the midst of the often unpredictable British summer, Cerys at Rainy Day Mum has activities galore for days indoors. Born out of Cerys' idea to do an activity together each day as a family in her own home, the blog now shares ideas for crafting, cooking and learning for families everywhere. The blog has activities and craft ideas for kids across every age group – Baby, Toddler, Pre-school and School Kids – and across different formats, too. Gardening, sensory play, cooking, singing and learning about science and nature – whatever the weather, indoors or outside, Rainy Day Mum will have something to try.
9. KiddyCharts
High up on the charts for UK Parenting blogs is this 'helping hand for your little stars'. Originally founded in 2012 by Helen Neale, this social enterprise blog aims to offer parents free resources to help them on their family journey. Parents can download reward charts, free printables and advice for potty training, eating, and general parenting tips as well as product reviews for what's worth investing in for the home. Things to invest in (well, for free!) now – back to school morning routine charts, free literacy worksheets and calming present moment wheels.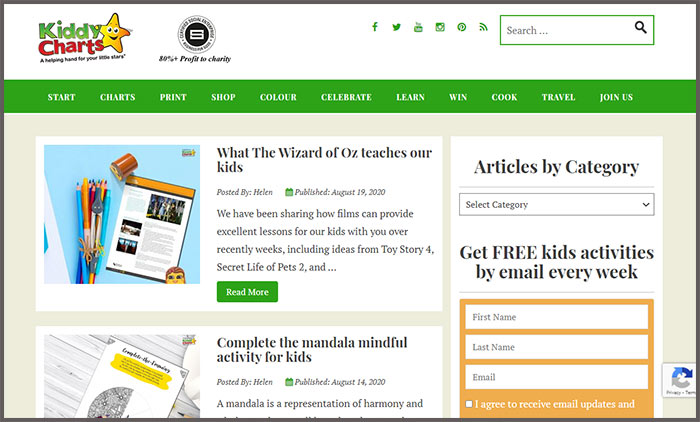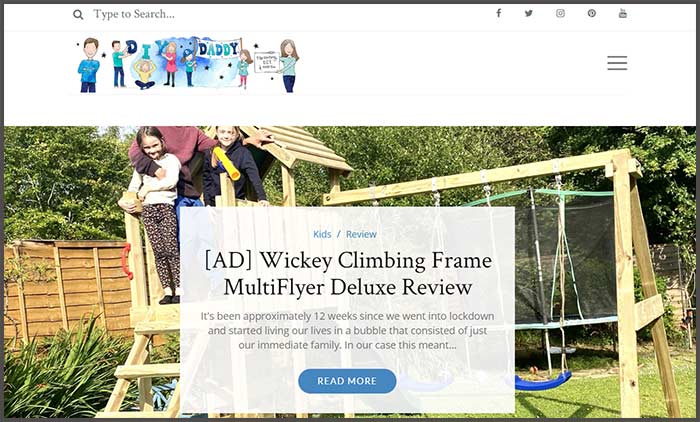 10. DIY Daddy
DIY Daddy is where blogger Nigel records the 'trials and tribulations of bringing up five children whilst trying to maintain his sanity' and shares DIY know-how from his 20 years of experience as a painter and decorator. Joints, timber and screws aren't the only connecting foundations Nigel knows his way around, however – sections on the blog include Mental Health and Gender Issues and important subjects like the biggest causes of stress in men and the connection between mental states and physical pain are also covered. Whether you need help with putting up shelves, or looking after your children and yourself – DIY Daddy has the tools.
∼11 to 20∼
Check out more parenting and blogger content, including interviews with mum and dad bloggers, on the Vuelio Blog.
Collaborating with bloggers requires mutual respect and understanding: respect their schedules; take time to read their content to learn their interests; and only contact them if/when they want to be contacted. You can see more advice in our blogger spotlights.  
Profiles of these  blogs and their authors can be found in the Vuelio Media Database.
Through Vuelio's Social Media Index, you can find the UK's top blogs in a variety of sectors including beauty, travel, interior design and many more. Whether you are a blogger, PR professional or journalist, Vuelio's Social Media Index provides an accurate chart for your professional or personal interest.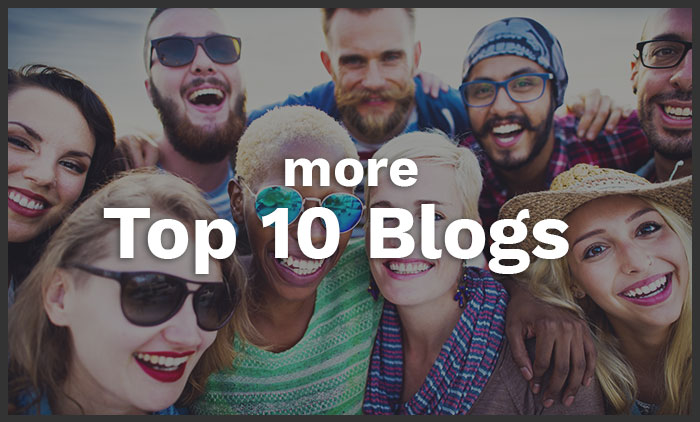 https://www.vuelio.com/uk/wp-content/uploads/2019/11/Parenting-blogs.jpg
430
760
Holly Hodges
https://www.vuelio.com/uk/wp-content/uploads/2019/09/vuelio-logo.png
Holly Hodges
2020-08-19 11:30:32
2020-08-19 16:46:16
Parenting Blogs UK Top 20