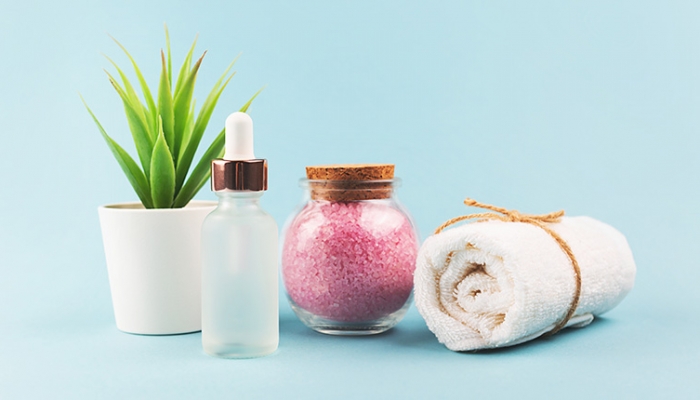 The Top 10 Beauty Blog ranking was last updated 01/04/2020.
As the winner of 2019's Best Beauty Blog as well as the overall Best Blog at the Online Influence Awards, Caroline Hirons is unsurprisingly still at the top of this UK beauty blog ranking. Caroline is a trusted voice after more than 30 years of experience in retail and ten as a consultant to the beauty industry. Best of all, she's still passionate about the sector – 'it's my career and I love it'. Here you'll find honest product reviews or news of what's launching when it comes to cosmetics and skincare, and for even more tips on skincare, Caroline's 'ultimate no-nonsense guide' skincare will be published in June 2020. In the meantime, grab all the Skincare, Beauty, Cheat Sheets and Treatment tips you can handle over on the blog.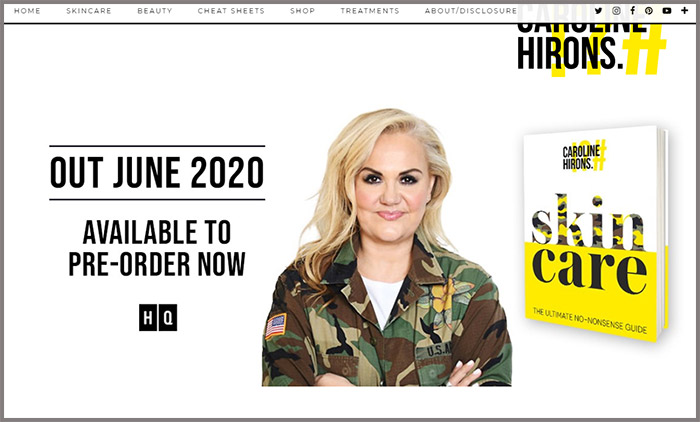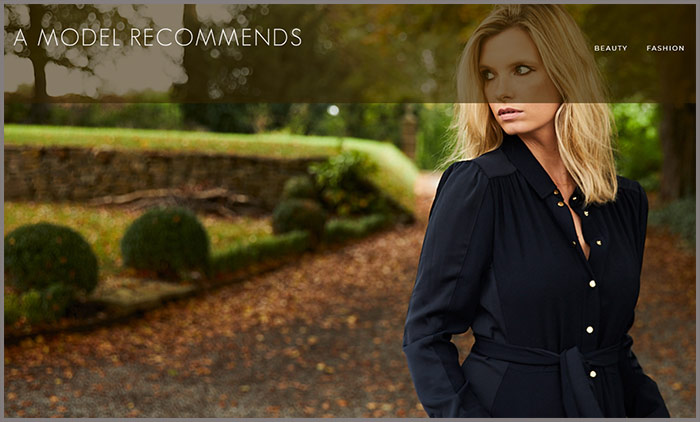 Ruth Crilly – 'erstwhile fashion model, dedicated beauty insider and prolific writer of nonsense' – knows what works on camera and day-to-day when it comes to beauty, which is why she started her blog in 2010 to share the knowledge. Ten years later, this former model's recommendations have expanded beyond beauty (including bodycare, fragrance, haircare, makeup and skincare) to fashion, family, and house-related content, or as Ruth puts it, posts streaming from 'completely random and mundane thoughts'. Having moved out of London and into rural Somerset with her husband, two children and pets, Ruth's day-to-day now includes posts on free hotel loofah mysteries, or creepy things small kids do (both actual posts you can track down on the blog) – perfect for scrolling through while you undertake your daily beauty regime.
The British beauty blogger behind the next beauty hot spot in our ranking is Jane Cunningham, a writer for both digital and print media and an author of four books. Having started her writing career with children's products and travel writing, Jane found her favourite topic in beauty and decided to stick with it – 'I've never enjoyed writing anything as much as I do about beauty'. The 'endlessly interesting, constantly changing' field is covered by Jane in the sections Makeup Reviews, Fragrance & Perfume, Nail Polish & Colour, Skin Care Reviews and Hair & Styling. Where Jane's work in magazines and papers occasionally limited her freedom to be brutally honest, independent blogging has had no such restrictions – this British Beauty Blogger's approach is very much 'no holds barred' when it comes to what's worth trying.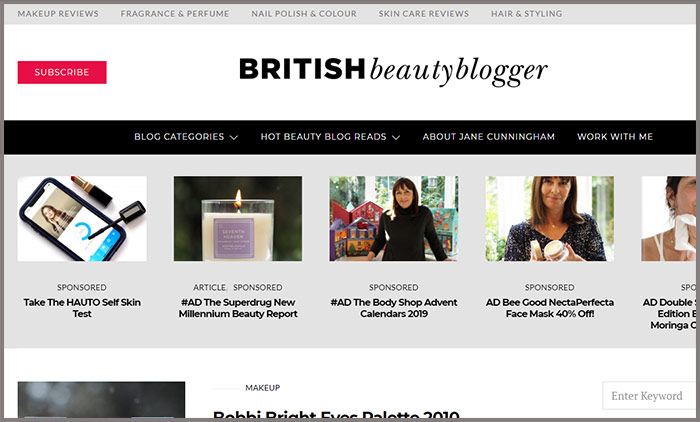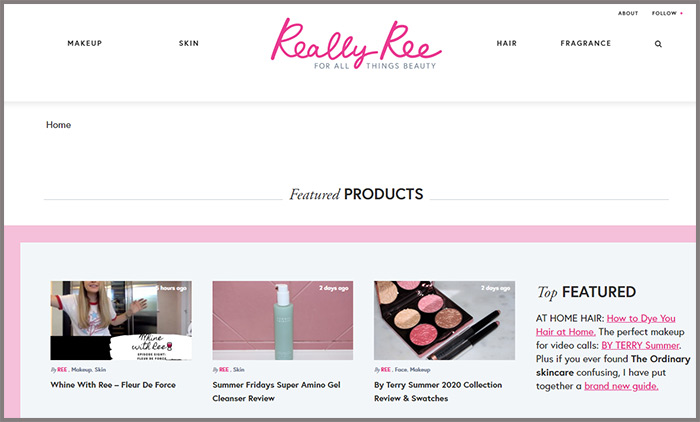 4. Really Ree
Really Ree is really Anne-Marie Lodge, who created this blog in 2010 as a place to share new products and ideas. Originally a hobby, blogging has since become a full-time career for Anne-Marie, her 'handful of readers' at the beginning growing into a dedicated legion of fans. Responsibility to her readers is something the blogger doesn't take lightly – 'I love that people rely on me to know what's new and worth trying, and I work hard to achieve that'. Products recommended as worth trying range from the high-end glamour of Charlotte Tilbury and Surrat to the everyday wearability of brands like Milk and Maybelline, keeping with the blog's aim to keep beauty treatments realistic and achievable for everyone, whatever budget they're working with.
5. Hayley Hall
Hayley Hall's experience as a brand manager in the cosmetics industry has come in handy during her decade of blogging. Now a well-known voice in the sector, Hayley has featured in print titles like the Daily Mail, heat magazine and Grazia and has worked as a brand consultant with names including Boots, Unilever and ASDA. Her work on the blog also covers fashion, travel, interiors and even weddings, but if you'll be staying inside the house for the foreseeable and finally have time for face masks and foot peels, check out Hayley's beauty tips. Recent posts include easy beauty tasks to tick off during lockdown, how to handle dry frizzy hair and recommendations for the best creams to try on over-washed hands.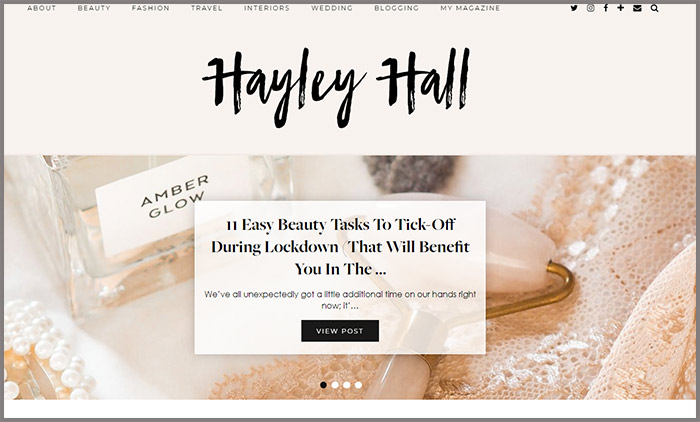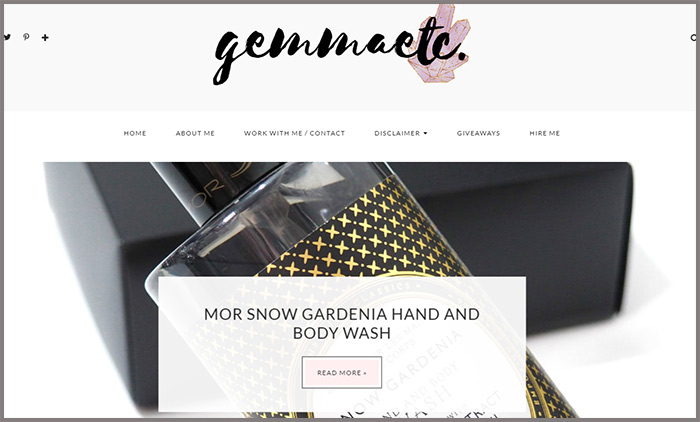 6. Gemma Etc.
Gemma Etc. started in 2012 as Miss Makeup Magpie and has since expanded to include general lifestyle features. Beauty remains this blogger's main love, however, and Gemma Etc. is her outlet to 'share opinions while talking about the products I love, and those I don't'. Gemma aims to keep things balanced when it comes to products she rates and the ones she doesn't, buying new releases herself to try alongside PR samples. If you're looking for something product-focused, this blog is for you – 'I like that my blog is purely about the products I feature, and I don't want the 'fame' that some do with blogging and YouTube – I just want to blog daily about different products as I love it'.
Started in a 'obscenely youthful and nauseating pink bedroom' by Adrienne Söndag in 2011, The Sunday Girl is now a global (and award-winning) blog with roots in the UK and USA that covers all aspects of beauty. Posts feature the latest launches, cult products and celebrity slap as well as the blog's discoveries of tricks and tips both new and old. Fans of The Sunday Girl's mix can also sign up for 'weekly drops' of beauty in the Sunday newsletter and follow the popular associated channels on social media for beauty products, tips and pretty flat lay pics of pots and powders being tested by the team at the moment.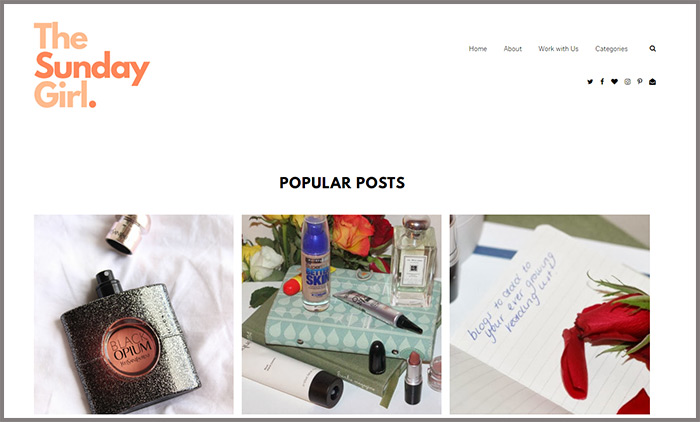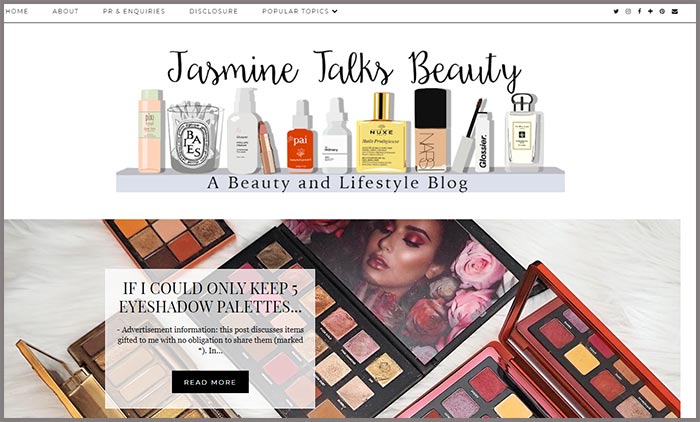 Jasmine Stewart started talking beauty online during a boredom-filled break from study at the University of Birmingham. Having read Philosophy and Theology, Jasmine is also well-studied on the subject of beauty for all budgets – 'some people like Star Wars Memorabilia, some people collect stamps, my thing just happens to be beauty!' Instead of focusing on tutorials, the feeling Jasmine aims for with her blog is that of sitting down with friends, a coffee and a makeup bag for a chat, and she encourages readers to continue the discussion and do their own research on ingredients. Recent chats on the blog have included staying motivated and positive and which five eyeshadow palettes Jasmine would keep if she had to choose – click over to the blog to see her picks.
9. Makeup Savvy
Fee, aka Fiona Houghton, is savvy about makeup and where to find the best low-priced products both on the high street and online (the online tips being particularly useful at the moment). Categories on the blog include Beauty, Skincare, Nails, Lifestyle, Blogging Tips and Freebies, so if you're passionate about pretty things and blogging about them too, Fee has the goods. While luxury products might be hard to get hold of right now, this blog's advice on storage solutions for what you already have in your collection, no-spend professional skincare tips everyone should know and how to control sensitive skin will keep you and your skin beautifully busy.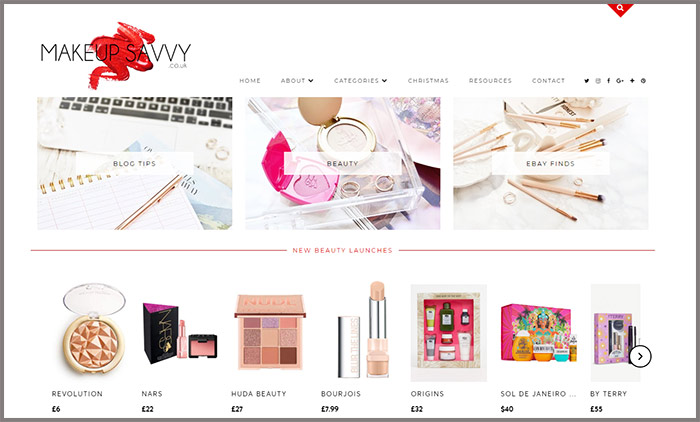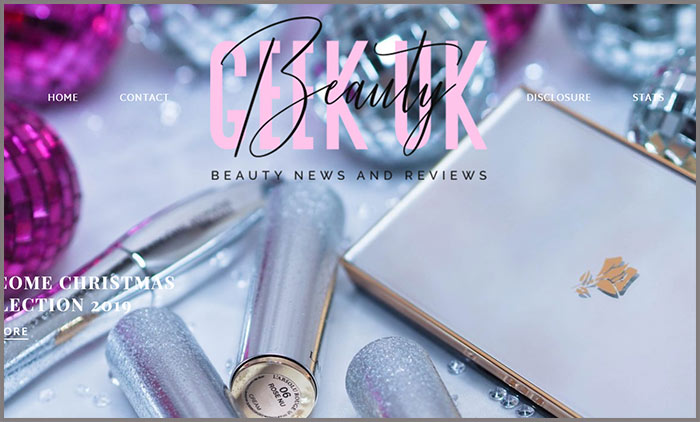 10. Beauty Geek UK
Back in our top ten beauty blog ranking this year is online resource for makeup, skincare and all things beauty Beauty Geek UK, edited by 35-year-old 'lover of pink lipstick and pretty palettes' Sascha Taylor-Curtis. Bursting with pictures of the prettiest in new launches, the brightly-coloured blog features recommendations for brushes, nail polish, concealer, bath foams, face masks and much more – meaning full-face and full-body beauty tips. Sascha has a special interest in problem skin, having tried many different products and potions herself, so seeks to help people with similar issues make informed decisions. If you're hoping to spruce up your skincare regime, Sascha is who to geek out with.
The fundamentals of working with bloggers are the same as with traditional journalists at traditional media outlets: respect their schedules; take time to read their material to learn their interests; and only contact them if/when they want to be contacted.
Vuelio's blog ranking methodology takes into consideration social sharing, topic-related content and post frequency. Profiles of these Beauty blogs and their authors can be found in the Vuelio Media Database.
https://www.vuelio.com/uk/wp-content/uploads/2020/04/Top-10-Beauty-Blogs-featured.jpg
430
760
Christina Pirilla
https://www.vuelio.com/uk/wp-content/uploads/2019/09/vuelio-logo.png
Christina Pirilla
2020-04-01 10:30:49
2020-04-01 11:32:28
Beauty Blogs UK Top 10