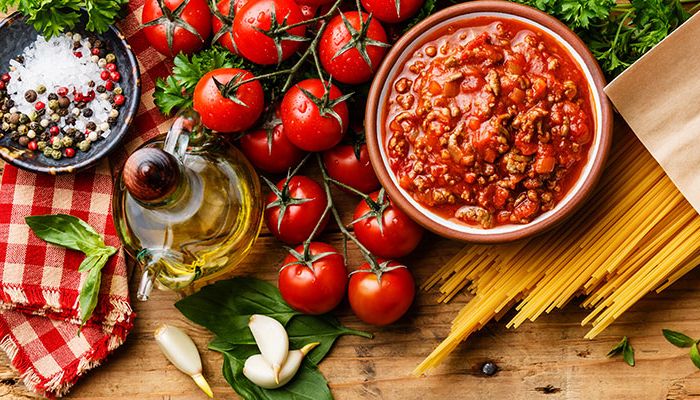 Last Updated 21/03/2018
Retaining the top spot is Elizabeth's Kitchen Diary, which was created by mother-of-three and Canadian ex-pat Elizabeth. After living across Canada, Elizabeth upped sticks and moved to Shetland, originally aiming for Scotland, the home of her ancestors. With experience working in health food shops, Elizabeth started her blog with encouragement from her friends as she had been sharing so many foodie photos and recipes on Facebook. Now Elizabeth covers beautiful bakes and original recipes, with everything from 'No Bake Chocolate Nut Tarts with Icelandic Skyr', to 'Grandma's sweet and sour meatballs recipe'. Each recipe post is accompanied with beautiful photography, tantalising the taste buds and encouraging readers across the world to emulate this beautiful Kitchen Diary. Elizabeth also covers adventures (both culinary and outdoor), including international food guides, making her blog a true foodie's paradise.
A fear all foodies share is having to give up tasty treats on the quest to get healthy. Retaining its number two spot in our rankings, Hungry Happy Healthy (HHH) is a blog that not only debunks this myth but provides numerous recipes that will get your mouth watering without the guilt. HHH has grown from a blog written by Danni to chart her weight loss journey to so much more. It's now a family affair with her husband Dave (aka The Bearded Baker) sharing his dessert recipes and DIY creations. HHH has grown since its creation in 2011 and is now a community of people who see being healthy as more than just vegetables and calorie counting, instead focusing on what makes them happy and how diet is linked to their mental health.
Jumping up our rankings from number eight to number three is Amuse Your Bouche, a vegetarian blog written by food and cheese lover, Becca. Whether you're wanting to inject some life into your vegetarian recipe repertoire or you're considering cutting meat out of your diet for the first time, you're bound to find yourself spoilt for choice. You'll find inspiration for veggie lunches, warming pies for the (seemingly never ending) cold evenings, plus plenty (plenty!) of cheese-based recipes
Want to learn more about this blog? Read our blogger spotlight with Amuse Your Bouche.
4. Eats Amazing
Eats Amazing, a blog written by Grace, aims to make cooking for a family fun, especially one with young children. Deciding to get creative to feed her sons, Grace turned the often stressful task of packed lunches into something fun. Eats Amazing has easy-to-follow tutorials and healthy recipes for the busy parent with bento-style packed lunches. Grace believes that the key to raising happy, healthy eaters is to get them excited about food and with plenty of fun recipes for kids, from snowman garlic pizza breads to monster jam tarts, you'll have trouble keeping them out of the kitchen!
Ella Mills started her blog back in 2011 after being diagnosed with a chronic illness. This set her on a path to transforming her eating habits and diet, sharing new recipes with her followers. It's now a well-recognised brand in its own right, with published cookbooks, an app, a range of snacks (including the best-selling energy balls) and a deli, which opened in 2015. Deliciously Ella continues to post tasty recipes for followers after a healthy lifestyle.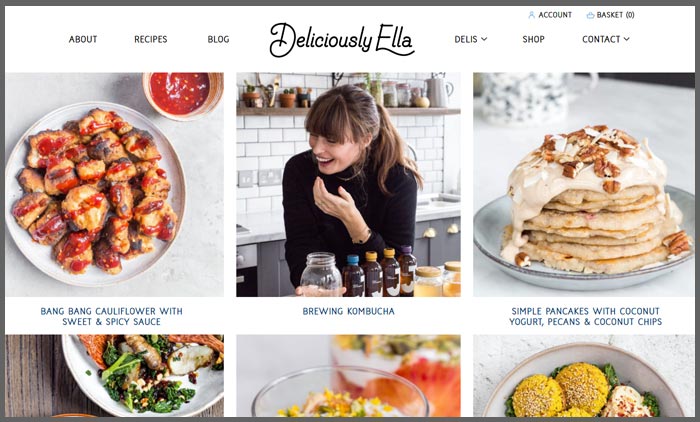 6. A Mummy Too
Emily Leary created A Mummy Too while on maternity leave in 2011, and then left her career in digital marketing to go full time on the blog in 2013. Originating from a love of food, family and fun, A Mummy Too shares daily recipes, as well as travel and lifestyle advice for the busy parent. Emily doesn't just stay behind the screen, she also takes her blog out to the masses, working with brands to run workshops, presentations and demonstrations.
Want to learn more about this blog? Read our blogger spotlight with A Mummy Too.
Winner of the Best Food & Drink Blog at the Vuelio Blog Awards 2017, My Fussy Eater has retained its position in the ranking. Founded by Ciara back in 2014 after attempting to get her 'fussy' daughter to eat, My Fussy Eater aims to put the fun back into meal times. With a range of meal plans for the whole family and recipes for special diets, like gluten-free or dairy-free, there's plenty of ideas so you can get creative with your family.
Want to learn more about this blog? Read our blogger spotlight with My Fussy Eater.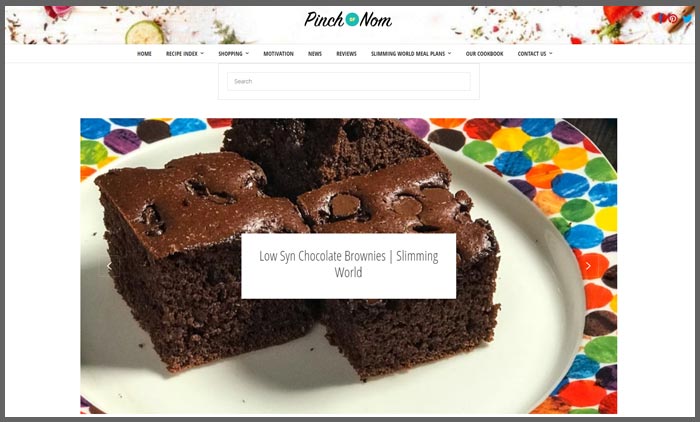 8. Pinch of Nom
Pinch of Nom is a blog for anyone on their Slimming World journey to bookmark. Started in 2016 by partners Kay and Kate, they've made it their mission to share tried and tested Slimming World recipes with an eager audience. On Pinch of Nom, you'll find new recipes for Syn free meals, shopping essentials and motivational stories from people on their weight loss journey. The future looks bright for Pinch of Nom as they're launching their own cookbook in April 2018.
A new entry to our rankings, Fab Food 4 All was created by Camilla, a wife and mum who created her blog after growing tired of recipes that didn't work. Influenced by her love of all things Danish (due to her Danish mother) and Delia Smith, Food 4 All posts recipes that are straightforward to make and loved by all the family. The recipes fit all diets and wallets, so you'll easily find inspiration for a tasty meal.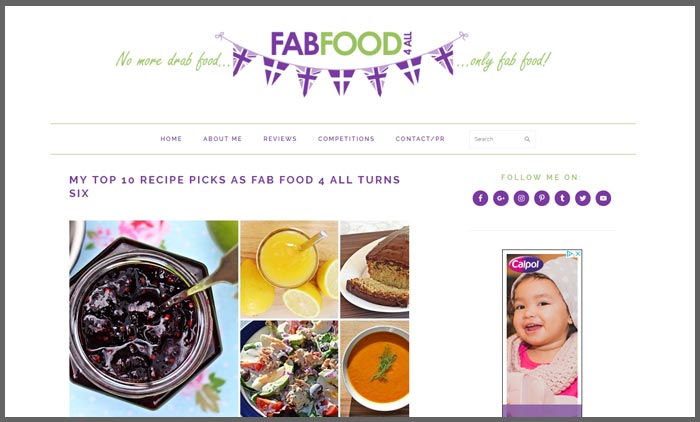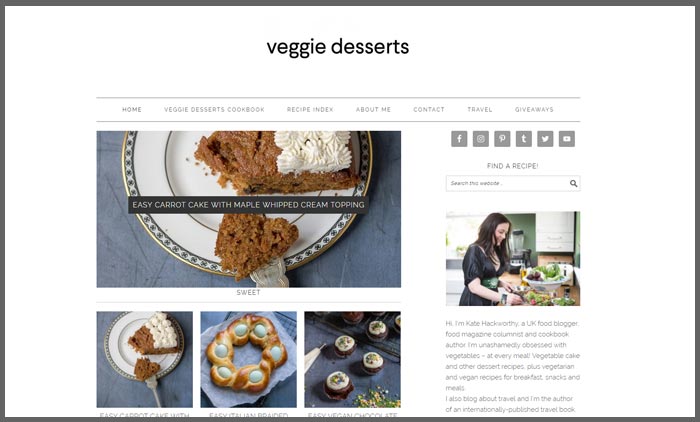 10. Veggie Desserts
Another new entry, Veggie Desserts combines blogger Kate's love of vegetables and desserts. As a mum of two she wanted to make sure her kids were getting healthy food without them missing out on the important things – like cake! Don't be fooled by the title of the blog though, there's plenty of recipes for main meals too, each one packed full of vegetables. Veggie Desserts debuted their first cookbook in August 2017 and Kate regularly features as a magazine columnist and freelance food writer.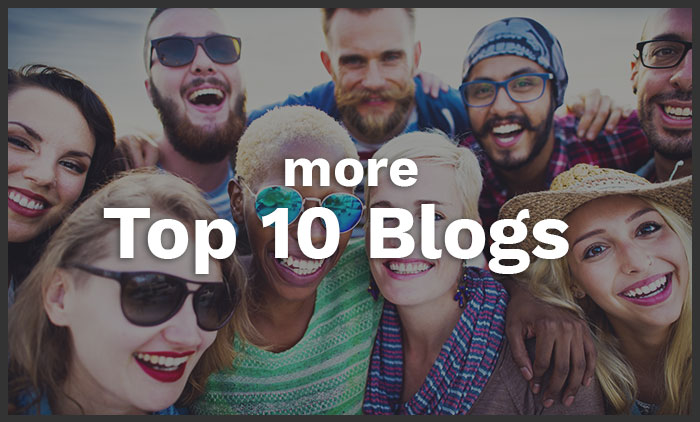 The fundamentals of working with bloggers are the same as with traditional journalists at traditional media outlets: respect their schedules; take time to read their material to learn their interests; and only contact them if/when they want to be contacted.
Vuelio's blog ranking methodology takes into consideration social sharing, topic-related content and post frequency. Profiles of these food blogs and their authors can be found in the Vuelio Media Database.
https://www.vuelio.com/uk/wp-content/uploads/2017/11/top-10-food-blogs-2018.jpg
400
710
Merryn Williams
https://www.vuelio.com/uk/wp-content/uploads/2015/10/vuelio-logo-transparent.png
Merryn Williams
2018-03-21 08:00:18
2018-03-22 12:08:50
Top 10 UK Food Blogs