Last updated 19/10/2022
Vuelio uses a proprietary algorithm to create these rankings, based on topic-related content in blogs on its system – you can read more about the process here. Our research team actively seeks out new blogs and bloggers for inclusion, but if you think we've missed someone, please get in touch to let us know.
Number 1 in our list of Star Bakers for another year is Jane Dunn of Jane's Patisserie. For all-things homemade, baked and yummy, this blog is top drawer. Offering up 'fun, laughter, confidence and knowledge to bake and cook whatever you fancy' is Jane's speciality, so take a seat and fill your plate. Treats added to the menu for Halloween include Spooky Spider Web Tart and Spider NYC Cookies, but if that sounds a mite too scary for you, stick with Jane's back to basics tutorials on Swiss meringue skills and food colourings.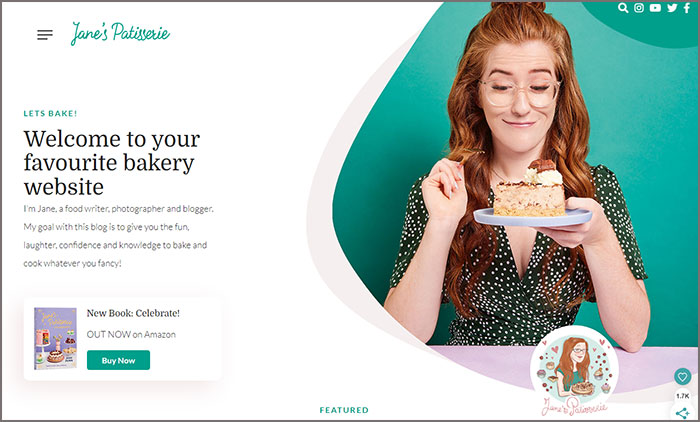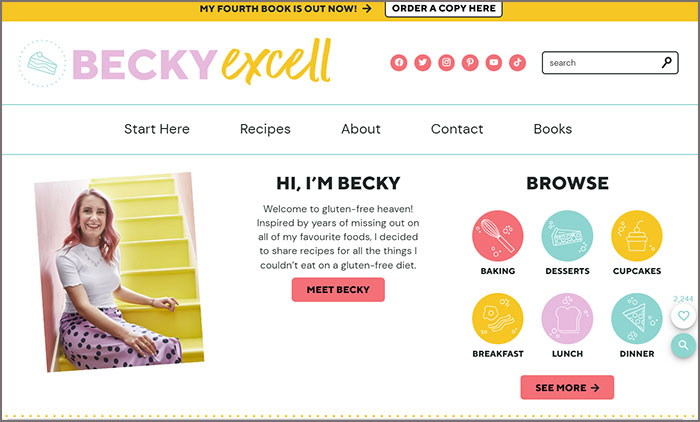 2. Becky Excell
Another non-mover very worthy of a Hollywood Handshake from a certain TV baking show judge is Becky Excell. An expert in gluten-free baking and blogging, Becky is also a dab hand at recording her creations with artistic food photography and recipe creation. This blogger has been gluten-free since 2013 and shares what is possible with readers who are also in need of treats sans gluten. Timely treats from the blog now – Air Fryer Sausage Rolls, Gluten-Free Depression Cake and a Celebration Cookie Bar.
As shown by the Great British Bake Off, baking can take many forms – though every morsel prepared by recipe developer, food photographer and author Lucy Parissi is super and also gold-tier. 'If you are looking for easy sweet and savoury recipes that are packed with flavour you have come to the right place,' says Lucy. Get the deets for making your own version of her Apple Cake with Mascarpone Frosting, Air Fryer Roast and All-Bran Loaf (because yes, bran can be super tasty, too).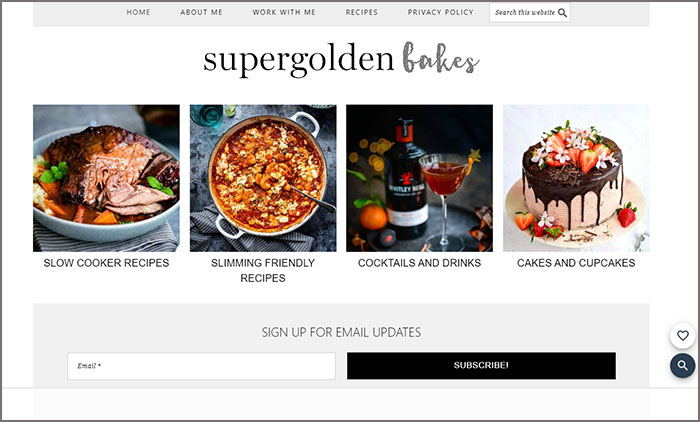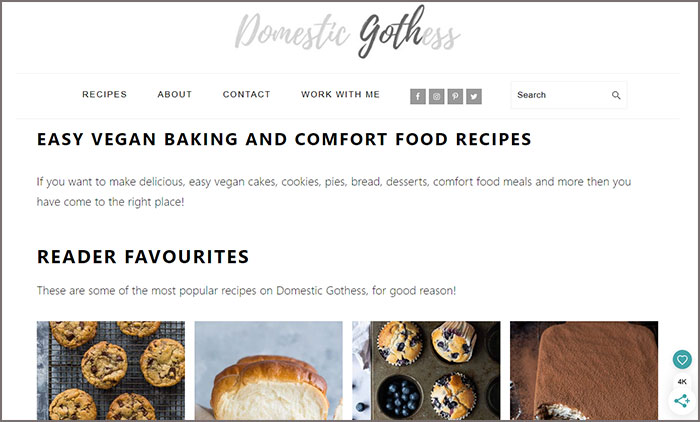 Moving up two spaces in this year's update of our UK Baking Blog ranking is 'professional blogger, aspiring food photographer, cake fanatic and goth' Hannah Hossack-Lodge. Those who are bats about baking are in safe hands with the Domestic Gothess, Queen of the Kitchen at Halloween and all year round. Be not afraid if the bakes you require need to be vegan in nature – Hannah has recipes with no need for 'weird ingredients' that are difficult to summon to your cauldron (other cooking utensils are available).
Another mover in our ranking is Sandhya Hariharan who inspires her readers to 'celebrate food together' with what she's sharing at Sandhya's Kitchen. Quick and easy vegetarian recipes are on the menu as well as 'lots of useful tips for you to enjoy with your family' – or just by yourself, if you aren't into sharing. Food to celebrate today – Sandhya's vegan stuffing, Indian sweet recipes, quick puff pastry sausage rolls and easy sausage and potato traybake ('quick' and 'easy' being particularly palatable words in recipes, we find).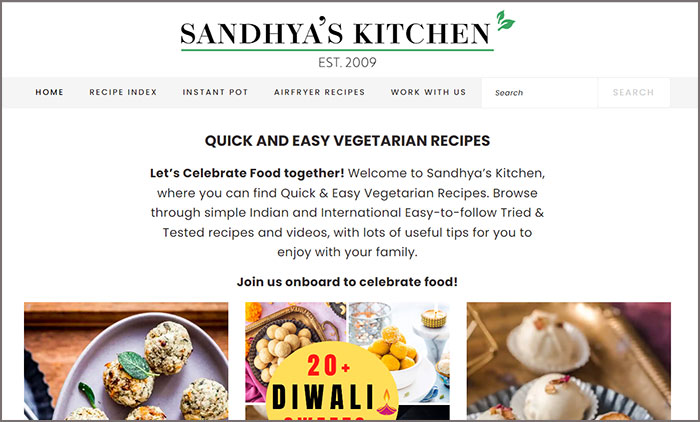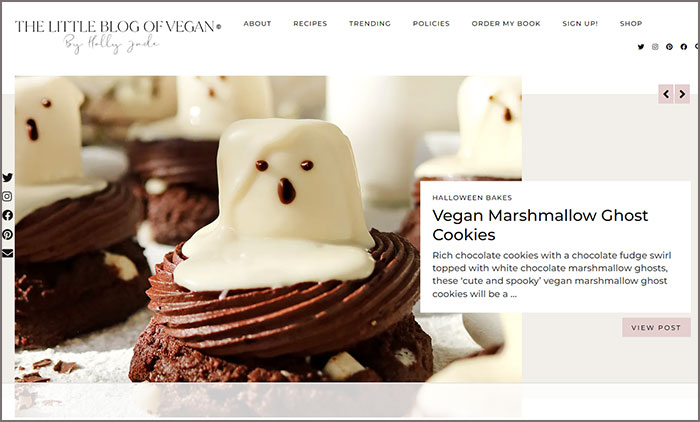 When it comes to quality content, there is nothing little about Holly Jade's online space for recipe sharing: The Little Blog Of Vegan. Horror fans – check out the recipes for Vegan Halloween Ghost Cookies, and for the more faint of heart (but empty of stomach), there is the much-less-scary Vegan Pumpkin Hand Pies or Vegan Caramel Apple Cookies recipes. All ideas here are '100% vegan and delicious – they never fail to impress' promises this blogger. Her ideas have been shared in HELLO! and food magazines galore.
As a great fan of eating baked goods once said in a famous book 'It's a dangerous business going out of your door […] there is no telling where you might be swept off to' – luckily, there is no need to explore any further than your web browser of choice for good eating ideas – The Baking Explorer is ready to do it for you. What Kat Buckley has gathered for your Halloween eating needs – Ghost Cheesecake Brownies, Chocolate Bark and Apple Crumble for Two… or for One, depending on how hungry you are.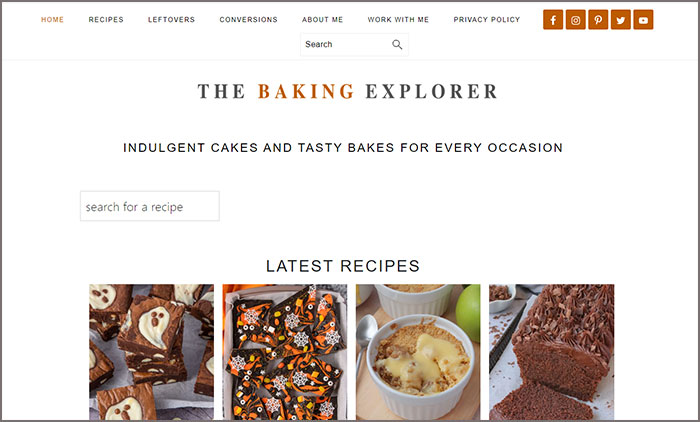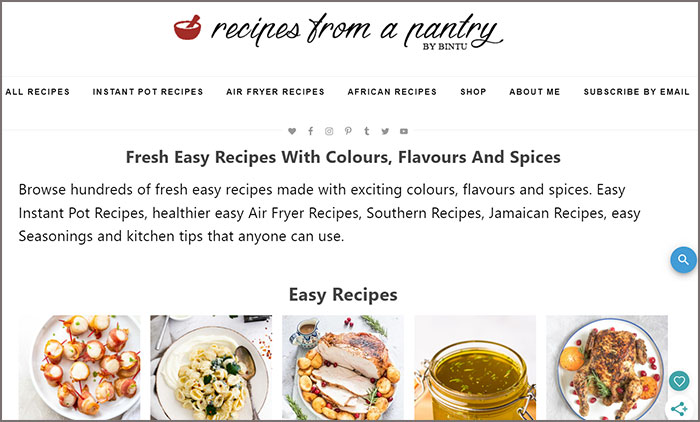 Like a few others on our list, here is a blog that also features in our Top 10 UK Food Blogs – Bintu's Recipes From A Pantry, new to our Baking bunch. For those that like their plates filled with 'exciting colours, flavours and spices', Bintu has plenty of ideas that can be done in an air fryer – take notes on how to make her Air Fryer Cinnamon Rolls With Bacon, Easy Air Fryer Sweet Potato Pie and Easy Instant Pot Chicken Fajitas (which look easier than anything this year's GBBO contestants were tasked with during Mexican Week).
Another baking blogger moving up in our ranking is The Loopy Whisk, where Katarina has been whisking up Gluten Free, Dairy Free, Vegan and Egg Free recipes since 2016. Other diets also catered to here include Nut Free, Paleo, Refined Sugar Free and Soy Free, meaning pretty much everybody with a sweet (or savoury) tooth is catered to. 'We're all about feel good recipes that make living with food allergies and dietary requirements easy as cake (and there's a lot of cake around these parts!)' promises Kat.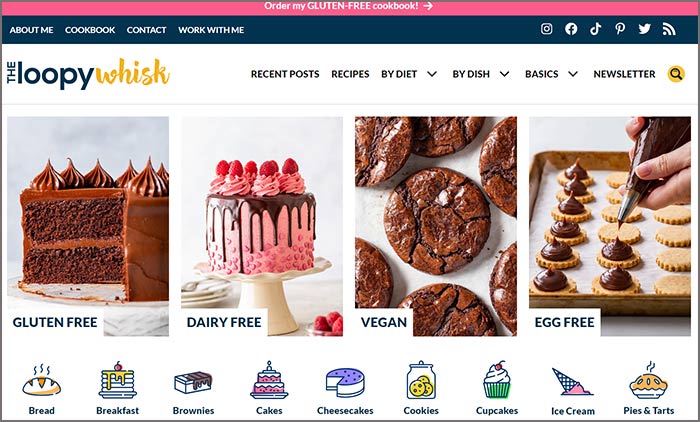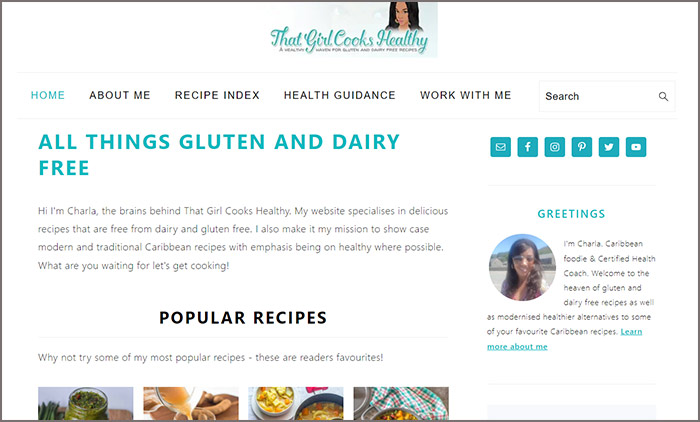 Another new entry to our Baking ranking this year is Charla, a 'Caribbean foodie and Certified Health Coach' who has created 'a healthy haven for gluten and dairy free recipes'. Here readers can also find 'modernised healthier alternatives' to Caribbean classics. For something a little sweet, check out Charla's gluten and dairy free Plantain Bread as well as her Roti Recipe for putting with your main course (handily, there's plenty of inspiration for what that could be here as well).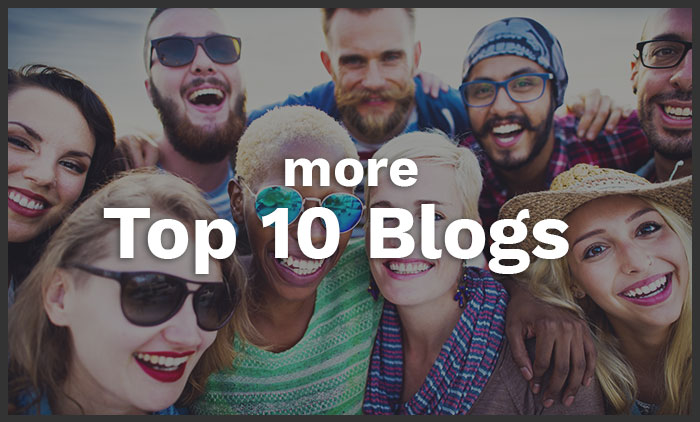 Collaborating with bloggers requires mutual respect and understanding: respect their schedules; take time to read their content to learn their interests; and only contact them if/when they want to be contacted. You can see more advice in our blogger spotlights.
Profiles of these baking blogs and their authors can be found in the Vuelio Media Database.
https://www.vuelio.com/uk/wp-content/uploads/2022/10/Baking-Blog-Ranking-Featured-Image.jpg
430
760
Christina Pirilla
https://www.vuelio.com/uk/wp-content/uploads/2023/09/vuelio-logo-200px.png
Christina Pirilla
2022-10-19 09:40:05
2022-10-19 09:47:00
Baking Blogs UK Top 10