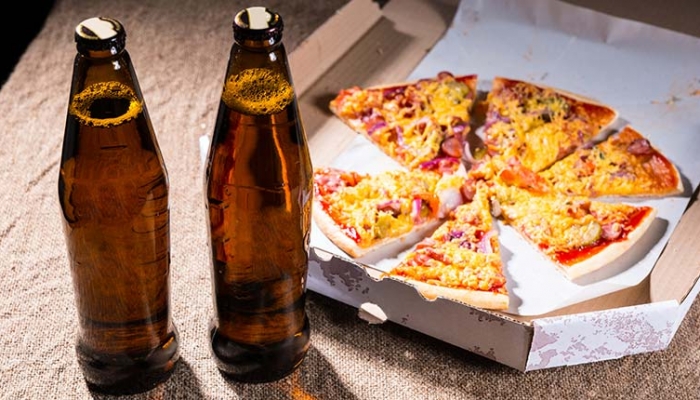 Last updated 10/06/2020
Top of the drinks menu for UK beer bloggers is still Jessica Boak and Ray Bailey's beer blog. While you can't make it to the local pub to test the produce quite yet, you can join Boak & Bailey online for chat from the (digital-at-the-moment) pub scene. Blogging on the subject since 2007, these 'geeks in general, but especially about beer and pubs' dip into a variety of beer-related subjects. Did you know the HMV dog also advertised beer? That there's a pub designed to look like an art deco racing plane out there? And that the best seat at their local takeaway pub is the table tucked away by the front door? Go pull up an imaginary seat with an imaginary (or real, if you have any in the cupboard) pint to join the chat.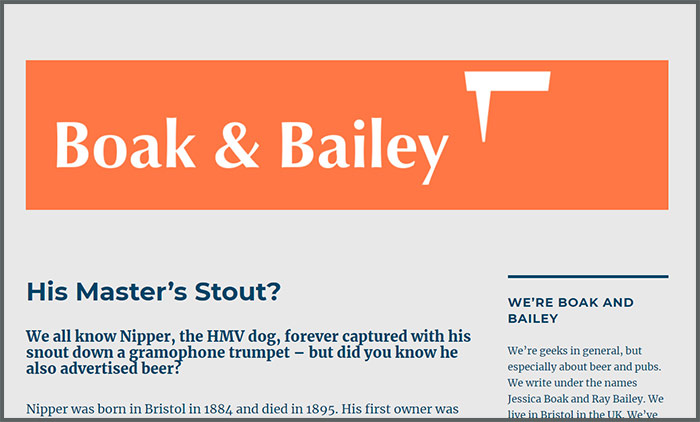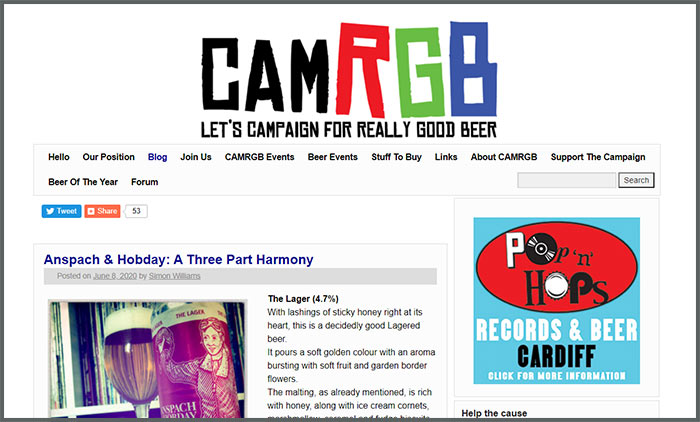 2. CAMRGB
The Campaign For Really Good Beer (that's CAMRGB for short) was launched back in 2011 by Simon Williams, who wasn't happy about English kegged beer being denied a place at the Great British Beer Festival. Since then, CAMRGB has continued in its quest to big-up big-taste beer. 'We're a group of likeminded people who believe that good beer and good breweries should be celebrated and supported no matter what their size, shape, or dispense method'. Good beers recently supped by the team have had 'lashings of sticky honey right at heart' and finishes that are 'super smooth, soft and clean'. Thirsty? Check out the blog to find out where you can get yourself a glass of the good stuff.
Still steady in the third spot is leading beer writer, historian, lecturer and taster Roger Protz with the Protz On Beer blog. While Roger's worldwide search for the best beer around is on hold, his posting on quality pints continues, with reminiscing about his favourite pubs, past breweries and plans for new openings. And when it comes to reviews, Protz has a palate you can trust, having founded the British Guild of Beer Writers, edited the Good Beer Guide from 2000 to 2018, won the Glenfiddich Drink Writer award twice, and the SIBA 2015 Lifetime Achievement Award for Outstanding Contribution to the Brewing Industry. And if you want more of his words, there are over 30 books from Roger on his specialist subject.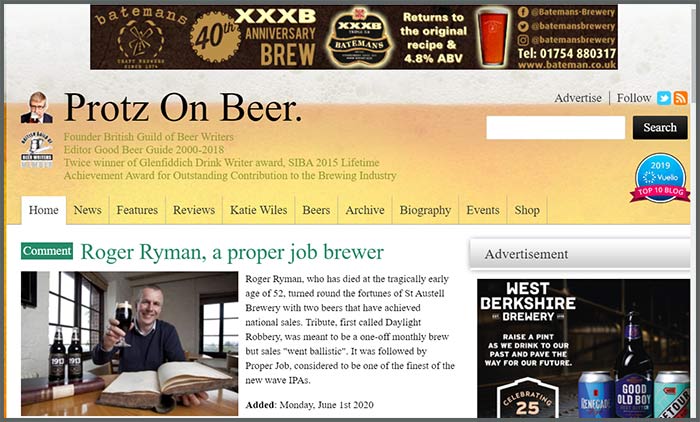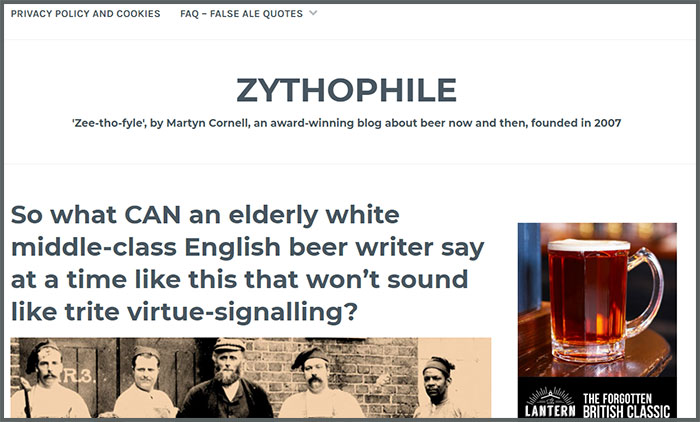 4. Zythophile
Martyn Cornell, the lover of beer (that's what 'zythophile', pronounced 'zee-tho-fyle', means, by the way) behind the Zythophile blog travels his way up this ranking this year. If you're looking for a bit about history alongside the imbibing, but watching Drunk History isn't quite hitting the spot, Martyn posts a mix of tales from the past and present. With pieces on Porter – it was recently the 299th anniversary of the first mention of the tipple in print – and tragic histories of brewers past, Martyn is also covering current events impacting everyone, including the Black Lives Matter movement. 'An award-winning blog about beer now and then,' Zythophile isn't just for those looking for a new IPA to try.
When you're really missing griping over a drink or two with friends, this 'jaundiced view of life from the darkest recess of the saloon bar' is where to go to hangout. From the counter on the left side of the home page highlighting the number of pubs closed in England since 1 July 2007 (current count: 20,411) to polls on how long you'd queue to get into a pub (55% – 'I wouldn't'), this sobering view of the ins and outs of the changing industry, and continuing impact of the smoking ban, is written anonymously. Meaning the opinions shared are raw, without being sugar-coated, or as artificially sweetened as an alcopop or fruity cocktail. Interesting to hang out and listen to, whichever side of the debate you happen to fall on.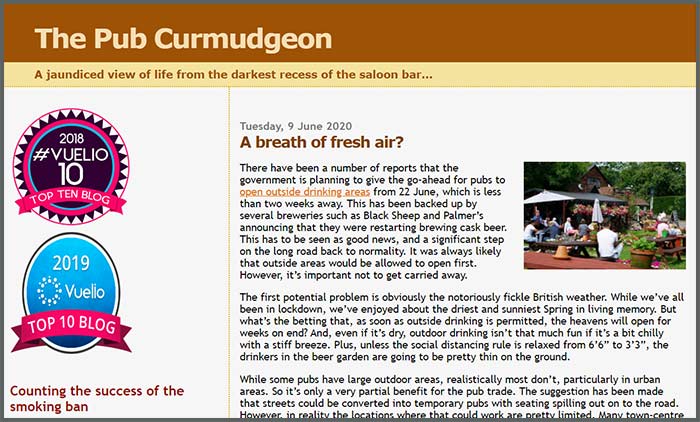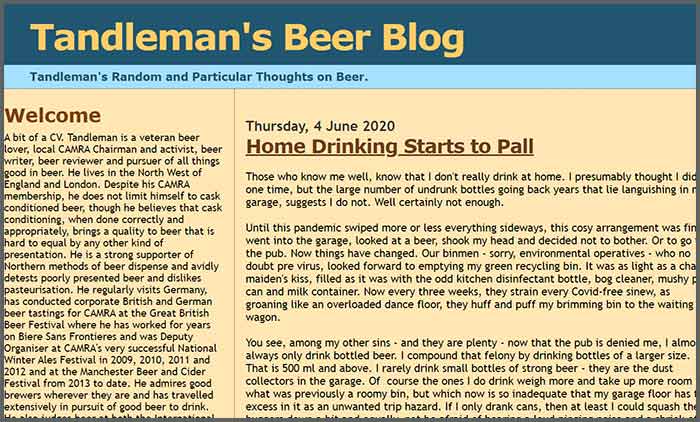 This veteran beer lover, local CAMRA Chairman and activist, beer writer, beer reviewer and 'pursuer of all things good in beer' supports Northern methods of beer dispense, dislikes pasteurization and truly hates poorly presented beer. The Tandleman's promise: 'The opinions will be forthright, but you can always disagree'. Founded by Peter Alexander in 2007, the blog largely focuses on pubs and beers in the North West of England, also covering breweries takeovers, mergers and buy outs. Having been a judge at the International Beer Challenge and the World Beer Awards, this blogger knows what makes for a tasty tipple, and has travelled far and wide to find the best.
'Words on beer, pubs, people and travel' from Adrian Tierney-Jones is what you'll find at Called to the Bar, which enters the top ten UK beer blogs this year. Freelance writer Adrian has written for publications including The Daily Telegraph, The Sunday Times Travel, All About Beer and Brewing & Beverage Industries Business, and is also the editor of Original Gravity. In fact, Adrian is very busy between pints – he's been writing books since 2002, edited editions of 1001 Beers to Try Before You Die, contributed to The Oxford Companion to Beer, sat on the Chair of Judges at the World Beer Awards and more. After recounting all that, we need a beer – check out Adrian's expertise if you feel the same.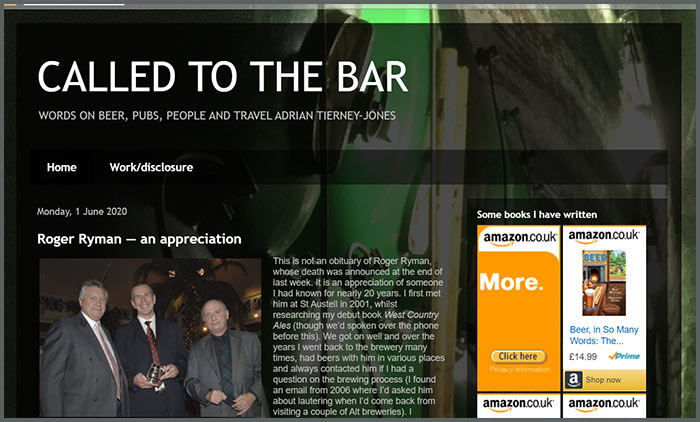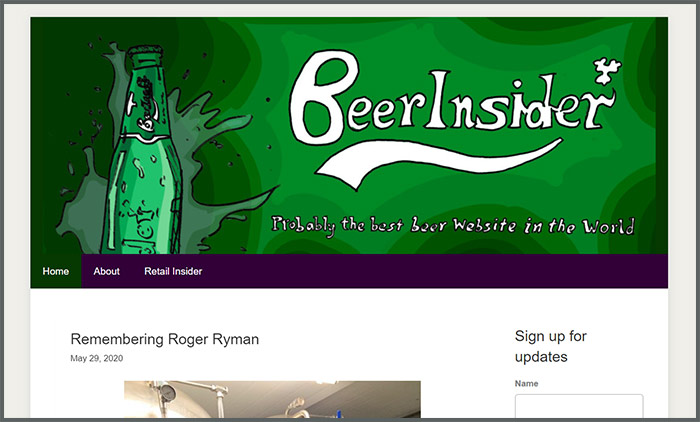 8. Beer Insider
Glynn Davis's Beer Insider (sister site to Retail Insider) is here to amplify the voices and experiences of those working in the beer and pub industry. During a difficult time for the trade, contributions to the blog come from brewers, bar and bottle shop owners as well as beer writers and lovers – 'there are lots of websites and blogs devoted to beer so the idea here is to be a little bit different and provide a platform not only for my voice but also a variety of other individuals'. While shining a light on the parts of pubbing you might not know, Glynn is also here to celebrate good beer and the places that will be back to serving it soon.
Raising cans across the world are the team behind this non-profit blog and podcast, which has been going since 2019. Stu, a writer and musician, and Seán, a music, travel, food, beer and 'craic enthusiast' based in Belfast, have a clear mission with their content: 'no toxic elitism, no pretentious tomfoolery, no hate, no prats, no gatekeeping, no underhanded brand affiliation, no shilling, no agenda, no politics, no discrimination, no snobbery, just fans of beer'. Still on their journey in beer discovery and palate development, Stu and Sean want to champion small brewers and promote the beer lover community. If you're also fanatical about beer, raise a can and join them.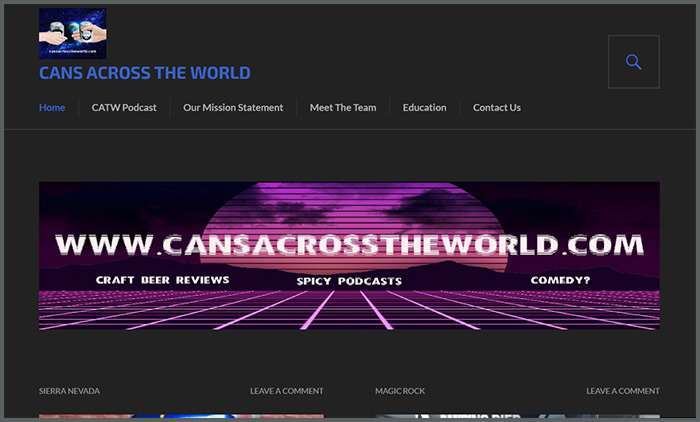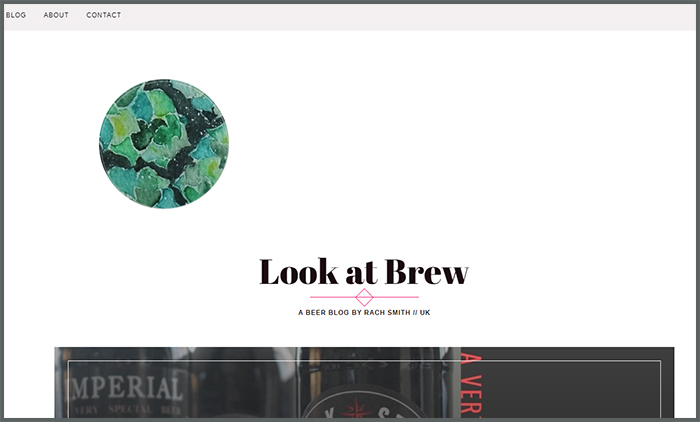 10. Look at Brew
Taking a close look at brews (and the fancy artwork on beer bottles) is Rachael Smith, part of the British Guild of Beer Writers and active member of the Sussex beer scene. Initially intrigued by the complex designs featured on artisan beer bottle labels, Rachael found her palate for the beer inside of them developing, and now blogs about both what's in and on the brown and green glass. Most recent reflections from Rachael focus on pale ale and IPA and her thoughts on beer, pubs and life during lockdown. If you're getting bored of contemplating your navel while stuck indoors, consider contemplating with Rachael instead.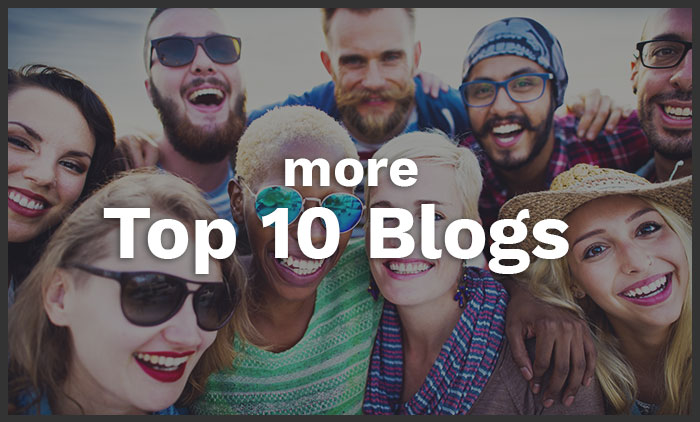 The fundamentals of working with bloggers are the same as with traditional journalists at traditional media outlets: respect their schedules; take time to read their material to learn their interests; and only contact them if/when they want to be contacted.
Vuelio's blog ranking methodology takes into consideration social sharing, topic-related content and post frequency. Profiles of these beer blogs and their authors can be found in the Vuelio Media Database.
https://www.vuelio.com/uk/wp-content/uploads/2020/06/UK-Beer-Blogs.jpg
430
760
Holly Hodges
https://www.vuelio.com/uk/wp-content/uploads/2023/09/vuelio-logo-200px.png
Holly Hodges
2020-06-10 11:10:52
2020-06-10 11:27:36
Beer Blogs UK Top 10