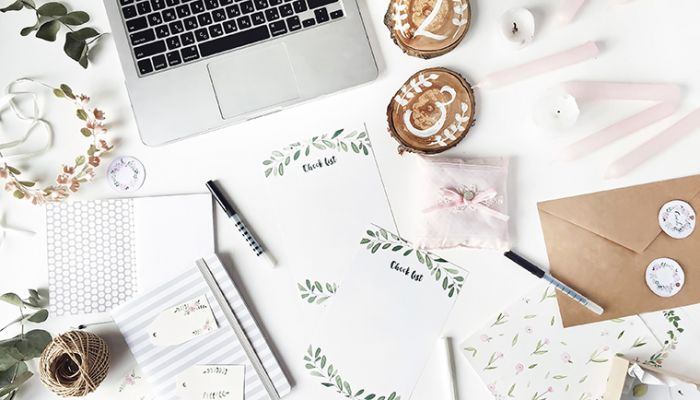 This social media ranking was last updated on 07/12/2017.
1. Red Ted Art
Maggy Woodley once again takes top spot in the ranking with Red Ted Art. Created to teach children and adults how to make fun and easy crafts, Red Ted Art is a multi-award-winning blog. Maggy uses the blog to showcase beautiful craft designs for kids as well as personalised gift ideas. Red Ted Art aims to inspire everyone to 'Get Crafty' and try something new. Maggy and her family particularly enjoy seasonal crafts, including hundreds of creative Christmas creations on the blog.
Want to learn more about this blog? Read our blogger spotlight with Red Ted Art.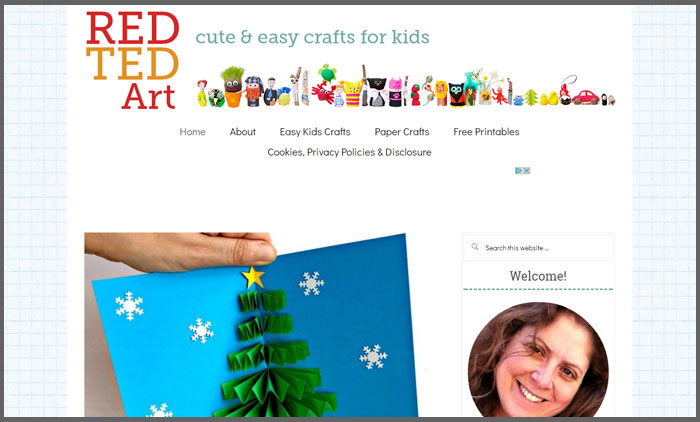 Emma Smith has risen five places with her blog Kids Craft Room. As a teacher, the idea to create the Kids Craft Room stemmed from Emma's belief in child centred activities to promote self-expression, self-esteem and creativity across different age groups. Along with her passion of sharing inspirational art and craft ideas that can be enjoyed throughout the year, Kids Craft Room explores different types of play and materials from outdoor activities to edible paints!
Want to learn more about this blog? Read our blogger spotlight with Kids Craft Room.
Crafts on Sea documents the crafts of Kate Williams and her children who love getting messy. Showing realistic and achievable crafts, the blog posts have included a Captain America Paper Plate Shield, a teacup pincushion and a Baymax Felt Finger Puppet. Kate not only demonstrates how to get stuck into handmade projects, but also shares fun family activities, free colouring pages, and other useful resources for the whole family.
Want to learn more about this blog? Read our blogger spotlight with Crafts on Sea.
Barbara Gray's Blog is filled with a collection of beautiful stencil and stamp designs, and tutorials on how to use them to create intricate cards, coasters, canvases and decorations. Besides blogging, Barbara also sells the stamps and stencils through Claritystamp and hosts challenges for her audience to take part in using the latest Clarity products. Her accessible style of posting and humorous tone helps readers to feel comfortable experimenting with different types of materials and styles.
Rainy Day Mum is a new blog to the ranking written by Cerys Parker. The blog was created after Cerys started getting creative with her toddler while her baby napped. Her friends and family noticed the positive change in her and were desperate for Cerys to share her secret. Rainy Day Mum was born and is now used to share ideas for spending quality time together with your toddler getting creative. The blog still has a huge focus on crafts but also posts about spending time together as a family, whether that's a family dinner or travelling with the kids.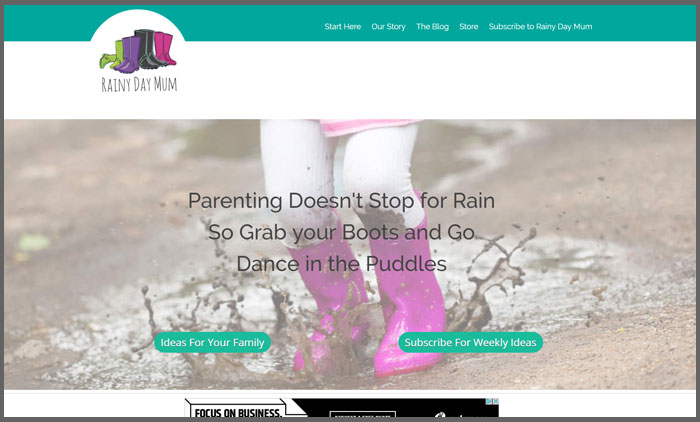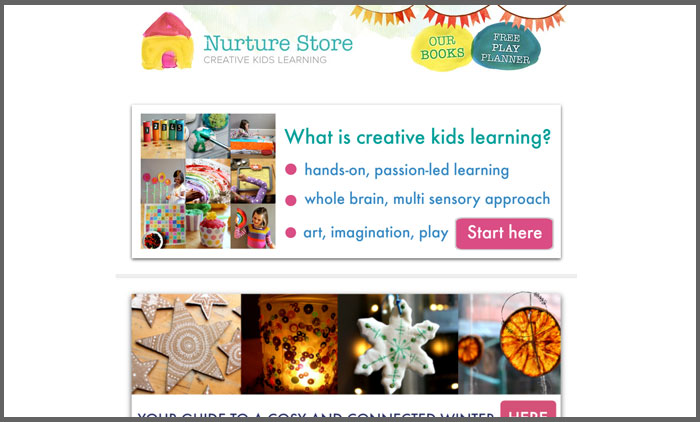 Created by Cathy James to try and encourage children to learn through the arts, craft and play, The Nurture Store is a creative blog which houses many different projects to try at home. With experience working with 'babies, toddlers, pre-schoolers, elementary and high school students and adults', Cathy uses her skills to create engaging activities and workshops. Nurture Store features exciting sensory game ideas, educational letter and number games, and promotes resources to help children with creative writing through play.
Mum in the Mad House by Jen Walshaw is a one-stop shop for arts and crafts, parenting advice, activities and recipes to try with the kids. One of Jen's passions is the ability to raise creative children in a digital age, and uses her blog to share free activities and printable materials to encourage getting creative away from a screen. As well as providing resources for children, Jen also shares projects for adults to try, including colouring pages, DIY candle holders and cards.
Want to learn more about this blog? Read our blogger spotlight with Mum in the Mad House.
The Gingerbread House created life in 2005 by mother of two Jenny Kearney, so that she could share her love of making crafts. Featuring a variety of crafts that Jenny makes at home with her family, blog posts include projects that they are working on, including baking, decorating the home, creating story stones, and using a range of different materials. The Gingerbread House also stores gift ideas, supplier recommendations, book reviews, and feedback on her children's toys and family adventures.
The desire to create Heart Handmade UK came after Claire Donovan fell in love after accidentally discovering the world of craft. Now, Claire uses the blog to share projects that she is currently working on, as she continues to perfect her skills and teaches others how to create beautiful accessories, learn how to improve handwriting, gift ideas, crochet, and other decorations. Heart Handmade UK provides the inspiration, advice and steps you need to get more creative.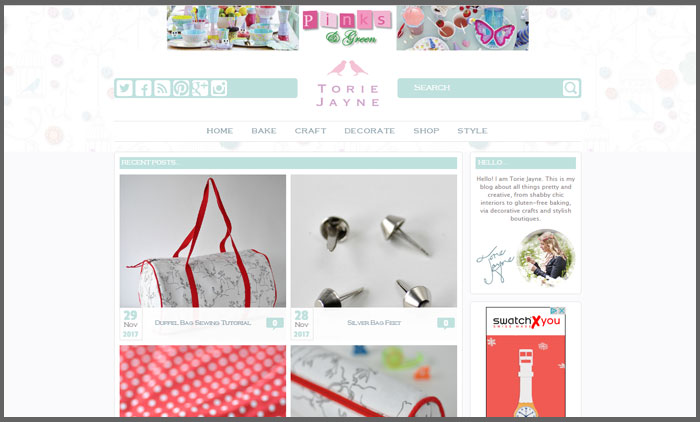 10. Torie Jayne
With a love of design and craft, Torie Jayne has a love of calm, pastel colours and a flair for craft and design. In 2009, she started to create her self-titled blog to share her baking, crafting and interior design ideas with others, and continues to inspire with her trendy conceptions and step-by-step-tutorials. Torie posts a variety of different fabrics she likes, beautiful sets and collections from high street and online retailers, and gluten-free baking recipes. Homeware accessories range across craft and decorations and include how to create cushions, tote shopping bags, curtains, iPad cases, and bedheads.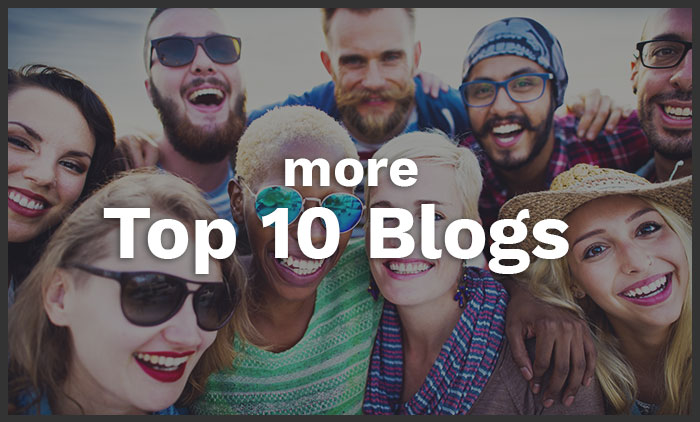 The fundamentals of working with bloggers are the same as with traditional journalists at traditional media outlets: respect their schedules; take time to read their material to learn their interests; and only contact them if/when they want to be contacted.
Vuelio's blog ranking methodology takes into consideration social sharing, topic-related content and post frequency. Profiles of these craft blogs and their authors can be found in the Vuelio Media Database.
https://www.vuelio.com/uk/wp-content/uploads/2016/12/vuelio-craft-blogs-featuredimage.jpg
434
760
Holly Hodges
https://www.vuelio.com/uk/wp-content/uploads/2015/10/vuelio-logo-transparent.png
Holly Hodges
2017-12-06 11:30:35
2018-01-30 15:29:41
Craft Blogs UK Top 10