Last Updated 27/09/2017
1. CAMRGB
Moving up to first place from 2016 is award-winning blog CAMRGB (The Campaign for Really Good Beer), which was launched by Simon Williams in 2011 to vent his frustration after British kegged beers weren't allowed to show at the Great British Beer Festival. CAMRGB now has hundreds of members and continues to celebrate beer and breweries from around the world. Covering beer reviews, new breweries and events – the blog provides all the updates for beer lovers.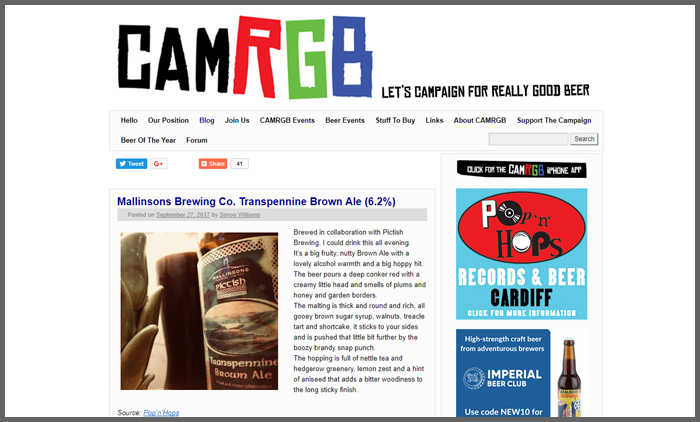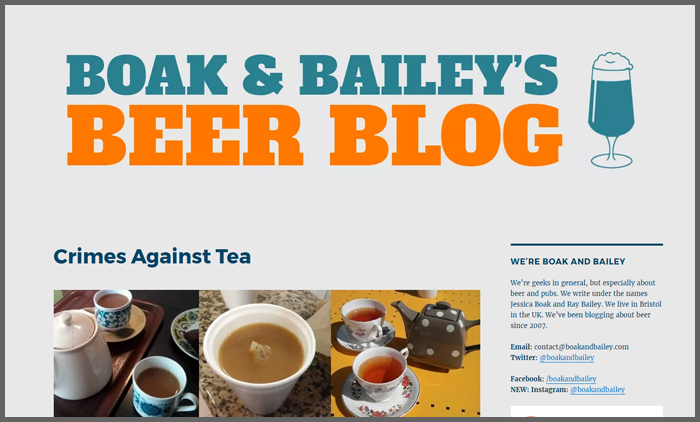 Jessica Boak and Ray Bailey created Boak & Bailey's Beer Blog in 2007 to feature the best beer commentary. Featuring thought articles on the industry, reviews and recommendations, as well as round-ups of beer and pub-related news, Boak and Bailey provide insight on the inner workings of the industry. As self-professed 'beer geeks', the duo take time to learn about the beer and are experts on their subject – both educating and engaging their readers.
New to our ranking and straight in to third place is The Pub Curmudgeon, a blog that not only brings readers news on beer, pubs and drinking in the UK, but presents discussions on the closure of UK pubs. Author Peter discusses content from other beer bloggers, articles, reports and news to focus on engaging and thought-provoking issues, which give readers an open space to enter discussion.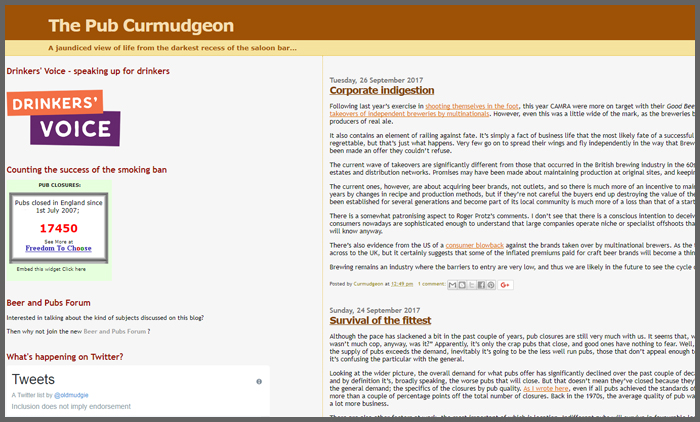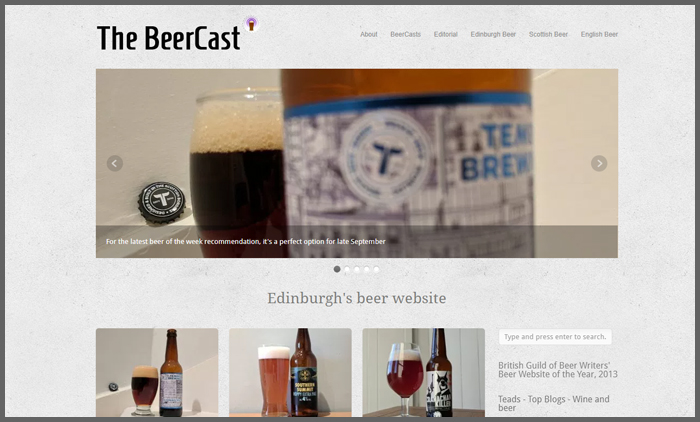 4. The BeerCast
Another new addition to our ranking is The BeerCast, which was launched in 2007 by a group of friends who wanted to improve the quality of their nights out. When the blog began, the authors did not know much about beer, only the mass-produced kind – but soon learned that the British brewing industry is booming. Now run by Richard, The BeerCast discovers a new beer each week, offering readers reviews to help them expand their options.
Protz On Beer was created by Roger Protz, a leading beer writer, historian, lecturer and taster. A frequenter of numerous international beer events, author of over 20 books based on beer, and editor of the Good Beer Guide, Roger sure knows his stuff. The blog pays homage to the best beers around the world, providing news, reviews and features with leading figures in the industry.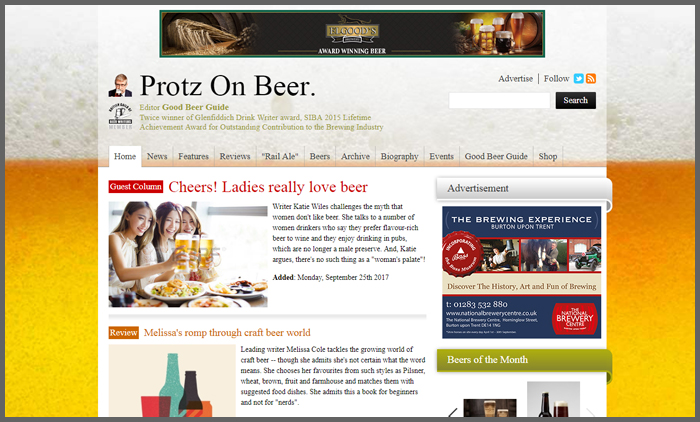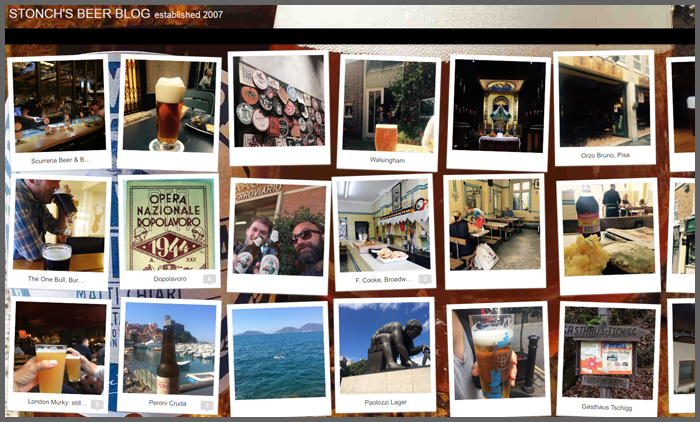 STONCH'S BEER BLOG was created in 2007 to cover beer, breweries and pubs in the UK, Italy, Bavaria and Bohemia. Author 'Stonch' writes about beer and pub reviews, beer travels and their experience running a pub. With a pin board layout, the blog is written in a personal tone, which reaches out to the reader while giving Stonch's honest opinion and recommendations.
Another new addition to the ranking is Pints and Pubs. The blog celebrates the best of British pubs, with a focus on Cambridge, and provides readers with honest reviews and background information on the pubs themselves. On top of sharing informative posts on a variety of pubs, the blog also presents a calendar full of must-attend beer events in the UK, and a handy Cambridge pub guide.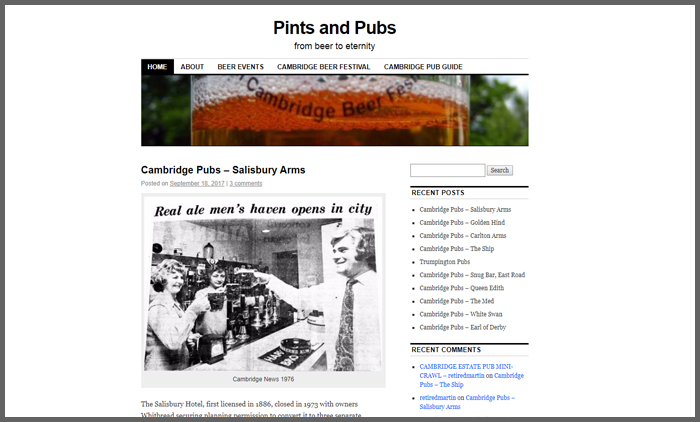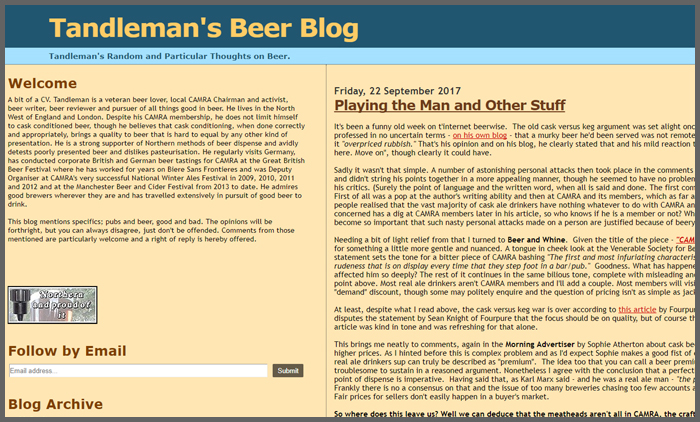 Tandleman's Beer Blog is authored by a 'veteran beer lover, local CAMRA chairman and activist, beer review and pursuer of all things good in beer'. The blog exists to offer readers opinion pieces on the state of the industry and the good and bad beers that are on offer. Tandleman's Beer Blog is engaged in the beer blogging community and regularly writes about topics that are currently being discussed.
Paul Bailey created Paul's Beer & Travel Blog to write about his love of real ale. Paul has been a member of CAMRA since the 1970s and even dabbled in home-brewing, running his own real ale off license for six years with his wife. The blog documents his recommendations from a range of breweries, both in the UK and abroad.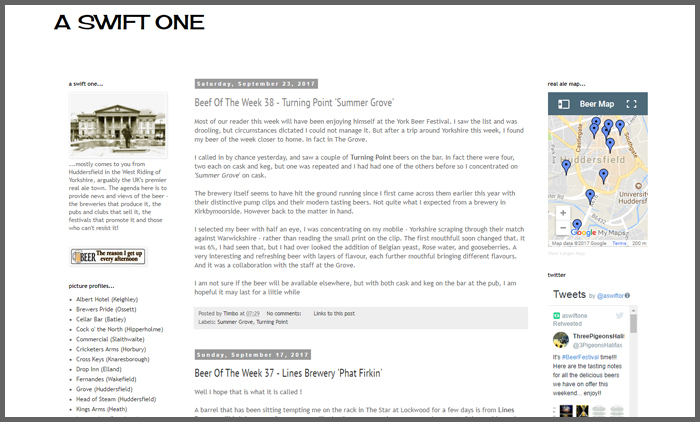 10. A Swift One
Covering mainly beers that have been brewed in Huddersfield, A SWIFT ONE features reviews on the top beers of the week, giving readers the ins and outs of which beers they should try. A Swift One provides information on the breweries that make the beers, the pubs and the clubs that sell them, and the festivals and events that promote them.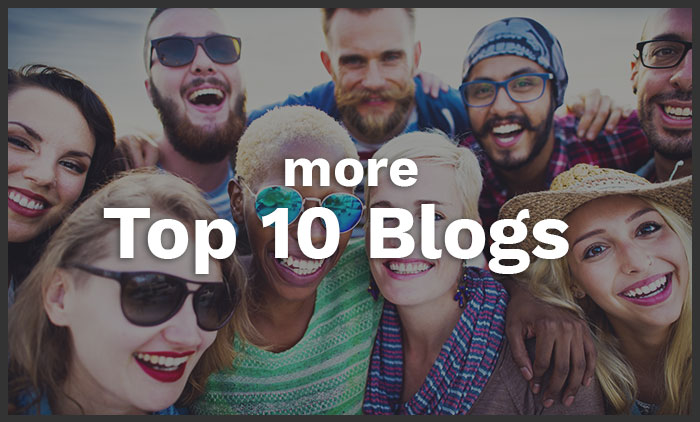 The fundamentals of working with bloggers are the same as with traditional journalists at traditional media outlets: respect their schedules; take time to read their material to learn their interests; and only contact them if/when they want to be contacted.
Vuelio's blog ranking methodology takes into consideration social sharing, topic-related content and post frequency. Profiles of these beer blogs and their authors can be found in the Vuelio Media Database.
https://www.vuelio.com/uk/wp-content/uploads/2016/10/beer-blog-ranking-featuredimage.jpg
434
760
Holly Hodges
https://www.vuelio.com/uk/wp-content/uploads/2015/10/vuelio-logo-transparent.png
Holly Hodges
2017-09-27 09:45:52
2018-01-30 15:34:28
Beer Blogs UK Top 10