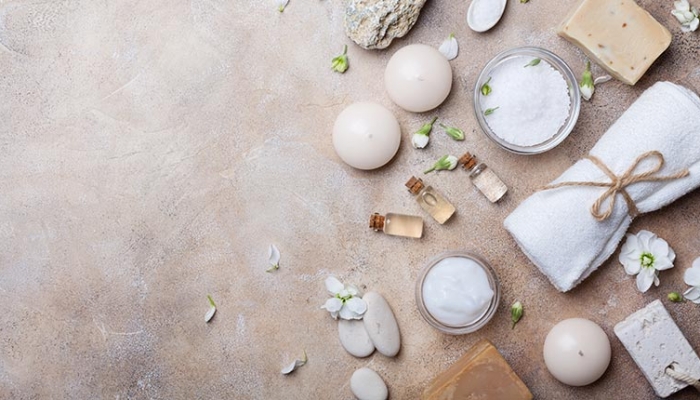 The Top 10 Beauty Blog ranking was last updated 16/09/2020.
Vuelio uses a proprietary algorithm to create these rankings, based on topic-related content in blogs on its system – you can read more about the process here. Our research team actively seeks out new blogs and bloggers for inclusion, but if you think we've missed someone, please get in touch to let us know.   
As well as being busy blogging, winner of Best Beauty Blog and Best Blog at 2019's Online Influence Awards Caroline Hirons published her 'ultimate no-nonsense' book skincare in June (just in time for what became self-care season). Caroline's know-how when it comes to all things potions and paint isn't just skin-deep, as she brings 30 years of experience in retail, and 10 as a beauty industry consultant, to her writing and recommendations. The Times has dubbed her the 'straight-talking skincare guru' – find straight-up advice on her blog for Skincare, Beauty, Treatments and Cheat Sheets.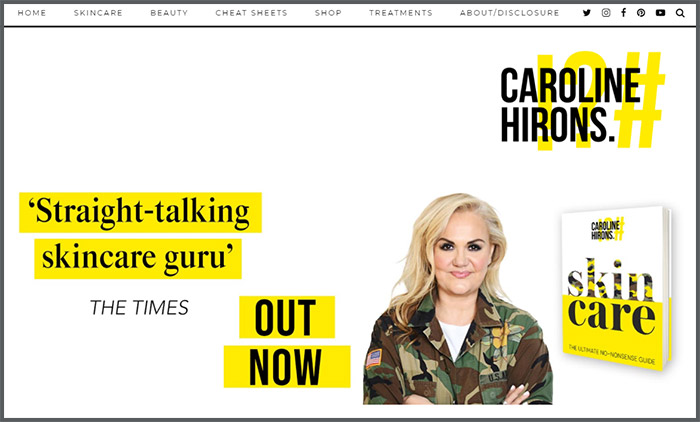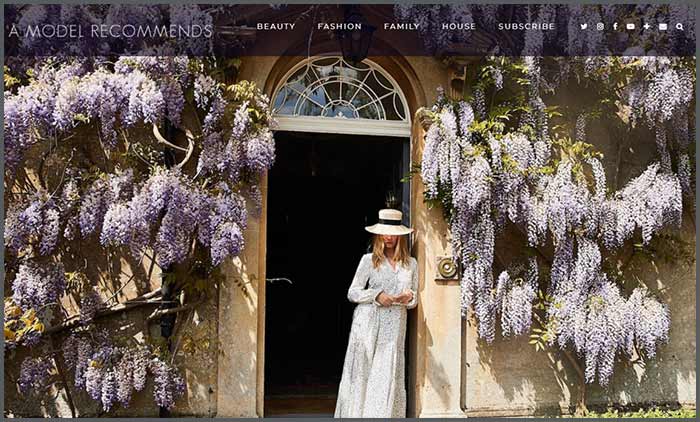 For recommendations from someone whose business is beauty, head over to Ruth Crilly's blog for what works in the everyday – at home, at work, working-at-home. This fashion model, beauty insider and self-confessed 'prolific writer of nonsense' now has a decade's worth of posts on lipstick, powder and paint (as well as bodycare, fragrance, hair and skincare, etc.) and writes regularly about other beautiful things including family, fashion and house-related content. For what Ruth recommends as we change seasons, read up on what's in her makeup bag, summer-to-autumn shadows to try and damage control for your skin.
Another non-mover from last year is British Beauty Blogger's Jane Cunningham, who has written for digital and print (including words for The Guardian and The Express), authored numerous books, covered children's products and travel, and has found her ideal subject in beauty blogging. 'I like to showcase products I think are excellent, beautiful, and exciting, as well as give a no-holds-barred point of view on products that aren't so good,' says Jane, who most recently has been sharing what's good (and sometimes, not) in cleansers, blushers, eyeshadow palettes, serums, tints and more.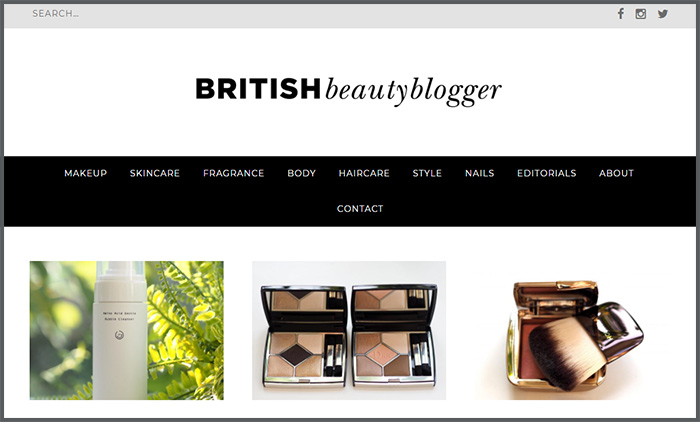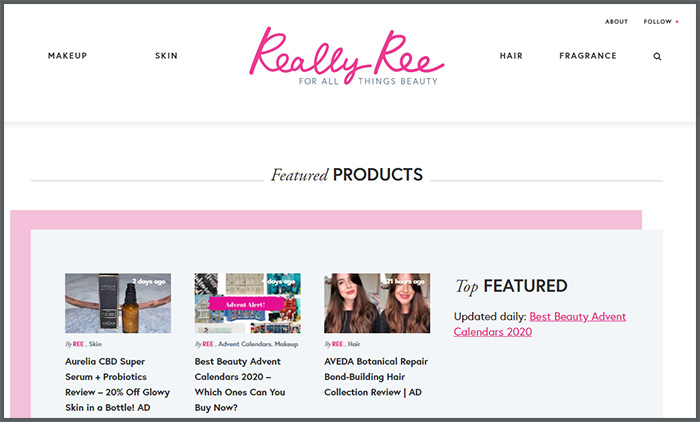 4. Really Ree
'For all things beauty' you really want to check out what Anne-Marie Lodge is blogging about at Really Ree. Started as a hobby in 2010, ten years later this blog has attracted a huge following who are hooked on Anne-Marie's thoughts on both the high-end and highstreet when it comes to beauty brands. Unsure about CBD treatments? Already shopping for your Christmas 2020 beauty advent calendar? In need of a wearable and long-lasting foundation for a return to regular commuting? Really Ree has you covered on what's most likely to stick around, even under a face-covering.
By day, Manchester-born but Birmingham-based Jasmine is a commercial insurance underwriter, but by other-times-during-the-day (and evening and probably night, too) she's a beauty blogger, sharing recs for all budgets, along with some lifestyle and fashion content. While sitting down with your makeup bag and getting ready with friends has had to be digital for a while, Jasmine hopes to recreate the feeling on her blog, posting her thoughts on a variety of products and treatments you can try at home. And talking of things to try, read up on Jasmine's top beauty launches of 2020 so far and some dupes for affordable skincare.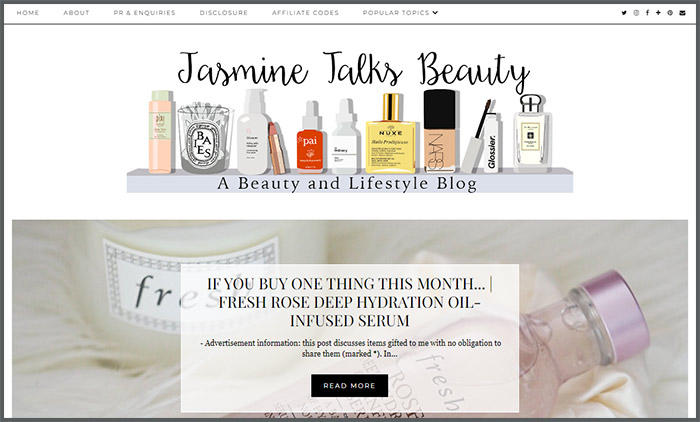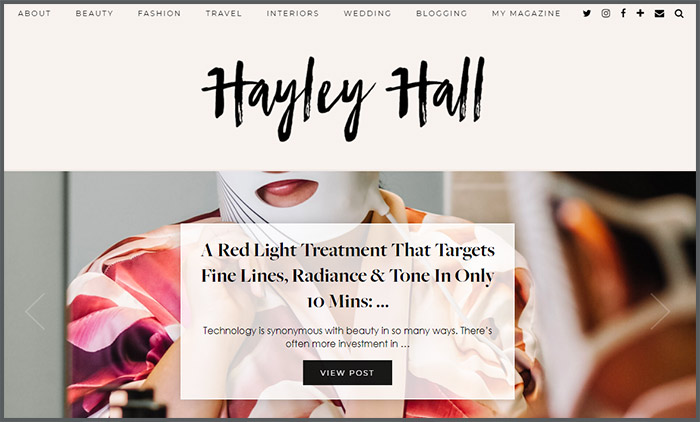 6. Hayley Hall
30+ fashion, lifestyle and beauty is what you'll find here from Hayley Hall, a blogger of 10 years with a background in beauty brand development. 'There's no fluff and filler here,' says Hayley, who aims to provide insight, straight-talking opinions and experience in every blog update. With posts on fashion, travel, weddings and interiors as well, every aspect of life can be made beautiful. Affordable volumising mascaras, relief for back pain and neck discomfort, products for relieving 'chub rub' and how to makeover your makeup bag in five easy steps are just some of Hayley's recent posts – put on a face pack and take notes.
Relaunched this year in June, this website was originally established in 2014 to connect Black and Asian women in the UK with beauty brands. Now focusing on beauty news, features and beauty industry pros, the platform is led by editor Ronke Adeyemi. 'While we appreciate that there are more important things going on in the world, we have created this space so our readers can get lost in the magical world of beauty,' say the BBT team. Particularly useful posts to get lost in right now – the future of beauty retail post-COVID, getting your makeup to pop with a mask, and lots of Black-owned British beauty brands to dip into.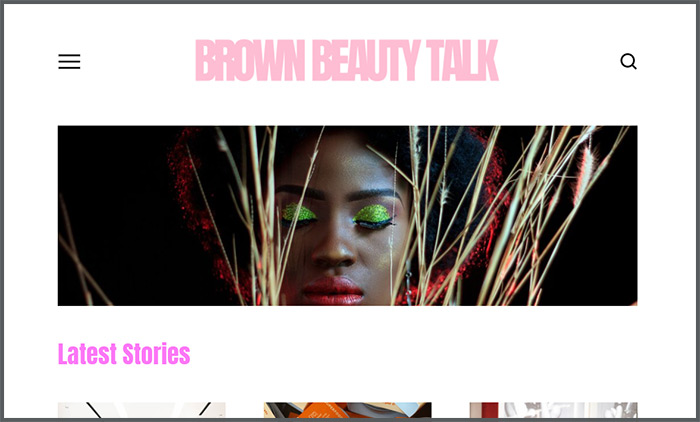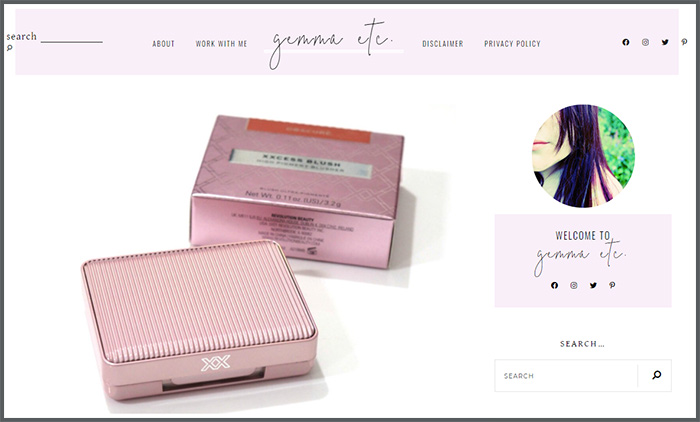 8. Gemma Etc.
The former Miss Makeup Magpie started blogging in 2012 and has since changed up her focus alongside the blog name, adding general lifestyle features alongside the beauty posts. But beauty is still where Gemma's passion lies – 'Gemma Etc. will always be mainly a beauty blog – beauty is, and always will be, my number one love'. Both positive and negative reviews get an airing here, as honesty is also of utmost importance to Gemma – 'nobody can like everything so while there will be products I don't enjoy, I always try to keep my posts as balanced as possible while being thorough, too.'
Robin James' blog and YouTube channel are home to everything men's hair, grooming, fragrance and lifestyle. Intrigued by the evolving landscape of male grooming, Robin seeks to highlight the many options available to men in 2020 who want to explore their 'own sense of self, and the kind of products and experiences that work for them'. Man For Himself has product reviews, hair tutorials, grooming hacks and tips for all seasons, with video, imagery and words from Robin himself. Trending on the blog right now – why men need specific skincare, personalising your routine and adding in Vitamin C if you need a boost.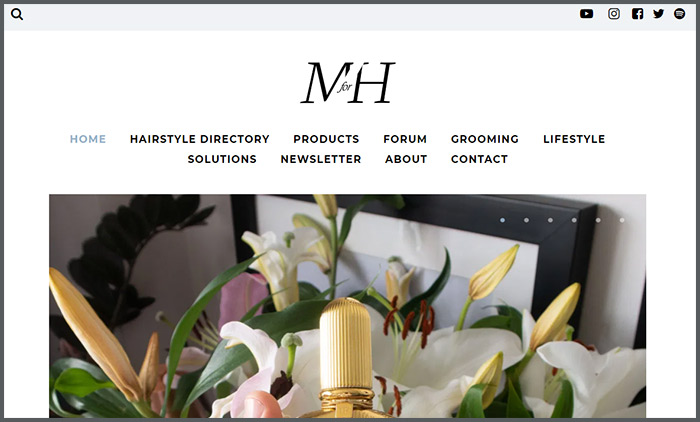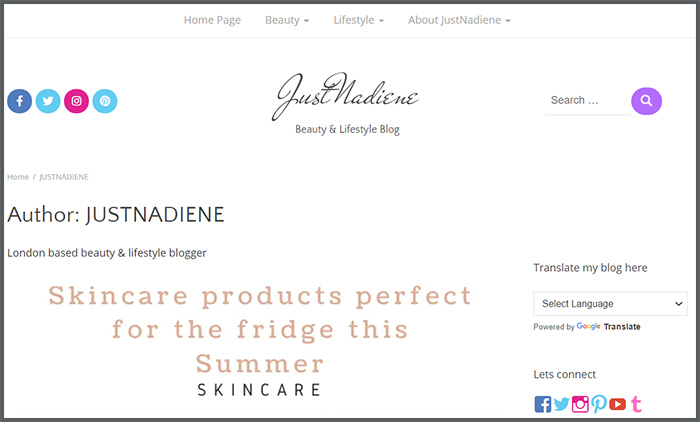 10. Just Nadiene
'Although my name is spelt Nadiene, if you ever ask how to pronounce it then I will explain that it's "just Nadine" (also the story behind my blog name)' – Just Nadiene started her blog back in 2015 after finding she had more to share than would fit on Instagram. Now with regular visitors from over 95 countries, her blog covers Lifestyle topics including wellbeing, food and fashion as well as makeup reviews, perfume, looks, tips and skincare in the Beauty section. How much SPF you need to use and the importance of investing in hand cream are just some of the topics Nadiene is tackling for summer 2020 – keep tuned in for what's in store for autumn.
Collaborating with bloggers requires mutual respect and understanding: respect their schedules; take time to read their content to learn their interests; and only contact them if/when they want to be contacted. You can see more advice in our blogger spotlights. 
Profiles of these  blogs and their authors can be found in the Vuelio  Media Database.
.
https://www.vuelio.com/uk/wp-content/uploads/2020/09/Beauty-Blog-Ranking.jpg
430
760
Holly Hodges
https://www.vuelio.com/uk/wp-content/uploads/2019/09/vuelio-logo.png
Holly Hodges
2020-09-16 10:00:49
2020-10-01 11:14:32
Beauty Blogs UK Top 10