The Top 10 Beauty Blog ranking was last updated 27/09/2023.
Vuelio uses a proprietary algorithm to create these rankings, based on topic-related content in blogs on its system – you can read more about the process here. Our research team actively seeks out new blogs and bloggers for inclusion, but if you think we've missed someone, please get in touch to let us know.   
Still top drawer for skincare and self care is Caroline Hirons with her eponymous blog. Anyone into aesthetics will likely already be following this aesthetician, the author of skinCARE: The ultimate no-nonsense guide, and regular on TV. On the blog at the moment – the best of the best for purifying cleansers, eye creams, rehydrators, SPFs (a must, even in the usually unsunny UK climate) and Caroline's favourite products for the season.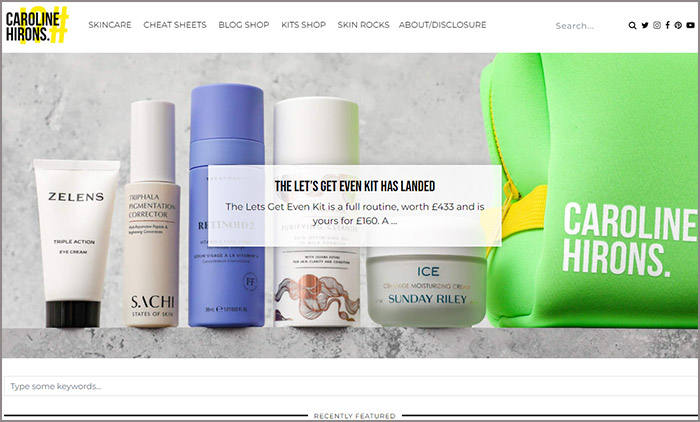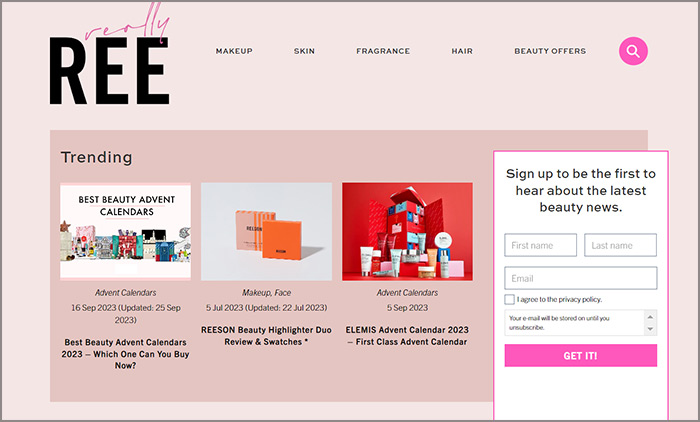 2. Really Ree
Still really popular with those into all things makeup, skincare, fragrance, and hair is Really Ree, who is 'obsessed with everything to do with beauty'. Ree loves 'discovering new products and sharing her findings' and writes about products in an honest and accessible way. Beauty advent calendars have already reached the shops, and luckily Ree has a deep dive into the best available for the 2023 festive season – check out which ones you can buy now and which to make a note to invest in in the lead-up to Christmas.
Brit blogger Jane Cunningham is here with recommendations on makeup, skincare, fragrance, body care, hair care, style, and nails, providing help from head to toe. Having authored a number of books and regularly racking up bylines in print and online, Jane knows her subject inside out. Make the most of her expertise by reading up on hydrating blushes, glowy foundations, tinted serums, oil-infused glosses, micellar cleansers, barrier supporting body balms, inky black kohl liners, and much more.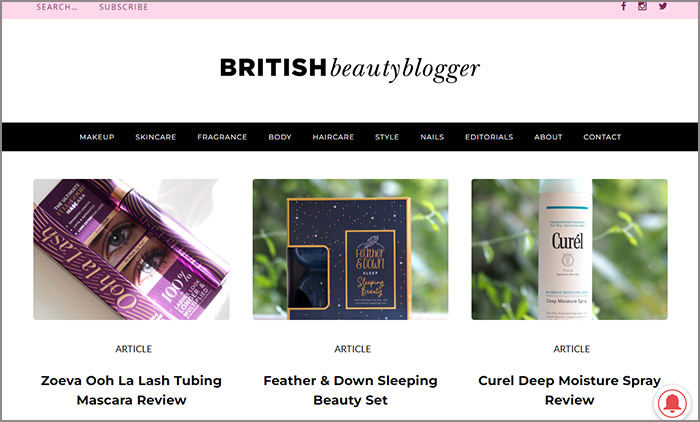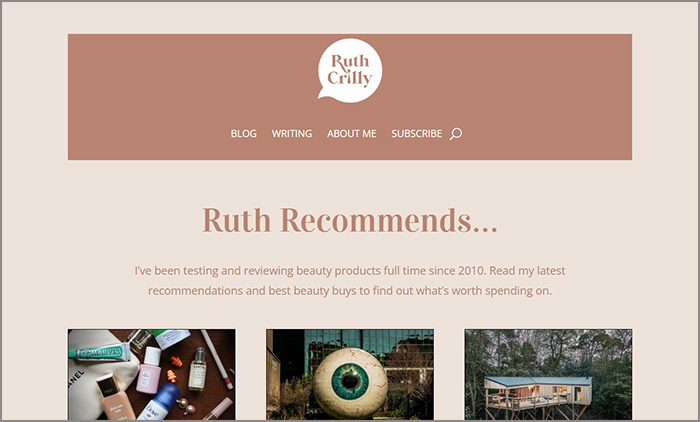 4. Ruth Crilly
Who better to tell you what beauty products really work than a former model? Here, Ruth Crilly shares her insider knowledge – 'I've been testing and reviewing beauty products full time since 2010. Read my latest recommendations and best beauty buys to find out what's worth spending on'. If you're planning a trip soon and don't want to skimp on your beauty routine, find out what's in Ruth's travel bag; the five beauty bargains you need to put on your shopping list; and what to snap up at the supermarket.
Another non-mover in this year's update of our beauty ranking is Jasmine Talks Beauty, a blogger that collects beauty secrets and doesn't gatekeep – 'some people collect stamps, my thing just happens to be beauty. Being shared on the blog now are rundowns of the more reasonably-priced retinol serums on the market; the best skincare for makeup lovers (because you need a good base to begin); next generation Niacinamides; and what Jasmine would repurchase first if she lost all her skincare and had to start from scratch.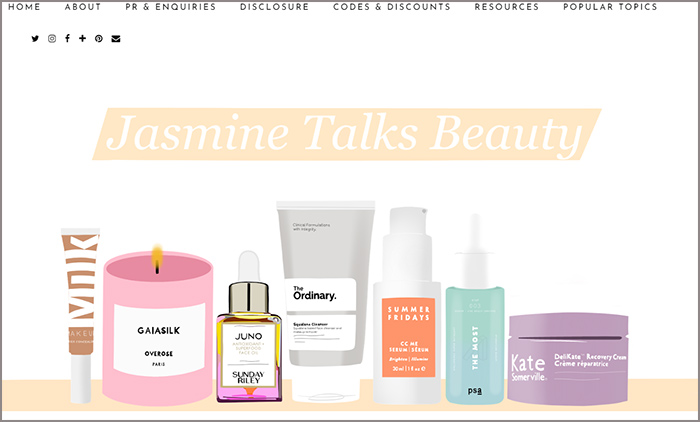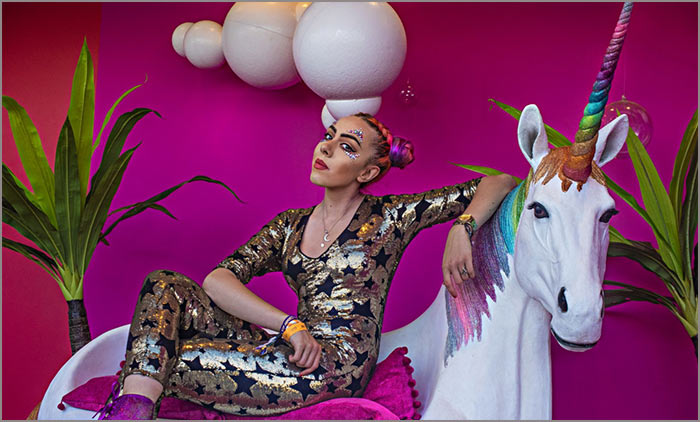 Up one place this year is Stephi Lareine, a blogger who hopes to give 'a voice to anyone who dares to be different' and aims to 'inspire while aspiring to be everything a person can be'. If you also want to make your life – and your beauty cabinet – a much more 'colourful and positive place', this blog is for you. Also writing about travel, fashion, and life alongside beauty, Stephi covers a host of topics. But right now we're here for the beauty – check out her modern guide to skin treatments and how to capture the good work in photography.
Moving up from last year's number 10 is Farwa Shah's Science and Skincare, which goes into the science behind good skincare. For a start, check out her post on why skincare is so important, head to 20 skincare myths versus reality, and then dip into the specifics. Just some of them – an explainer on what toners do to promote healthy skin; how to layer all your creams, lotions, and serums; and achieving different trending looks. Still big in 2023 is the glass skin craze – Farwa has the know-how.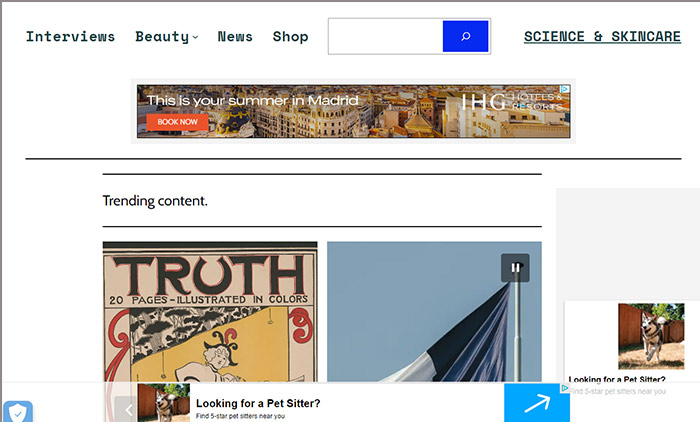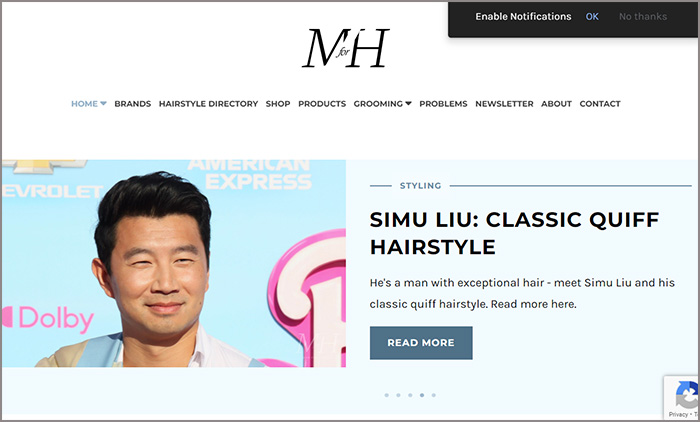 Specifically speaking to the fellas out there who want to look flawless is Man For Himself blogger Robin James. 'From hair tutorials, product reviews, seasonal tips and grooming hacks, I shoot videos, take pictures and write,' says Robin, who is particularly interested in exploring how the male grooming landscape is evolving. 'We're at a point where men have so many options and we can truly explore our own sense of self, and the kind of products and experiences that work for us' – there's a lot to uncover on Man For Himself, so go explore.
9. Just Nadiene
Sometimes Instagram just doesn't give you enough space to share everything you want to put out there – you need to start a blog, and this is how Nadiene broke into the beauty blogging sphere. Covering beauty and lifestyle – two very closely interlinked topics – Nadiene splits her content into makeup reviews, skincare, makeup looks and perfume as well as wellbeing, food, and fashion. Big in beauty now – Sofia Richie's 'sleek lazy girl bun' with 4C hair; the brown nails trend for Autumn; and how beauty products can help you with insect bites (yes, really).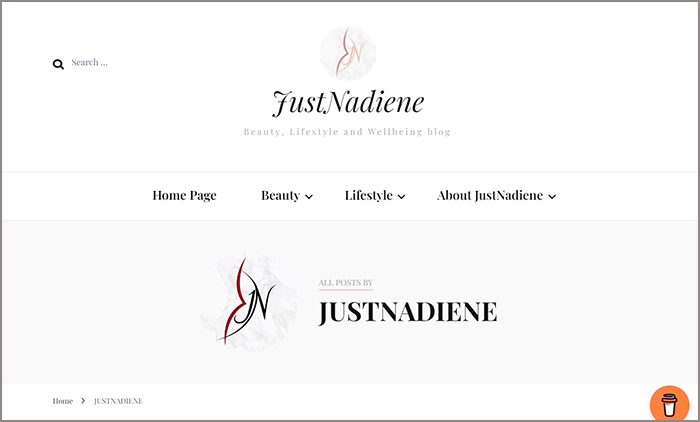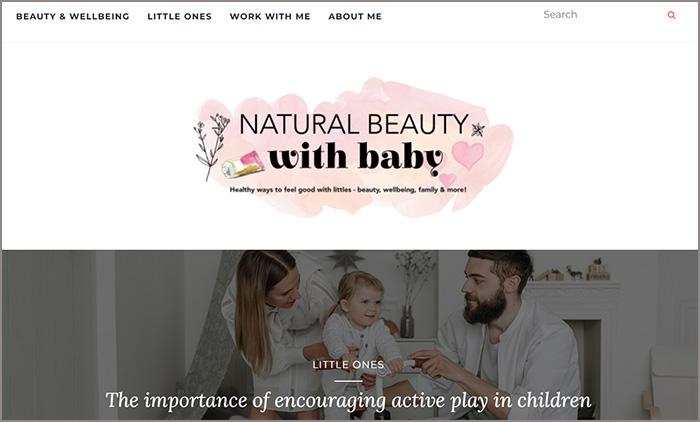 We finish our beauty blog ranking for this year with a new entry, where blogger Helen has 'healthy ways to feel good with little ones – beauty, wellbeing, family and more'. Having originally started her blog to share natural products, Helen has personal experience in dealing with tricky skin, including psoriasis and pregnancy-triggered eczema. If you have similar issues, or just want the best skin for you, read up here on how plant-based ingredients can both 'soothe and heal' – or how Helen puts it: 'join us as we find healthy ways to feel good together'.
Collaborating with bloggers requires mutual respect and understanding: respect their schedules; take time to read their content to learn their interests; and only contact them if/when they want to be contacted. You can see more advice in our blogger spotlights. 
Profiles of these  blogs and their authors can be found in the Vuelio  Media Database.
.
https://www.vuelio.com/uk/wp-content/uploads/2023/09/Beauty-blog-ranking-featured-image.jpg
430
760
Christina Pirilla
https://www.vuelio.com/uk/wp-content/uploads/2023/09/vuelio-logo-200px.png
Christina Pirilla
2023-09-27 09:30:49
2023-09-27 09:54:00
Beauty Blogs UK Top 10