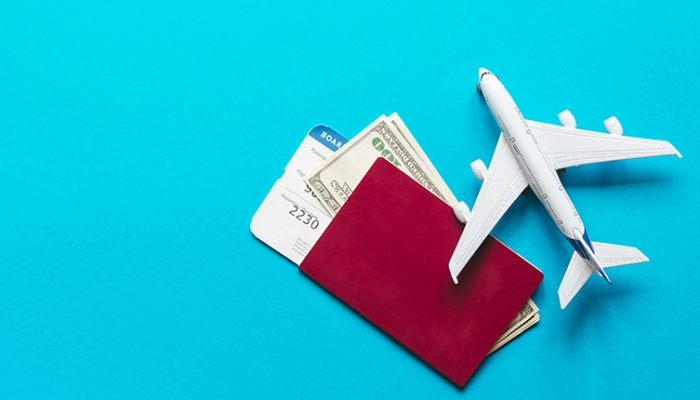 The Top 10 Travel Blog ranking was last updated 27/07/2022.
Vuelio uses a proprietary algorithm to create these rankings, based on topic-related content in blogs on its system – you can read more about the process  here. Our research team actively seeks out new blogs and bloggers for inclusion, but if you think we've missed someone, please  get in touch  to let us know.  
Still travelling at the front and First Class in our ranking of UK travel blogs is Hand Luggage Only from bloggers Lloyd Griffiths and Yaya Onalaja-Aliu. Started back in April 2014 in a university dorm room, Lloyd and Yaya wanted to share their 'travel stories and photos with other like-minded travelers on the internet' beyond Facebook posts. Starting a two-way conversation with fellow fans of travel has drawn them a dedicated audience of readers – check out their posts on Destinations, Food, Hacks and more.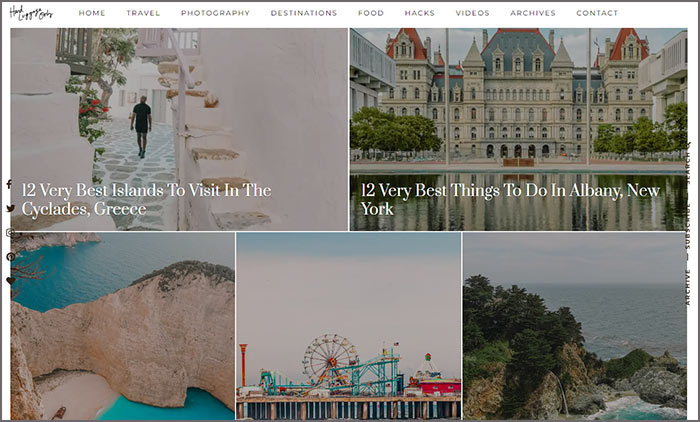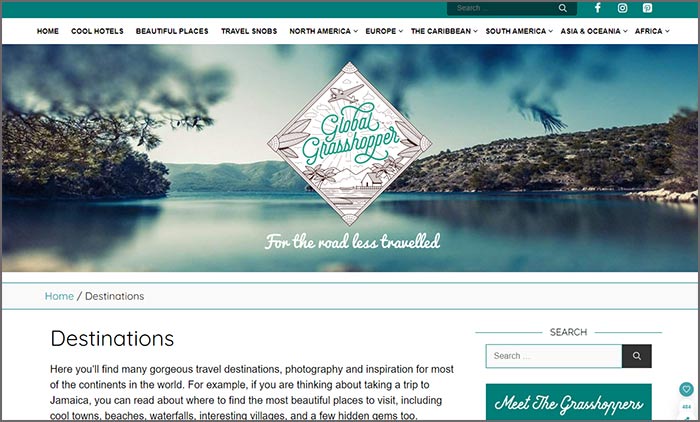 Hopping up a place in this year's update of our travel ranking is blogger, writer and photographer Becky Moore, the Global Grasshopper. If you are interested in taking 'the road less travelled', this blog has you covered – read up on Cool Hotels, Beautiful Places and specific destination write-ups for North and South America, Asia and Oceania, Africa, The Caribbean and Europe. And for roads even less travelled, the Travel Snobs sections has coverage of boutique travel to the 'most swish spots'.
Wales-based travel writer and blogger Monica Stott started her blog back in 2009 while backpacking around Asia and Australia and continues to share travel hacks and inspiration for getting out and seeing the world. Not set up for a long-haul trip? This blog also shares ideas for days out with the family. Recent travel hacks offered up by Monica – budget trips to Krakow in Poland and Vilnius in Lithuania to prove it is possible to have fun-filled breaks for £200 or less.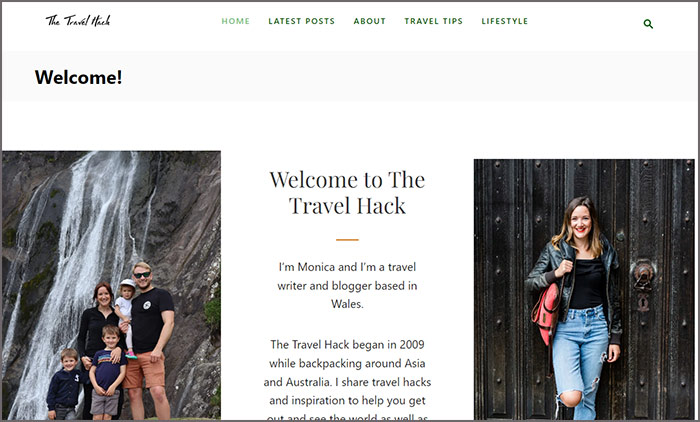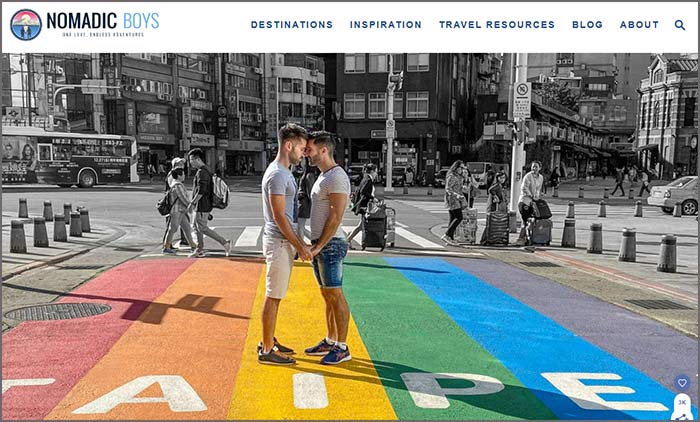 4. Nomadic Boys
Travel and LGBTQ+ UK blog ranking favourites the Nomadic Boys – if you have not met them already – are Stefan and Sebastien, bloggers aiming to share 'one love, endless adventures' with their readers. Channels on the blog include Destinations, Inspiration and Travel Resources, where over ten years of travel are showcased. As we head towards Brighton Pride next week, Stefan and Sebastien recently headed further afield to check out Maspalomas Pride for their guide to Gran Canaria's biggest gay event.
Travelling with family or a big group of friends can be annoying, if we are honest, which is where Emily Luxton Travels comes in. Covering 'solo female travel, fun and adventure,' Emily has visited over 50 countries across the world – making her an ideal guide for planning your own adventure when setting out on your own. Grab advice from the Travel Tips section, featuring Reviews, Packing Tips and Travel Gear alongside Travel Fashion and Beauty, as well as her Personal Posts and My Travel Stories.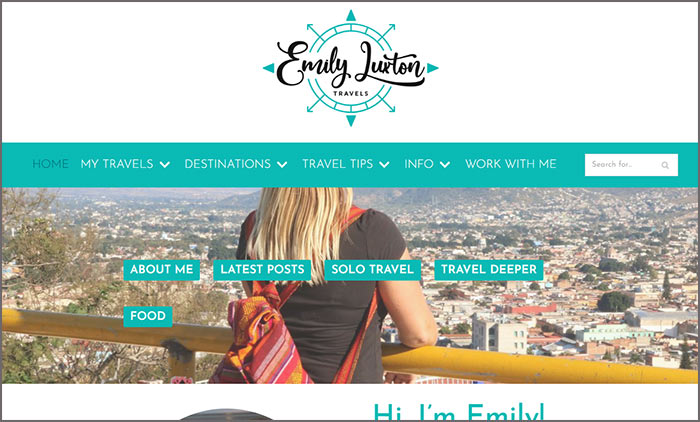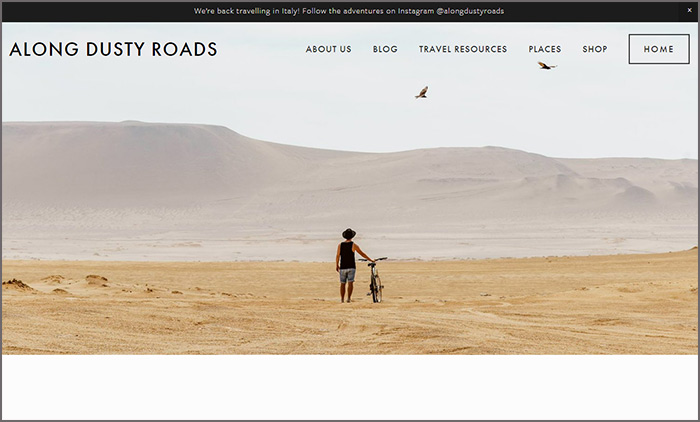 'Travel is the thing that makes the two of us feel the most alive,' say Along Dusty Roads travellers and bloggers Andrew and Emily. Aiming to bring readers 'a life of travel, personally curated' with 'crafted guides, thoughtful narratives and original photography,' the two hope to inspire slow, sustainable adventures – 'we want to help you to travel more, travel better'. Some of the latest trips from the blog – canyoning in Jordan, what to do in Venice and a guide to Las Penitas.
'Are you ready to discover somewhere new?' – a new arrival to this ranking is Discoveries Of, where professional travel writer and 'geek extraordinaire' Julianna Barnaby writes about travel, culture and adventure for 'smart people who like to do cool things in awesome places'. If that describes you, go discover Julianna's content covering Travel Guides, Travel Gear as well as Tips and Inspiration. Whether you want a road trip, a city break, a longer journey on the other side of the world or somewhere closer to home, this blog has it.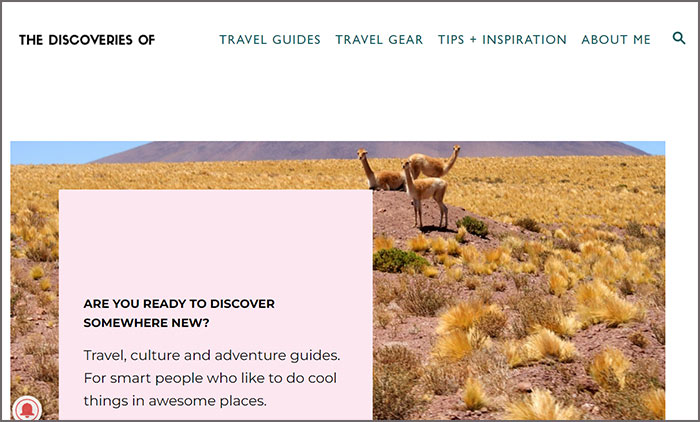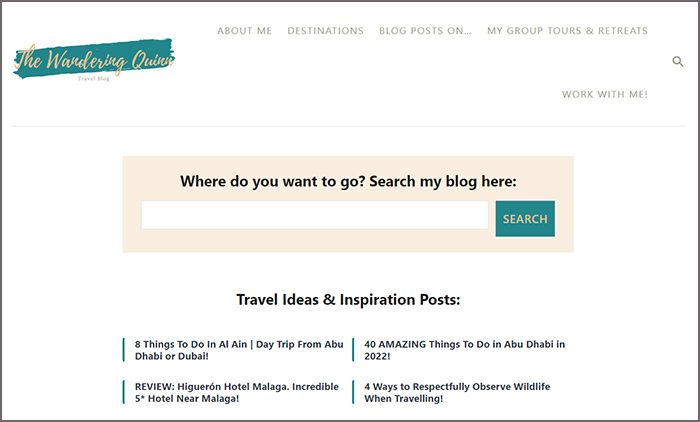 Another newbie to this travel ranking is Ellie, the full-time blogger and content creator behind The Wandering Quinn. This admitted 'travel addict since 2010' has visited over 60 countries, having spent her twenties solo backpacking around the world. Despite being based in Manchester now, Ellie still heads out to explore, finding something new each time whether close or far. Book some time to dive into Ellie's tips on budget, cruise and Halal travel, alongside general travel and backpacking tips.
You really could travel, if you take advice from You Could Travel blogger Cory, that is. If you are hankering for a way to 'regain your sense of adventure', 'capture moments with your loved ones' or 'fall in love with places without digital distractions', scroll through the latest content. Topics include destinations worth visiting in the UK and beyond, where you should stay and what to pack. For those staying close to home this summer, take a look at this blog's 'complete guides to stunning places' in the UK.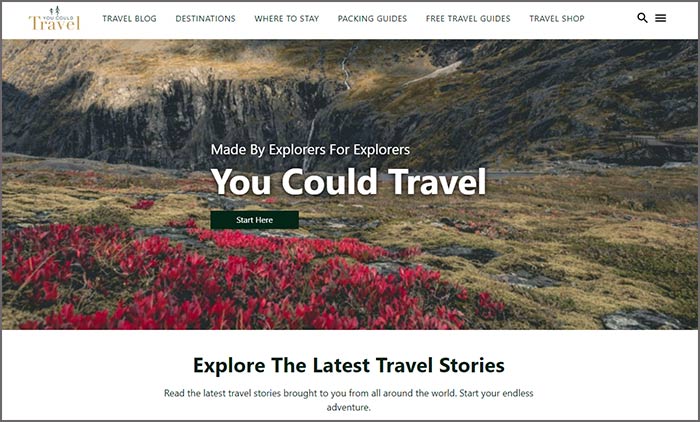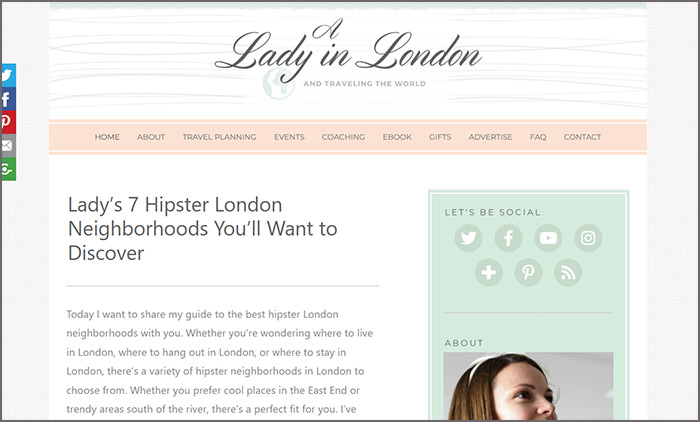 10. A Lady in London
And we finish this ranking with another blogger exploring the UK, focusing on the capital city. The Lady In London, originally from California, has been writing about the city since 2007. Her words have featured in publications including The Telegraph and her photography in the FT, but you can find regular examples of both here on her blog in sections focusing on Travel Planning and Events. Mainstream TGI Fridays and M&M World outings not your thing? Read up on hipster London neighbourhoods to discover here.
Collaborating with bloggers requires mutual respect and understanding: respect their schedules; take time to read their content to learn their interests; and only contact them if/when they want to be contacted.
Profiles of these  blogs and their authors can be found in the Vuelio Media Database.
https://www.vuelio.com/uk/wp-content/uploads/2022/07/Top-10-UK-Travel-Blogs.jpg
430
760
Christina Pirilla
https://www.vuelio.com/uk/wp-content/uploads/2019/09/vuelio-logo.png
Christina Pirilla
2022-07-27 09:40:21
2022-07-27 09:59:13
Travel Blogs UK Top 10