The Top 10 Travel Blog ranking was last updated 12/07/2023.
Vuelio uses a proprietary algorithm to create these rankings, based on topic-related content in blogs on its system – you can read more about the process  here. Our research team actively seeks out new blogs and bloggers for inclusion, but if you think we've missed someone, please  get in touch  to let us know.  
Still First Class when it comes to UK travel blogs is Lloyd Griffiths' and Yaya Onalaja-Aliu's Hand Luggage Only, which has been sharing the best 'travel stories and photos with other like-minded travelers on the internet' since April 2014. The pair have come, and gone, far since starting the blog in a university dorm room. Find inspiration for your next adventure outside in the Destinations, Food, and Hacks channels. Recent posts cover journeys to Palermo, Portofino, and Pisa.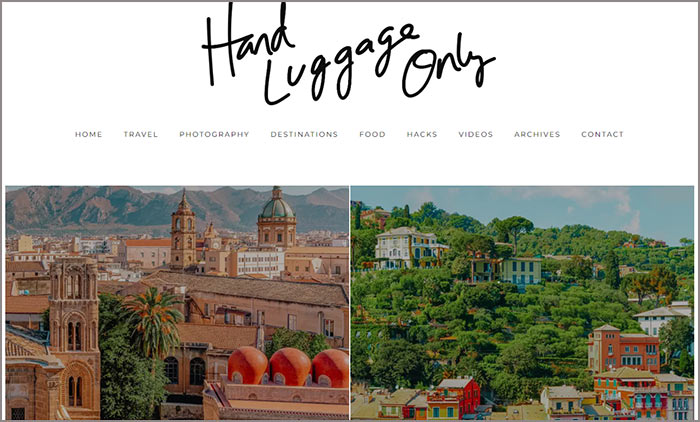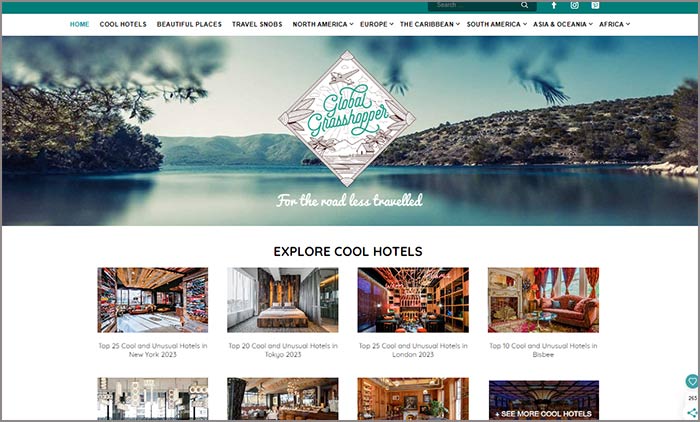 'For the road less travelled,' hop on over to Global Grasshopper. Blogger Becky Moore shares 'gorgeous travel destinations, photography, and inspiration for most of the continents in the world'. For thinking outside of the box, and beyond package holidays, check out posts on unusual hotels, offbeat things to do in cities across the world, under-the-radar destinations for 'travel snobs', and romantic breaks for creating memorable moments. Staying in the UK this summer? Take note of the top 25 unusual hotels in London for 2023.
3. Nomadic Boys
Travelling up a spot in our ranking this year are Nomadic Boys Stefan and Sebastien, who may be familiar to you from our LGBTQ+ blog ranking earlier this year. Sharing 'one love, one adventure', this blog features Destinations, Inspiration, and Travel Resources to check out before booking any tickets. 'Our mission is to inspire and show gay travellers that they can visit more places in the world than they thought possible by providing a first-hand account of our travel adventures, which will help them plan a fun and safe trip'.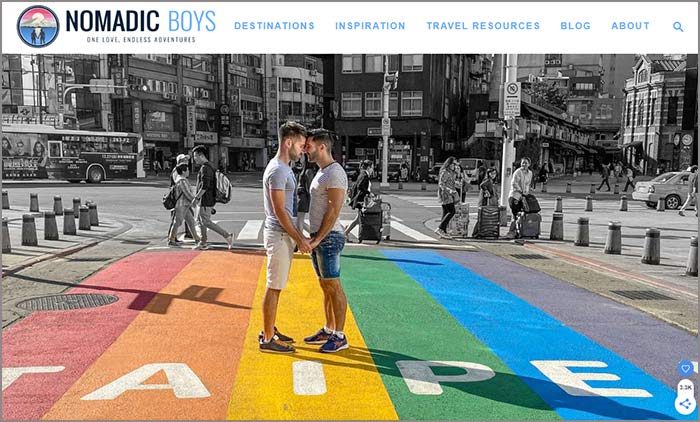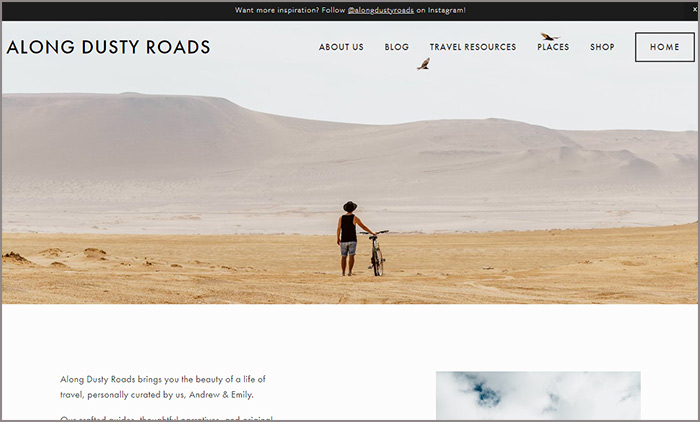 Moving up two spaces in our ranking update are Along Dusty Roads' Andrew and Emily, who hope to 'help you travel more, travel better' with their carefully crafted 'guides, thoughtful narratives and original photography'. Want to book something but aren't sure about your destination yet? Current content from Along Dusty Roads takes a deep-dive into the best of Santorini in Greece – read up on Perissa Beach, 13 'wonderful things to do,' and a guide to hilltop village Pyrgos Kallistis.
For those who like to get away from it all, including family, friends, work colleagues, and associates, Emily Luxton Travels writes about 'solo female travel, fun and adventure'. Get tips from Emily, who herself has journeyed to more than 50 countries across the globe, in her Travel Tips channel, as well as the blog's Reviews, Travel Gear, and Packing Tips sections. Just want to travel vicariously? Read up on Emily's Personal Posts and My Travel Stories from the comfort of your sofa.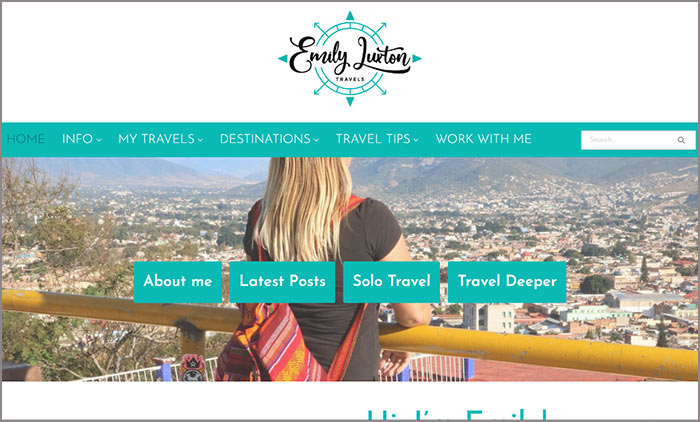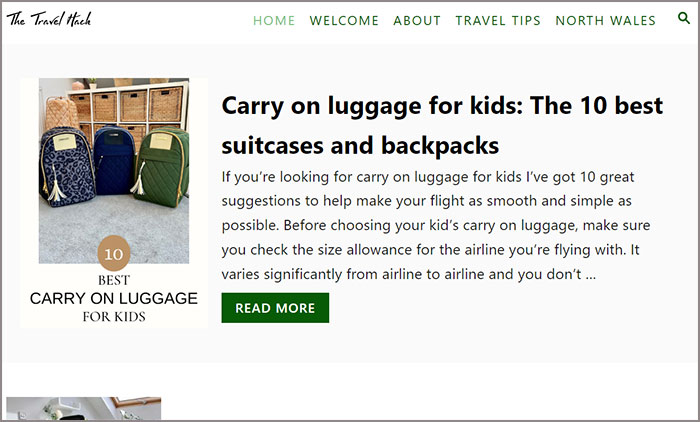 Started by blogger Monica Stott during a 2009 backpacking trip around Asia and Australia, The Travel Hack has what you need to 'save money and get the most out of your weekend breaks'. A mum of three based in North Wales, Monica loves glamping and spontaneous weekends and has experience with canny packing and budget travel with kids. Make your next flight smoother with her suggestions for the best carry-on luggage for children, 8 places for a weekend break in England, and creating a photo journal when you're back home.
Professional travel writer and 'geek extraordinaire' Julianna Barnaby is here to ask 'are you ready to discover somewhere new?' If the answer is yes, Discoveries Of has travel ideas for 'smart people who like to do cool things in awesome places'. Search for relevant content by destination if you know where you want to go next, or read through her recent posts for inspo. Find her guide to the Lofoten Islands in Norway, a two-week itinerary for travelling through South America, as well as 100 incredible places to visit in Europe.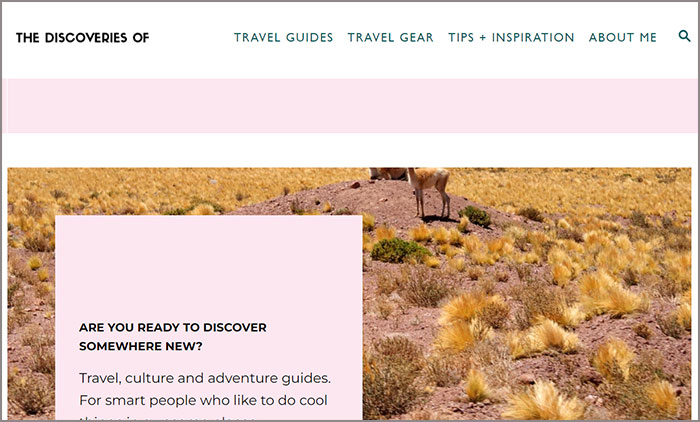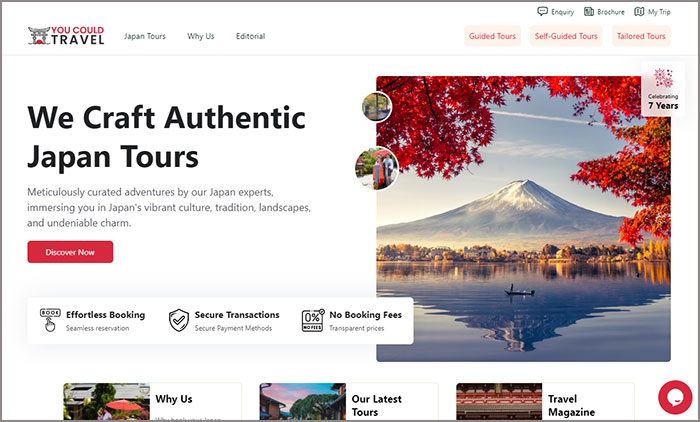 You could travel around Japan without consulting the You Could Travel blog first for insider tips and experiences, but why would you? This blog offers readers a way to regain their sense of adventure alongside tips on how to 'capture moments with loved ones' and 'fall in love with places without digital distractions'. Check out custom trip ideas from the experts, as well as authentic experiences. Find things to do in Okinawa, Fukuoka, Nikko, and Hakone day trips, and places closer to home.
The Wandering Quinn's Ellie has been a 'travel addict since 2010', spending her 20s on a worldwide backpacking adventure. Readers can make the most of her experiences on this blog by searching by country for related features and reviews, or dipping into recent posts. For a small taster of Ellie's bank of content, find her recommendations for 48 places to visit in Wales, why so many people visit Antarctica, how to 'do London' with the kids, 21 perfect road trips from the UK capital, and India's top tourist destinations.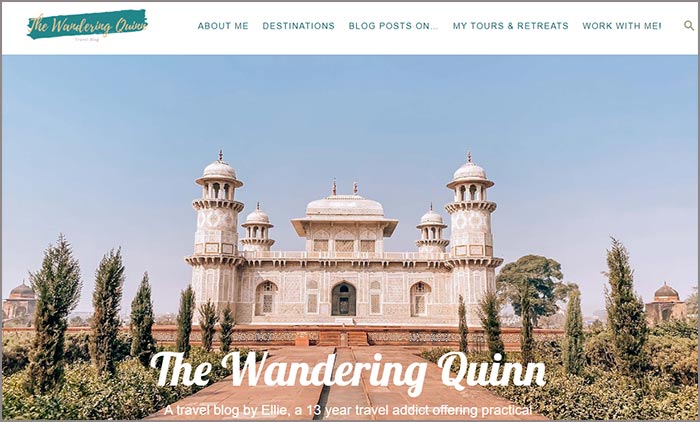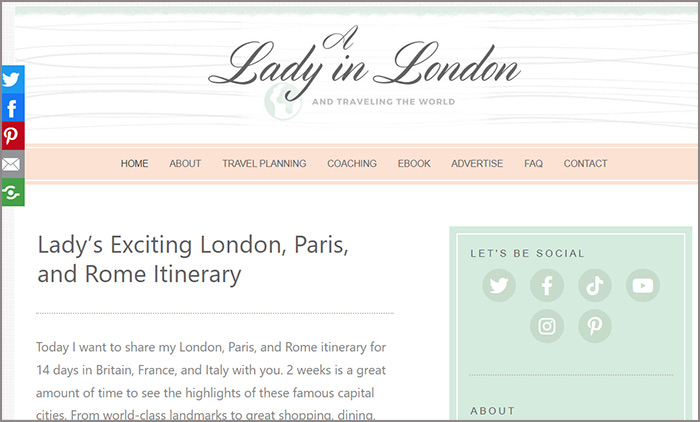 10. A Lady in London
We round up another travel ranking with A Lady in London, who may originally be from San Francisco but certainly knows her stuff about the UK capital. She's already visited '112 countries and counting' and has written for outlets including The Telegraph, Lonely Planet, and National Geographic Intelligent Travel. Her photography has also featured in the Financial Times, Conde Nast Traveller, and more, so go check out her expert words and pictures before planning travel to London and beyond this summer.
Collaborating with bloggers requires mutual respect and understanding: respect their schedules; take time to read their content to learn their interests; and only contact them if/when they want to be contacted.
Profiles of these  blogs and their authors can be found in the Vuelio Media Database.
https://www.vuelio.com/uk/wp-content/uploads/2023/07/Top-10-UK-Travel-Blogs-Featured-pic.jpg
430
760
Christina Pirilla
https://www.vuelio.com/uk/wp-content/uploads/2023/09/vuelio-logo-200px.png
Christina Pirilla
2023-07-12 09:30:21
2023-07-12 10:46:24
Travel Blogs UK Top 10