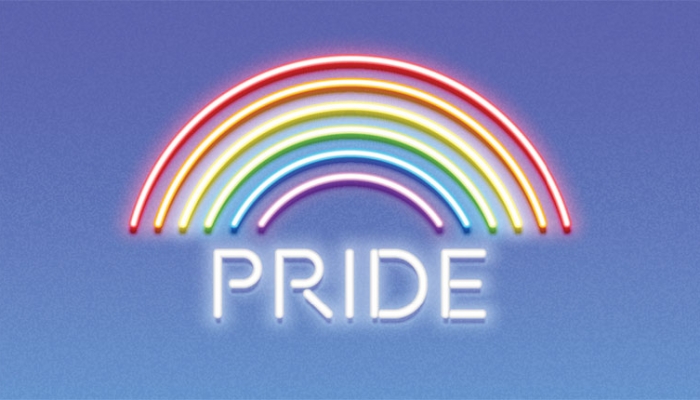 The Top 10 LGBTQ+ ranking was last updated 24/06/2020.
Vuelio uses a proprietary algorithm to create these rankings, based on topic-related content in blogs on its system – you can read more about the process here. Our research team actively seeks out new blogs and bloggers for inclusion, but if you think we've missed someone, please get in touch to let us know.
Sitting proudly at the top of our LGBTQ+ blog ranking for Pride month are Kelly and Zoey of Our Transitional Life. Worthy winner of Best Newcomer at last year's Online Influencer Awards, this blog was born in 2019 by Kelly, who started to write following her wife Zoey's decision to come out as transgender. Working to raise visibility for the trans community by sharing the story of their day to day lives and family, Kelly and Zoey hope to show that 'with some love and honesty, there is hope and a light during a late transition'. Sections on the blog include Just the Two of Us, Family Time, Transgender Support, Self-Care & Gratitude and Reviews, meaning all aspects of life are featured and celebrated.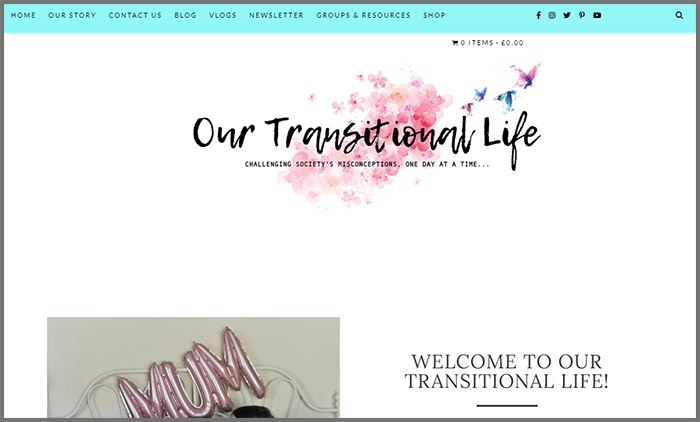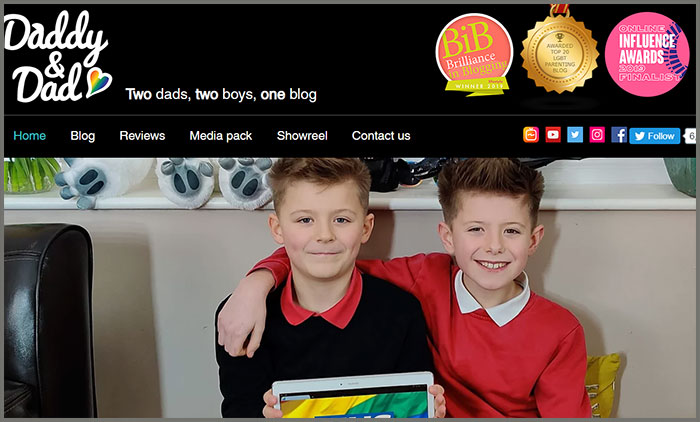 2. Daddy & Dad
Not only should Jamie and Tom of Daddy & Dad be familiar to you for sticking at number two on this ranking, you probably also remember them from seventh place in last week's dad blog ranking. These multiskilled, multi-focused bloggers big up LGBTQ parenting in a big way, blogging about their lives as adoptive parents as well as other inspirational same-sex couples with kids. Advice and information for those starting their adoption journey feature, as well as guest posts from those across the world bringing up their families. Daddy & Dad have worked with big brands including M&S, Disney Junior, George and Ebay and regularly feature the finest tech available to keep the kids busy (very handy during lockdown, no doubt).
3. LesBeMums
Staying in the top three are Kate Everall and her wife Sharon, who started their blog in 2012 to chronicle their journey to motherhood. Get ideas on good days out for the summer across Sussex, Kent, London, the West Country and Wales, and find reviews of new releases when it comes to toys and books. Kate considers herself a 'geek and gamer nerd, and loves all things to do with gadgets and stationery' and Sharon – 'the fun parent' – is into cooking, long walks, films, tech and homelife, so whatever you're looking for, LesBeMums are likely to know about it. Check out their picks for wholesome Queer entertainment to catch up on and ways to support Pride without a parade.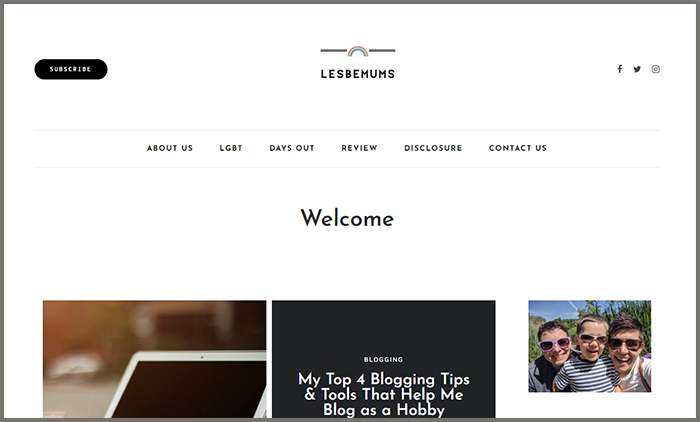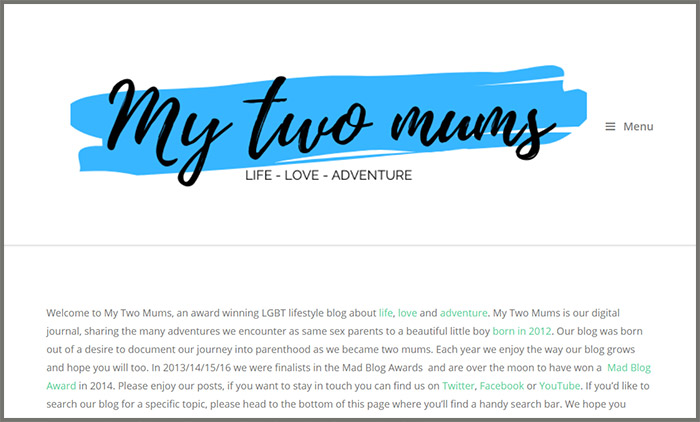 4. My Two Mums
My Two Mums skips up the list from last year's seventh place to fourth. Sharing 'Life – Love – Adventure' on the blog are Kirsty and Clara Taylor-Gallop, regularly writing about bringing up their son Monkey, as well as important issues happening in the LGBTQ+ community. Posts on finding fossils in Dorset, raising a 'rock star' and World Book Day feature alongside deeper pieces on the 'new normal' families find themselves in during the COVID-19 crisis as well as the importance of accountability when it comes to racism, and the need to amplify efforts in activism. Check out their resources for education and discussion.
There is definitely nothing little about the Queer Little Family blog, which has sections on *deep breath* Parenting, LGBTQ, Mental Health, Days Out, Humour, Cats, and Writing (featuring poetry by blogger Bread). 'We're writers and artists, crafters and photographers – we want to review trips and experiences, places we can take our son, books for both adults and kids and products from local (Welsh) or LGBTQ businesses in particular' says Queer Little Family. Though the blog encompasses many subjects, it's 'stories over stuff' that is most important here – go and read the latest chapter of their story.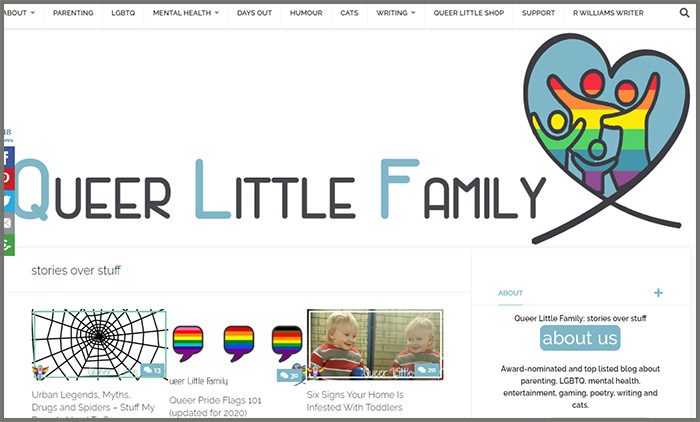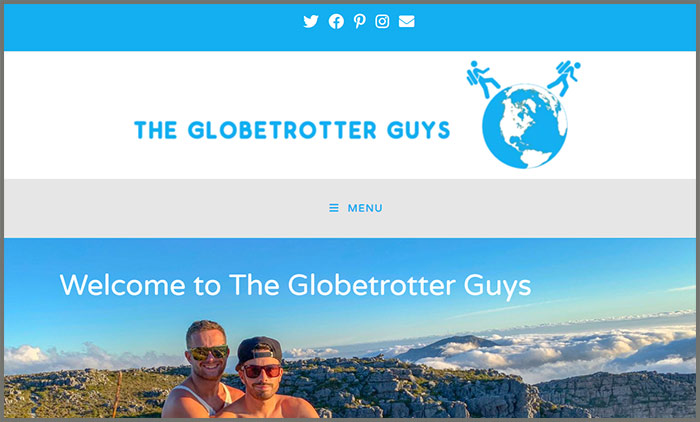 Fresh to the top ten for 2020 are Sion and Ben, who trot around the globe looking for prime locations for LGBTQ peeps to holiday and day trip to – 'it can be hard enough to live day to day life as an LGBT person, let alone go out of your comfort zone! We want to try and break down some of these barriers and make travel for LGBT people easier'. The Globetrotter Guys share their own travel experiences, produce guides to destinations and interview LGBTQ people across the world to find out what it's like for the community in their countries. Hoping to 'inspire, educate, promote safety and get more people travelling,' this is a blog to travel over to.
AKA The Blog Formerly Known As Sarah + Laura, The Smith Story comes from international couple Sarah and Laura Smith who write about their 'little moments [and] big adventures'. Things both little and big are blogged about in the channels Mum Life, Travel, Wife Life, Food and Wedding where the team share highlights from their lives including coming out stories, wedding planning, making the move from London to Birmingham, pregnancy, birth and family. Working to 'normalise the daily lives of a same-sex couple and a two-mum family,' The Smith Story is a happy one.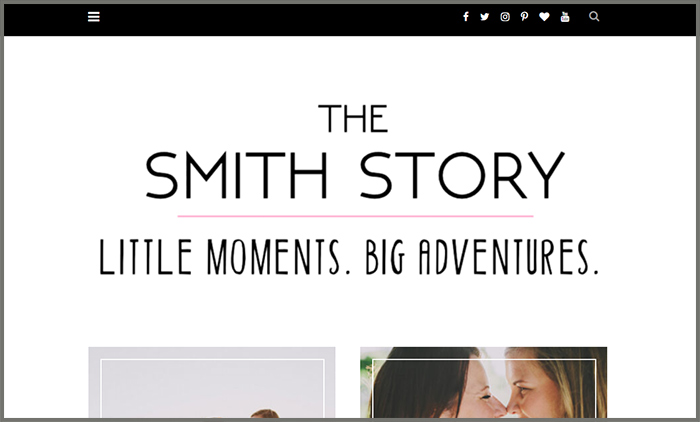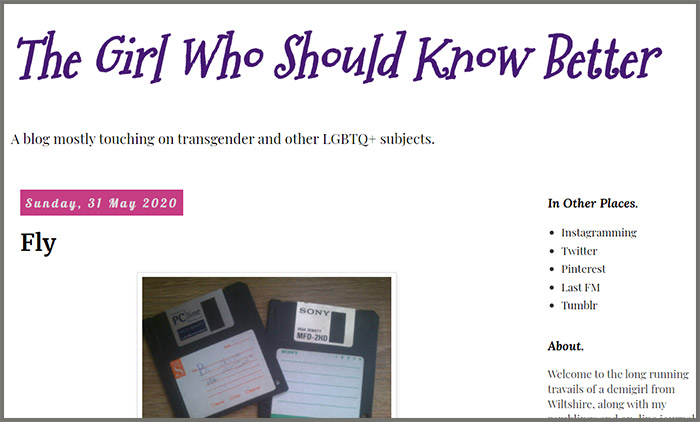 8. The Girl Who Should Know Better
The 'girl who should know better' back again in eighth place for this year's ranking is Wiltshire-based demigirl Lucie Hailey, who blogs about transgender and other LGBTQ+ subjects. Describing the blog as 'a mixture of random thoughts, sometimes shallow, often cathartic, occasionally deep, mainly in digestible bite-sized chunks,' Lucie lets her readers know about the things they should be aware of. Most recently – the updating of the Gender Recognition Act of 2004 in Scotland, Transgender Day of Visibility, trans dating and taking the opportunity to go through and throw out 20-year-old pay slips and uni-era floppy disks during lockdown (relatable).
9. Trade Blog
With taking care of your health perhaps being more important than ever, Leicester-based charity Trade Sexual Health are here to educate and inform on sexual health within the LGBTQ+ community. As well as running discussion evenings In the City, the Trade Blog team work with those local to Leicestershire and Rutland. Luckily, we can benefit from the good work the charity is doing from anywhere in the world – get confidential advice from healthcare professionals, details of support organisations and news of new projects launching.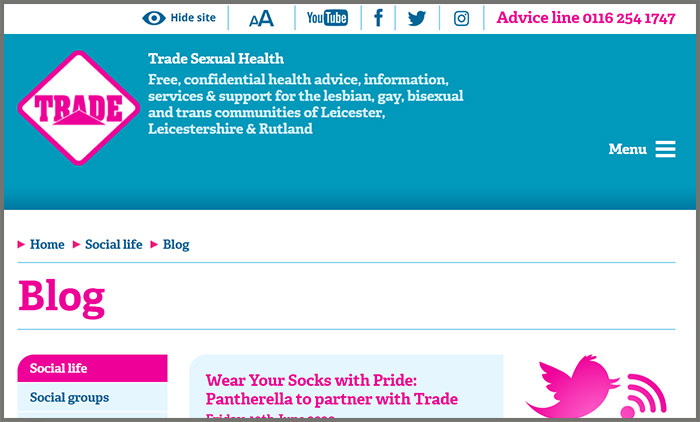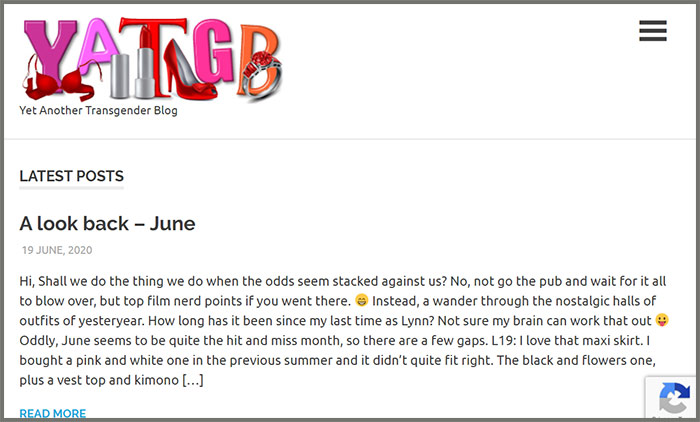 10. Yet Another Transgender Blog
And at number ten is Yet Another Transgender Blog, founded by Lynn Jones. Lynn writes about what it's like to be somewhere in the middle – 'or is that in a muddle?' – around gender and how that plays out as someone not wholly out of the closet. Writing as a Trans person who's also a parent, a husband, and passing as a regular bloke most of the time, life is interesting. Lynn shares her experiences of this unseen world and has done since 2005. She also helps run a transgender support & social group: Nottingham Chameleons. Make the most of the blog's resources section on self-care and the power of listening, and catch up with what's happening in the life of Lynn – right now, maxi skirts for summer, voting with your purse, and bigging-up Daniel Radcliffe's recent beautifully-written piece for the Trevor project. 'I started this blog to give me a place to go through thoughts, share things with people and – if I was lucky – to connect with people like me,' says Lynn – this isn't 'just another blog', so go and connect!
Collaborating with bloggers requires mutual respect and understanding: respect their schedules; take time to read their content to learn their interests; and only contact them if/when they want to be contacted. You can see more advice in our blogger spotlights. Profiles of these LGBTQ+ blogs and their authors can be found in the Vuelio Media Database.
https://www.vuelio.com/uk/wp-content/uploads/2020/06/LGBTQ-ranking.jpg
430
760
Christina Pirilla
https://www.vuelio.com/uk/wp-content/uploads/2019/09/vuelio-logo.png
Christina Pirilla
2020-06-24 11:13:43
2020-06-26 09:16:35
LGBTQ+ Blogs UK Top 10