The Top 10 Daddy Blog ranking was last updated 17/06/2020.
1. Dad Blog UK
An early Father's Day present for Dad Blog UK's John Adams, who stays at the top spot in our top ten UK dad blog ranking. Having left his full-time government communication job to become a full-time 'school run dad', John started to share his story by blogging about fatherhood, parenting, family and lifestyle. 'Being so heavily involved in my children's lives has been a blessing and something few men get to experience. My experience of parenting is closer that of many mothers' and my blog reflects this' says John, who clearly treasures his role as a stay-at-home dad, and frequently speaks on the subject of gender equality in parenting on TV and radio.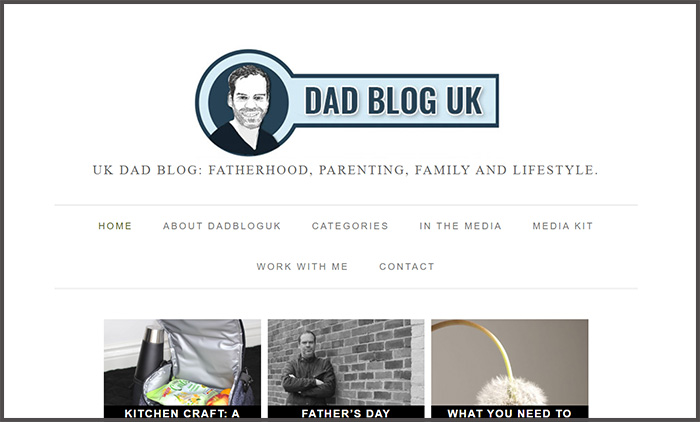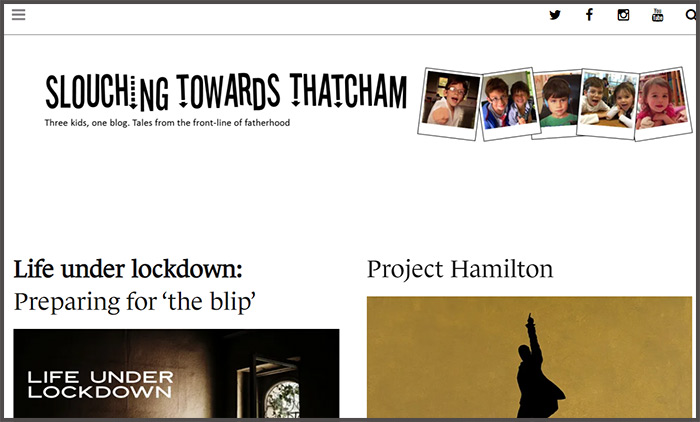 Tim Liew has 'three kids, one blog' and is here to tell 'tales from the front-line of fatherhood'. Hoping that his kids might actually read some of the blog when they're older, Tim chronicles his life with his family – at the moment, with his 'Life under lockdown' series, fitness updates and posts focusing on mental health. The big stuff happening in all of our day-to-day lives and families is something Tim also takes time to address – the Black Lives Matter movement, how to talk to children about the impact of coronavirus, lessons to learn from the last General Election and the Peter Parker principle ('with great power comes great responsibility' – as every good parent knows).
3. DIY Daddy
After a few months stuck at home and staring at the walls, possibly wondering how to put some shelves up, or straighten the ones you already have, Nigel Higgins' blog on DIYing and juggling fatherhood of five might be a good place to stop by. Bringing 20 years of experience with decorating and DIY to the blog, Nigel knows how to knock up a climbing frame and upcycle pallets for shabby chic interiors. He also knows that building solid foundations for families takes more than a tool kit and some paint – DIY Daddy covers mental health, body issues, gender and how to cope with stressful situations, whether or not they come in the form of DIY emergencies.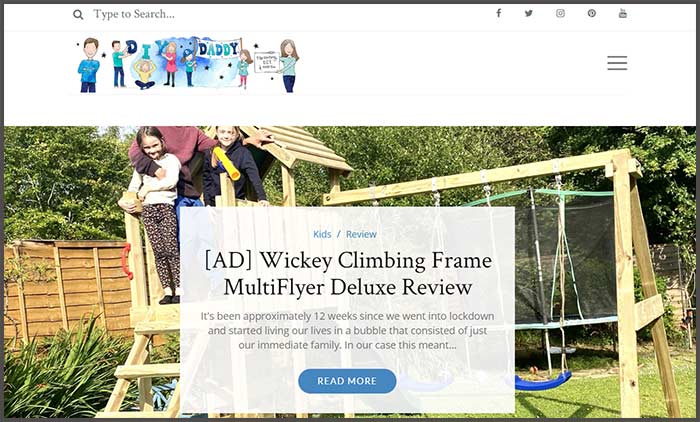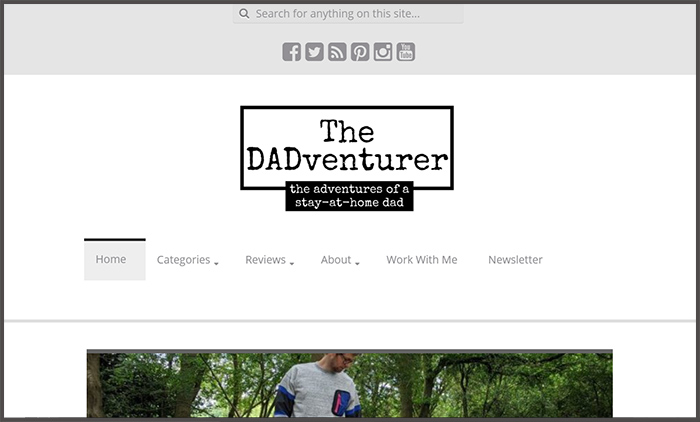 You don't have to leave the house to find adventure. This DADventurer is Dave Hornby, who shares his tales of family-related derring-do – 'I've written about anything and everything related to dad life in an honest, relatable, light-hearted and often sweary way'.  As the kids have grown up, Dave's focus on the blog has expanded to include home tech reviews, food and recipes, family days out, travel, big issues and hot topics. Hot topics right now? How Dave and the family are handling lockdown in the 'Coronavirus Diaries' – so far, like characters in a movie sequel 'nobody asked for but everybody is getting anyway' – we're thinking it's a family movie with a good upbeat ending, though.
Sticking at number five in our top ten dad blogs is Tom Briggs with Diary of the Dad, which, talking of movies, sounds a bit like a horror film, but actually shares good things from family life – how to watch family films in 33 easy steps (spoiler: 'popcorn' is not the answer to all 33 easy steps) and the need to negotiate when your youngest won't eat their peas. Tom has been blogging with Diary of the Dad since 2010, and 'despite being a pensioner in blogging terms now' still loves writing about things from a dad's point of view. Tom also loves shoring up embarrassing stories about his kids for future best man and maid of honor speeches, so go and check out the material just in case you'll be the one writing them in 20 years' time.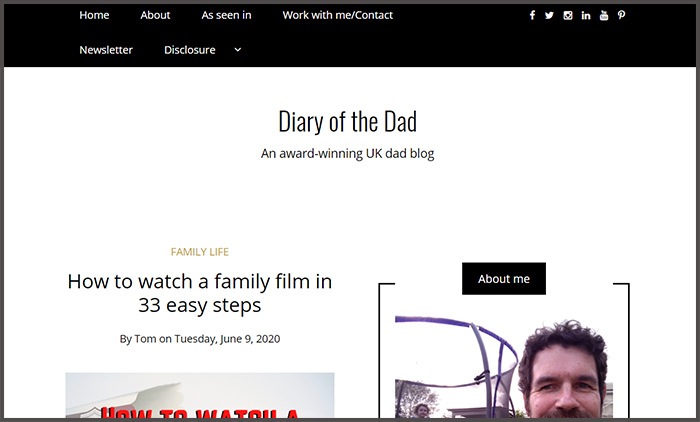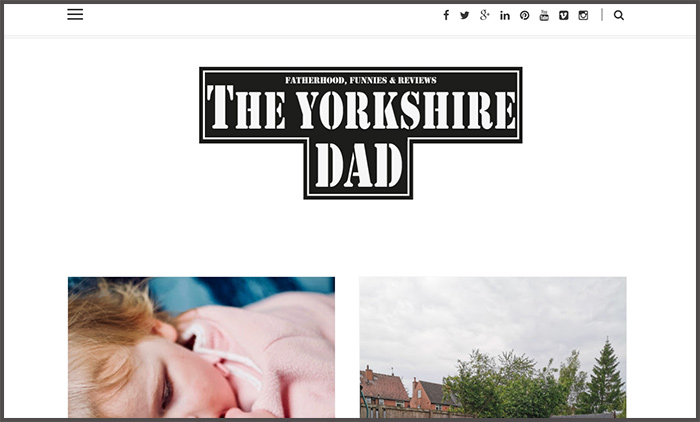 Surprisingly enough, blogger Karl Young is a dad based in Yorkshire, and after discovering this thing called parenting blogging back in 2013, decided to start The Yorkshire Dad. If you're also based in the area and are looking for fun things for your family post-lockdown, Karl covers things to do and places to visit around Leeds. While you prepare packed lunches for that eventuality, check out posts on helping your children get a decent night's sleep, garden improvements, keeping elderly family members occupied and happy at home, and helpful tips for what to get your own dad this Father's Day.
7. Daddy & Dad
One of our finalists at last year's Online Influence Awards, Daddy & Dad is 'two dads, two boys, one blog'. Jamie and Tom are the two dads to the two boys Lyall and Richard and share all aspects of adoptive parenting as well as LGBTQ news and current affairs. As well as sharing their own highs and lows, Jamie and Tom use the blog to highlight other inspirational stories from LGBTQ parents, and reviews of everything you might need to help keep the kids entertained in a modern family. That means lots of family days out, tech reviews and traditional boardgames – Daddy & Dad won't let the kids get bored this summer.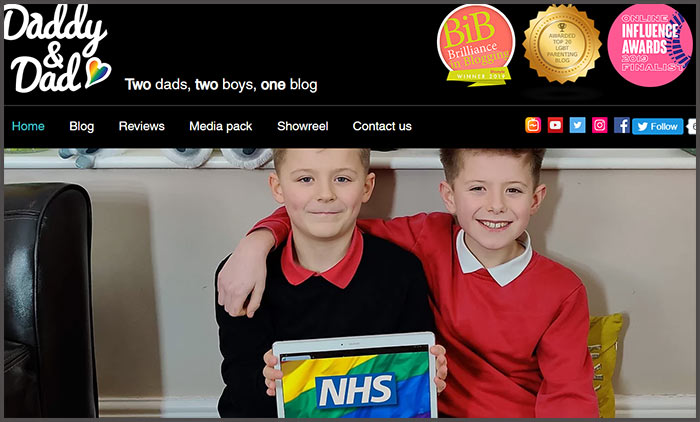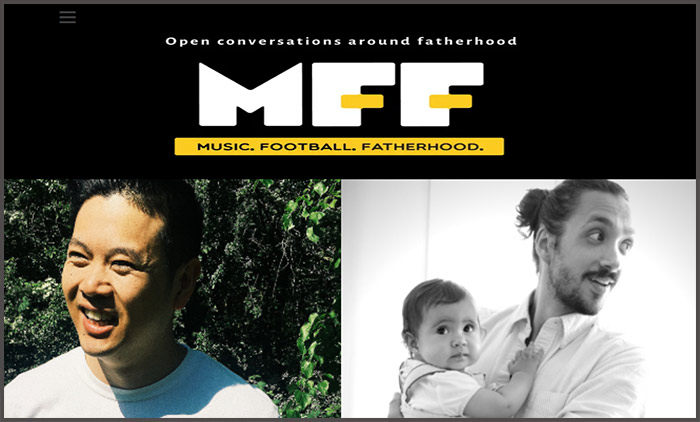 What the BBC has called 'the dad's version of Mumsnet' is Elliott Rae's Music.Football.Fatherhood, which covers much more than what's mentioned in the title. Created as an online community for every type of dad – single parent, stay-at-home, co-parenting and beyond – readers are encouraged to join the 'open conversations around fatherhood' and chat about all things family. To spark the conversation, Elliott writes about Things To Do (family days out, daddy day care, holidays and trips) and Stuff To Get (baby essentials, cook books, toys and family games) and talks about the deeper stuff too in the DaddyDebates Podcast.
9. Daddacool
Pretty cool and sticking at number nine is Alex Walsh of Daddacool, who started blogging to share stories from life with his family, and has since worked with big brands like Nintendo and Playmobil. Right now, Alex has handy tips like 'how to not go bonkers during lockdown' and 'tech projects to stop your kids going stir crazy during coronavirus' which are well worth taking notes on. In fact, whatever you need, you'll find somewhere in the Parenting, Family Fun, Reviews, Music and Soapbox sections. Alex is a super blogger, with superpowers including 'walking over LEGO barefoot AND feeling NO pain!' – if that's a cool skill you want to learn, go check this cool blog out.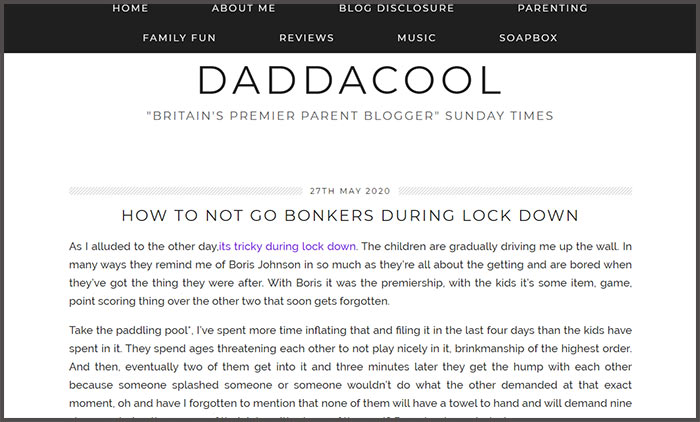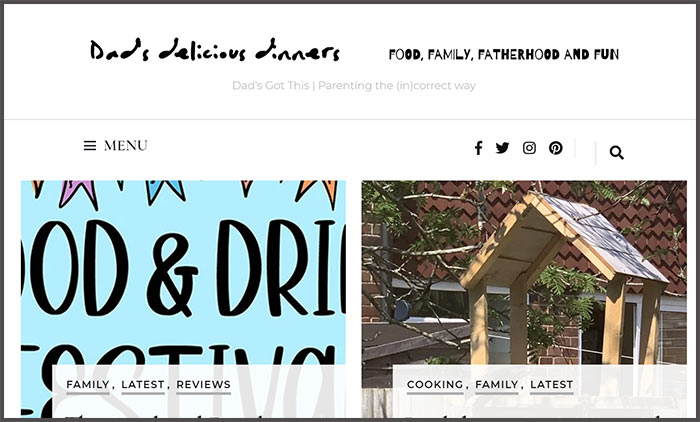 If this has all made you very hungry, stick around a little longer for something nourishing from Ian of Dad's Delicious Dinner. Blogging about food, family life, fatherhood and fun, Ian has easy-to-follow recipes and ideas for feeding the family for £5 with 'fresh and affordable home cooking'. Ian is not a chef – 'I AM NOT A CHEF' – but instead, a single working parent with a budget, a small family kitchen, a handful of knives and lots of great ideas for keeping fams fed and happy. Grab a bowl and go fill up on the good things he's sharing.
The fundamentals of working with bloggers are the same as with traditional journalists at traditional media outlets: respect their schedules; take time to read their material to learn their interests; and only contact them if/when they want to be contacted.
Vuelio's blog ranking methodology takes into consideration social sharing, topic-related content and post frequency. Profiles of these Daddy blogs and their authors can be found in the Vuelio Media Database.
https://www.vuelio.com/uk/wp-content/uploads/2020/06/Daddy-Blogs-featured-pic.jpg
430
760
Holly Hodges
https://www.vuelio.com/uk/wp-content/uploads/2019/09/vuelio-logo.png
Holly Hodges
2020-06-17 11:00:00
2020-06-17 11:32:55
Daddy Blogs UK Top 10