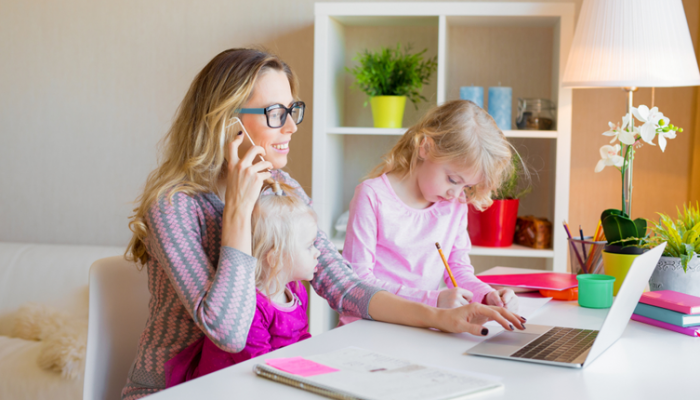 Last Updated 27/03/2019.
Jo Middleton is the queen of mummy bloggers with Slummy Single Mummy, the award-winning blog and current holder of the Best Mummy Blog title from the Vuelio Blog Awards 2018. Jo started Slummy Single Mummy back in 2009 to share the highs and lows of being a single parent to two girls, Bee and Belle. Ten years on and Jo is set to become a granny in July and has just published her first book, Playgroups and Prosecco, all the while continuing to blog about life as a mum, rants about pet peeves and sharing tasty recipes for quick family dinners. Slummy Single Mummy continues to take mummy blogging to the next level and we can't wait to read what's next as she becomes Slummy Single Granny!
Want to learn more about this blog? Read our blogger spotlight with Slummy Single Mummy.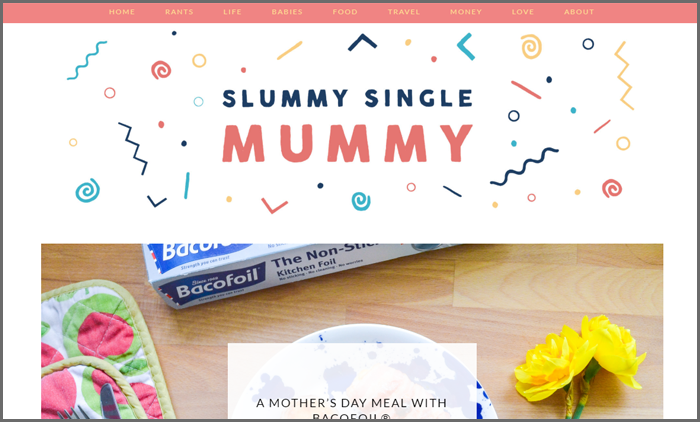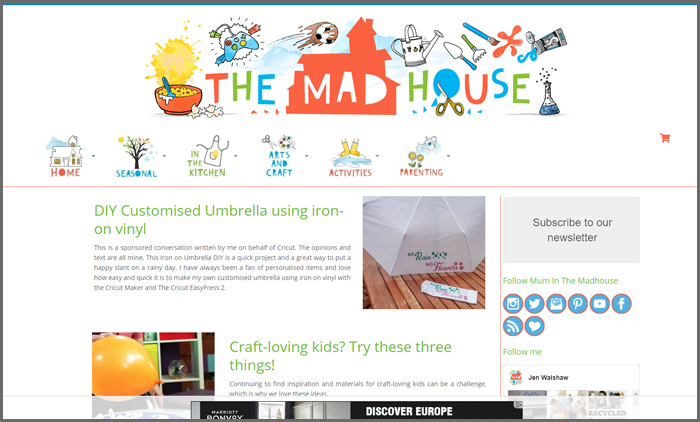 Jen Walshaw is the blogger, craftaholic and mum to two boys (aged 12 and 13) behind Mum In The Madhouse. Passionate about raising creative children despite living in a digital age, Jen posts hundreds of ideas to get kids crafting, whether it's tasty treats in the kitchen or making art with recycled toilet rolls! With a hands-on approach to parenting, Jen covers all aspects of parenting, including the importance of understanding social media while raising teenagers.
Want to learn more about this blog? Read our blogger spotlight with Jen Walshaw, author of Mum in the Madhouse.
Career woman Clare Minall launched Mudpie Fridays to share what she and her sons, Monkey and Kipper (their stage names), get up to as she balances work, motherhood and all the adventures that come with it. Clare shares fun ideas for families that can be pulled together quickly with minimal planning and fuss – statue hunting, park visits, quick trips across the UK, and – yes – making mudpies in the garden. Weekly newsletter round-ups keep the adventure going with updates on what the family are up to, and for those mums that need some me time there's Clare's 'Mum Life' content.
Find out more about Clare Minall, author of Mudpie Fridays, in our blogger spotlight.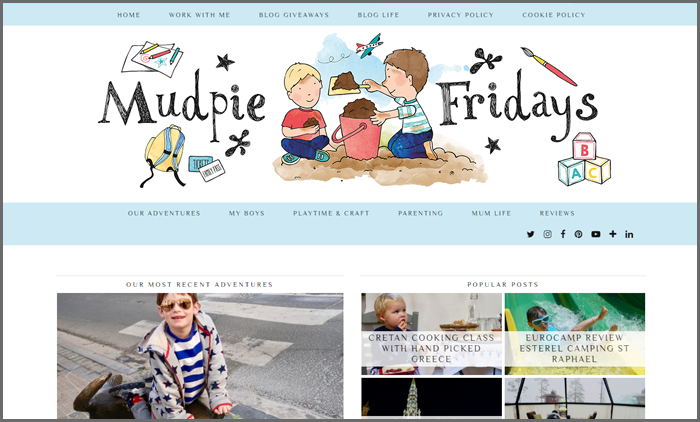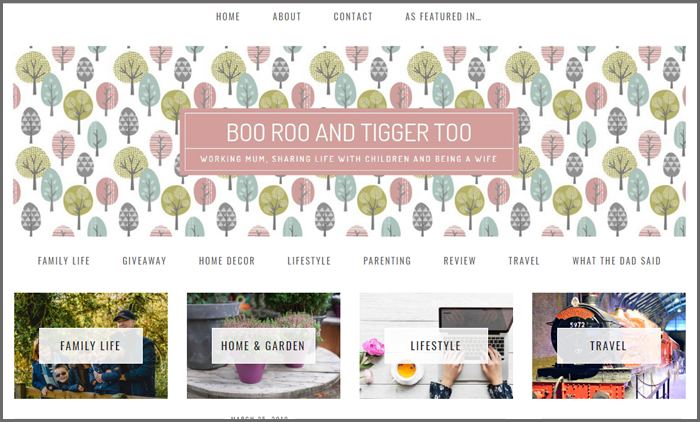 Sarah Anguish – that's 'Boo', to you – blogs about her family life with children 'Roo', 11, the chatterbox and dancing queen; 'Tigger', 7, the fussy eater; and 'Piglet', 2, the wild child of the family. Sarah covers lifestyle topics including home décor and travel alongside parenting posts including product reviews, family days out and advice for other parents. Sarah spent time in the NHS before becoming a super work at home mum/blogger hybrid.
5. Toby & Roo
Here to share the 'wins and woes of parenting' is Harriet Shearsmith, mum to boys Tobias and Reuben and daughter Edith. Feminism and equality issues are a focus of the blog alongside the chronicling of family time – Harriet even advises mothers-to-be on picking the right nursing bra and breastfeeding. The theme of support runs throughout the blog, with a recent post bigging-up inspirational women to follow on Instagram. She takes this further with women crush Wednesday, where she champions awesome women that everyone should be aware of.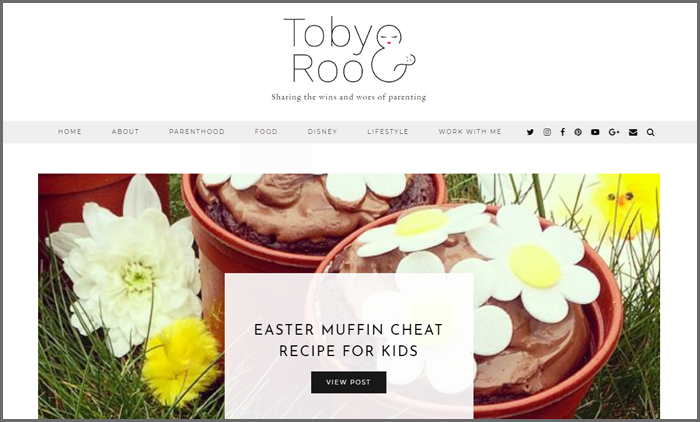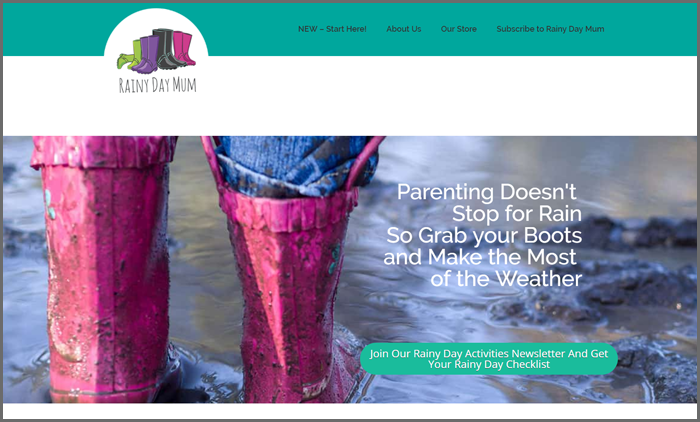 'Parenting doesn't stop for rain', says Rainy Day Mum Cerys Parker, who emphasises the importance of being creative and making the most of time indoors when it's wet outside (and in the UK, it's wet outside quite a lot…). Daily family goals is what sets this blog apart – parenting doesn't stop for rain, and neither does fun with the family, or self-improvement through learning and creating.
7. BritMums
'Leading the conversation' in the UK blogging scene is BritMums – a collection of lifestyle bloggers and influencers creating parenting content as well as travel, politics and style. More than 9,000 'social influencers' make up this network, which produces the blog and an online magazine, as well as an annual awards programme and events where bloggers can get together in the UK and abroad. A big blogging family, BritMums aims to take care of their community and the brands they work with.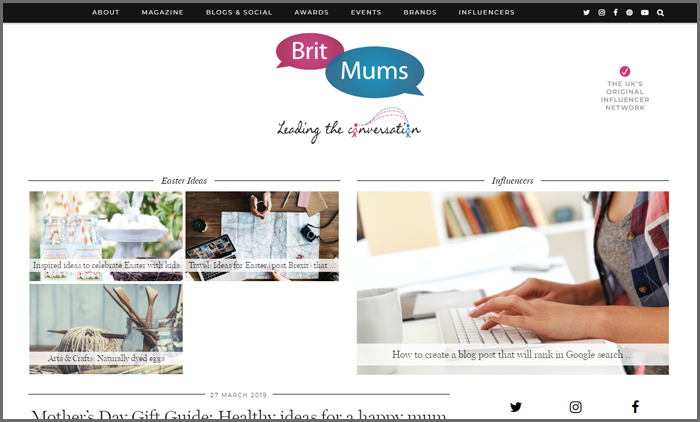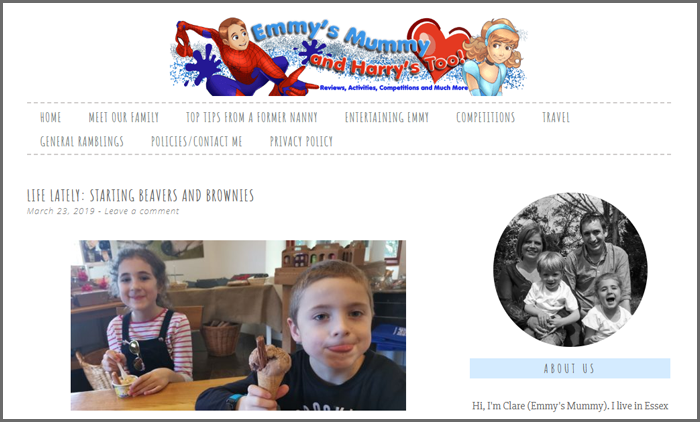 8. Emmy's Mummy – and Harry's too!
Essex-based Clare ('Emmy's Mummy') shares her 'misadventures and adventures' with husband Paul, daughter Emmy and son Harry as well as making time for general rambling (in the General Rambling section, naturally) and useful tips for parents of all ages. Clare comes from a background in day and school nurseries, and shares her expertise from this time, which is something her readers can benefit from alongside Emmy and Harry.
Say Bonjour to Cécile Blaireau, who came to the UK in 2008 as a language assistant and stayed to become a teacher, and then a mother… and now a blogger! Cécile makes room for style and giveaways, and also shares the 'real side' of being a modern parent instead of just focusing on being 'a super maman', which makes The Frenchie Mummy a relatable read for those who're looking for more than a primed and pristine show of motherhood, in any location around the world.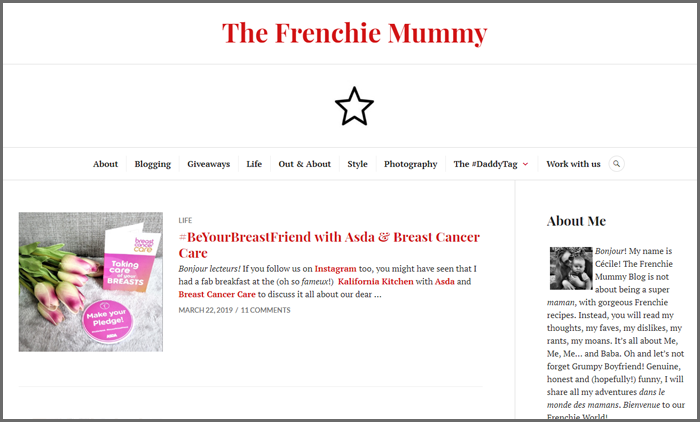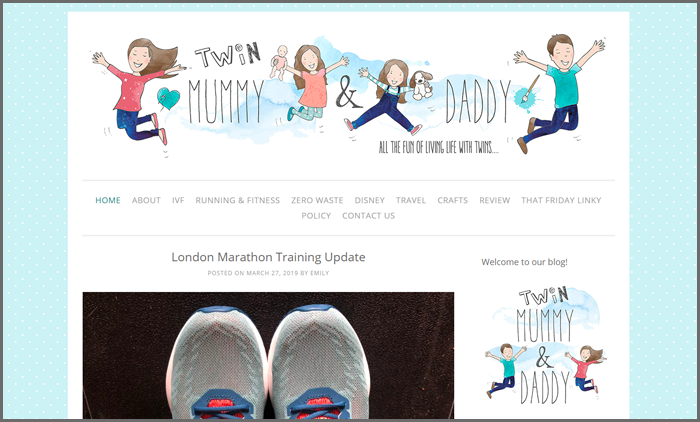 *Parent blogging power couple alert*, as we meet Twin Mummy Emily Higgins, who's married to DIY Daddy blogger Nige. Emily has been blogging her experience with IVF and life with twin girls since June 2012 and can boast numerous awards and recognition for her efforts. The blog promotes a healthy life to its readers, with fitness and environmentally-aware content posted alongside travel and craft ideas. The following for Twin Mummy and Daddy on social media is pretty healthy, too…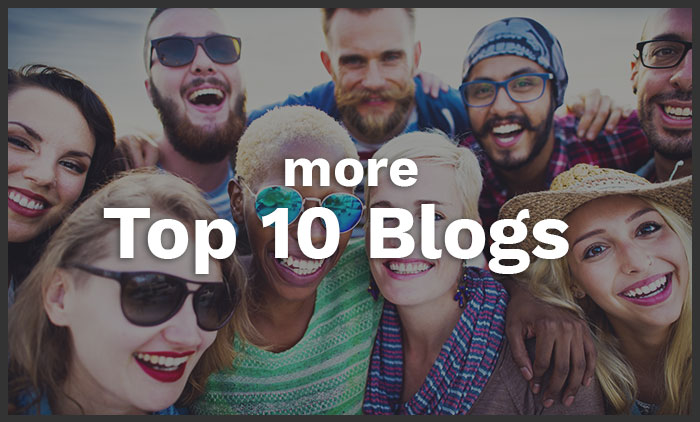 The fundamentals of working with bloggers are the same as with traditional journalists at traditional media outlets: respect their schedules; take time to read their material to learn their interests; and only contact them if/when they want to be contacted.
Vuelio's blog ranking methodology takes into consideration social sharing, topic-related content and post frequency. Profiles of these Mummy blogs and their authors can be found in the Vuelio Media Database.
Other Blog Rankings
https://www.vuelio.com/uk/wp-content/uploads/2018/03/Top-10-mummy-blogs.png
430
760
Holly Hodges
https://www.vuelio.com/uk/wp-content/uploads/2019/09/vuelio-logo.png
Holly Hodges
2019-03-27 08:00:18
2019-03-27 10:52:12
Mummy Blogs UK Top 10