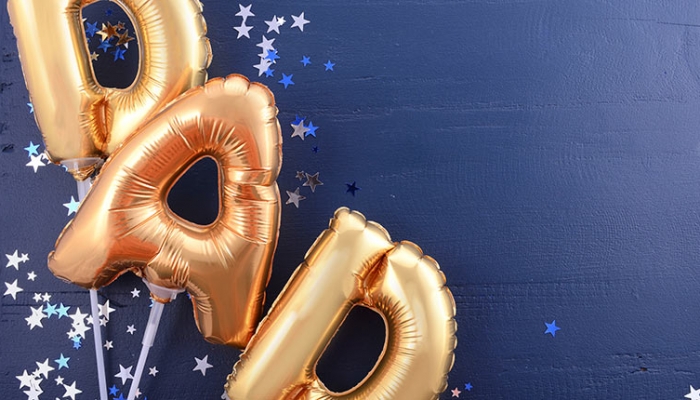 The Top 10 Daddy Blog ranking was last updated 15/06/2022.
Vuelio uses a proprietary algorithm to create these rankings, based on topic-related content in blogs on its system – you can read more about the process here. Our research team actively seeks out new blogs and bloggers for inclusion, but if you think we've missed someone, please get in touch to let us know. 
1. DIY Daddy
Happy Father's Day for 2022 to the dad behind DIY Daddy – Nigel Higgins, who moves to the top of our ranking this year. 'The trials and tribulations of bringing up five children, while trying to maintain my sanity' is what Nigel shares on this blog alongside lots of tips and tricks for Doing It Yourself around the family home. Recently covered by this DIY Dad, picking the right mattress for your kids, ways to encourage creative play, boosting their imagination and when it is the right time to bring in a tutor.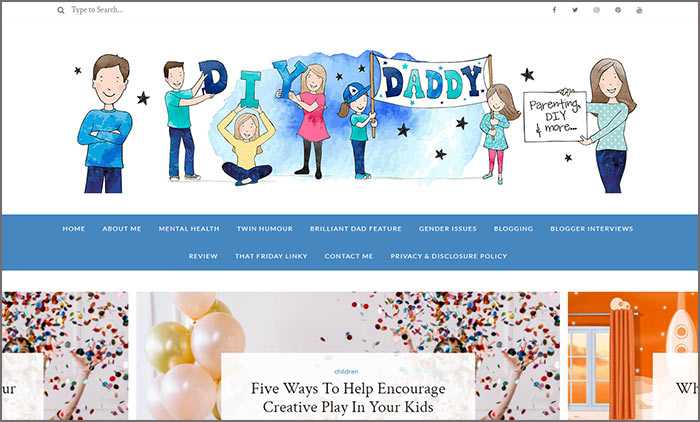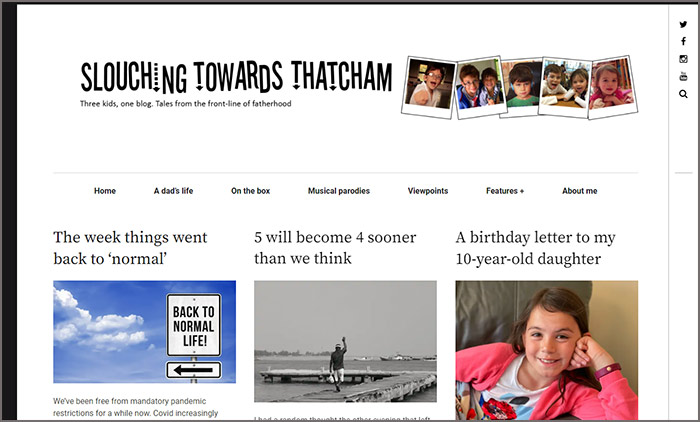 Sticking at number two for another year is Tim Liew, who is the opposite of a slouch in the dad blogging stakes. Check out his 'tales from the frontline of fatherhood' in sections including A Dad's Life, On the Box, Viewpoints and there is even a Musical Parodies channel. Family life has certainly had to change over the last few years, something this blog has not shied away from covering. For how Tim and his family have been navigating their journey back to 'normal', check out his recent posts.
Moving up another spot in our update of this ranking is Tom Briggs' Diary of the Dad. Tom started blogging back in 2010 and luckily 'still has the same enthusiasm for it as I did when I wrote my first post'. What this means for his readers – lots of content on the day-to-day from his family, as well as deeper considerations of the stresses and pressures on parents and kids in 2022. And if you want something a little lighter, Tom has also recently reported on how his family fared playing 90s video games.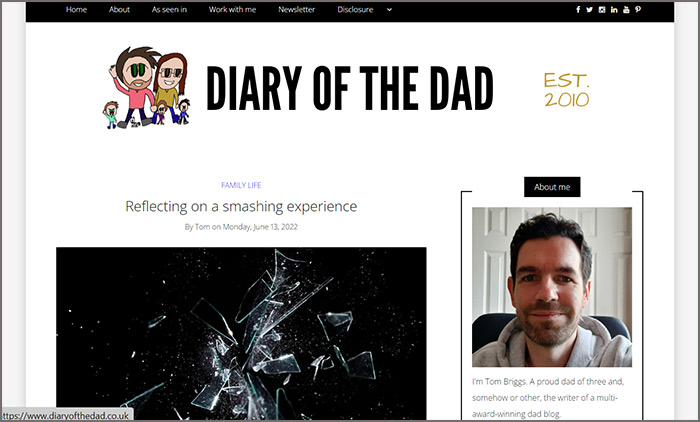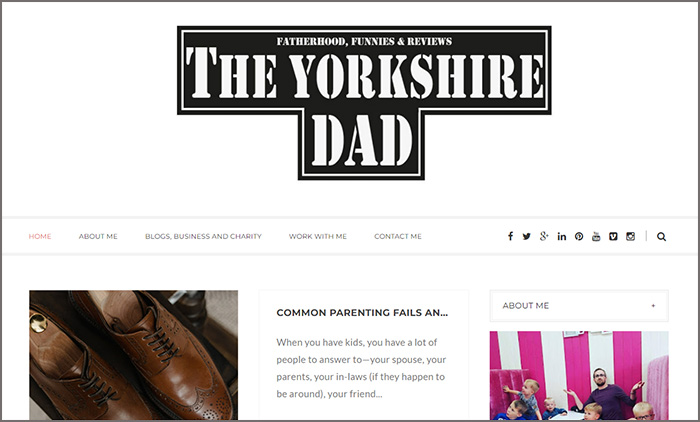 Another riser in this ranking, and one for the Yorkshire-based families out there – Karl Young's The Yorkshire Dad. Having chosen to 'share, learn and grow with other parents' with posts on 'fatherhood, funnies and reviews' upon discovering the world of parenting blogs in 2013, this self-described 'restless father, joker and golfer' posts the best from his area. But wherever you're from, there's something for you – read up on common parenting fails and everything you need to know about making over your living space.
5. Music. Football. Fatherhood
Those looking for 'open conversations about fatherhood' (alongside a bit of music and football content) can find what they need here at Music. Football. Fatherhood. Elliott Rae and the team cover topics including how to prepare for a new arrival, becoming a new dad, relationships, mental and physical fitness, raising kids while single or coupled-up and much more. For even more from the team, listen along to the #DaddyDebates podcast, or pick up their book 'Dad'.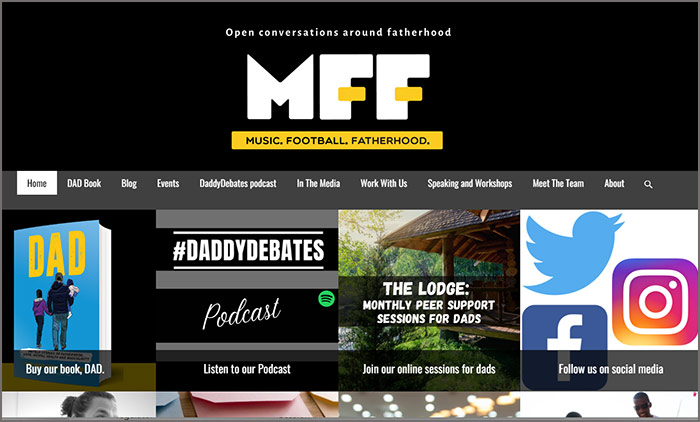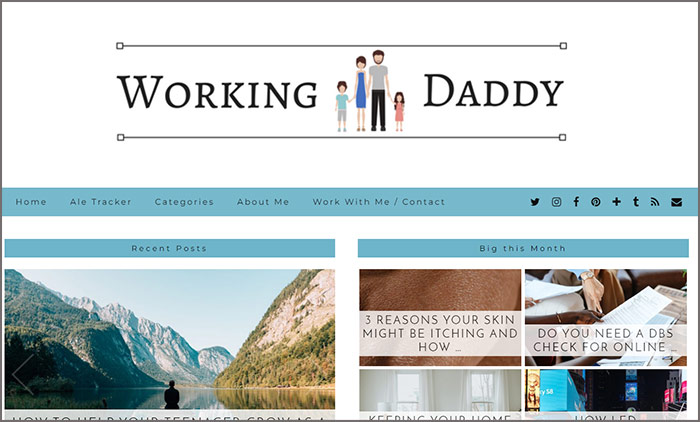 Parenting is definitely hard yet rewarding work, which is just part of what Tom is writing about over at Working Daddy. Featuring Home & Garden, Technology, Family, Finances and Health posts alongside the Parenting content, Tom covers a lot of topics. Recent pieces: healthy air fryer food for the fam, ways to help your teenager grow as a person and how to retain muscles while losing weight (because you're going to need the strength to keep up with the kids – the hard work never stops).
7. Daddy & Dad
You'll likely recognise Daddy & Dad bloggers Jamie and Tom, who also feature in our LGBTQ+ blog ranking. Bringing up their two boys, these bloggers provide updates on LGBTQ+ news from around the globe, share their experiences of adoptive parenting and highlight other happy families raising happy children. If you're struggling for things to buy for your dad this Father's Day (or things to subtly ask your children for…) click on over for their recommendations for 'a gift for every dad'.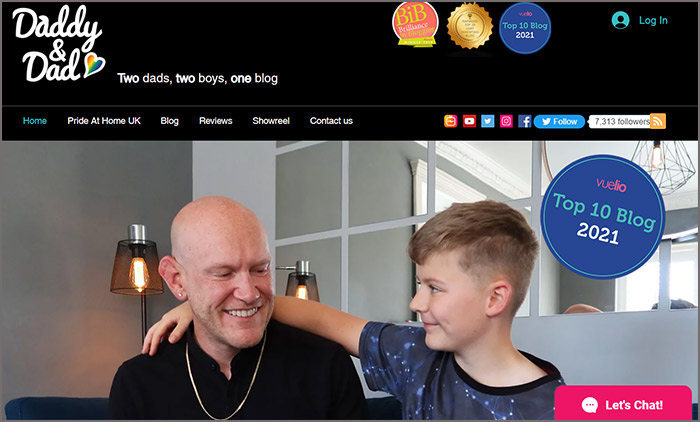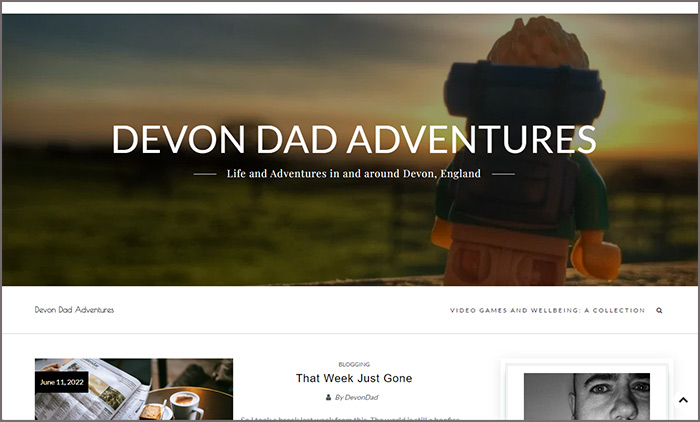 Moving up two spaces since our last look into the UK dad blogging scene is Andy M's Devon Dad Adventures. Blogging about 'life and adventures in and around Devon, England', Andy provides regular updates in the series That Week Just Gone and gives recommendations for things to do to keep your own kids busy and entertained. Most recently, a consideration of whether the new Doctor Strange move is suitable for kids (maybe not), the family's favourite Star Wars moments and all things gaming in his GeeKast content.
9. TheDadLab
A new entry in our ranking of dad blogs is TheDadLab, where founder Sergei Urban aims to inspire parents everywhere with a mix of Science, Crafts and Play. For how to make the most of what's around you – with no need for ordering in fancy science kits – check out how to set up experiments using Coca-Cola cans and something fun for the outdoors with tracing shadows activities. In fact, if you have any spare eggs, salt, sugar, paper plates or Skittles lying around, you have enough for at least a full week of fun, according to TheDadLab.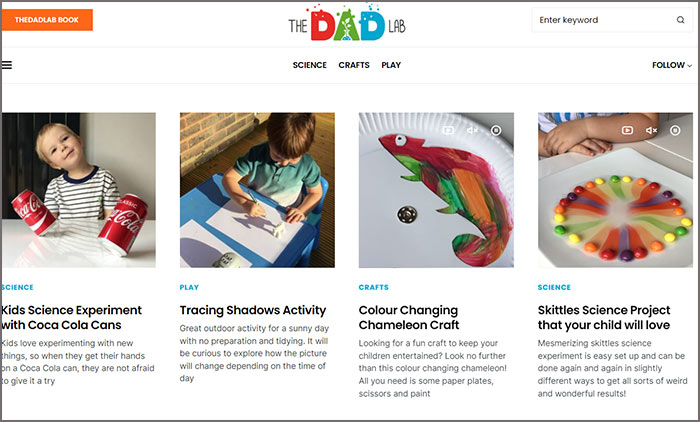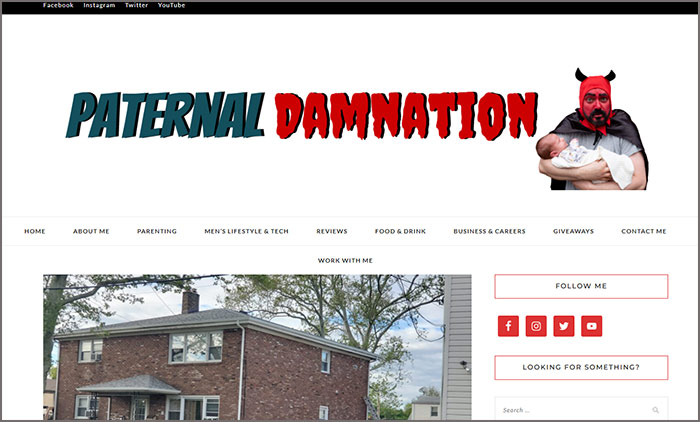 And we round up our ranking for another year with another blogger well-known to us – Paternal Damnation's Robbie. Read up on Men's Lifestyle & Tech, Reviews, Food & Drink, Business & Careers alongside the Parenting posts – 'While this blog is primarily focused on parenting, I like to think that it also offers plenty of men's lifestyle content too,' says Robbie. Brush up on your skill-set with the 'Dad Skills' series – most recently, what to be aware of for a yearly home maintenance check and how to enhance your garden (if you're lucky enough to have one) this summer.
Collaborating with bloggers requires mutual respect and understanding: respect their schedules; take time to read their content to learn their interests; and only contact them if/when they want to be contacted. You can see more advice in our blogger spotlights. 
Profiles of these  blogs and their authors can be found in the Vuelio  Media Database.
https://www.vuelio.com/uk/wp-content/uploads/2022/06/UK-Dad-Blog-Ranking-2022.jpg
430
760
Christina Pirilla
https://www.vuelio.com/uk/wp-content/uploads/2019/09/vuelio-logo.png
Christina Pirilla
2022-06-15 09:30:00
2022-06-15 09:40:37
Daddy Blogs UK Top 10