Healthcare Blogs UK Top 10
The Top 10 Healthcare Blog ranking was last updated 19/07/2017. 
Taking the lead is Special Needs Jungle, a blog created in 2008 by journalist, author, and mother of two Tania Tirraoro. Tania created her blog after both of her sons were diagnosed with Asperger Syndrome, to help other parents understand and deal with the challenge of special needs education. Now a not-for-profit organisation, Special Needs Jungle provides a range of resources including SEN reforms, teaching, SEN politics, created by parents who have experience with disabilities, special educational needs, and rare diseases.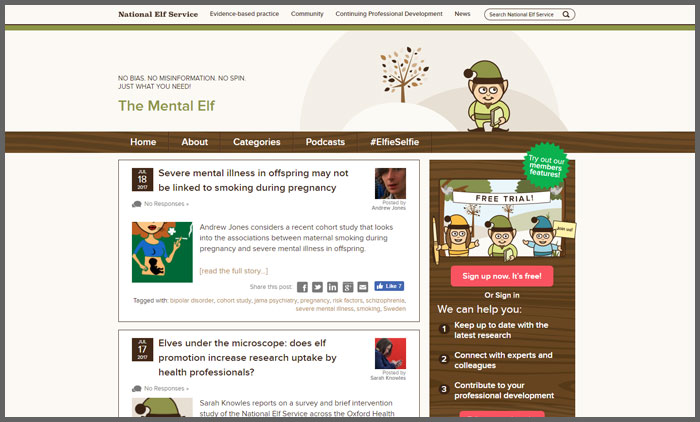 The Mental Elf was launched by Information Scientist André Tomlin in 2011. After finding success in the blogosphere, André invited colleagues to write for the blog, and now has over 150 writers (or 'elves') who contribute their expertise to the site. With a wealth of information and experience, The Mental Elf is a vital resource for important and reliable mental health and social care research and guidance, ranging from schizophrenia, depression, mindfulness and psychotherapy, to sharing the latest developments in research.
talkhealth blog is written by a network of bloggers, who provide the latest news surrounding health subjects, to try and drive the discussion in the health sector. Founded back in 2000 by Deborah Wyatt, the blog is maintained by a variety of writers to act as a bridge between health professionals, charities, patients and carers'. talkhealth blog features topics such as irritable bowel syndrome – what you can eat and how to deal with it, news on worldwide studies, allergies, eating disorders, the NHS, and more.
Evidently Cochrane is an award-winning health blog, which was created in 2012 by Sarah Chapman to make medical research findings more accessible to all. Targeted at carers, patients, healthcare professionals, policy-makers and health researchers, the blog is written in an easy to read tone to simplify the information and encourage visitors to engage. Evidently Cochrane also boasts a detailed A-Z of medical resources, on topics including cancer, dementia, palliative care, ear, nose and throat, genetic conditions, and women's health.
The Hippocratic Post calls itself 'the world's first global blog', which specialises in medical issues, and is targeted towards professionals, students and savvy consumers. Founded by Thea Jourdan, Carole Stone CBE, and Jane Johnson, the blog is set out like a news site and aims to provide up-to-the-minute news on topics and journals in the medical field. With contributors from across the globe, including experts in biotech, academics from leading institutions, MA students, medics, and health professionals, The Hippocratic Post is a leader in its space.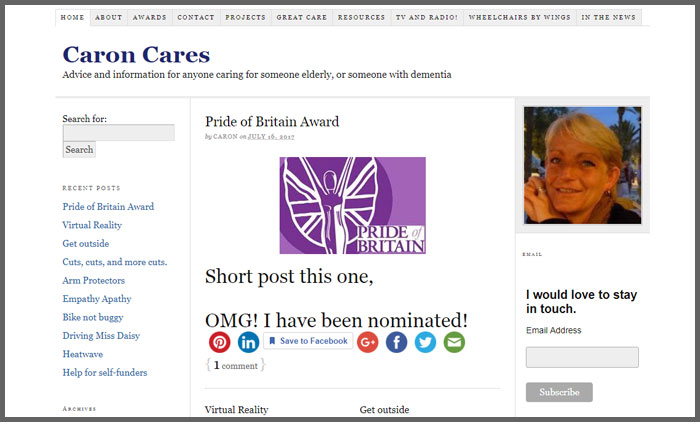 6. Caron Cares
Designed for carers and written by a passionate carer with over 20 years working with the elderly, Caron Sprake created Caron Cares to share advice and suggestions on how to keep the elderly independent and safe at home. The blog covers everything from how to build an inclusive culture, the negative news surrounding social care in the press, new initiatives for eldercare, the cuts to social care, and dementia related updates.
Run by journalist and author Alex Gazzola, Allergy Insight takes an informative and analytical stance while looking at topical issues concerning allergies, focusing primarily on food allergies and hypersensitivities. With a specialty in restricted diets and food disorders such as IBS, Alex writes about a range of free-from alternatives, issues relating to ingredients in foods, information on different food intolerance, and advice and reviews on where to look if you suffer from (both common and uncommon) food allergies.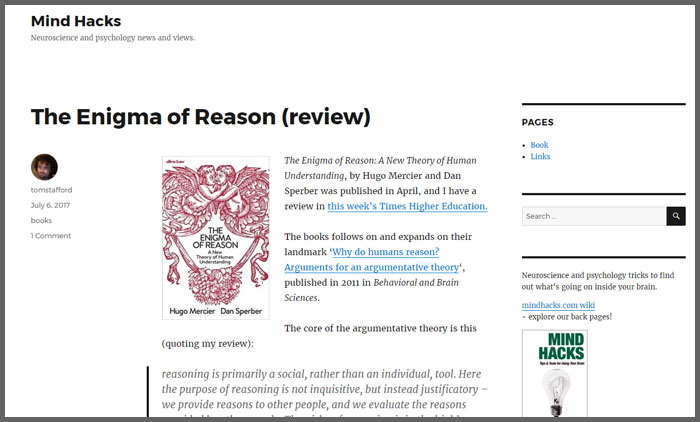 8. MIND HACKS
MIND HACKS is based on neuroscience and psychology news and discussion, and is written by academics Tom Stafford and Vaughan Bell. Drawing on psychology research and the latest news on behaviour patterns and influences, MIND HACKS features engaging posts about the human brain, studies and theories (both old and new), and interesting discussions based on the human mind. Readers are also able to download free eBooks, including Control your dream and Explore your blind spot.
What Allergy? was founded by Ruth Holroyd in 2009 as a space to share advice on how to live with allergies, and the challenges that can come with them. After accidentally starting her blog while trying to learn more information about her allergies, Ruth now has a regular and engaged following and devotes her time to providing lifestyle articles, news, advice, and research on topics including dairy, nut and gluten free alternatives, skin allergies, asthma, and eczema.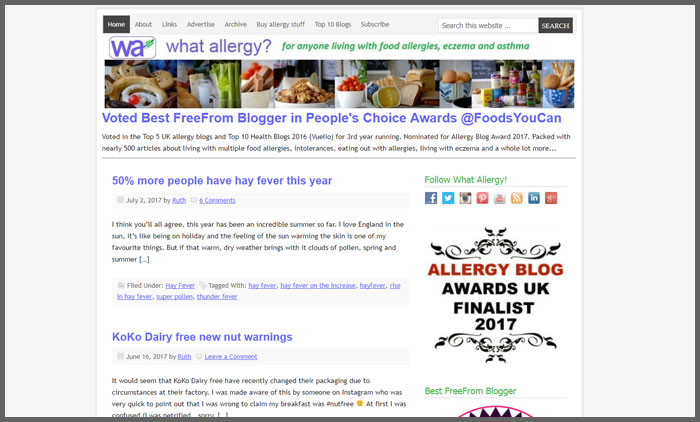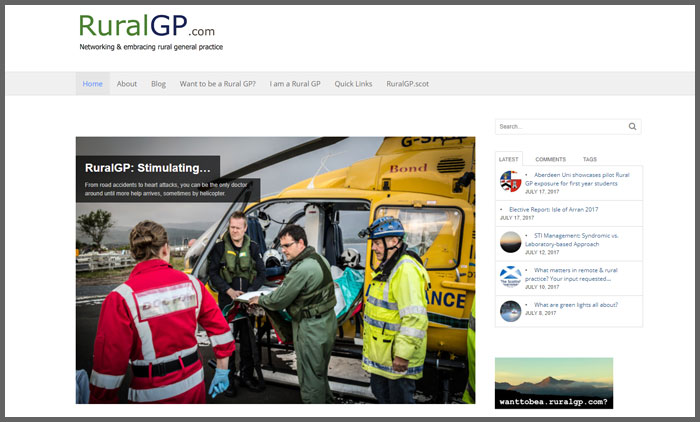 10. RuralGP.com
RuralGP.com was created by David Hogg, a GP on the Isle of Arran and Chair of the Rural GP Association of Scotland, to provide remote and rural GPs, trainees and nurses with useful information about the industry. The blog allows GPs to network and engage with like-minded individuals, providing a knowledge base and community for remote and rural practitioners. Features on RuralGP.com include industry news, projects, schemes, and events that shine a light on rural healthcare.
[/av_one_half]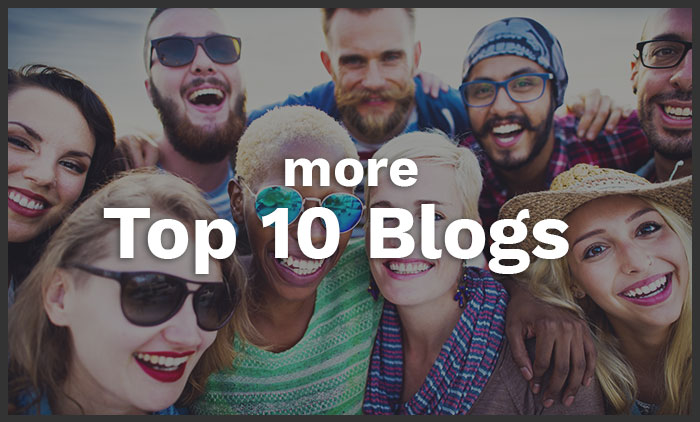 The fundamentals of working with bloggers are the same as with traditional journalists at traditional media outlets: respect their schedules; take time to read their material to learn their interests; and only contact them if/when they want to be contacted.
Vuelio's blog ranking methodology takes into consideration social sharing, topic-related content and post frequency. Profiles of these healthcare blogs and their authors can be found in the Vuelio Media Database.
https://www.vuelio.com/uk/wp-content/uploads/2016/07/vuelio-health-blog-ranking-featuredimage.jpg
434
760
Holly Hodges
https://www.vuelio.com/uk/wp-content/uploads/2015/10/vuelio-logo-transparent.png
Holly Hodges
2017-07-19 08:30:57
2018-01-30 15:38:49
Healthcare Blogs UK Top 10