UK Airline Index: Why Press Releases Still Matter in PR Crises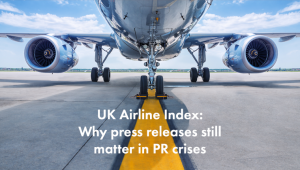 Since the Easter period, British tourists have experienced continued dismay as UK-based airlines cancelled a record-breaking number of flights – roughly 17,000 over three months. Alongside the extensive impact of staff shortages and COVID-19 revenue loss, the ethical demand for Ukraine support has added further pressures on overall performance.
While press releases are developing an 'aged' and outdated reputation in recent years, our data shows that they made a significant difference to the positive:negative sentiment ratio in a state of PR crisis. In addition, they have acted as a tool for some, such as Virgin Atlantic, to leverage control and limit masses of negative second-hand news that other airlines have experienced.
Hollie Parry has written this white paper for Vuelio, 'UK Airline Index: Why Press Releases Still Matter in PR Crises', which explores how the top five UK airlines have performed over the first six months of 2022.
The research outlines how high volume and positive sentiment alone does not equal stronger performance, as well as the most effective tools used by airlines for controlling key messages across print, online and broadcast media.
Check it out by filling in the form below.