Case Management Software
The growing demand to efficiently deliver information in line with The Freedom of Information Act 2000 (FOI) is placing significant pressure and administrative costs on public sector organisations.
Vuelio significantly increases the efficiency of public information requests with automated workflows that guide the relevant members of your team through the process. Requests are efficiently captured within the system and hierarchical controls ensure information is easily shared with only the relevant stakeholders. In addition, automated alerts and reminders ensure that deadlines are met and information can be efficiently processed using the powerful search engine. The case management module maintains a full audit trail of actions taken within the system, ensuring you can demonstrate with evidence how information enquires have been dealt with.
From the initial capture of even the most complex of cases, through to the issuing of public responses and posting to an online disclosure log, Vuelio case management supports your efforts all of the way; making your role easier, ensuring you never miss a deadline and protecting your reputation by delivering timely, consistent and accurate responses to demands for information.
With Vuelio, you can keep track of deadlines, process statistics and generate reports on the number and type of FOI requests processed, as required by the Freedom of Information Act 2000.
Crown Commercial Service approved and available through the G-Cloud framework.
Key Benefits to Vuelio Case Management Software
Legislation Compliance
Comply with legislation and corporate best practice to avoid criticism from regulatory bodies, fines for non-compliance and the wrath of your clients.
Consistency & Efficiency
Consistent approach to the management of even the most complex (multi- part) questions, and centralised access to full case audit trails, drives efficiency and reliability.
Analysis & Reporting
Support continuous improvement with root cause analysis and KPI reporting. Highlight where enquiries and complaints are coming from so that you can take the steps necessary to address recurring issues head-on.
Reduce Duplication
Reduce duplicate requests with the option to provide the public with access to an online disclosure log so they can review previously asked questions/answers.
Protect Reputation
Protect your reputation by delivering timely, consistent and accurate responses to demands for information.
Customer Satisfaction
Guarantee high levels of customer satisfaction and retention by efficiently dealing with their issues.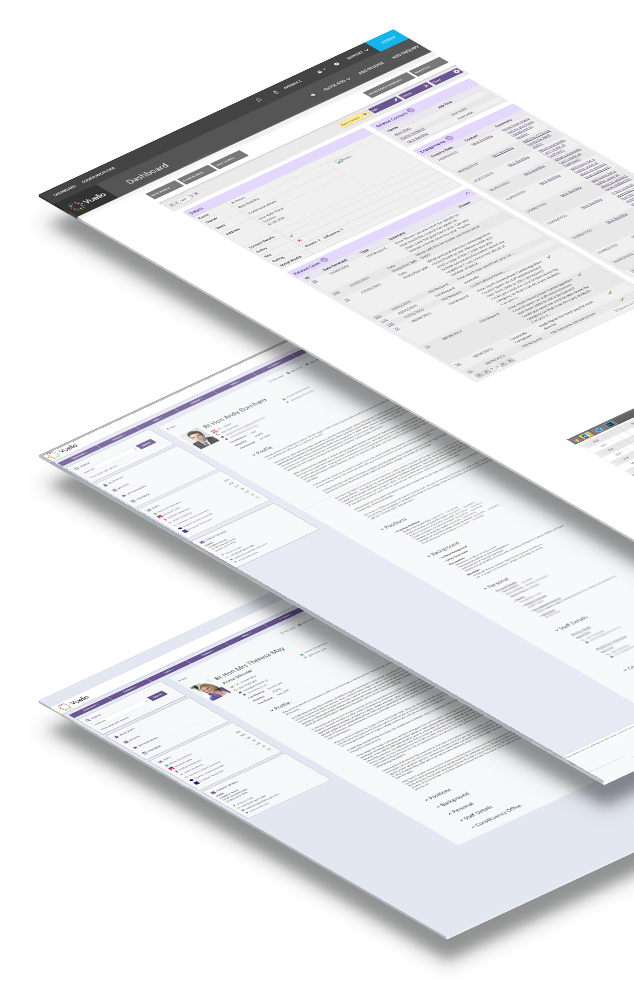 Vuelio Case Management Features
Capture
Record new cases automatically via a customised web-form, generic email address (e.g. FOI@), or with a manual entry.
Acknowledge
An automatic acknowledgement email is sent for all new information requests.
Assign
Cases are accessible via a dashboard and can be assigned to the appropriate Case Officer, or delegated to another department.
Stop the Clock
Record pauses and delays for an individual request. These are typically used when clarification has to be sought from the person who submitted the request.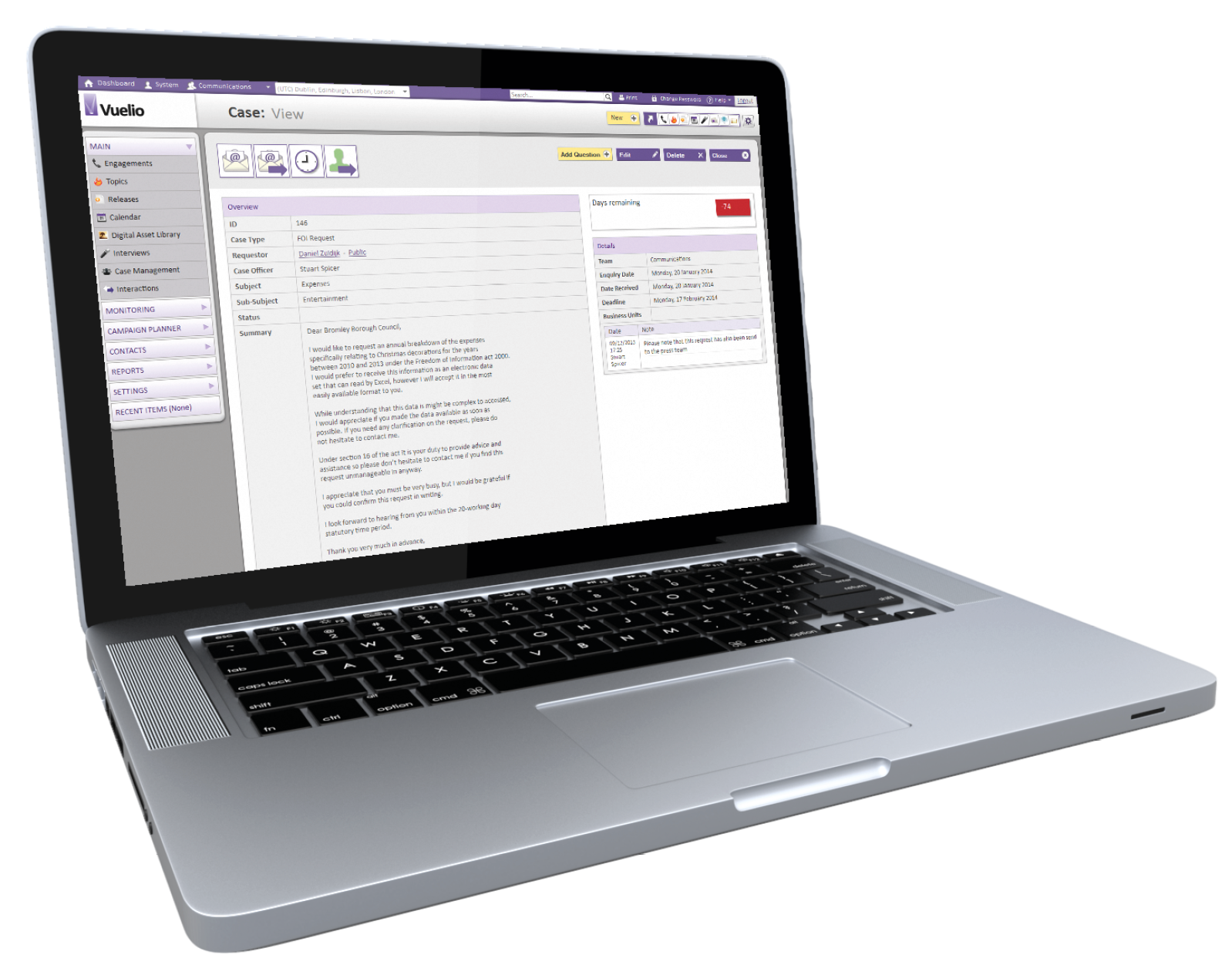 Respond
Use one of the customisable templates to manually initiate communication, request further information, and apply exemptions when appropriate.
Engage
Involve internal subject matter experts in the enquiry, complaint or FOI request.
Categorise
Easily add data to the case and enable powerful searching by subject, directorate, status, case officer, date and other available filters.
Analyse
A powerful search and reporting engine enables recall of all cases for root cause analysis and KPI reporting.
Alerts
Keep track of the status of every case with traffic light warning system and reminders.
Disclose
Post completed responses to public enquiries to an online disclosure log.
Regulate
The automatically generated deadline (based on corporate guidelines for handling complaints or FOI and other regulations) ensures timely responses.