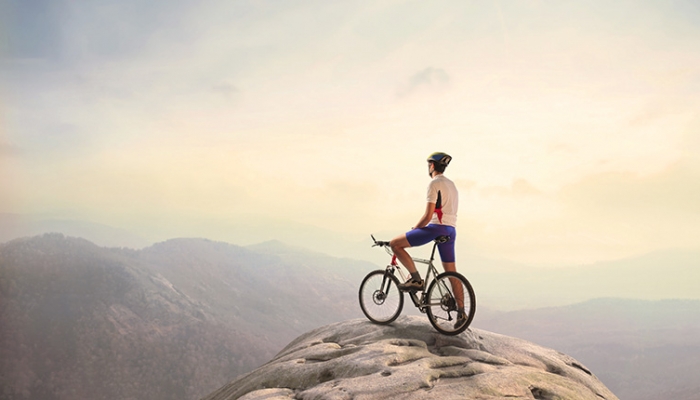 The Top 10 Cycling blog ranking was last updated 20/05/2020.
Still in first place in the top ten UK cycling blogs is The Inner Ring, which has been busy covering all the big cycling events since its launch back in February 2010. Over ten years later, the blog has built up a following of fans of cycling, cycle sport and pro cycling with its mix of news, comment, opinion and chat. With no particular 'overriding aim', the blog's take on cycling is that 'analysis and nonsense can go together' and that, despite the business side and commercial aspects of the pursuit, riding a bike should always be a pleasure. The approach taken by the mysterious and anonymous bod behind the blog is a popular one – they've also written for Cyclesport, cyclingnews.com and Procycling magazine.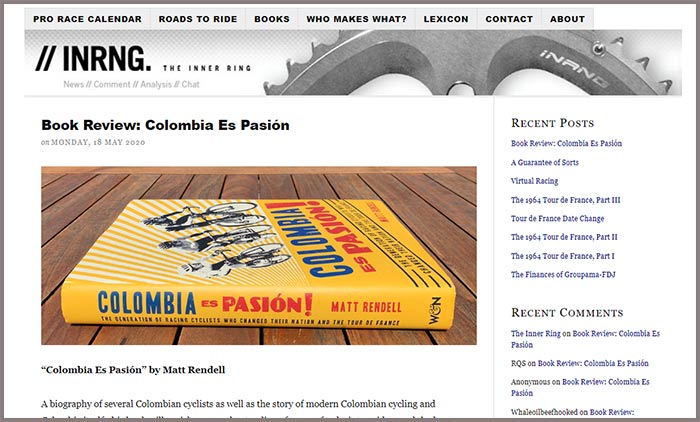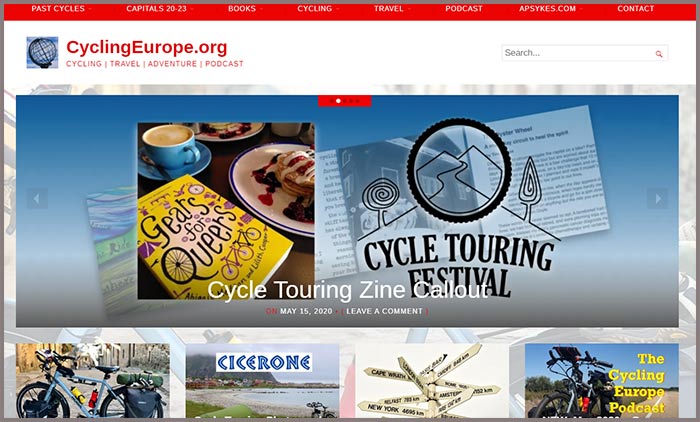 Also on the inside track is writer, teacher and cyclist Andrew P. Sykes, who shares his two-wheeled adventures across Europe at CyclingEurope.org. Andrew and Reggie (that's his two-wheeled fellow adventurer) have traversed the Scottish Highlands, the Pennine cycleway, and cycled from Spain to Norway together. While current circumstances may have stalled the journey for now, wisdom from their wanderings is still being posted in recent pieces on Gears for Queers' writers Abigail Melton and Lilith Cooper and the 2020 Tour De France contenders. And if you want more from Andrew, he's written three books focusing on his travels and presents his own podcast – perfect for listening to when on your (stationary) bike.
3. Wiggle Blog
Retaining its place at number three is the official blog of outdoor online retailer Wiggle. The team write about a variety of keep-fit sports/hobbies in sections Run, Triathlon, Competition and Gym alongside the Cycle channel, so there's lots to keep busy with while wiggling back into your Lycra shorts and cycling helmet for outdoor exercise is on hold. Though cycling can be a sociable pursuit, Wiggle has useful tips for covering significant distances on your bike while socially-distanced – check out 'Seven Ways to Enjoy Solo Cycling' (make sure your bike is in good form, stick to a known route, be ready to fix any punctures and pack extra snacks, to start).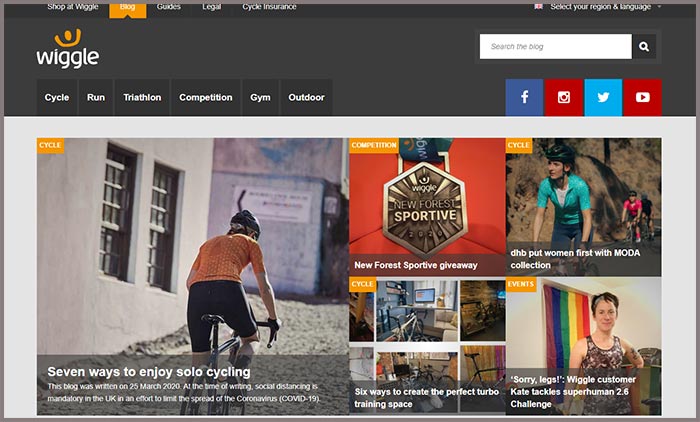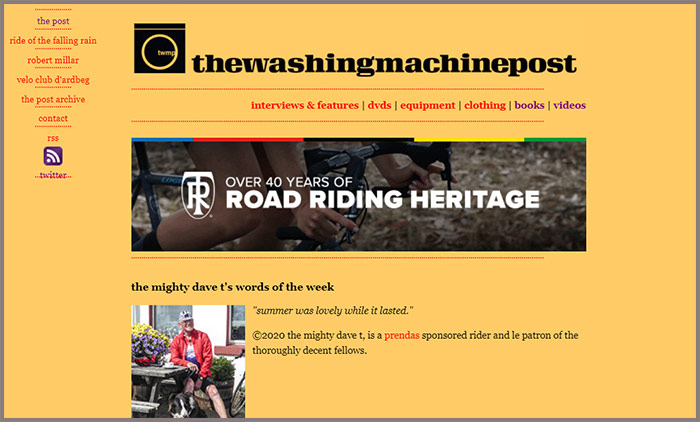 Scottish Hebrides-based blogger Brian Palmer created thewashingmachinepost – or TWMP, for short – in 1996 and covers way more than the wheels, posting interviews and features as well as DVD, equipment, clothing, books and video reviews. Along with the biking and blogging, Brian is the man behind the Ride of the Falling Rain (a 100-mile ride taking place every first Sunday in August – hopefully this one, too) and local Islay-based cycling club Velo Club d'Artbeg. If you're 'consistently caught at the wrong end of the peloton' like Brian at the moment, find out more about the pros – there's a whole section of the blog devoted to 1984's winner of the King of the Mountains jersey Robert Millar.
Here to answer questions like 'where should I ride?', 'where's the best place to stay?', 'should I take my bike or hire one?', 'how can I fit cycling into a holiday with non-cyclists?' is Epic Road Rides Clare Dewey. Also answering 'where is the best place online to help me ponder and plan my post-lockdown cycling holiday?', Clare's blog gives impartial advice on the best routes to take in the best places across the world – 'you'll find everything from 20-mile coffee runs to century rides with thousands of metres of climbing'. Take notes from sections including Destinations & Rides, Gear and Planning & Logistics to prepare for that first coffee run (because thousands of metres of climbing needs some working up to).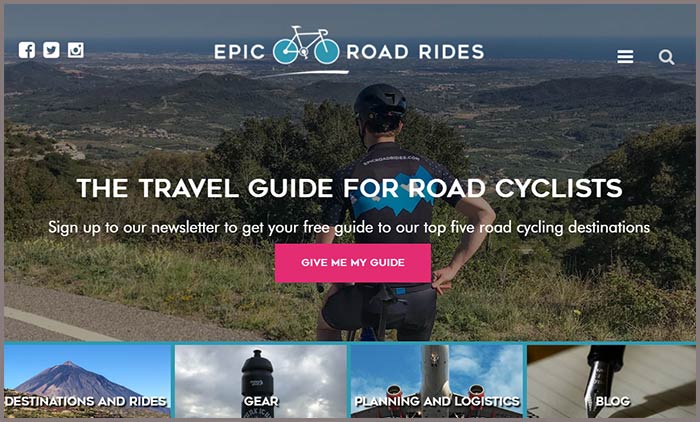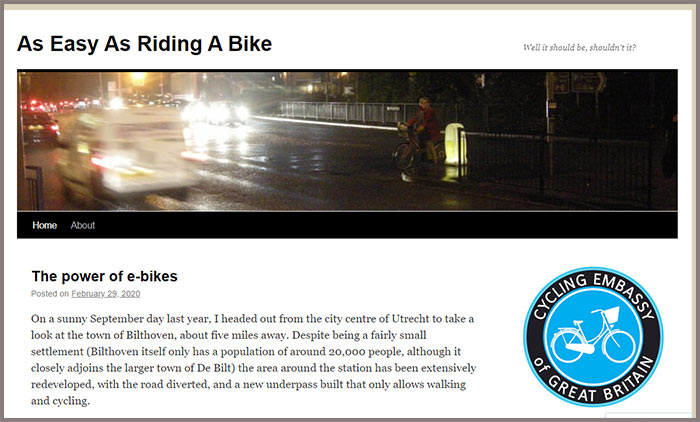 Getting into cycling as a hobby isn't always as easy as… well, you know. Blogger Mike Treasure started blogging in 2011 with a hope to inspire those with cobweb-covered cycles to get on their bike instead of into their congestion-causing cars. Since then, Mike admits 'I've changed my mind. People are not stupid. They will vote with their feet – or more accurately, their wheels. We should listen to the reasons people give when they say why they don't cycle'. A realistic approach to road safety is just part of the treasures Mike dispenses – read about e-bikes, dealing with junction turns and navigating sometimes-hostile road networks safely.
'Adventures in time and space in the strange universe of highways and transport' is what you'll find on The Ranty Highwayman. Sometimes a rant can be as good for the health as a walk, jog or bike ride, and professional engineer Mark is here to help – 'this is my way of exploring how we can enable walking and cycling in the UK's urban areas (as well as moaning about other highways and transport-related things!)'. Believing that unrestricted car use is not sustainable for towns, cities and their communities, Mark advocates for the improvement of cycling conditions with solid engineering. Engineers – and others – can join the debate fully tooled up with this blog's Resources, Glossary and Legislation sections.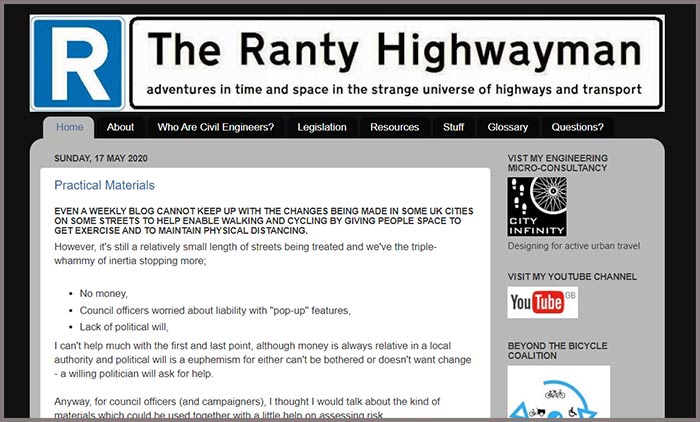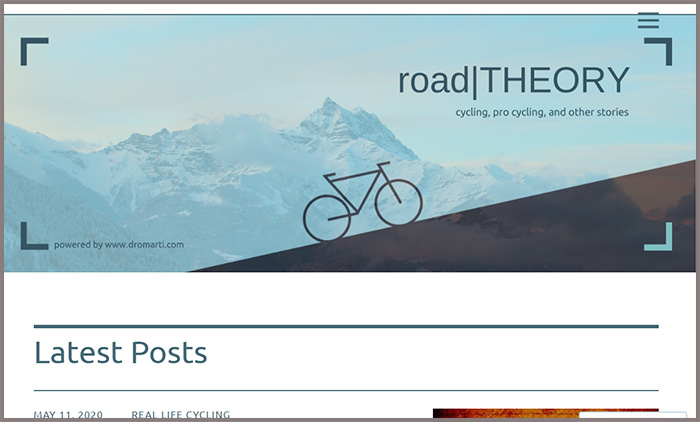 8. road|Theory
Pete Linsley shares his theories on 'cycling, pro cycling and other stories' on road|Theory, home to posts on road|Reality, road|Reviews, road|Behaviour and more. As well as features on well-known cyclists like Chris Froome and in-depth accounts of past Tour De France events, Pete provides reviews on cycling gear and the techy tools you need for smooth sailing riding. You'll also find his takes on lockdown cycling – recent posts include 'Free your mind and your (Lycra-clad) ass will follow', 'Cycling, frictionless, through lockdown', 'Virtual cyclist and corona-business' and – particularly useful – 'How to be a cyclist when you're "lockdown fit"'.
Former pro-snowboarder, PR consultant and model Juliet Elliott is here to promote women in the sport of cycling with her blog Bikes N' Stuff. Alongside the bikes, the 'stuff' includes top locations, training schedules, events and picking the right shoes for cycling routes. Bike Biz's 'Most Influential Woman in Cycling' (and one of YouTube's 'Women to Watch') Juliet also founded women's action, art and adventure title Coven Magazine, contributes to national and international publications, consults for brands, films and TV and has competed in road, track and mountain bike races. Basically, she's very busy with bikes and lots and lots of other stuff.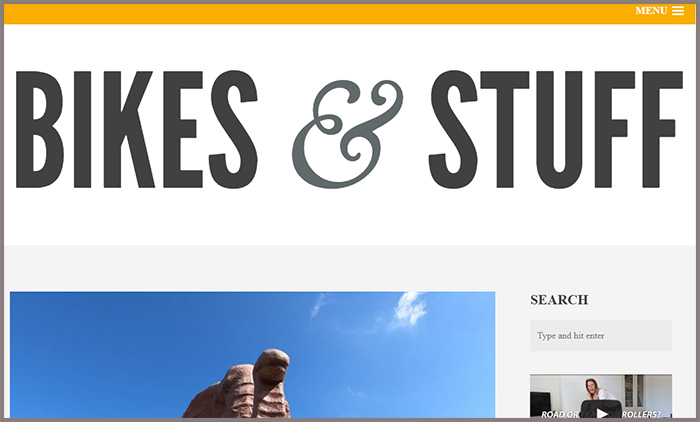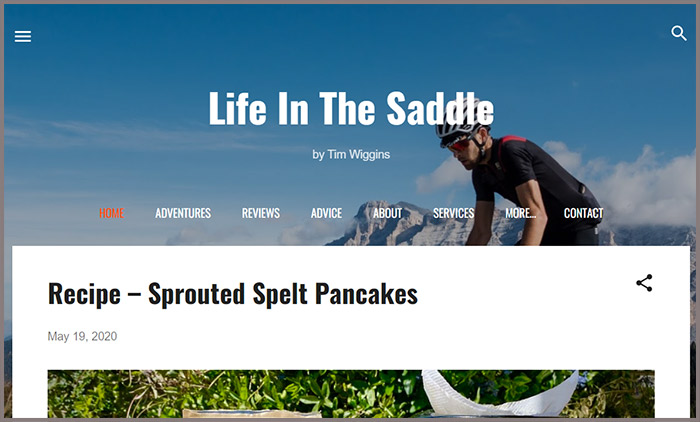 Back in the top ten UK cycling blog ranking is Tim Wiggins, who blogs his 'personal story of adventure cycling, endurance bike racing and insights into a two-wheeled world' at Life In The Saddle. Having founded his blog on his passion for the sport, Tim hopes to engage fellow enthusiasts and supply 'inspiration, motivation, and education for cyclists from all backgrounds and disciplines'. Cycle through sections including Adventures, Reviews and Advice and take some tips on overall health while you're here – Tim has secrets for improving sleep quality, top reads and a good recipe for sprouted spelt pancakes (that you'll be able to work off when the world opens back up).
The fundamentals of working with bloggers are the same as with traditional journalists at traditional media outlets: respect their schedules; take time to read their material to learn their interests; and only contact them if/when they want to be contacted.
Vuelio's blog ranking methodology takes into consideration social sharing, topic-related content and post frequency. Profiles of these Cycling blogs and their authors can be found in the Vuelio Media Database.
https://www.vuelio.com/uk/wp-content/uploads/2020/05/Cycling-ranking-featured.jpg
430
760
Holly Hodges
https://www.vuelio.com/uk/wp-content/uploads/2023/09/vuelio-logo-200px.png
Holly Hodges
2020-05-20 09:00:08
2020-05-20 12:25:13
Cycling Blogs UK Top 10