Last Updated 16/08/2017
1. //INRNG
//INRNG, aka The Inner Ring, was created in 2010 and focuses on cycling, for both amateurs and professionals, as well as focusing on things that get overlooked by mainstream media. //INRNG provides fans with cycling news, general chat, comment pieces, updates on events and analysis.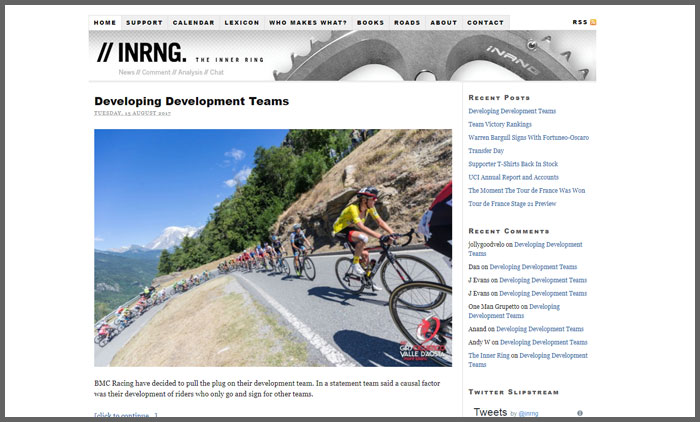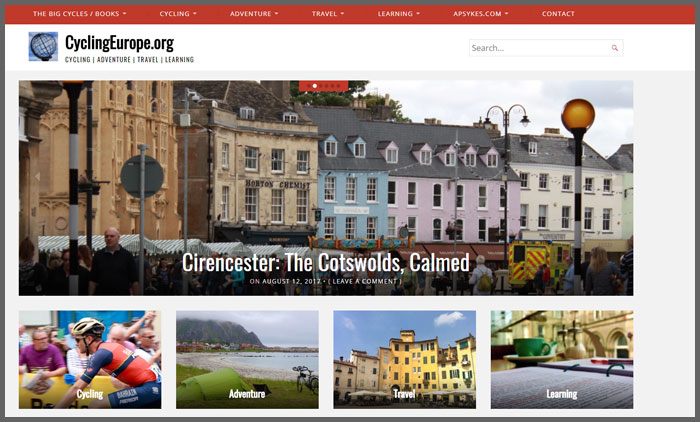 CyclingEurope was founded in 2008 by author, blogger, teacher and cyclist Andrew P. Sykes. With a love of the outdoors and adventure, Andrew writes about travel and cycling – filling readers in with his exploits while exploring. Delivering news on events, places to visit and new initiatives, CyclingEurope has a range of posts about cycling tours and Andrew's recently published travelogues.
Created and maintained by Andreas Kambanis to write about his love of cycling in the city, LONDONCYCLIST is a vital resource for finding bike-friendly routes in London. The blog focuses on the cycling world, and invites readers to learn about new cycling routes, accessories and other useful gear.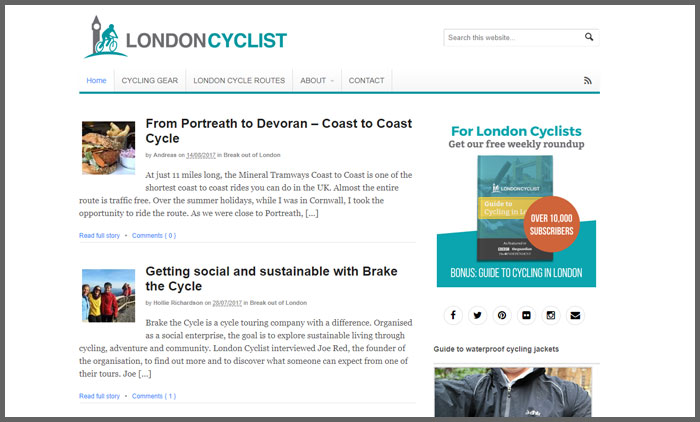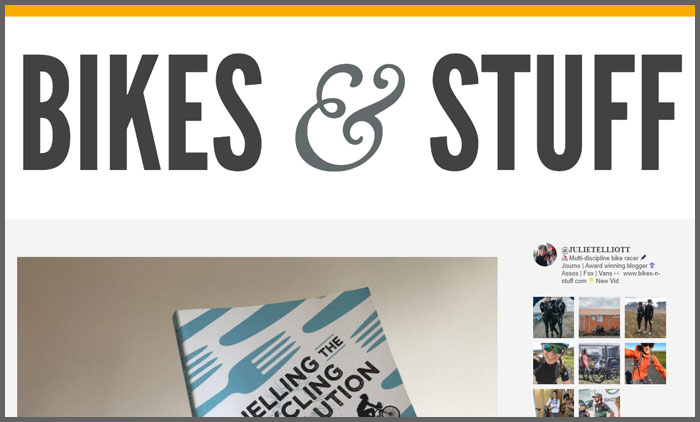 Regarded as one of the most influential women in cycling, former model, freelance journalist and PR consultant Juliet Elliott is the face behind Bikes 'N' Stuff, as well as a multi-discipline cyclist who competes in track, road and mountain races. Juliet is a fierce advocate for women in sport and uses her blog to promote the sport, as well as providing product reviews, nutrition advice and updates on her races.
Authored by Brian Palmer, The Washing Machine Post (TWMP) offers readers reviews on a range of cycling goods, accessories and products, clothing, bikes and books. Writing from the Scottish Hebrides, Brian provides detailed and honest posts alongside scenic photography of his rides.
As Easy As Riding A Bike was created by Mark Treasure to make cycling more valued and accessible in the UK, by changing the perceptions of the attractiveness of cycling. Writing about developments, issues, misconceptions and cycling news, As Easy As Riding A Bike promotes cycling by educating readers on various topics.
Challenge Sophie was created by adventurer and speaker Sophie Radcliffe to cover cycling, mountaineering, travel and other outdoor adventures. Always on a mission to push herself, Sophie shares her own experiences as motivational posts, guiding readers on how to challenge themselves and encouraging others to take up the sport.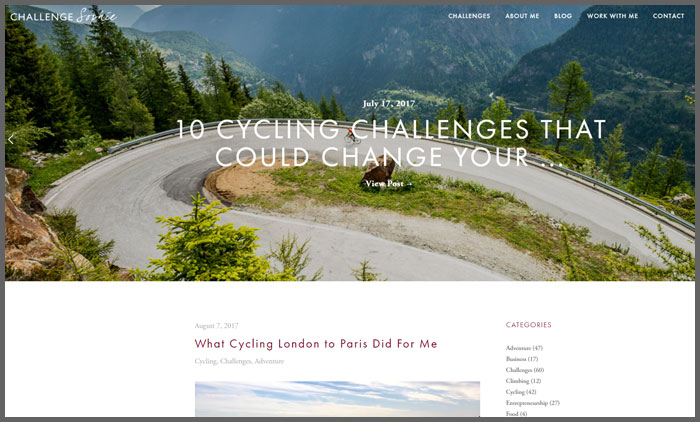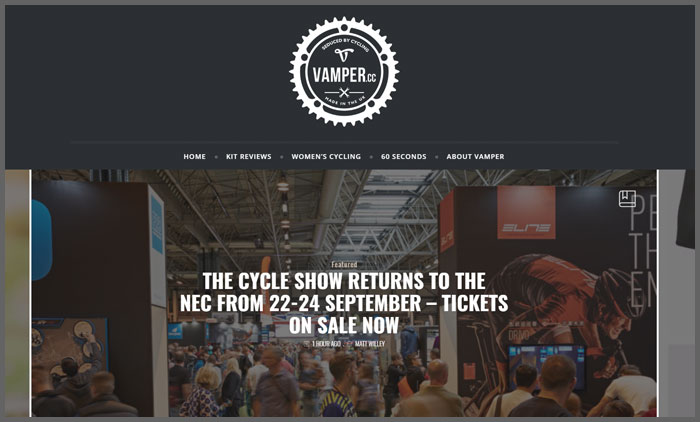 8. Vamper.cc
New to our cycling ranking is Vamper.cc – a blog created by Victoria and Matt that is dedicated to finding and presenting the best cycling style and performance. The blog offers readers cycling tips, accessory and bike reviews, events and interviews with cycling professionals. Giving both a male and female perspective, this blog is a go-to resource for anyone interested in cycling gear which can help to boost endurance and comfort.
Authored by blogger Simon Mac, The Human Cyclist is described as a 'love letter to cycling' and updates readers on Simon's tours, training and resting. Providing detailed posts and parables, with information on the most challenging but tranquil trails and the best places to ride, as well as advice on maintaining your fitness – The Human Cyclist is written to inspire others to ride.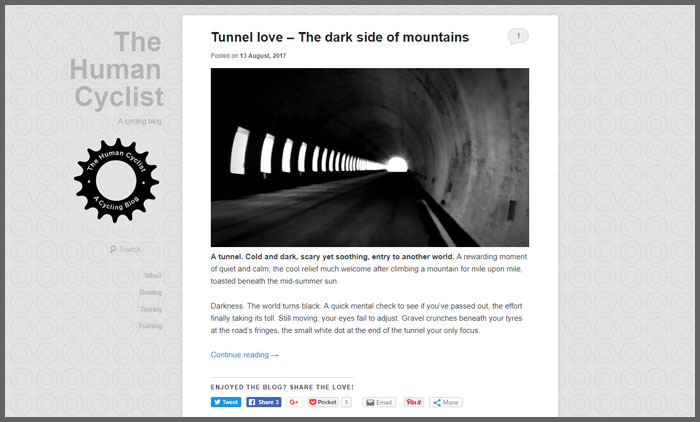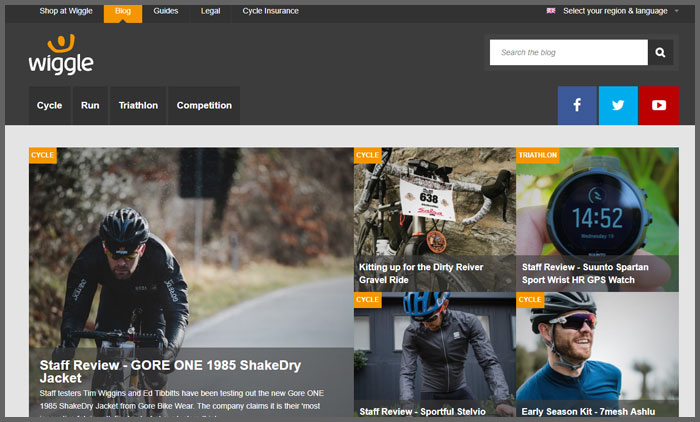 10. Wiggle
Brought to you by online outdoor retailer Wiggle, the Wiggle blog is updated by the staff. The blog offers staff reviews and news on the latest bikes, outdoor clothing and gadgets aimed at adventurers who love a challenge – whether they are avid cyclists, gearing up for a triathlon, or dedicated runners.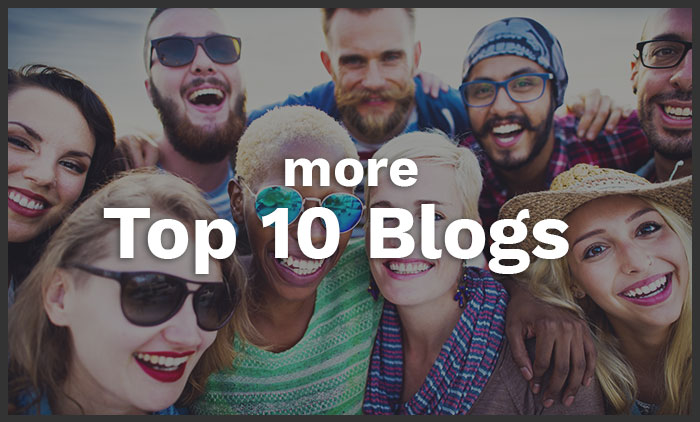 The fundamentals of working with bloggers are the same as with traditional journalists at traditional media outlets: respect their schedules; take time to read their material to learn their interests; and only contact them if/when they want to be contacted.
Vuelio's blog ranking methodology takes into consideration social sharing, topic-related content and post frequency. Profiles of these cycling blogs and their authors can be found in the Vuelio Media Database.
https://www.vuelio.com/uk/wp-content/uploads/2016/07/top-10-uk-blog-ranking-featuredimage.jpg
434
760
Holly Hodges
https://www.vuelio.com/uk/wp-content/uploads/2015/10/vuelio-logo-transparent.png
Holly Hodges
2017-08-16 08:30:08
2018-01-30 15:38:14
Cycling Blogs UK Top 10