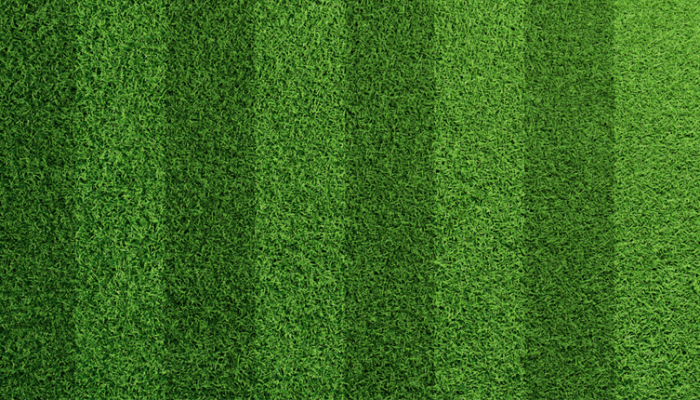 The Top 10 Football Blog ranking was last updated 15/07/2020.
Vuelio uses a proprietary algorithm to create these rankings, based on topic-related content in blogs on its system – you can read more about the process here. Our research team actively seeks out new blogs and bloggers for inclusion, but if you think we've missed someone, please get in touch to let us know.
Ahead on points in the UK football blog ranking is The Anfield Wrap, AKA TAW, which covers Liverpool FC for its legion of supporters. While going to actual matches is off limits for fans right now, they can still congregate here for everything to do with the club, in blog, podcast and video format. From its small start in 2011, TAW now attracts a huge audience to the site and across its social media channels. Who needs to be sitting in the stands when all the Liverpool FC-related gossip, news and updates as well as opinion, reaction and exclusive interviews are right here online?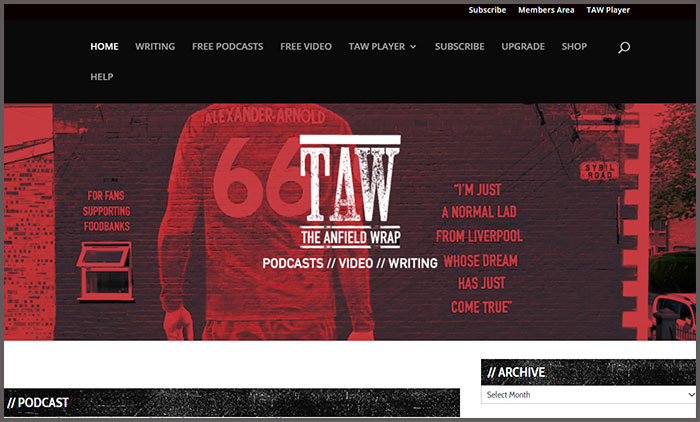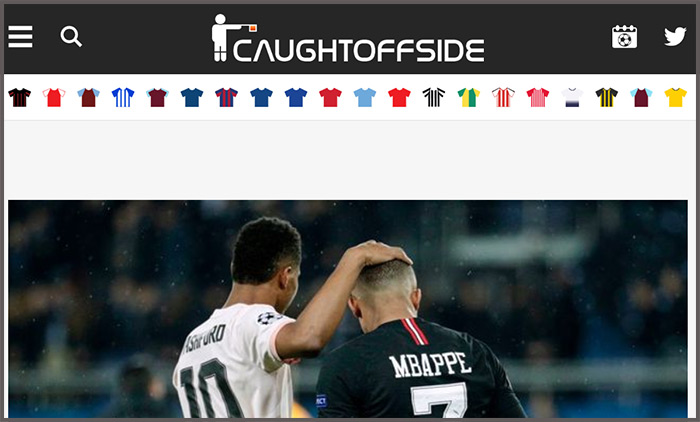 Don't be caught offside without the latest news of what's happening on the UK football scene – CaughtOffside claims to be the most popular independent football blog in the world, so is a safe bet for finding facts on the current state of the sport. As shown in the multicoloured garland of football shirts decorating the front page, all teams get equal love on this blog – click on the shirt of your team for the latest on its fortunes (Manchester City, Brighton and Hove Albion, Watford FC and more). And if you also like to keep up on the lives of footballers' wives, there's a dedicated (and drama-filled) WAGs section.
If you're a Red Devils fan, no doubt you've already declared allegiance to The Republik of Mancunia. Since 2006, blogger Scott – a 'season-ticket holding Mancunian, who loves his team, and isn't ashamed' – has sought to show a more optimistic side to football fandom (what he calls wearing his 'red-tinted specs'). Transfer news and statistics – aimed to be as realistic and evidence-based as possible – cover what's happening on the pitch, and the forum is where to join fellow fans for optimistic chat, even when the team aren't out and scoring.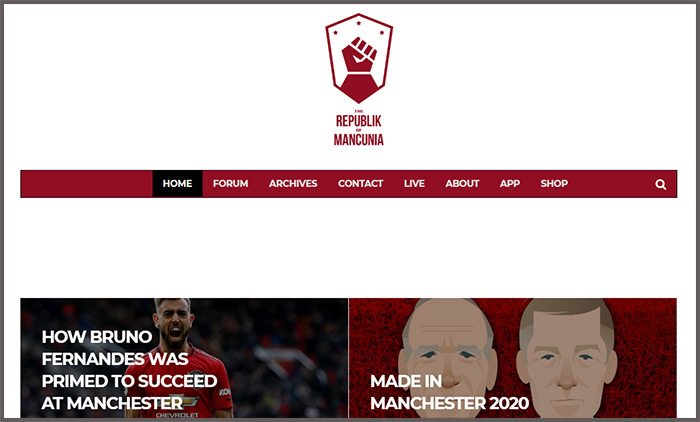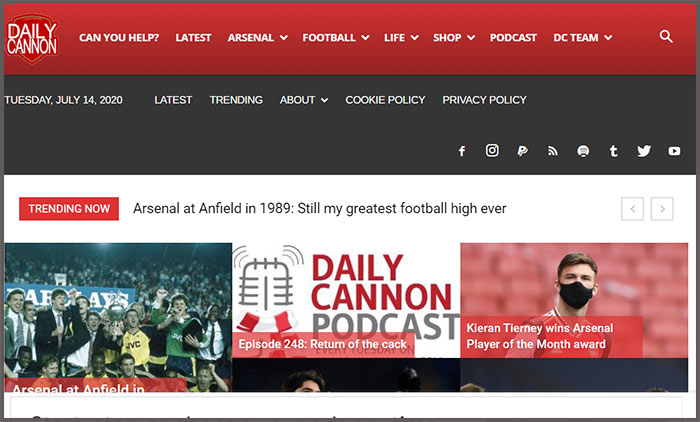 4. Daily Cannon
Still firing on all cylinders is Daily Cannon, which secures the last Champions League spot at number four. Launched in 2008 by Lee Hurley, and covering everything Arsenal (who you will be seeing more of later in the ranking), long reads are posted alongside shorter gossip pieces on transfers and updates on the club and its players. And when we say 'everything Arsenal', it's true – hover over the Arsenal channel and you'll find Arsenal Injuries, Arsenal Loan Watch, Arsenal History, Arsenal Opinion and even Arsenal Wallpaper.
Retaining its spot in the Europa League on this line up is The Spurs Web, whose team has been covering the fortunes of Tottenham Hotspur since way back in 1996, which you may remember as an important year for football. No, not just because of this blog's launch (but also that). Articles focus on match analysis, opinion pieces on the Europa League, and what it takes to win (advice the England team could have used back in 1996 – not that we're living in the past). The Spurs Web aims to snag readers with what it calls 'refreshingly honest, topical, and entertaining coverage' of the football club, which it supports through thick and thin. The team also welcome tips and suggestions for stories, so get in touch if reading that has… spurred… you on (sorry).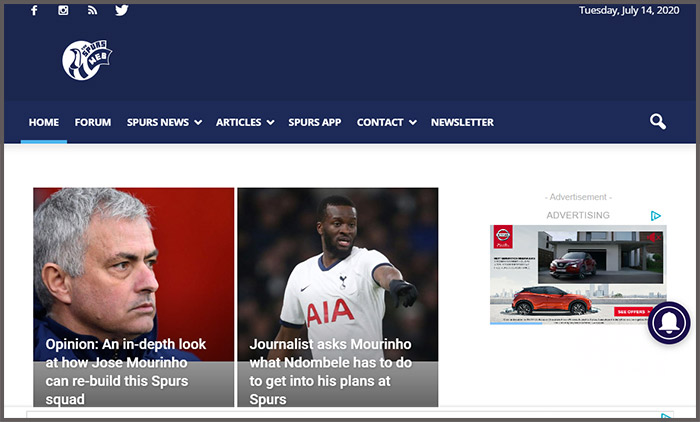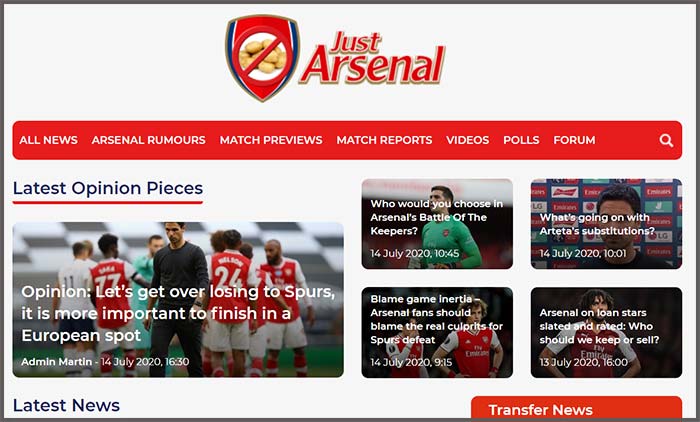 On the ball with more news from Arsenal FC is JustArsenal.com, whose team reports on news from the club, new transfers, match reports and statistics. Gunners fans can also read up on any rumours currently doing the rounds, watch videos from previous matches and check out previews for what's coming up. And for those who like to go deeper, this blog's writers like to consider the big questions: 'Who would you choose in Arsenal's Battle of the Keepers?', 'Who should we keep or sell?' and 'What's going on with Arteta's substitutions?' We don't have the answers – go check out the team's takes.
Part of also-magnificently-monikered The Fighting Cock, the Never Mind the B*llocks blog is new to the top ten football ranking this year. Part of a podcast, fanzine and website devoted to Tottenham Hotspur FC that's been going since 2011, the blog posts pieces from a team of writers with things to share about the sport and their favourite team. A recent take from the writers: 'What is wrong with me? It's like I can't help it. Spurs are a devastating drug, and I'm a full-blown addict'. For those who feel the same, Never Mind the B*llocks is where to go for a football-fix.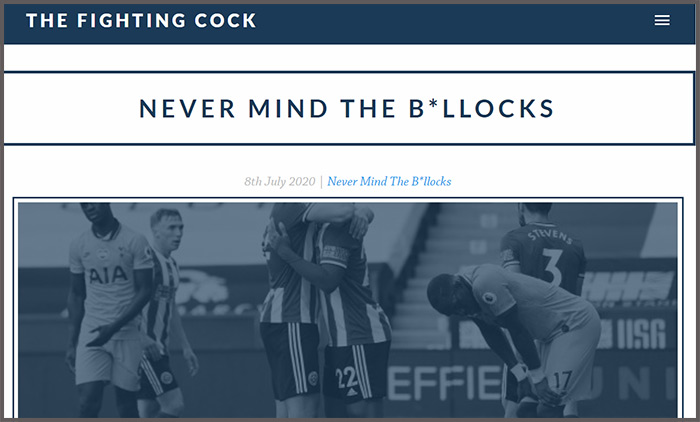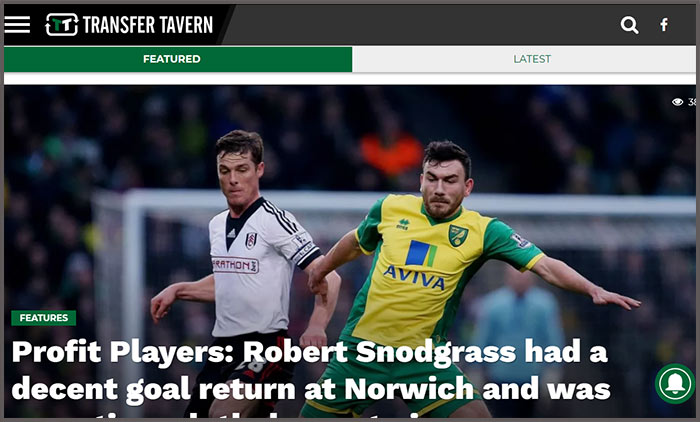 Returning back to the subject of the sport at large, our next top ten blog is Taylor Williams' The Transfer Tavern. The 'one stop shop' for transfer rumours, news and breaking headlines helpfully splits its gossip on who is going where by team, and encourages its readers to 'pull up a bar stool' and join informal conversations online just like those they'd have at the pub. Here it is 'always happy hour', though red cards can be raised if fan debate gets too rowdy. Just want the facts? Read up on Fixtures & Results and see what's happening in the League Table.
Taking the same tactical position as last year's ranking is The Tomkins Times, focusing on Liverpool FC and originally created by author Paul Tomkins. Previously bigged-up by The Independent on Sunday as 'perhaps the most intelligent guide to LFC available on the internet', The Tomkins Times requires subscription for much of its content, which provides fans with analysis from its current roster of writers particularly passionate about the football team. And while the sport has been vastly changed during the current pandemic, there's also a Coronavirus/COVID-19 Discussion Page under the Debate section.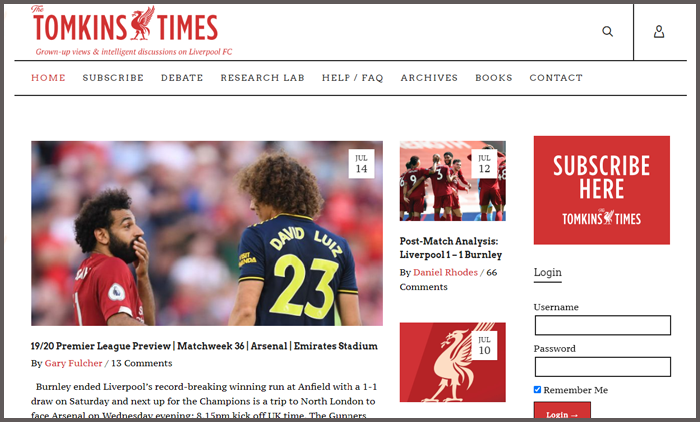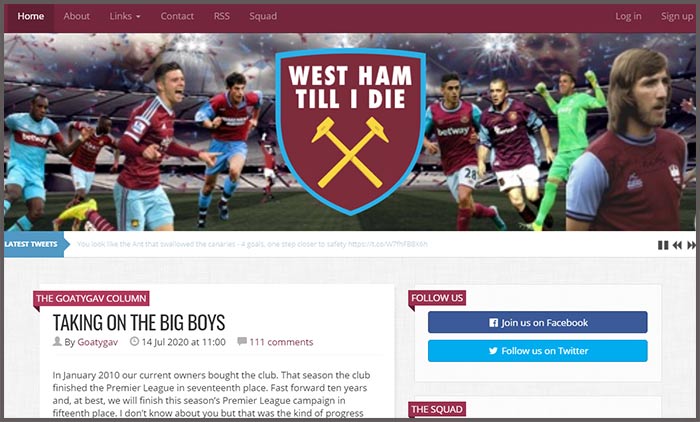 And finishing our top ten is a blog from a familiar face to the Vuelio blog rankings – Iain Dale's West Ham Till I Die. Well-known for his political commentary on radio and in print, here Iain focuses instead on news from West Ham Football Club. Match reports from West Ham games, and columns from regular writers like 'HamburgHammer' and 'Goatygav' join Iain's posts on the team as well as a nifty section on the squad, outlining the key stats for each West Ham player. Did you know that Pablo Zabaleta is 178cm, and had made 37 appearances as of May 2018? Us neither – go find extra stats if you're dying for more from the Hammers.
Collaborating with bloggers requires mutual respect and understanding: respect their schedules; take time to read their content to learn their interests; and only contact them if/when they want to be contacted. You can see more advice in our blogger spotlights.
Profiles of these craft blogs and their authors can be found in the Vuelio Media Database.
https://www.vuelio.com/uk/wp-content/uploads/2020/07/Top-ten-football-blogs.png
430
760
Holly Hodges
https://www.vuelio.com/uk/wp-content/uploads/2023/09/vuelio-logo-200px.png
Holly Hodges
2020-07-15 08:00:37
2020-07-15 09:33:32
Football Blogs UK Top 10