4 PR tips for Monzo success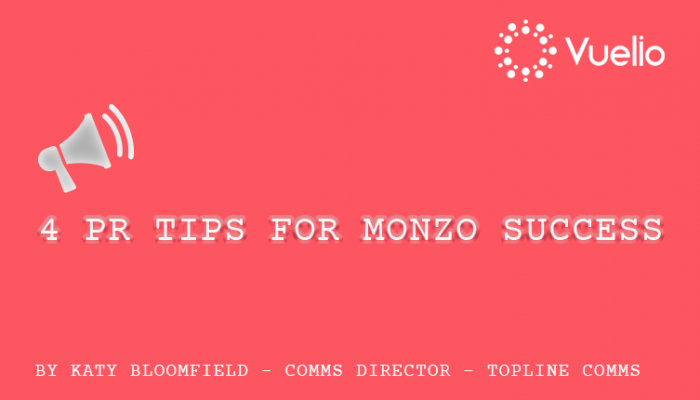 This is a guest post from Katy Bloomfield, Comms Director at TopLine Comms.
Monzo is arguably the UK's biggest fintech success story to date. Just look around any London underground station and you'll see hordes of commuters tapping in and out with their bright coral cards. Millennials are mad about Monzo; they make up its biggest market and help to drive its popularity, which continues to spread like wildfire.
In 2018, Monzo welcomed its millionth customer and secured new finance through customer crowdfunding, boosting its value to more than $1bn (£787m). Not bad for a digital bank that first launched in 2016. From its semi-humble beginnings, Monzo has grown into an industry leader. Plenty of start-ups want to emulate its success, and many PR agencies would love to work with them.
There is no doubt that Monzo's spectacular trajectory is a great story, but it's important to remember that a number of factors contributed to its rise. Here are four lessons PR firms and professionals can learn from Monzo.
1. Pay attention to timing
When it comes to PR, there is little better than being in the right place at the right time. To maximise this sweet spot, you need to understand your market fully – that includes your target audience as well as your competitors. Pay attention to trends, behaviours and events – this will help you identify the perfect moment to announce yourself.
Monzo, of course, could not have timed its arrival better. The 2008 recession did some serious damage to banks' reputations, and consumer confidence hit rock bottom. The financial services industry worked hard to rebuild its reputation, but an increasingly tech-savvy customer base wasn't satisfied with more of the same.
Digital disruptions were upending all sorts of status quos, from hailing a taxi (Uber) to booking accommodation (Airbnb) – and banking was no exception. In 2016, the foundations for a fintech revolution were already in place: 47% of the world, for example, used mobile banking. Monzo was not the first fintech to launch, but it launched during a perfect storm of opportunities and, crucially, launched with a better product than its competitors.
PR lesson: Keep a close eye on the market, and make sure your communication is well-timed.
2. Play the long game
Good timing requires patience, agility and a stockpile of content to release at the right time. It doesn't pay to publish everything all at once, you'll simply overwhelm your audience and drown them in messaging. Monzo used incremental communication tactics like focus groups, online surveys and social media teasers, and only then did it launch its first campaign.
Monzo also knows how to whet appetites and seed interest. The company cleverly staggers news, product updates and announcements: and the strategy works well. Founder and CEO Tom Blomfield recently penned a blog post on the company's planned updates for 2019, introducing an exciting next stage of features that could add some serious value to Monzo's core offering. The response has been positive, loyal and anticipatory – you can almost 'hear' the bated breath.
PR lesson: Keep your powder dry.
3. Know your audience
Monzo knows its target audience inside out. The company is enmeshed in millennial culture; using collaboration to create a democratic business. The Monzo Community Forum is one such example, encouraging customers to become advocates and evangelists known as 'Monzonauts'. This community is treated to special events and their insights and ideas are fed back into product development for testing in Monzo Labs.
The Monzonauts are such an integral part of the bank that when the company's original name, Mondo, faced a trademark challenge from another business, they came up with 'Monzo'. By allowing Monzonauts to guide the company's development and get involved, Monzo created a product that people want and will recommend. It worked; early referrals accounted for 80% of the company's early-stage business.
PR lesson: Focus on the customer. They are your biggest asset.
4. Get out there and network
Blomfield has a rather rarefied circle of friends which assisted the company's ascent. That said, he had to get out there, meet them and convince them of his idea's viability – which he did. Blomfield cofounded GoCardless, a business aimed at streamlining direct debit collections, with two friends while studying at Oxford. They pitched the start-up to Y Combinator, an innovation incubator in Silicon Valley and in the process, met – among others – Mark Zuckerberg.
In 2014, Blomfield became Chief Technology Officer at Starling Bank. This was one of the UK's first fintechs to launch after the financial crisis. During this time he met and worked with many top industry people, some of whom now work for Monzo or helped cofound it.
PR lesson: Building a business relies on making good relationships with key people. Make sure your communication efforts are targeted at the brand's network of contacts – as well as its customers.  
Whether you're a PR agency, or looking for one, keeping these four tips front and centre at all times will give your marketing efforts more oomph in the highly competitive world of fintech.
https://www.vuelio.com/uk/wp-content/uploads/2019/03/Monzo-test.png
430
760
Phoebe-Jane Boyd
https://www.vuelio.com/uk/wp-content/uploads/2019/09/vuelio-logo.png
Phoebe-Jane Boyd
2019-03-06 09:00:50
2019-03-06 14:55:55
4 PR tips for Monzo success