A Crafty Blogger Spotlight with Claire Donovan, Heart Handmade UK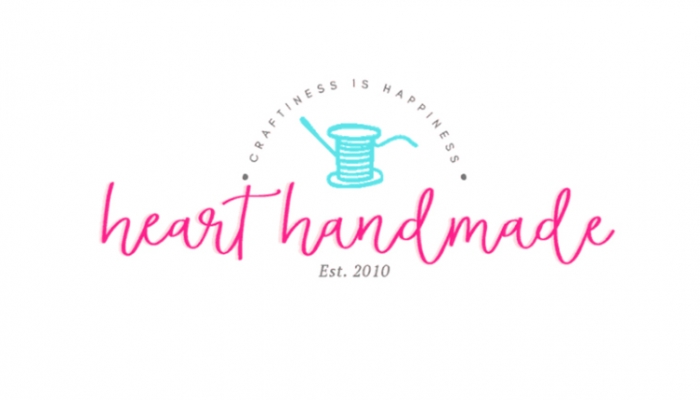 If the rising summer heat has you happy to stay indoors this weekend, try out a new hobby with help from Claire Donavan of Heart Handmade UK. Crafting doesn't have to be too complicated, as Claire shares tutorials and mini-courses that won't take up too much energy but will result in something pretty cool. Unless it's inking calligraphy while on a new Chaise Lounge – leave that craft to the experts…
What keeps you passionate about craft and blogging about it?
Craft has been the one constant in the past 13 years that has been great for my mental health. The fact that I was able to deal with a mystery illness that ended up being a rare genetic disorder (which we didn't discover for eight years), experiencing a brand new seizure disorder, years of hospital visits, tests, becoming bed bound then housebound…
Crafting and creativity is the light that shone for me and continues to shine. Blogging about it is my way of sharing my skills and contributing to society through my business. It's part of a great coping strategy that also ends up decorating my home in the most stunning way. I'm physically unable to do a lot of things, but I can make stuff and do it well. Why would I not cultivate that passion!?
How have you had to change your approach to blogging, or your content, during the COVID-19 crisis?
My approach hasn't really changed since I've kind of been in lockdown since 2009 and the skills people wanted to learn during that time were all on my site. Either through tutorials, list posts or mini-courses, as everything I do is fairly low energy/high ROI and almost all indoors.
Do you think those who took up knitting/sewing/other traditional crafts during lockdown will continue now it's being relaxed?
Some will, of course, some will have found it to be incredibly relaxing and others may have found it an intensely frustrating experience.
One craft you'd love to master but haven't quite managed it yet?
Dip pen calligraphy. After an incident with some hot pink ink and a custom-made Chaise, I haven't returned to dip pen calligraphy. But I love it; the style is breath-taking. Those upstrokes always caused problems but I'm able to do it on the iPad now so I may venture back to dip pen calligraphy at some point.
Favourite crafty ideas you've shared on your blog?
There are a decades' worth on there! I've created a lot of crafting templates, craft magazines and tutorials as well as having some expert guests sharing their favourite projects. My favourite craft is quite possibly the Ping Pong Polka Dot Party Lights I created using Sharpie paint pens.
How important is it for people to pay crafters and artists for what they create?
It's incredibly important. If anyone does work, they deserve to be paid in some way. Whether it's the reader of the free tutorial who really enjoyed it and 'pays' by sharing or clicking on an ad that interests them, or a brand who wants to collaborate, with a budget included. Either way, folks should be compensated if they make things for you that you use and enjoy.
How do you collaborate with brands and which kind of brands do you really like working with?
I create a photo or video tutorials or even collaborate by having something like a year-long Pinterest marketing campaign by creating a tutorial a month and sharing the collage on Pinterest to my 1.2 million followers.
For PRs looking to work with you and your blog/website, how would you prefer they approach you and with what kind of content?
If PRs want to get in touch with me, I prefer personalised emails instead of PR blasts (which I automatically delete). If they want me to do something specific, reach out, say hello, tell me what is coming up and what you would love for me to do with that information. It saves us both a lot of time and makes work much easier for us both, and helps to avoid disappointment.
Kids craft and creative content is always popular with my readers; if promoting a new book, instead of sending me a copy to review, create a guest post with an example project from the book and I would happily add it to my site.
What other blogs do you check out regularly (whether craft-related or not)?
Mostly industry-related blogs like RankMath, Neil Patel and Skimlinks. A few crafty/arty blogs I enjoy are EasyOnTheTongue, KerryMayMakes and ZiniaRedo.
https://www.vuelio.com/uk/wp-content/uploads/2020/08/Heart-Handmade-UK.jpg
430
760
Paul Burvill
https://www.vuelio.com/uk/wp-content/uploads/2019/09/vuelio-logo.png
Paul Burvill
2020-08-07 10:57:34
2020-08-07 10:57:34
A Crafty Blogger Spotlight with Claire Donovan, Heart Handmade UK