Apple Watch: How smart is it for marketers?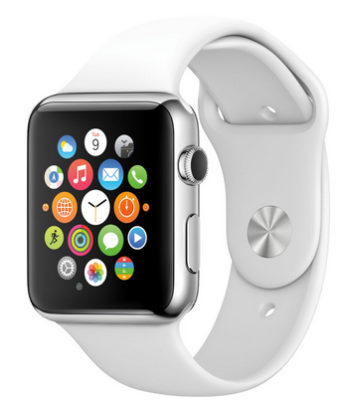 The launch of the Apple Watch this week has been a hot topic online with news, reviews, first impressions and cheeky references trending across social networks. The so-called smartwatch which comes equipped with advanced functions including voice recognition, contactless payments, networking apps and time,  undoubtedly marks the next step in wearable  technology. As Apple CEO Tim Cook said at the 'Spring Forward' launch event in San Francisco on Monday: 'The Apple Watch is the most personal device we've ever created, it is not just with you but on you. It has to be personal with the ability to customise it.'
Cook's statement however, applies as much to user preferences as it does to marketers who will need to make sure their ads are also customisable yet non-intrusive for consumers to carry 'on' them.
For advertisers, this calls for a change in creative and communications strategy.
'The Apple Watch demos clearly showed that content has to be reimagined for the device – repurposed experiences from desktop and iPhone simply won't work. Not only is the visual real estate smaller but the unique features of the Watch are a treasure trove for developers to explore and make more meaningful, personal connections with Apple Watch users," said James Chandler, global mobile director of Mindshare to The Drum.
A report by AdWeek  further highlighted the importance of using restraint in the frequency of messages put out. Dan LaCivita, CEO of Firstborn, a creative digital shop, warned agencies on the effect push notifications could have on smartwatch wearers. 'Because the Apple Watch is largely notification-based, and it will be tempting to tap into that, there is a huge risk of being irritating when marketing to users—a constantly vibrating wrist will get old fast,' he said. 'So marketers are going to have to be very edited in terms of frequency and value when it comes to creating Watch-based alerts.'
Experts quoted in the report also advise marketers to keep their communication concise, timely and contextual on the smartwatch to be able to deliver the message in as much time as it takes to check time on the watch.
It is clear therefore that creative agencies and marketers will need to revisit the drawing board to make sure the ads they create fit the platform while delivering value for both brands and users. However, until Apple is able to justify the price of the watch (which is tagged between £299 to £13,500) and prove its long-term value, we are only likely to see big-budget brands such as Facebook, BMW, Nike, Twitter, Uber etc, willing to take a chance on it.
Ernest Doku, technology expert at uSwitch.com told MailOnline:  'Apple is asking us to pay for a level of technical craftsmanship and prestige – but this is unchartered territory and Apple is stepping into one of the few arenas where it's still outclassed.'
The same holds true for its users. Apart from die-hard Apple fans, the tech-giant will need to convince users of its unique functionality that is not replicated by the smartphone.
Why spend $349-$10,000 on an #AppleWatch when you can do this? #wearabletech pic.twitter.com/jUKEQdSkMJ

— Martin D. Gallagher (@MartinGsq) March 9, 2015
Whether Apple can win mass marketers and users – remains to be seen. But for now, marketers need to evaluate how smart they want their strategy to be.
https://www.vuelio.com/uk/wp-content/uploads/2015/03/apple-watch.png
406
350
Priyanka Dayal
https://www.vuelio.com/uk/wp-content/uploads/2019/09/vuelio-logo.png
Priyanka Dayal
2015-03-11 12:56:09
2015-03-11 12:56:09
Apple Watch: How smart is it for marketers?