Baking Blogger Spotlight: Becky Excell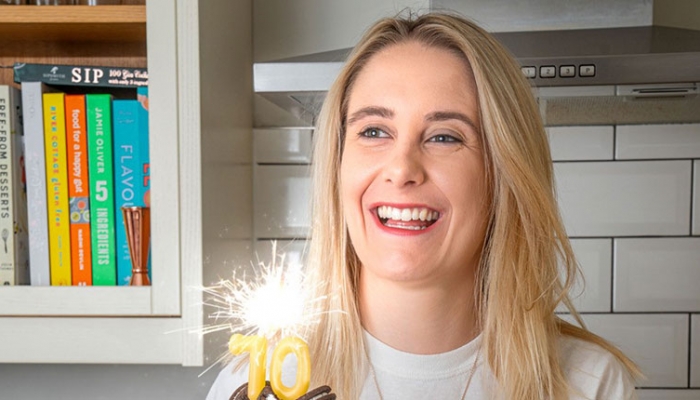 Reuniting people with the cakes and cookies they may not have been able to eat in years is just one of the things gluten-free baker Becky Excell loves most about being a blogger. Read on for some of her favourite recipes shared over the years and one she's still yet to fully master…
What keeps you passionate about baking and blogging about it?
I would love to say it's because I'm so incredibly self-motivated, but in reality, I'm definitely not! It's actually all the wonderful comments that my followers leave me that keeps me motivated, but most of all it's when they tag me in photos of what they've baked using my recipes. That undoubtedly keeps me infinitely passionate and motivated! Plus, as I'm a gluten-free baker, it makes me so happy to know that I'm reuniting people with bakes they may not have otherwise eaten in literally years.
How have you had to change your approach to blogging, or your content, during the COVID-19 crisis?
It was definitely a change that I had to react quite quickly to. Much like with regular flour, gluten-free flour was incredibly hard to come by for at least a solid month or more. So instead of the usual sponge cake, cookies and brownie-based recipes, I had to get my thinking cap on and try to make as many 'flour-free' recipes as I could. Fortunately, recipes like no-bake cheesecakes only require gluten-free biscuits which you can bash up for the base and then the filling is pretty simple. I felt like baking became a lot of people's escape from the madness (and boredom) of the COVID-19 lockdown, so I tried really hard to create and post recipes that were simple, quick and omitted ingredients that were hard to come by.
Funnily enough, I think most people preferred the easy, quick recipes anyway!
Have you tried any of the recipes that have gone viral/been popular during lockdown?
For a few solid weeks, the entire world seemed to be making banana bread, so naturally, I had to whip up one or two (or seven) loaves of my own! I'm not entirely sure why banana bread became the official cake of lockdown, but it is one of those comforting, wholesome bakes that you absolutely cannot go wrong with. I didn't try the Dalgona coffee, that everyone seemed to love, though… as I don't like coffee!
What's the worst bake you've ever attempted to make?
How long have you got?! I'm honoured that I've been lucky enough to be featured in Vuelio's best baking blogs, as I'm a bonafide amateur baker who never learned anything past food tech at secondary school! And while I'm super proud of all the content I post that appears to be perfect, behind it all is a lot of failure mixed with trial and error to get to that perfect bake.
So, my worst bake is actually one of my own recipes! There was an embarrassing period where everyone was making my 'Bruce Bogtrotter' chocolate cake really successfully, so I thought I'd bake it and update the photos on the blog post. But I just kept messing it up! It was totally sunk in the middle every time and I just couldn't work out what I was doing wrong. I eventually got there in the end, but there was a period where I said to Mark, 'I can't even make my own recipes anymore!!'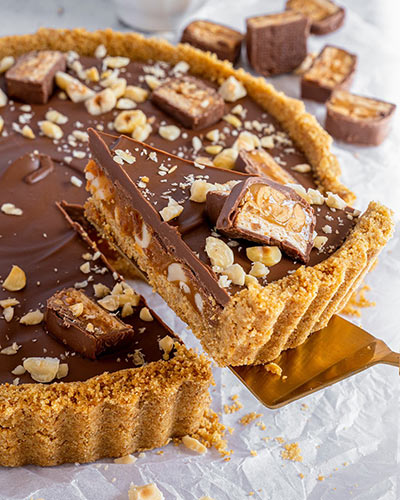 Best-tasting thing you've ever made?
It's got to be my no-bake Snickers caramel tart that I posted a few weeks ago – it's probably the most indulgent, sweet, nutty and creamiest thing I've ever made, all in a single slice. It has a buttery biscuit base, topped with a caramel that's packed with chopped, roasted nuts. Then, pour on a chocolate ganache mixed with peanut butter and top with chopped Snickers bars. Pure heaven! Best of all, it's totally no-bake, so that means no gluten-free flour or oven required.
For those who haven't yet started baking, which basic tools would you suggest they stock the kitchen up with?
For me, an electric hand mixer is probably the one thing I'd always recommend that any aspiring baker should start with. It can make baking so much quicker, easier and they can be relatively inexpensive too. Without one, baking can seem like really hard work, especially when it comes to whipping up buttercream icing or meringue.
Failing that, a silicone spatula is priceless too. Unlike a wooden spoon, you can use it to properly scrape down the sides of your mixing bowls to ensure that you mix evenly and don't waste a drop.
Favourite TV chefs?
This is probably really boring, but Jamie Oliver is the first TV chef that springs to mind (not that he is boring!). Purely because he could be making the most convoluted, complicated thing in the world, yet you still turn the telly off thinking 'yeah, I'm definitely now capable of making fresh pasta from scratch' – even though I definitely can't!
Otherwise, I've always loved Ching He Huang – her happiness is infectious and she makes a lot of really quick dishes from scratch, using simple, fresh ingredients. I think that's actually really hard to do!
Oh and of course, the Queen herself, Mary Berry. Who doesn't love her?!
How do you collaborate with brands and which kind of brands do you really like working with?
I usually collaborate with brands through Instagram, YouTube and on my blog by creating sponsored recipes. I love collaborating with brands and using their products directly in my recipes – often it'll help me to come up with new and exciting bakes that I'd never have even considered otherwise.
But beyond using products as literal ingredients in my recipes, I always enjoy teaming up with brands who ask me to showcase their appliances. I've worked with Panasonic showcasing how to make fresh gluten-free bread in their breadmaker; something that my audience was already genuinely interested in and always asked me about. I also worked with Tefal to demonstrate how to make gluten-free cakes in their quirky Cake Factory machine. It always presents a new challenge and more often than not, it's an appliance than can take the stress out of baking, which is never a bad thing!
For PRs looking to work with you and your blog/website, how would you prefer they approach you and with what kind of content?
They can happily just contact me via the contact form on my website, which will land straight in my inbox. As I said, nine times out of ten, I create sponsored recipe posts on my blog or on social media, using a product to create something that I know my followers will love.
Of course, the one caveat is that the product has to be gluten-free. I do get emails asking me to collab, then I find out that the product isn't even gluten-free! I'm passionate about food photography, but I love creating recipe tutorial videos over on my YouTube channel, too. So either works for me!
What other blogs do you check out regularly (whether baking-related or not)?
I love reading Carrot & Crumb which is a baking blog (not gluten-free) by Benjamini Ebuehi from The Great British Bake Off. All the photography is beautiful and the cakes aren't the average bog-standard bakes that you might expect. She definitely knows how to experiment with unique ingredients and creative flavour combos to create something totally new.
https://www.vuelio.com/uk/wp-content/uploads/2020/07/Becky-Excell.jpg
430
760
Holly Hodges
https://www.vuelio.com/uk/wp-content/uploads/2019/09/vuelio-logo.png
Holly Hodges
2020-07-17 15:06:46
2020-07-17 15:06:46
Baking Blogger Spotlight: Becky Excell