Baking Blogger Spotlight: Becky Excell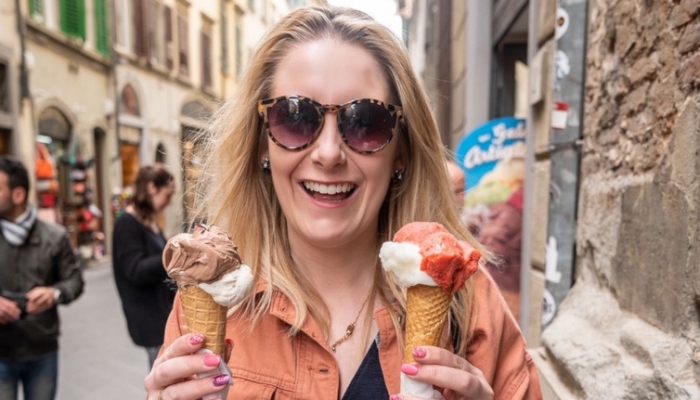 Becky Excell (Yes, like the spreadsheet but with an extra L) is a London-based blogger focusing on gluten-free food and travel. After being diagnosed with gluten-related health issues in 2013, Becky thought she'd never be able to enjoy good food again – fast-forward to now, and Becky's blog is filled with free-from recipes for the meals she loves.
Reuniting readers with food they've missed is just part of what Becky enjoys about blogging – read on for some of her favourite bites and the benefits of baking with a blog instead of a cookery book.
How did you get started with baking and blogging about it?
I know this should probably be a little more positive-sounding, but it all started out of a place of pure frustration! When I was first told I had to go gluten-free, I basically had to kiss goodbye (not literally, I wasn't even allowed to do that!) to all the food I loved.
It was a really tough time where I actually became completely fed up with food because I could never eat it 95% of the time. So instead of being constantly frustrated with food, I decided to get my apron on and recreate all the things I missed. And not surprisingly, most of those things were cakes!
And though it came as a surprise to me at the time (when it probably shouldn't have) it turned out that tonnes of people missed eating all the same things I did too. So I started sharing the same recipes on my blog and social media and here we are six years later!
What's your favourite type of post or regular content?
My favourite types of posts are recipes which are incredibly easy, without a mountain of hard-to-obtain ingredients and simple instructions.
That's what I've been aiming for these days in all my recipes, though it's not always possible! I really want all my posts to be accessible to complete beginners right up to expert bakers and cooks.
My gluten free chocolate orange cake is a great example of that, I think – there's about ten ingredients and just ten steps to making it. I don't want to put people off trying one of my recipes before they've even attempted it!
Are there particular bakes you don't like attempting/writing about, and why?
To me, when I think of baking, I always think of cakes. But when I think about it, bread is a massive part of baking too.
But if you search on my blog… you will find zero recipes for bread! And it's certainly not because I don't like bread – it's because gluten-free bread is such a tricky thing to master.
Gluten is such an integral part of bread and I've found it so hard to get the same results in gluten-free bread. Like I said, I love to recreate recipes for things I miss eating, but the bread I've created in the past just doesn't taste like the fluffy, cotton-wool-like bread that I truly miss.
It's not surprising that some of the best gluten-free bread brands out there are run by people with science-y backgrounds. It really is a science, but I hope to master it one day!
Savoury or sweet?
It's gotta be sweet! Even though I eat savoury food 90% of the time, there's something special about that little sweet treat that I always look forward to!
Naturally, we have to ask about the Great British Bake Off – did you watch it? Who did you think was going to win this season?
Yes! I've been a religious viewer for years as most people have been, but they sometimes lose my attention to Instagram during some of the odd bakes I've never heard of!
I wanted Henry to win purely because he used to call everyone 'darling' and his ties, of course!
Have you noticed baking becoming a more popular/mainstream hobby as the popularity of the show has grown?
Oh, definitely – I was at The Cake & Bake Show recently and it was absolutely heaving! I think that's when I realised just how much your average person truly adores baking.
With television shows, YouTube tutorials and recipe books being a great source of learning for new bakers, what are the plus points for baking blogs as a medium?
I might be biased, but blogs are the best way to consume a recipe in my mind – preferably a combo of YouTube and blogs, ideally.
I always used to get frustrated with old recipe books where a recipe would have zero photos – how on Earth am I supposed to know what I'm making?! Best case scenario, you'd get one photo and a single page of the book (or less) dedicated to each recipe.
But on a blog, you can dedicate an incredibly comprehensive post to a single recipe, filled with ten photos and an instructional recipe video to boot. It goes without saying that all of that makes such a massive difference when you're making something you've never attempted before!
Are there any recipe books you frequently rely on, though?
Saying all that, I do rely on an extremely old recipe book with very few photos for some very simple recipes!!
It's not gluten-free, but it's the Good Housekeeping Cookery Book from 1978 which my mum always had in the kitchen. It's basically a bible of great British cooking and baking which never ages!
How do you work with PRs and brands – are review products and new launches useful?
I've been lucky enough to work with some amazing brands in 2019, like AEG, Tefal, Old El Paso and Olivia Burton most recently. These have involved so many different things, from Instagram posts to recipe videos and recipe creation.
I'm happy to accept review products, though I can't guarantee that I'll post about everything I receive!
For PRs looking to work with you, do you have any advice for how they should approach you?
Just drop me an email and say hello! I'm always full of ideas, but I'm also happy to be a part of any campaign that allows me to be creative and post something my audience would love.
I always appreciate flexibility in terms of the recipe/end product, which I'll create and post on my blog/feed for a sponsored campaign. I like to think that I know what my audience likes and craves most and I always aim to keep that as a priority in every single post that I do.
What other blogs do you read (whether in your sector or outside of it)?
I love reading Debs' blog Bang On Style where she documents the trials and tribulations of online dating. She's really real, open and honest in everything that she writes and I'd recommend it to anyone!
I love reading blogs from people that are just being really honest about their lives. I'm always looking for more to check out, so if you know of any… let me know!
https://www.vuelio.com/uk/wp-content/uploads/2019/11/Becky-Excell-Featured-Image.jpg
431
760
Holly Hodges
https://www.vuelio.com/uk/wp-content/uploads/2023/09/vuelio-logo-200px.png
Holly Hodges
2019-11-14 11:04:41
2019-11-14 11:04:41
Baking Blogger Spotlight: Becky Excell