Blogger Outreach: Spoken with Style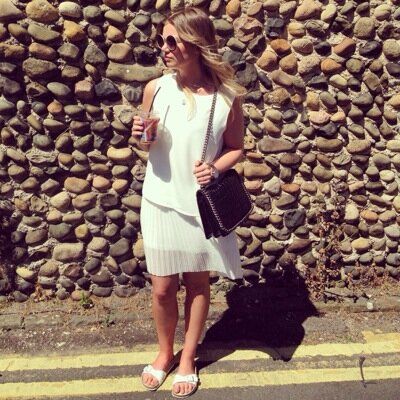 Speedy Spotlight with Stephanie West, author of the fashion blog Spoken with Style. Stephanie spoke to us about what makes her blog different, being open to brand advertisers that are true to her content, the role social media plays for bloggers and brands and a big collaboration that is now on the cards. 

Why should people read your blog? What makes it different? I read a lot of blogs myself and each one is different, which is one of the best things about blogging. You can create something original with total control on any subject that interests you. My blog is primarily based around my personal style choices and fashion but to try and attract other audiences and readers I also post beauty product reviews and document any travels I may have been on. This may sound like many other blogs out their which is true, the only difference with mine is that it's written by me. I think honest and relevant content is the main reason people read a blog and that's what I try to achieve with each post. I've always been a keen writer and that definitely comes across in my blog as their is a lot of text that accompanies each post but that's what I love most, the fact that I can have a conversation about something with the rest of the world just by posting on my blog.
How do you measure the success of your website? I monitor my blog stats daily, mainly out of curiosity to see what has been a popular topic and what hasn't. It also lets me see how readers are directed to my blog through other social media links, this lets me see the most popular way of directing traffic to my blog. I love when a post has had a really good response but to me its not about numbers if I only had ten visitors in one day then I would still be happy that people are reading and hopefully enjoy it.
What's your favourite blog and why? I have so many favorite bloggers that I take inspiration from but if I had to choose just one then it would probably be Emily Schuman from Cupcakes & Cashmere which I have read for years and reading her blog gave me the courage and inspiration to start my own.
What advice would you give to someone who wants to start a blog? Blog about something you are passionate about and love. True and honest content is what will attract readers to your blog and what will make it successful. I would also advise new bloggers not to compare themselves to other bloggers or how "successful" other blogs may be. You can measure your own success and set realistic goals if you want to try and make your blog a brand, everyone starts small. Another great thing would be to join a blogging community on a social network. One thing I have noticed about bloggers is that there is zero competition and so much support out there. Many times I have approached other bloggers for tips and advice and they have been more than happy to help. The best way to approach other bloggers is through social media – Twitter, Facebook and Instagram are really your best friend when it comes to promoting your blog.
How do you work with marketers and PRs? If I found a brand that fits my style I would contact them and email over a Media Kit which contains my blogger profile, a run through of what my blog contains and a detailed graph of my stats and traffic. At the moment my blog is free from advertisement but that's doesn't mean I'm wouldn't be open to it in the future. I just have't had the opportunity yet and would only want to advertise brands that are true to me and my blog.
Who do you work with in brand marketing? PRs? SEOs? Anyone else? Currently I am working solely on my blogs content and making sure I can build a substantial readership before incorporating brands and marketing into my blog.
What can marketers do better in working with you? I think utilising social media is the best way to work together – it allows for instant contact and a large outreach that is  beneficial to both the blog and the brand.
What was your blogging highlight of 2013? I have been blogging for just over a year now and for quite some time I didn't even promote it. I think i am most proud of the factIi have now made my blog public and have seen such positive feedback in comments from readers.
What will be big in your blogosphere in the coming months? I have recently been approached by a brand which I am really excited about so hopefully I will be featuring this on my blog soon. My blog has now become a major part of my life and no matter the success I will continue writing as it is what I love to do.
Editorial information on Stephanie West, Spoken with Style and thousands of other media contacts, can be found in the CisionPoint media database.
https://www.vuelio.com/uk/wp-content/uploads/2014/09/stephanie.jpeg
400
400
Priyanka Dayal
https://www.vuelio.com/uk/wp-content/uploads/2019/09/vuelio-logo.png
Priyanka Dayal
2014-09-29 10:16:47
2014-09-29 10:16:47
Blogger Outreach: Spoken with Style