Blogger Spotlight: Darren Kennedy, Help My Style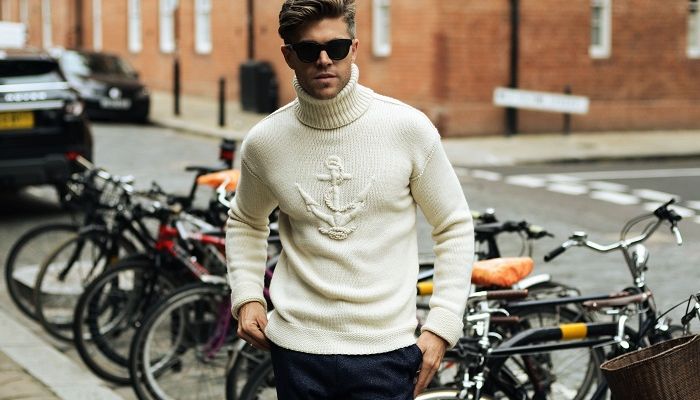 Darren Kennedy is presenter of RTE's #Trending and founder of HelpMyStyle.ie. Help My Style is where he can set his own agenda and discuss all things fashion and celebrity style, without the constraints of television. Darren talks to us about what he did for London Fashion Week this year, keeping it real on social media and why his relationships with PRs should always be fun!
Can you tell us a little bit about yourself and what made you start writing your blog, Help My Style. Well, I started off working as a runner on breakfast TV aged 17 while I was at Uni (studying International Business with French & Spanish). So naturally a couple of years were spent, ehem, studying and working in France. When it came time to return home and get (somewhat) serious, I needed a job, any job, and ended up working at this company called Google. Back then, they were relatively unknown and had just opened their European HQ in Dublin, at that time it was a small rented space, and I ended up being employee number 40. I worked there for just under two years, setting up Google TV during my time, having fun but it just wasn't for me. It never was, I always had my heart set on working in television and broadcasting. So I handed in my notice and managed to wrangle a job as a researcher on a new travel series that had just been commissioned. Over the next few years I worked my way up to produce, present and develop on a raft of entertainment programmes including the Emmy award-winning Amazing Race. Along the way working as a freelance, I realised television, as exciting as it is, is a thankless beast that would eventually bleed me dry and give me nothing in return. So I wanted to set something up for me, as a creative outlet that's not at the mercy of a TV exec. I'd always had a keen interest in style growing up, so HelpMyStyle.ie was born. That was in 2008 and it's been thriving ever since. I now also have www.darrenkennedyofficial.com which has more of a men's lifestyle focus.
How do you measure the success of your website? For me it's always been, first and foremost, a creative outlet where I can share whatever I'm into without constraints, and that for me is success. Everything else that comes as a result of it is a bonus.
You have worked as a presenter and journalist for some major media outlets such as ITV and Hello! How is blogging different and when do you have time to keep it updated? My blog is very much my personal space online, where I set the agenda. As a presenter that's not always the case. However, I've been lucky to maintain creative input in many of my TV projects. For instance, I co-devised and presented my series 'The Unemployables' (think Benefits Street meets The Undatables) which went on to be nominated for best new TV format at the European Broadcasting Union Awards. For me, taking an idea from its very conception to being broadcast as a series is very rewarding. Similarly with my documentaries –  'Gay Daddy' was developed & hosted by me. When you're so involved there's also a greater risk but the satisfaction and sense of achievement is wonderful. Gay Daddy was broadcast to critical acclaim and trended worldwide on Twitter.
What advice would you give to someone who wants to start a blog? Only do it for the right reasons. If it's overnight success you're after, probably best not to bother. The beauty of a blog is the platform it gives you to express yourself and your voice. Passion is key and you've got to be prepared to commit.
How do you work with marketers and PRs? Every aspect of my job revolves around relationships, meeting people face-to-face, engaging and building a rapport. Getting to know the people you're emailing and what it is they're trying to achieve for their clients is vital. I like to understand the strategy and have a clear understanding of the practical application.
How do you use social media to promote/share content? What are the challenges? Ultimately content is king and this applies to social media. Again it's important to keep it real and just be yourself. Never post anything to social media that you wouldn't happily say in a room full of strangers.  I think the challenges for marketeers especially is finding the balance of relevance over reach. I feel there's a lack of understanding sometimes and it's like throwing paint at a wall. That type of work does not interest me.
What can PRs do in working better with you? Get to know me. Don't just email me when you want something. Every relationship has to be mutual…and fun!
You attended LFW, how was it and what was your favourite show and designer? London Fashion Week is always a bit crazy and this year I took it super easy. Purely because I'd so much on with work but it's always nice to pop along to a couple of the shows and events to catch up with some friendly faces. Julien MacDonald hosted one of the grandest LFW events in what I think is a former church at One Mayfair. Also, the Mr Porter fifth birthday celebrations with BMWi3 were held at The Savile Club. Afterwards, I hot-footed it across town to the old Billingsgate Market for Natalia Vodianova and Karlie Kloss' second annual Fund Fair, raising money for the Naked Heart Foundation. The old Market was transformed with carnival lights, bumper cars and all the fun things you'd associate with a fun fair…except the prizes were more bottles of Bollinger and Louis Vuitton than gold in a jar.
Featured image courtesy of Jack Alexander Photography.
https://www.vuelio.com/uk/wp-content/uploads/2016/03/Pic-Jack-Alexander-Photography1.jpg
463
700
Jake O'Neill
https://www.vuelio.com/uk/wp-content/uploads/2019/09/vuelio-logo.png
Jake O'Neill
2016-03-02 15:58:09
2016-03-03 09:28:07
Blogger Spotlight: Darren Kennedy, Help My Style