Blogger Spotlight: Kimberly Duran, Swoon Worthy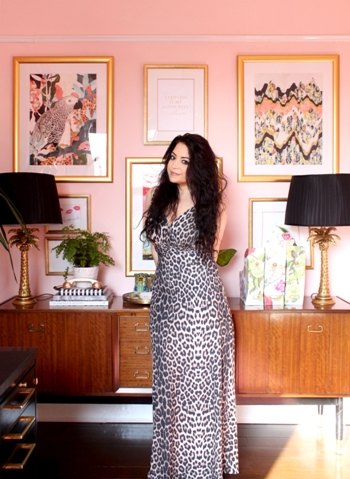 An interview with Kimberly Duran, author of the interior design blog, Swoon Worthy. Kimberly spoke to us about the boho glam influence behind her blog, how she uses media kits and social media to connect with brands and her audience, being nominated as one of the Top DIY blogs and more. 
Why should people read your blog? What makes it different? I have a very unique style that I like to call 'Eclectic Boho Glam' – it's a real mix of styles, colours, pattern and texture and a lot of gold and brass to create a bit of glamour too. I don't think it's typical by any means (especially not in Britain) but achieving that really individual look on a budget is what I focus on. Providing guidance and advice in creating a home that's uniquely your own when you don't have a lottery win is something readers appreciate and I use my own home as my 'guinea-pig' to share my ideas, inspiration and the results of those in the spaces I design. Most of the imagery on my site is my own as well so there's lots of unique content, plenty of DIYs and tutorials and it's quite personal as well. I like to have fun with my audience and my readers are a wonderful, supportive crew and really engaged.
How do you measure the success of your website? Of course things like visitor numbers and page views are important but it's really the interaction from my readers that is the measure of success. If a post makes people react enough to take the time to leave a comment or to share the post with others, then I know it's resonated and having an engaged audience is so important because it's valuable feedback to me that what I'm doing is what my readers want to see.
What's your favourite blog and why? This is a hard one because as a blogger, I read so many other blogs and I have loads of favourites. I think if I was considering which blog I think is a real model for other bloggers, it has to be Emily Henderson. Her blog is warm and full of personality (and she's funny!) but also really informative. You feel like you are spending time with an incredibly talented and fun friend. It's also, of course, beautiful to look at which an aesthetic field such as interiors is just so important nowadays. She really is the whole package.
What advice would you give to someone who wants to start a blog? I know it's a cliché but you have to be true to yourself. Imitation may be the sincerest form of flattery but it will get you nowhere in this very competitive and saturated market. It's so important to really stand out as an individual and to offer something different. You also have to give of yourself – not just of your time and your energy because it's a huge commitment – but also to your audience. They want to know there's a person behind your writing and while I'm not suggesting you spill every secret of your personal life, it's crucial that you let them get to know you as the unique, interesting individual that you are.
How do you work with marketers and PRs? I have a Media Kit which I send out to anyone interested in working with me. In it, there is vital information about me, about my blog, my reach, about how I like to work with companies, my rates, where I've appeared and testimonials. It provides a very good roundup of what Swoon Worthy is all about and who my audience is. From there, it's about creating great content that not only reflects my own aesthetic and style but which I know my audience will love as well as allowing companies to get great exposure to a new audience. This might mean a few emails discussing how to partner and what the best approach is. Every collaboration that I do is individual.
How do you use social media to promote/share content? What are the challenges? I'm active across a number of social media channels to promote my posts – Facebook, Twitter, Instagram and Pinterest – and each one caters to slightly different content. Twitter is a quick 'hey check this out!' and you need to capture people's attention very quickly because it moves so fast. With Facebook, unfortunately your full audience will not always see every post so it's important to get as much engagement as possible – by asking questions, by providing a call to action – so that it's seen by others in turn. Instagram and Pinterest are both visual so it's important that you have great images to capture people's attention. Each one has a slightly different audience and different needs and it's important to cater to that.
What can PRs do in working better with you? I think flexibility is so important. Show me you've read my blog and understand what I do, come to me with a creative idea and then let's work together to perfect it. I know my audience really well and what they respond to so if I suggest something different to what was originally presented, it's because I want the collaboration to be a success and I know from experience what has and hasn't worked in the past. So a willingness to really spend some time to get it right is important to me.
Also, don't just email me and ask if I'll put an infographic on my blog or share a post with my audience if there's no return either – both my audience and I need to be getting something back from our collaboration as well. I think a lot of PR's unfortunately view blogs as free advertising but we work really hard, blog posts literally take hours to create and we've taken the time to develop a trusting audience – when a PR appreciates that fact and respects what you do, everything always goes so much smoother.
What has been your blogging highlight? Being nominated for Amara's Top DIY blog award last year was certainly a highlight and my home appearing in a book and various magazines have all been highlights. It really is something that I constantly get excited about and pushes me to do more each year.
What will be big in your blogosphere in the coming months? I think there's a big push to create more engaging content and certainly, video comes into that. So I think we'll start to see a lot of cross over in interior blogs and video content in the future (similar to what has happened to fashion and beauty blogs). For now, I think everyone is realising the importance of great photography and if you don't have that, your blog is going to stagnate. You have to keep innovating and improving and providing your audience with topical and helpful advice. It's quite an exciting time to be a blogger because there's always so much more you can do.
Editorial information on Kimberly Duran, Swoon Worthy and thousands of other media/blogger contacts and outlets, can be found in the Cision Media Database.
https://www.vuelio.com/uk/wp-content/uploads/2015/05/Kimberly-Duran-office-2-2.jpg
479
350
Priyanka Dayal and Julie Hermans
https://www.vuelio.com/uk/wp-content/uploads/2019/09/vuelio-logo.png
Priyanka Dayal and Julie Hermans
2015-05-12 10:37:06
2015-05-12 10:37:06
Blogger Spotlight: Kimberly Duran, Swoon Worthy