Blogger Spotlight: Natasha Nuttall, Graphique Fantastique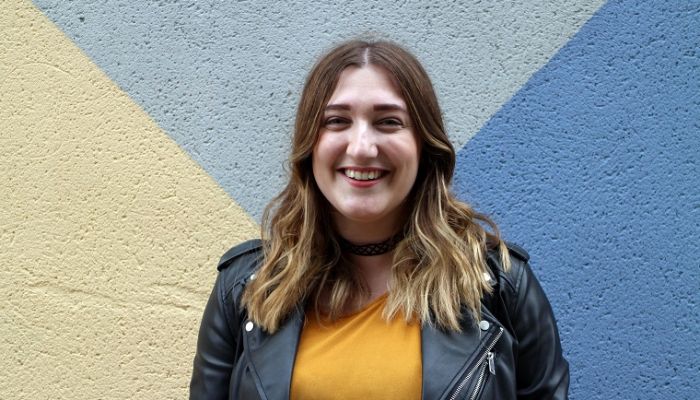 Natasha Nuttall is an award-winning blogger and the author behind Graphique Fantastique. Describing herself as a freelance graphic designer by day, blogger and vlogger by night, Natasha is used to wearing many hats. It was after Natasha moved to London in 2014 that she decided to pursue a career in graphic design and since then she has not looked back. Having established a successful blogging career, Natasha has worked with big brands such as Fanta, Winsor and Newton, Snapfish, Specsavers and MTV. In this spotlight, Natasha who recently appeared on our graphic design ranking chats to us about why she loves being a part of the blogging community, building successful relationships with PRs, and why she is driven by wanting to make a difference. 
What inspired you to create your blog? It's actually less of a what, and more of a who. I started my blog back in 2009 on the recommendation of my college tutor, Chris. He had just started a blog of his own and said that I should give it a try. This was back before blogging was really 'a thing' and I saw it as a way to put my design work from college out into the world for feedback. Honestly, it's a bit cringe to look back at those posts now, but I haven't deleted them as it shows the journey and how far my blog (and design) has grown.
What opportunities have been presented to you through blogging? I feel lucky to have experienced a lot of cool things thanks to my blog and the online world, sometimes I can't really believe it. There's been geeky design related things like being invited to the reveal of the Pantone colour of the year, being one of the first to visit the GF Smith Showspace when it opened and spending time with my favourite designers – those are definitely highlights. But all of the events aside, the best thing has been finding a community of like-minded people. The #cbloggers community might be quite small, but everyone is very passionate about what they do and super supportive. Most of my URL friends are now IRL friends, all thanks to blogging.
What has been your experience with working with PRs and marketers? As a whole, it's been positive and I've enjoyed working on some creative and fun projects. My blog doesn't really fit into one of the loose blog 'boxes' e.g. Fashion, Beauty, Lifestyle, which in my eyes is a strength. Over the past eight years, I've met and built relationships with a lot of great PRs and brands who really 'get' Graphique Fantastique. As someone whose currency is ideas, I always try to do something different – a new angle on a product review or a graphic twist to the visuals.
But there are still many PRs that are confused by my blog and don't necessarily see my relevance or the potential of working with a creative influencer. It's a shame, but you can't win them all!
What kinds of PRs or campaigns are you interested in working with/on in the future? As a creative, I'm open to lots of different things as I will put my spin on it, along as it's relevant of course. My content is all about ideas and being relatable, with graphic influenced visuals. I've been transitioning and working on defining the 'creative lifestyle' niche, ultimately to help more people to understand and discover creativity. A lot of people have no idea what Graphic Design is, so I'm doing my best to inspire & inform people of the part that it plays in everyday life. But in the future, I would really love to start pairing design and travel together – I need to set that ball in motion. Watch this space!
Do you consider social media an important tool in directing traffic toward your blog? Definitely! Twitter plays a big part in getting the word out about my new posts and vlogs – it helps to create a buzz and get the conversation started. Comments on Blogs aren't as common these days as people tend to respond to Tweets & updates on Facebook for ease. Getting the balance right is tough, especially because you don't want to spam your followers – nobody likes to be spammed. Although, sometimes I'm guilty of spending too much time on Twitter when I should be working on my Blog content. Oops!
What has been your proudest achievement as a blogger? I'm sure most people would expect me to say winning Best Young Person's blog at the UKBA in 2014 or being mentioned on this list even, but for me it's about making a real difference to other people's lives. The most rewarding blog posts have been the brutally honest ones (like having a bad time as a graduate and quitting my job) where I've been overwhelmed with the support. Then there is the other side of it, where I'm supporting people through bad times, helping them figure out a plan of action and reassuring them that they can turn it around. I love to chat and give advice (or my opinion at least because I always have one ha). Graphic Designers are naturally problem solvers, so I just love helping people really.
Will you be working on any exciting projects or campaigns this year? I mean, I can't believe that we're already a quarter of the way through the year but there's still plenty of time for lots of exciting things! April brings National Stationery Week so I'm working on cool content for that, but who knows what the rest of 2017 will bring! As always, I'm open to ideas…
https://www.vuelio.com/uk/wp-content/uploads/2017/04/NatashaNuttall_VuelioSpotlight.jpg
506
760
Merryn Williams
https://www.vuelio.com/uk/wp-content/uploads/2019/09/vuelio-logo.png
Merryn Williams
2017-04-19 12:39:40
2017-04-19 12:39:40
Blogger Spotlight: Natasha Nuttall, Graphique Fantastique