Blogger Spotlight: Radhika Sharma, Radhika Recommends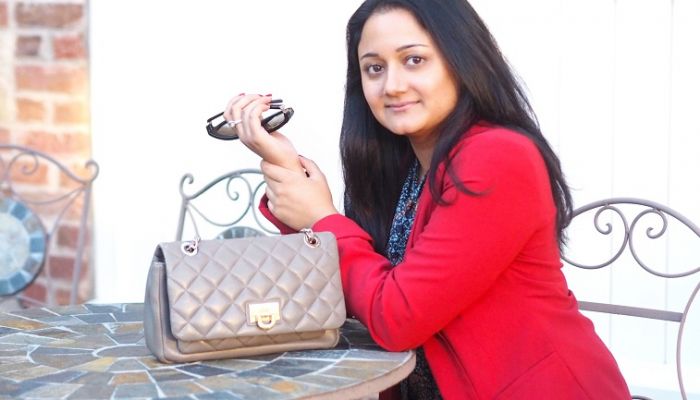 With a passion for fashion, beauty, and travel Radhika decided to set up her blog in 2011. Since then Radhika has not looked back and has established herself as a successful blogger. Most recently Radhika has expanded her influence into vlogging chatting about everything from London's Fashion Week, her favourite beauty products to hair straightening products. In this spotlight, Radhika chats to us about how she measures the success of her blog, why communication is key when it comes to building relationships with PRs, and what will be big in her blogosphere in the coming months. 
Tell us a bit about your blog and yourself? My blog is called Radhika Recommends and it primarily focuses on fashion, travel and beauty. I started it to get experience in HTML and editing web pages for my job and it has since become a true passion of mine. I've always been into fashion and styling, so it was a natural fit for my blog theme and I like to write about how I style different outfits to inspire others. I also travel abroad a lot, so it's been great to write blog posts which document my journeys and give other people travel tips.
How do you measure the success of your website? As well as monitoring my stats in Google Analytics and through social media, it also feels great when I get comments on my blog posts from people all over the world! The fact that my blog reaches people in so many different places is also a success for me, as well as the lovely comments I get from my readers.
What advice would you give to someone who wants to start a blog? If you're thinking of starting a blog, my advice would be to write about what you are most passionate about and be yourself. It's a lot of work and commitment to maintain it, so you have to be dedicated. I find it really rewarding and enjoy it so much.
How do you work with marketers and PRs? 
Communication is key, whether that's by phone or email and being honest with PRs if something is not right for your blog is also important.
I always like to follow up with PRs and send them links to my blog post after completing a piece of work so that they are aware of my coverage.
How do you use social media to promote and share content? What are the challenges? I use social media on a regular basis to promote my blog content. I find that it's one of the best ways for getting your blog known. One of the challenges is ensuring that you schedule enough time in each week to put content across all of your social media channels and keeping the content consistent.
What can PRs do in working better with you? 
I really enjoy working with PRs and I'm always looking for new collaborations that fit in with my blog theme.
I'm looking forward to making more PR contacts within the fashion and travel industries, and the main thing is good communication and building good relationships.
What has been your blogging highlight? I'm really proud of how far my blog has grown this year and I've been invited to some great events from brands that I admire so much, which has been amazing! I've also met some lovely bloggers who I've become really good friends with. Although there's not one particular blogging highlight, I would say that all of this shows the progression of my blog in the last year which is great to see.
What will be big in your blogosphere in the coming months? With the world of fashion constantly changing, I'm looking forward to styling the upcoming trends in my own way over the next few months and writing some great content. I also have some trips abroad planned, so I'm excited to explore and get some more travel content on my blog.
https://www.vuelio.com/uk/wp-content/uploads/2016/11/Radhika-Sharma.jpg
535
757
Mital Patel
https://www.vuelio.com/uk/wp-content/uploads/2015/10/vuelio-logo-transparent.png
Mital Patel
2016-11-18 10:07:31
2016-11-18 10:07:31
Blogger Spotlight: Radhika Sharma, Radhika Recommends