'Blogs are good for the soul' Fiona Klonarides, The Beauty Shortlist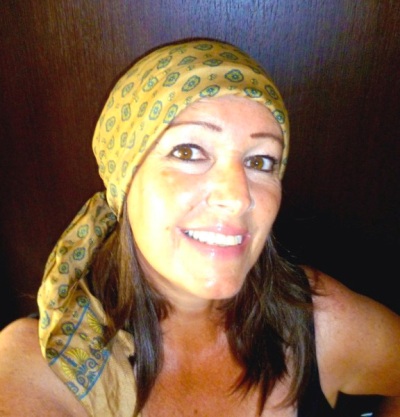 Fiona Klonarides talks to Vuelio about what makes (and keeps) The Beauty Shortlist among the country's top beauty blogs, the challenges of using social media, projects she has lined up ahead, working with PRs and more. 
What's new on the Beauty Shortlist blog? 50! As in "50 is the new 50", one of our recent posts about beauty being ageless.  I want to highlight the inspiring tidal wave that's washing through the media right now about how we're essentially beautiful at any age. I think we've suffered from "age racism" for far too long. This age-embracing movement is one of the most important ones in the history of beauty – and civilisation – we've got new beauty icons in Charlotte Rampling for NARS, Helen Mirren for L'Oreal, Joan Didion for YSL. This is HUGE!  I know many women in their fifties feel invisible. We need to change that. When we start seeing older actresses in big roles (TV is better, movies are worse), and older models everywhere, the age stigma will start to melt away. Instead of saying "Wow, she looks great…for her age" we'll start saying "Wow, she looks great!" We are all ageing, you can't get away from it. Accept, embrace, enjoy.  Having fun and retaining a sense of childlike wonder about the world are two of the best beauty tips I know.  But aside from the 50+ debate, it always amazes me that our readers span age-wise from about 20 to 60.
Why should people read your blog? Because they want to! And because we don't follow the flock, if you like. We feature a LOT of brands people have never heard of – before they get into Selfridges or Liberty's. We're pretty pivotal as a launch pad for brands, I've seen some that we've reviewed, say a year ago, get into a big Oxford Street retailer one year later, this has happened with some of our Beauty Shortlist Awards winners.
People often tell us they've discovered a product they absolutely adore and if it weren't for the blog they'd never have found it because nobody else is writing about it. We're supporters of any ethical brand, big or small, it doesn't matter. I leave the big brand lip glosses to the other bloggers as they do a great job. Ours is to discover and share the newest of the new, the niche brands, the new cult heroes, the clean, green winners. We're the A&R, to use a music term, of the beauty industry – the brand scouts. We find a lot of the best new brands via our Awards – our 2016 Awards, our fifth, have just opened for entries http://www.thebeautyshortlist.com/2016-awards/ and they're open to any brand, including international, that is sold in a store or UK retail site. Purely and simply the best products win, whether they're by Weleda, Neal's Yard, Dr Murad, Liz Earle or an indie artisan Scottish brand like Beatitude Oils or JustBe Botanicals. This makes The Beauty Shortlist a bit of a treasure trove for beauty heroes.
We're not sponsored and don't run ads so we have the most wonderful freedom to write up the best of the best – no strings attached. Having said that, I would happily work closely with a few of my desert island all time favourite brands as an ambassador – I'd love to do that. If something is truly brilliant I'd happily fly the flag for it! So I might look at doing that next year.
How do you measure the success of your website?  It's successful when people write in to say they found a new beauty hero through us – and when brands write in and tell us we've helped them get into retail or boosted sales significantly.  That feedback makes my day. I never obsess about stats, it's much more about consistently featuring excellent products, remaining independent and completely honest (we've been approached by digital agencies, etc. but that doesn't feel right – at least for now). We have a lot of friends in the industry but no specific allegiances to brands or retailers.  You could say The Beauty Shortlist is the Switzerland of the beauty world – neutral.
What advice would you give to someone who wants to start a blog?  Remember that, as in life, honesty is the best policy. Write freely, about what you really do love, and be prepared for your blog to gobble up a lot of the hours in your week! It can be enormously time-consuming but very rewarding. I think blogs are good for the soul. You've got nobody cracking a whip over you telling how, when and what to write. A blog is beautifully freeing and it can be your consolation when you're down, too. If you want to start a blog, go for it.  Yes there are millions of others about but you are you so do what you love (well) and your followers will come.
How do you work with marketers and PRs?  I don't really work with marketers or digital agencies – at all.  I just pick and choose what comes in from the PRs or scout around for new launches I like the look of then call in samples.  We have a fantastic relationship with PRs generally, I have huge respect for PR agencies, they're under a lot of pressure, clients expect miracles and I really enjoying working with them. Good PR is a strategic art form, and it's a full-on job which flows over into evening hours.
How do you use social media to promote/share content? What are the challenges? I'm a natural sharer so this bit I love!
OK – challenges: it's SO time-consuming. Shockingly so! We're new to Instagram @BeautyShortlist as the thought of having to run yet another social media channel felt a bit "uhhh!" to me. The Beauty Shortlist's Instagram is actually my personal Instagram so it's music, travel, surfing, yoga, Morocco, Greece, photography, dogs, design, textiles, fashion, interiors…you name it! Not just beauty. I share everything from close ups of Sahara camels with long eyelashes – which will be part of our MAROC WEEK, our homage to the beauty and artisanal talent of Morocco (October 2015) – to the highlights of London Fashion Week.
People say @BeautyShortlist's Instangram is really colourful, vibrant and eclectic, if I see something exquisite, whatever it is, I'll share it. We've got surfers, global musicians, professional nomads, mums, dads, architects, students, bloggers, brands, yoga teachers, big entrepreneurs following – an eclectic bunch of followers.
I'm not a Facebook fan, I think there are privacy issues. Twitter has just been amazing for us, for connections and communicating, it's like one big, global, cocktail party. Not sure about Google+…and I hate to say it but I've lost interest in Pinterest, Instagram feels more immediate, more visual and is better for connecting. I'm an Instagram addict now.
What can PRs do in working better with you? Please don't send in a press release as a jpg! You can't cut and paste the parts of it you want for a post, and when you're typing at 100mph and on deadlines, this is a pain. Also do please send images with the first email, so I don't have to request them.  One thing PRs could do more of perhaps is ask what we're working on for the next three months to see if there's something that will fit well.
Can I just say here that I'm sure I'm not the only blogger to feel like this, but we can't leave our work and cross London for a coffee and a chat about a new product.  As long as I've got the product in my hand, to test it, plus the info and images, I'm all set. I wish I could meet the PRs but I don't have the time to get on trains and tubes for a one hour meeting, it eats too much into my day. I'm featuring the product for free and I lose half my working day? It's not a win-win situation. What I do instead, which works brilliantly, is organise a full day in London with PR and brand meetings, back to back – say 30 to 45 mins each – at one of my favourite venues like Liberty's café. A bit like an all day breakfast, lunch and tea session, then dinner with one of my friends, like Liz founder of natural beauty etailer A Beautiful World or Edwina at Amazing PR. Because the meetings are short, it keeps things condensed. I really love meeting the people behind the brands and the PRs behind their emails, it makes it all more interesting and human.
What has been your blogging highlight? I think I'm having one now! 2015 has been an incredible year for the blog. The success of our Awards – 2016 will be our 5th. I've been blogging for 7 years and writing about beauty for 10 (editorial/copywriting).   I just heard I'm in the top five for the Fashion Beauty Monitor Journalism Awards Beauty/Grooming Blogger of the Year award (21 October) along with writers from Men's Health, Get The Gloss, Cosmopolitan and Net-A-Porter, which is a thrill.  And when The Beauty Shortlist first made the Top 10 in Vuelio's (previously Cision) social media ranked UK beauty blogs – that really was memorable.
What are your plans for your blog in 2016? Gosh – what are we NOT planning?!
More support for the green beauty retailers, working more closely with some of the biggest retailers – Liberty, Fenwick and Fortnum & Mason are favourites and we have a great relationship with Cult Beauty, whose beauty edit I massively admire – they're true early adopters.
More posts on age 40+ and 50+ beauty and skincare.
Special celebrations for our 5th Awards which are in March 2016 (in the pipeline!)
More guest writers, as now that we're a real beauty platform, I'd like to share it with others.
More Instagram, less Facebook. I find FB really old-fashioned, to be honest, and I've never liked the design of it aesthetically. To me it looks old and outdated. Also, this isn't relevant to the original question but I think selfies are an out of control virus now – especially those bathroom ones. I find the vanity element astonishing – too many people looking inwards when we should be looking outwards. Me, me, me is boring (there's a post on the blog about that).
You worked on the Beauty Shortlist Awards 2015 and working on the beauty shortlist baby awards 2015, can you tell us a little bit more about these awards? Sure, they're 100% independent.  I can't stress this enough! We have no allegiances to any brands, no tie-ins.  So there are 5 of us judging, all from the beauty and/or wellbeing industries. It's a methodical, exhaustive process of trialling and testing over 5-6 months (they open for entries in September and take place in mid March). We sift things down to about 5 top products then the really hard part starts – which of those makes the top 3? It's exhausting and exhilarating at once. I do all the admin for them – collating the mark-up sheets, comments, ratings, and somehow, after a lot of early mornings and late nights, the winners are revealed! It's so exciting and gives us a hawk's eye view of trends and developments in the beauty market. The Baby Awards are smaller but thriving too! They're a priceless source for clean, green baby beauty products parents want to try.  Consumers trust The Beauty Shortlist. That's what it was all about and still is.
You are coming up to your 5 year anniversary in being one of the best in the Beauty industry, how does that feel? Somehow the years have sped by! When you do what you love you don't feel like you're working.  I put in a massive amount of hours into the blog – and the awards – and love every minute of it.  I'm so proud of The Beauty Shortlist because people enjoy it and it has a reputation for being ethical and honest and a new brand spotter, but I think it has a life of its own – it runs the show and I just follow along!
We asked some of the brands who we've worked with wince 2009 to send us messages to celebrate the 5th awards and reading their messages was quite emotional, I didn't realise we've helped some of them as much as we have.  The 5 Year Anniversary Page is at http://www.thebeautyshortlist.com/2015/09/18/2016-celebrating-5-years-of-beauty-shortlist-awards-thanks-for-all-the-birthday-messages/
What does the Vuelio blog ranking mean for your blog? It's very important – the rankings are intelligently, methodically calculated and I'm so grateful to be in the beauty blogger rankings – I think we also got into the Top 50 UK Blogs one year, too.  So thank you!
https://www.vuelio.com/uk/wp-content/uploads/2015/10/Fiona-Klonarides-headshot.jpg
417
400
Priyanka Dayal
https://www.vuelio.com/uk/wp-content/uploads/2023/09/vuelio-logo-200px.png
Priyanka Dayal
2015-10-16 11:42:45
2015-10-16 11:42:45
'Blogs are good for the soul' Fiona Klonarides, The Beauty Shortlist