Christmas adverts on social media 2013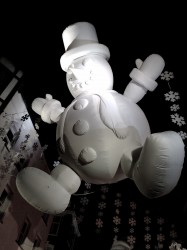 It's beginning to look a lot like adverts. This year's festive offerings include a cartoon odd couple, a children's story mash-up and hashtags aplenty. With what seems like more brands getting in on the Christmas advert act, is reigning Christmas champion John Lewis still on top or has it been toppled by the Coke of Christmas past?
John Lewis' Christmas commercials has been described by the Guardian as 'an institution', the paper going on to express surprise that it all started only six years ago. The department store's tactics have changed in recent years from being product focused, to being emotion-led stories. Ever since its boy with the family dog's head in a box, the adverts have been causing tears in its audience which Twitter is generally in favour of:
Why do I literally cry at everything, damn you John Lewis advert! #hareandbear

— SofSof (@sofie_borek) November 10, 2013
I have no idea what John Lewis sells, but after seeing their xmas ad I want to buy all their stuff #hareandbear

— Sean Dervin (@SeanDervin) November 13, 2013
While the retailer's biggest competition on the high street may be in the form of M&S, House of Fraser or Debenhams, in the ad breaks there's only one brand that can compete:
If the John Lewis #HareAndBear & Coca Cola #HolidaysAreComing adverts are ever shown consecutively, I think Twitter may explode.

— Ben Webbo (@benwebbo23) November 10, 2013
Coca-Cola's advert, which has been described by The Drum as, 'the traditional starting bell for the Christmas countdown', is, but for the final image featuring the hashtag #holidaysarecoming, relatively unchanged from when it first aired in 1995. Its appearance causes waves of reaction on social media from those who see it as the start of Christmas:
Just seen the coca-cola advert for first time this year, officially feeling a but festive. #HolidaysAreComing

— Laura Tobin (@Lauratobin1) November 9, 2013
Or just want to express their appreciation:
Love the coca cola advert #HolidaysAreComing

— Rebecca Chilvers (@bex_chilvers) November 15, 2013
To those that the phrase 'Holidays Are Coming' has become so ingrained that it becomes synonymous with the Christmas period:
Ready to plug in this apple cinnamon scent for my room #HolidaysAreComing

— Jimmy Wireman (@jimmy_james1) November 15, 2013
Comparison
So which one triumphed on social media? Using Cision Social Media, we can analyse the mentions of the Christmas adverts, including the official hashtags.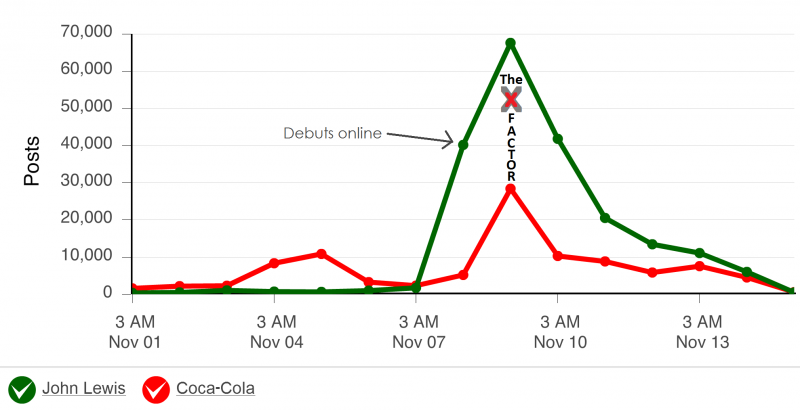 While both adverts debuted on TV during The X Factor, John Lewis launched its advert online the day before. Taking advantage of the fact it was a completely new advert, it picked up attention before being broadcast. As Coca-Cola's advert is very familiar, the appeal is not in the big reveal but in spontaneous exposure to it.
Christmas outside of Coke Bear Hare
There are, of course, other facets to the Christmas season. For example, the ads from M&S or Tesco. If we display mentions of the top 10 Christmas adverts on social media, John Lewis' dominance is even clearer: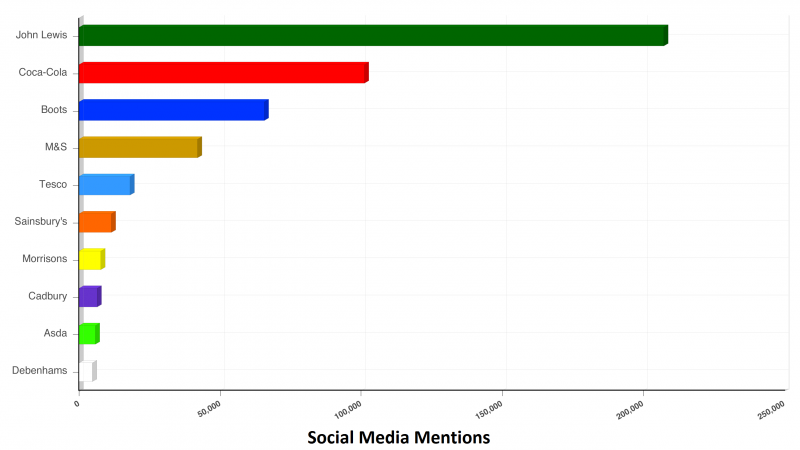 What's clear from this is that hashtags drive social media mentions. John Lewis, Coca-Cola, M&S, Sainsbury's and Cadbury all have official hashtags and John Lewis and Coca-Cola have associated marketing activity. John Lewis has created Twitter accounts for Bear and Hare as well as ad-related products in a specially designed store. Coca-Cola has its Truck which both tweets and visits areas of the UK to serve the beverage.
For 2013 John Lewis owns the social media Christmas but with only 12 months until the next contender gets to challenge for the crown, it can't afford to go into hibernation yet.
Graphs and charts made with Cision Social Media via CisionPoint.
Priyanka Dayal
https://www.vuelio.com/uk/wp-content/uploads/2023/09/vuelio-logo-200px.png
Priyanka Dayal
2013-11-15 13:59:01
2013-11-15 13:59:01
Christmas adverts on social media 2013