'Comms always thrives in a crisis': Helen Dunne on the upcoming Corporate Purpose Summit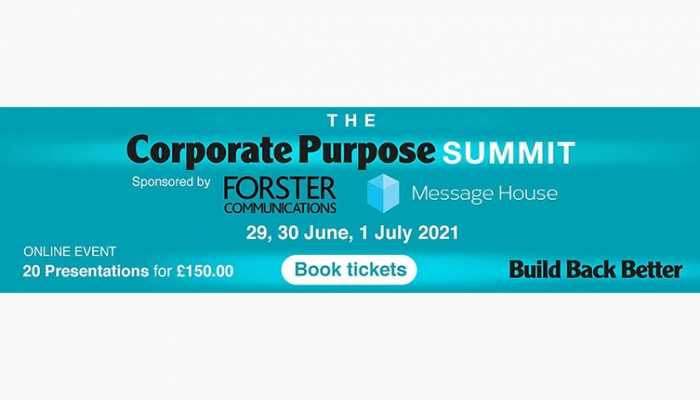 The CorpComms' three-day Corporate Purpose Summit starts on 29 June and we're delighted to be partnering with the event to offer a number of tickets to our network at no charge.
To secure a place (one ticket per person), fill in the form here – but first, read on to find out more about the event's packed schedule and roster of speakers from brands including Marks & Spencer, Aviva and Penguin Random House UK.
'I have had an idea for a summit for some time,' says CorpComms editor and event organiser Helen Dunne. 'Corporate purpose is a subject that really intrigues me, because it is so multi-faceted. Most corporates now acknowledge that their stakeholders, including ESG investors, want them to do more than simply make money. The events of the past year have also exacerbated that.'
Speaking at the summit to share best practice, as well as their successes and the challenges of the last year, will be:
• Gillian McGill, former global internal and social communications director, Aviva
• Matt Carter, founder of Message House
• Maeve Atkins, external communications manager, Budweiser Brewing Group
• Rupert Gowrley, director of corporate affairs, Bupa Group
• Victoria McKenzie Gould, director of corporate communications, Marks & Spencer
• Miguel Veiga-Pestana, head of corporate affairs and chief sustainability officer, Reckitt
• Greg Dawson, director of corporate affairs, DS Smith
• Yasmin Diamond, executive vice president global corporate affairs, IHG Hotels & Resorts
• Greg Sage, director of corporate affairs, Greene King
• Rebecca Sinclar, MD, audiences, brand and communications, Penguin Random House UK
• Hilary Berg, responsible business adviser, Iceland Foods
• George Ames, director of client services, Forster Communications
• Christine Crofts, founder of Kinetic Internal Communications
• Danielle Jones-Hunte, head of employee advocacy, global, BP
• Katja Hall, chief corporate affairs and marketing officer, Capita
• Rosemary McGinness, chief people officer, Weir Group
• Innis Scott, head of engagement, Weir Group
• Esme Knight, head of corporate affairs, Costa Coffee
• Kerry Parkin, director global communications, Zip
• Asad Dhunna, founder of The Unmistakables
• Matt Bell, director of corporate affairs, Grosvenor Group
• Pia Huusfelt, business leader for IKEA global innovation, Inka Group
• Steve Butterworth, chief executive, Neighbourly
• Amanda Powell-Smith, chief executive, Forster Communications
• Nigel Prideaux, director of corporate affairs, NatWest Group
• Roger Barker, director of policy and corporate governance, Institute of Directors
• Matt Young, co-founder, Apella Advisers
Securing such an impressive line-up of experts for an event is tough any year, but in 2021? Even tougher, says Helen:
'We've had many false starts along the way. I don't envy people who put on summits full-time! But luckily, I have managed to secure a fabulous list of speakers through their kindness and also with the help of my sponsors, Message House and Forster Communications.'
While the full impact of the pandemic on the communication industry and the audiences it serves is yet to be seen, there have undoubtedly been opportunities alongside the new pressure points:
'Comms always thrives in a crisis,' believes Helen. 'Internal comms really stepped out from the shadows during the pandemic as companies put their people first, which meant that, ironically as they were often in remote mode, in many companies employee engagement levels were at record highs. There is a new respect in many organisations for their internal comms people, and I'd like to think that will continue.
'If purpose is currently on your 'to do; list, the summit should spark inspiration. But there is something for everybody – including discussions on diversity and inclusion, inclusive capitalism, brand activism, sustainability and even how purpose strengthens the position of the corporate affairs director.
For whether the lessons learned regarding purpose-driven communications and corporate responsibility will last, Helen isn't certain. But being ready for what comes next will be vital:
'Inevitably, as business returns to normal, old practices will come back into play. But I think where comms has been integral to the corporate response to the crisis, it will be hard to go back.'
Find out more about the Corporate Purpose Summit and secure your place here on the CorpComms website.
https://www.vuelio.com/uk/wp-content/uploads/2021/06/Corporate-Purpose-Summit.jpg
430
760
Phoebe-Jane Boyd
https://www.vuelio.com/uk/wp-content/uploads/2019/09/vuelio-logo.png
Phoebe-Jane Boyd
2021-06-23 14:31:35
2021-06-23 14:31:35
'Comms always thrives in a crisis': Helen Dunne on the upcoming Corporate Purpose Summit