#FuturePRoof guide tackles influencer marketing governance for public relations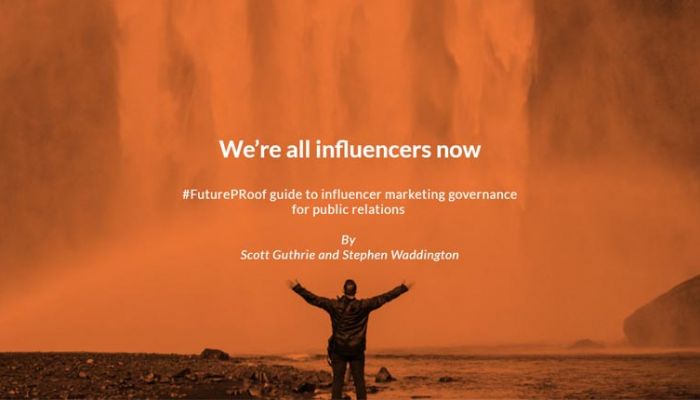 #FuturePRoof has published a guide that addresses the need for influencer marketing governance in public relations, with clear guidance for practitioners and influencers. 
According to Markets & Markets the global influencer market is currently estimated to £4.5 billion in 2019.
The #FuturePRoof guide aims to give public relations a voice around the critical area of governance for influencer marketing. It's a challenging area of practice that sits between marketing and public relations, and earned and paid media.
Click here to read the guide: We're all influencers now. 
Sarah Waddington, founder and editor of #FuturePRoof said: 'The #FuturePRoof guide highlights best practice for brands, agencies and influencers. Everyone involved in a campaign has a responsibility to adhere to relevant advertising and media law'.
In the UK influencer campaigns are governed by existing Advertising Standards Authority (ASA) and Competition and Markets Authority (CMA) laws. Chartered Institute or Public Relations (CIPR) and Public Relations and Communications Association (PRCA) members are also covered by their own codes of conduct.
Francis Ingham, Director General of the PRCA said: 'Influencer marketing is a burgeoning area of our practice, but the number of cases brought by the ASA and CMA proves that too many influencers and practitioners are falling foul of the standards we expect. All PR professionals working with influencers have an ethical duty to ensure they – and those they work with – comply with the law. The PRCA Code of Conduct compels professionals to deal honestly with the public – that includes being transparent over any commercial agreements with third parties. Failure to uphold these standards damages trust in our industry.'
The #FuturePRoof guide characterises the market, includes applicable media law and guidance from advertising, marketing and public relations. It covers guidance for campaigns where no money is exchanged, gifts in kind such as accommodation or travel, and financial payment.
The tension between earned and paid campaigns isn't only a challenge for marketing and public relations practitioners, it has also led to influencers breaching advertising and trading standards law.
#FuturePRoof says that there is a growing need and opportunity for formal representation for influencers. What's clear from the guide is that PR is in the best position to take ownership of influencer marketing, giving it both structure and clear standards for the benefit of business, influencers and the public.
Scott Guthrie, independent influencer marketing consultant and co-author of the guide, said: 'The public relations industry has been slow to offer leadership on influencer marketing to practitioners and influencers. We've been here before with search engine optimisation (SEO), social media, and content marketing. It's important that PR doesn't miss out again'.
The guide has been written by Scott Guthrie, and independent influencer marketing consultant, and Stephen Waddington, managing director, Metia, and Visiting Professor, Newcastle University.
It includes contributions from Rupa Shah, Founder and Director of Hashtag Ad Consulting; Andrew Terry, Partner and Head of Intellectual Property & Media, Eversheds Sutherland; and Vuelio's Jake O'Neill.
Vuelio is delighted to support the publication and will be hosting an exclusive webinar with Sarah Waddington, Stephen Waddington and Andrew Terry on 7 November. It is free to sign up, and if you can't join us live a recording will be sent to all registrants after. Register here. 
https://www.vuelio.com/uk/wp-content/uploads/2019/10/Were-all-influencers-now.jpg
430
760
Vuelio UK
https://www.vuelio.com/uk/wp-content/uploads/2019/09/vuelio-logo.png
Vuelio UK
2019-10-22 08:14:23
2019-11-18 11:22:40
#FuturePRoof guide tackles influencer marketing governance for public relations