Today marks the launch of Grand Theft Auto V (GTA V). Described by the BBC as one of Britain's finest cultural exports, GTA V has already sold out at Amazon and is expected to reach 25 million sales by the end of the year.
GTA V pulls in so much interest that it generates its own information box on Google when you search for its release date: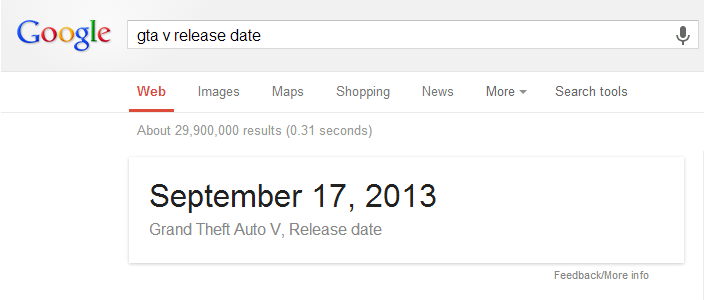 The game made headlines three days ago when Amazon breached a strict retail embargo and shipped pre-ordered copies to a 'small number' of customers. While Grand Theft Auto's Scottish creator Rockstar North was reportedly investigating, it didn't comment on the matter publicly. The game also fell victim to early leaks on torrent sites, though this doesn't seem to have affected initial sales.  
This is reflected on social media where the conversation peaked alongside the official launch:


A few (clearly undedicated) gamers have managed to tear themselves away to write about GTA V. Graham Linehan highlights how the controversial tone of the game is being reported in reviews but not in the review scores:
Driving "…turns sour really quick when a voice comes on the radio that talks about using a woman as a urinal" And yet, 9 out of 10 score.

— Graham Linehan (@Glinner) September 16, 2013
Grand Theft Auto has always been controversial and in Dan Silver's Daily Mirror article, he points out that the reportage that follows may not be seen as a negative by Rockstar North: 'After all, there are few better free marketing tools for a game like GTA than tabloid newspaper spreads telling people not to buy it'.
ITV also highlights the negative aspects of the game by collecting together a number of reviews that mention its misogynistic side. It does point out, though, that these negative reviews are in the minority.
It seems online media hasn't had to time to review the whole game yet, and those that do are focusing on the positives. GamesTM's epic 10/10 review opens with a line that signals its intent: 'Grand Theft Auto V is, as expected, a best-of compilation of everything that Rockstar has achieved to date in game design'. While Edge starts its review with a suggestion that the opening of the game is disappointing, it is quick to say that it is only the opening and the rest of the game is a 'remarkable achievement'.
Websites and blogs seem keen to post something (anything) about GTA V in attempt to sate their audience's appetite. For example, CVG has published a picture of the three voice artists behind GTA V's main characters in order to 'break the illusion'. The Gadget Show website has put in a little more effort and listed '10 things you need to do today', in the world of the game. It includes exploring the seabed and using GTA V's in-game social network Snapmatic.
The official magazines have published various content with the picks being Official PlayStation Magazine's decision to publish 17 minutes of gameplay footage (with a warning about spoilers), and X360 Magazine's selection of cheats.
For something completely different, the Raedwald blog has suggested a link between violent video games (the GTA V release) and yesterday's Washington Navy Yard gunman incident. While Raedwald seems to be the only one suggesting such a link, the connection between violence in video games and real life is likely to rear its head as the media's commentators get a chance to digest the game.  
The detailed reviews will trickle out as the week progresses and players manage to bring themselves back from Los Santos, San Andreas. Likely to break records and fill up the opinion pages, Grand Theft Auto V is its own best marketing friend.
Graphs made with Cision Social Media via CisionPoint. Influencers found with Cision's free UK Influencer Search which is available online. 
Priyanka Dayal
https://www.vuelio.com/uk/wp-content/uploads/2019/09/vuelio-logo.png
Priyanka Dayal
2013-09-17 13:18:28
2013-09-17 13:18:28
Grand Theft Auto V